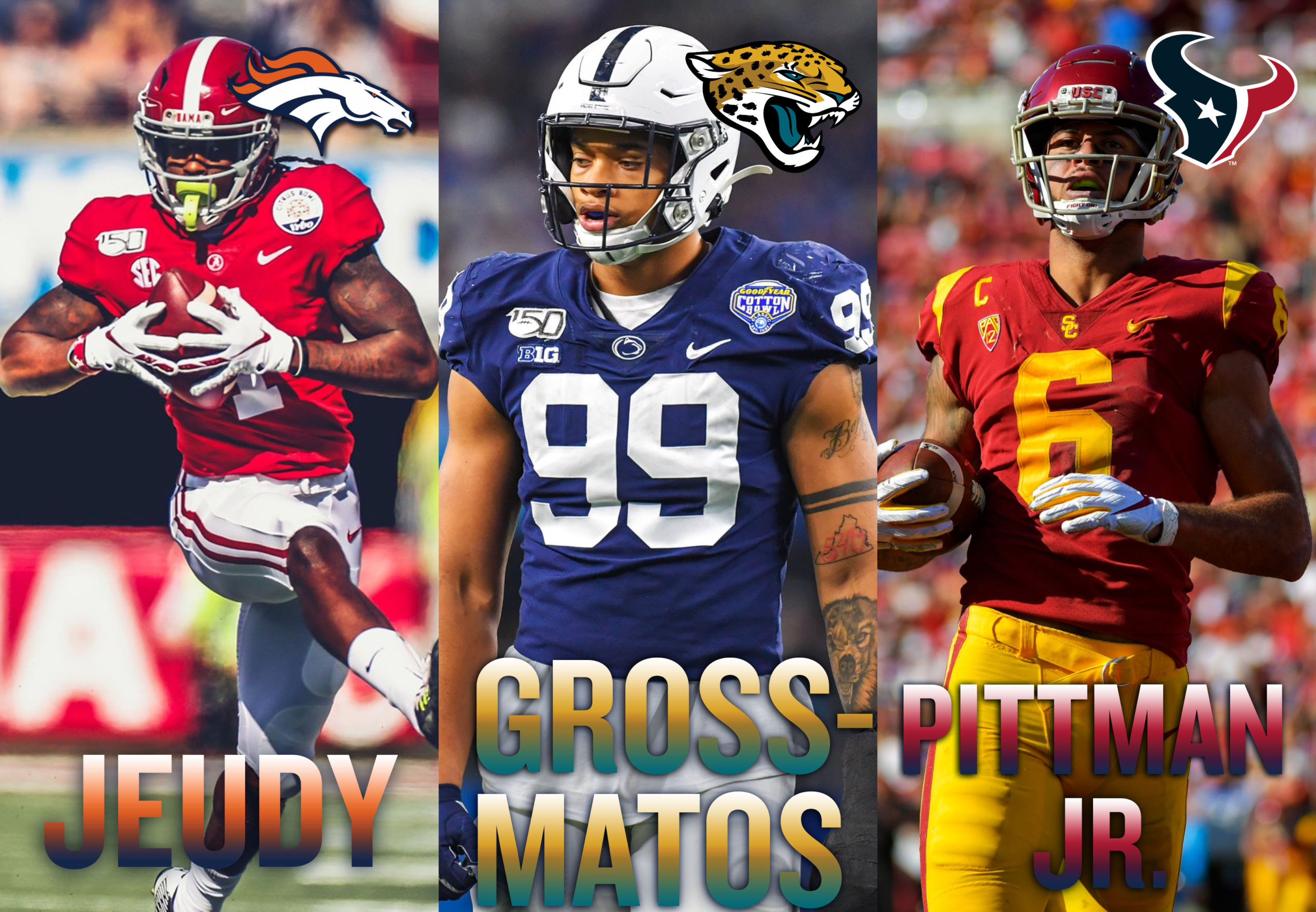 Locker 2020 NFL Mock Draft 3.0: The Time Has Come
After what feels like an eternity—especially in light of the current world circumstances—the 2020 NFL Draft is in just a few days!
This part of the year is ripe with rumors left and right, some of which will come to fruition and others which will fall flat like the relationship between Jerry Krause and Michael Jordan (I cannot wait for Episodes 3 and 4 of ESPN's "The Last Dance").
Here is my final mock draft for 2020, which spans two rounds and involves several teams trading up for "their guy."
Round 1
1. Cincinnati Bengals: Joe Burrow, QB, LSU
This is still a no-brainer. The Bengals should probably explore trade options for Andy Dalton once the coronavirus has been largely mitigated, as he has some decent years left in him.
2. Washington Redskins: Chase Young, EDGE, Ohio State
Another pick that is essentially a lock. The Redskins have been tied to Young from the start, and the hometown kid from Upper Marlboro, Maryland stays very close by.
3. Detroit Lions: Jeff Okudah, CB, Ohio State
Could the Lions take Isaiah Simmons? It is not a quixotic thought, but Okudah would provide depth for a cornerback room that signed 29-year-old Desmond Trufant to just a 2-year deal—he's likely not in Detroit's long-term future.
4. New York Giants: Isaiah Simmons, LB/S, Clemson
In my mind, this is really the first toss-up of the Draft. The Giants could easily add a tackle like Louisville monster Mekhi Becton, Iowa's athletic freak Tristan Wirfs or even Jedrick Wills of Alabama, but it would be awfully challenging to pass on a true chess piece on defense.
Yes, the Giants added Blake Martinez and Kyler Fackrell from the Packers via free agency. At the same time, Martinez is more of a prolific tackler than coverage man, and Simmons could definitely help Big Blue in that regard—and whatever else they ask of the Clemson prodigy.
5. Miami Dolphins: Justin Herbert, QB, Oregon
This pick may astound some, but I ultimately think Herbert has a higher chance of being selected than Alabama's Tua Tagovailoa by the Dolphins.
Each year, certain prospects' stocks seem to precipitously rise or fall right before the first night of the Draft, and Tagovailoa is one of those players.
Tagovailoa posted a 19 on his Wonderlic test—better than the alleged 13 that was once reported—though such number pales in comparison to Herbert's 39. Yes, the Wonderlic is not always the best indication of overall acumen, but Herbert was also the recipient of the Campbell Trophy, which celebrates "combined academic success, football performance and exemplary leadership."
Additionally—and this is likely the area that supersedes all—Herbert is more durable than Tagovailoa. In the current world climate, franchises cannot necessarily scrutinize prospects the way they have been able to in past years, so guys with litanies of collegiate injuries may take a tumble—Tagovailoa may be no exception.
6. Los Angeles Chargers: Tua Tagovailoa, QB, Alabama
Some postulate that the Chargers may not even draft a quarterback at #6, but with Tagovailoa still on the board, it would be awfully tough to pass on him.
Entering SoFi Stadium with unbelievable uniforms, Los Angeles needs a signal-caller that can push the needle for its QB room—whether that be competing with veteran Tyrod Taylor or emerging as an outright starter—and the Alabama lefty is just that.
7. Carolina Panthers: Derrick Brown, DL, Auburn
This pick remains unchanged from my last mock, as Brown has seemingly solidified himself as the #1 interior defensive lineman in this year's draft.
8. Arizona Cardinals: Tristan Wirfs, OT, Iowa
If the Cardinals opt to trade speedy receiver Christian Kirk, they could possibly draft a wideout like CeeDee Lamb, 2019 Offensive Rookie of the Year Kyler Murray's college running mate.
However, I think it's relatively unlikely that Kirk, just 23, ends up being dealt. As such, the Cardinals should add a tackle like Wirfs to solidify their right tackle position for the foreseeable future, as Marcus Gilbert is 32. This may be the "floor" for the highest a tackle is taken in 2020, as this class is laden with elite pass blockers.
TRADE:
Falcons get: #9 overall pick (1st round), #140 overall pick (4th round)
Jaguars get: #16 overall pick (1st round), #78 overall pick (3rd round)
9. Atlanta Falcons: C.J. Henderson, CB, Florida
The Falcons seem beyond eager to move up to take either Javon Kinlaw or C.J. Henderson, and I think it's more likely that they choose the latter.
Henderson's stock has been amplified in recent weeks—some general managers even have the Florida corner ranked higher than Okudah.
The Jaguars are a team that might not be inclined to trade down, as they truthfully need every position on defense besides inside linebacker. But they can still find a treasure trove of defensive talent just 7 picks later.
TRADE:
Broncos get: #10 overall pick (1st round)
Browns get: #15 overall pick (1st round), #83 overall pick (3rd round)
10. Denver Broncos: Jerry Jeudy, WR, Alabama
Another trade!
Denver desperately needs a wide receiver opposite 2019 breakout Courtland Sutton, and GM John Elway has reportedly been keying in on Jeudy.
Jeudy would almost certainly not be available by Pick 15, so if Denver has its heart set on the dynamic route-runner, it will likely be in play to trade up past the New York Jets at Pick 11.
Likewise, the Browns are in somewhat dire need for a tackle, but there should be at least one of the "Big 4" OTs available even if they move down.
11. New York Jets: CeeDee Lamb, WR, Oklahoma
The Jets could also add an offensive tackle here. However, with the interest for wide receivers hypothetically amplifying by the pick, GM Joe Douglas would likely feel pressure from teams below who may look to trade up for a pass-catcher. Regardless, the Jets need a do-it-all, spectacular WR like Lamb to really help Sam Darnold develop,
12. Las Vegas Raiders: Henry Ruggs III, WR, Alabama
Incomprehensible rumors swirled that the Chiefs may angle to trade up and select Ruggs if he falls. Could you imagine Patrick Mahomes, Tyreek Hill, Travis Kelce, Mecole Hardman and Ruggs on the same offense? Sheesh.
This is one of those rumors, though, that I don't think holds much actual validity. I strongly suspect the Raiders will take Ruggs if the Jets don't; similarly, if Las Vegas opts for a different receiver, the 49ers would likely snatch the 'Bama speedster.
13. San Francisco 49ers: Javon Kinlaw, DL, South Carolina
Seeing as the top 3 receivers on almost every big board would have already been taken, general manager John Lynch would likely seek to address one of his roster's few holes—defensive tackle—by adding Kinlaw, who would swap a garnet-based jersey for a red one.
14. Tampa Bay Buccaneers: Jedrick Wills, OT, Alabama
I initially posited that the Bucs may seek to acquire Kinlaw. In this scenario, however, he is taken before Tampa's first pick in the Draft.
If Kinlaw does slide this far, however, it is plausible for the Buccaneers to take him. At the same time, I think that Tom Brady is their main priority at this point, and the best way to protect him is with bonafide offensive line depth.
15. Cleveland Browns: Mekhi Becton, OT, Louisville
This would, essentially, be a dream scenario for the Browns. Another reason this pick seems characteristic for Cleveland is that the Browns have a history taking a chance on players with off-the-field issues (i.e. Josh Gordon, Johnny Manziel, Kareem Hunt, etc.). Becton doesn't seem to be in the same echelon as those with questionable characters, but it is worth noting that he did have a drug test flagged at the Combine.
16. Jacksonville Jaguars: Xavier McKinney, S, Alabama
The Jaguars could nab a corner like LSU's Kristian Fulton here, but he's expected to go slightly lower in the first round. Nonetheless, I don't think GM David Caldwell would be discontent adding an instant starter at safety in McKinney.
17. Dallas Cowboys: K'Lavon Chaisson, EDGE, LSU
Like the Jaguars, the Cowboys could pursue taking a cornerback with this selection. However, if Chaisson is still available, I think the temptation would be too strong to resist.
18. Miami Dolphins: Andrew Thomas, OT, Georgia
I initially thought Miami might not address its tackle scenario in the first round. At the same time, a tumbling Thomas would likely and suddenly overtake the chances of picking any other prospect.
19. Las Vegas Raiders: A.J. Terrell, CB, Clemson
It's an understatement to say that the Raiders have an affinity for Clemson players.
In his first year as GM, Mike Mayock took 3 Clemson products (Clelin Ferrell, Trayvon Mullen and Hunter Renfrow) out of 9 2019 picks.
Further fodder for adding another player who was under the tutelage of Dabo Swinney? Coach Jon Gruden served as a guest speaker for the Tigers' 2020 Coaches Clinic.
It would be irrational to suggest that Mayock would only pick a prospect based on his college. But the draw to Death Valley seems palpable, and Terrell would pair great with his former teammate Mullen on the back end—especially after Las Vegas' deal for Eli Apple disintegrated.
20. Jacksonville Jaguars: Kristian Fulton, CB, LSU
The decision to wait to take a corner pays dividends, as the lanky Fulton would complement addition Rashaan Melvin.
21. Philadelphia Eagles: Justin Jefferson, WR, LSU
I wouldn't be astonished to see a team trade up for Jefferson, as he is arguably the #4 receiver in this draft class.
As I mentioned in my second mock, the Eagles need to bolster their wide receiver depth considering both Alshon Jefferey and DeSean Jackson are returning from injury.
22. Minnesota Vikings: Jaylon Johnson, CB, Utah
Johnson is a late riser and is considered a fringe first round pick. Truthfully, the Vikings can't be at fault as long as they take a corner early on—Minnesota has a dearth of both wide receivers and corners, but it's more likely for a CB to be taken before its next pick. Essentially, the Vikings need to jump on the opportunity to undergird their secondary before a desired prospect gets snatched.
23. New England Patriots: Patrick Queen, LB, LSU
Several experts have prognosticated the Patriots to take an edge rusher, a need which they do have.
However, I think New England's linebacker corps is in more dire straits. Legendary coach Bill Belichick would adulate Queen's versatility as the Patriots enter a new era sans Tom Brady.
TRADE:
Ravens get: #24 overall pick (1st round)
Saints get: #28 overall pick (1st round), #134 overall (4th round)
24. Baltimore Ravens: Kenneth Murray, LB, Oklahoma
Umpteen pundits claim that Murray is the epitome of a Baltimore Raven. But if GM Eric DeCosta truly wants to acquire the OU product, he will likely have to trade up—the Saints are prime candidates to draft him if not.
In terms of New Orleans, further, the Saints certainly can afford to trade down—or maybe even out of the first round altogether. The only needs they have are depth at QB, WR, LB and CB; if their current projected roster were on the field with no setbacks, they would be true contenders to win Super Bowl LV.
25. Minnesota Vikings: Denzel Mims, WR, Baylor
The Vikings need all the receiver help they can get; enter the 6'3" Mims, who has great size and hands and would become the Scottie Pippen to Adam Thielen.
26. Miami Dolphins: Jonathan Taylor, RB, Wisconsin
This is one of the few picks that has remained unchanged across all 3 of my mock drafts. Taylor is my undisputed #1 running back after a truthfully legendary career with the Badgers; he is reminiscent of former Clemson and current Texans QB Deshaun Watson coming out of college—you just have a sense that each would/will excel at the next level.
TRADE:
Jaguars get: #27 overall pick
Seahawks get: Yannick Ngakoue, DE
27. Jacksonville Jaguars: Yetur Gross-Matos, EDGE, Penn State
As each day passes (and with seemingly more time on his hands), Ngakoue seems more and more repulsed with the Jags' front office, as evidenced by his latest Twitter spat with Senior Vice President of Football Technology and Analytics Tony Khan.
This trade makes sense two-fold. Jadeveon Clowney's tenure in Seattle certainly remains tenuous, especially in light of the COVID-19 pandemic. Additionally, the Jaguars are in the midst of tearing their entire roster down; that certainly includes the embattled yet star defensive end.
Consequently, Jacksonville would need to find a plug-and-play starter alongside 2019 first round pick Josh Allen, and Gross-Matos is that guy.
28. New Orleans Saints: Tee Higgins, WR, Clemson
This seems almost unfair: Drew Brees throwing to Michael Thomas, Emmanuel Sanders and Higgins. It makes even more sense to add a "possession" receiver like Higgins considering Thomas is an all-around stud and Sanders is more of a "speed" type.
29. Tennessee Titans: Josh Jones, OT, Houston
The Titans have other roster qualms, including the interior of their defensive line, edge rusher and cornerback. However, Tennessee would be prudent to support its offensive line after the departure of Jack Conklin—especially in light of re-signing Ryan Tannehill (4 years, $118 million) and Derrick Henry (franchise tag).
30. Green Bay Packers: Jalen Reagor, WR, TCU
Reagor certainly may not go in the first round, but WR is one of the Packers' few holes. I personally don't think it makes sense for the Pack to select an offensive tackle with this pick, as David Bakhtiari and newcomer Ricky Wagner should be a terrific tandem.
31. San Francisco 49ers: Brandon Aiyuk, WR, Arizona State
Aiyuk, much like Johnson, has ascended draft boards in the last few weeks heading into April 23rd. He boasts great route-running abilities as well as run-after-catch skills.
Lynch absolutely loves PAC-12 prospects. Since Lynch took over in 2017, he has taken West Coast players like Solomon Thomas (Stanford), Akhello Witherspoon (Colorado), Dante Pettis (Washington), Fred Warner (BYU), Mitch Wishnowsky (Utah) and more.
In light of the coronavirus, the 49ers—and all teams—should take the prospects about which they have the most intel. That would make Aiyuk an excellent candidate, as San Francisco's scouts possibly could have had additional opportunities to watch him due to proximity.
32. Kansas City Chiefs: Noah Igbinoghene, CB, Auburn
The Chiefs adore speed, and Igbinoghene brings plenty of it. Kansas City can't go wrong with picking any sort of corner here; I'm a big fan of the Auburn product.
Round 2
33. Cincinnati Bengals: Zack Baun, EDGE, Wisconsin
The Bengals need a prototypical outside linebacker, and Baun fits that mold. It is worth noting that he had a diluted urine sample at the NFL Combine, so his stock may be afflicted slightly.
34. Indianapolis Colts: Grant Delpit, S, LSU
If Delpit were still available at Pick 34, I think GM Chris Ballard would be hard-pressed to pass on the former LSU star and 2019 Jim Thorpe Award winner.
35. Detroit Lions: Cesar Ruiz, OL, Michigan
In the second iteration of my mock draft, I had the Lions adding Jones, who is projected to be taken higher than the first few picks of the second round. Even if Jones were available, the Lions could use some assistance on the interior of their O-line. Ruiz can play center or guard, but the former Wolverine would likely be asked to suit up as the latter some 44 miles from Ann Arbor.
36. New York Giants: Isaiah Wilson, OT, Georgia
After prioritizing the versatile Simmons earlier, general manager Dave Gettleman still drafts a top-flight tackle at Pick 36.
37. Los Angeles Chargers: Lucas Niang, OT, TCU
Again, this selection remains constant between my last two mocks. Bryan Bulaga helped to solidify Los Angeles' left tackle position, but the right side does not seem reinforced.
38. Carolina Panthers: Jeff Gladney, CB, TCU
The Panthers, like the Jaguars, have abounding needs on both sides of the ball. If Gladney were to fall this far, Carolina would be prudent to take him to pair with speedster Donte "Action" Jackson.
39. Miami Dolphins: A.J. Epenesa, EDGE, Iowa
The Dolphins could use more of an OLB, but it certainly would not hurt to add depth at pass rusher. Epenesa seems to fit the mold of more of a defensive end, though coach Brian Flores could try to convert him.
40. Houston Texans: Michael Pittman Jr., WR, USC
To me, this pick makes too much sense. With this being their first selection, the Texans won't necessarily have a multitude of options in terms of "body" receivers, but Pittman is exactly that. I should also add—I am a big fan of his YouTube channel.
41. Cleveland Browns: Antoine Winfield Jr., S, Minnesota
The rangy Winfield would further contribute to a young Cleveland secondary that includes the likes of Denzel Ward and Greedy Williams.
42. Jacksonville Jaguars: Laviska Shenault Jr., WR, Colorado
Shenault—who reiterated that he was 100% subsequent to having core muscle surgery—could drop a tad because of durability concerns, but Jacksonville would be smart to pair him with D.J. Chark, especially in the wake of Marqise Lee's surprise release.
43. Chicago Bears: Jeremy Chinn, S, Southern Illinois
Chinn can play either inside linebacker or safety, but he would do much of the latter to complement Eddie Jackson in Chicago.
In my second mock, I had the Rams trading up to draft Chinn, as he would fill the role that Mark Barron occupied just a few years ago—that is a scenario I still think could occur.
44. Indianapolis Colts: Jordan Love, QB, Utah State
There are lots of farraginous opinions about Love: some project him to be taken inside of the top 10, while others have him slipping to the third round.
I'm not infatuated with Love's play and don't think he's on the same level as the likes of Burrow, Herbert and Tagovailoa. Nonetheless, it would be difficult imagining Indy passing on him with its second pick of the second round—that is, if a team like the Saints, Packers or Patriots has not already added him.
45. Tampa Bay Buccaneers: D'Andre Swift, RB, Georgia
Swift is my RB4, but his pass-catching prowess would prove dividends with Brady—who loves to check the ball down—under center.
46. Denver Broncos: Trevon Diggs, CB, Alabama
Diggs struggles in certain coverage areas—especially back-shoulder—but the Broncos need another cornerback to pair with recent trade acquisition A.J. Bouye.
47. Atlanta Falcons: Ross Blacklock, DL, TCU
It's somewhat surprising that this could be the first interior defensive lineman selected in 34 picks, but not too many squads have a bonafide need at DT. The Falcons, however, are a franchise that could use some help on the interior.
48. New York Jets: Austin Jackson, OT, USC
Much like its MetLife Stadium counterpart, Gang Green fills its hole at tackle after opting to take a more transcendent talent in the first round.
49. Pittsburgh Steelers: J.K. Dobbins, RB, Ohio State
I explained here why it is imperative for GM Kevin Colbert to add more depth to a running back room that altogether was futile in 2019. The explosive Dobbins would help to ameliorate that.
TRADE:
Cowboys get: #50 overall pick (2nd round), #196 overall pick (6th round)
Bears get: #51 overall pick (2nd round), #179 overall pick (5th round)
50. Dallas Cowboys: Damon Arnette, CB, Ohio State
Certain teams conduct trades that seem unnecessary, and this could possibly be one of them. Both Chicago and Dallas could be jockeying for a corner, though; if the Cowboys have their heart set on a prospect like Arnette, they should go all in.
51. Chicago Bears: Cameron Dantzler, CB, Mississippi State
The Bears could use more interior offensive line depth despite signing Germain Ifedi, but their already-ferocious defense needs more help at cornerback. As a Steelers fan, I know firsthand that Artie Burns is likely not the answer at CB2 opposite Kyle Fuller—I wish Burns nothing but the best, however.
52. Los Angeles Rams: K.J. Hamler, WR, Penn State
Hamler seems reminiscent of Brandin Cooks, whom the Rams just traded to the Texans. Take a look at their Combine numbers:
Hamler: 5'9", 178 lbs, 30 ¾" arm length, 9 3/8" hand size, 15 bench press reps, unofficial 4.27 40-yard dash (he did not run at Lucas Oil Stadium due to tweaking his hamstring)
Cooks: 5'10", 189 lbs, 30 ¾" arm length, 9 5/8" hand size, 16 bench press reps, 4.33 40-yard dash
The two have a multitude of similarities. Hamler isn't necessarily a carbon copy, but the Rams could certainly use some speed on the perimeter as they appear to be on the precipice of a full rebuild.
53. Philadelphia Eagles: Willie Gay Jr., LB, Mississippi State
The Eagles could opt to draft Queen with their first pick in the Draft, but Gay would fill a similar hole at inside linebacker.
54. Buffalo Bills: Terrell Lewis, EDGE, Alabama
Lewis' stock may fall due to injury concerns, but he seems similar to current Titans defensive end and 2019 pick Jeffery Simmons. Both are forces to be reckoned with when healthy—all it takes is one team to give them a chance.
55. Baltimore Ravens: Lloyd Cushenberry III, OL, LSU
The Ravens could bolster their receiving corps here, but Cushenberry could become an instant starter at right guard following the retirement of two-time All-Pro right guard Marshal Yanda.
56. Miami Dolphins: Ashtyn Davis, S, Cal
Some teams felt they could not thoroughly evaluate Davis, but he could certainly still be taken in the second round—especially by the likes of Miami, which needs to fill the shoes of Reshad Jones.
57. Los Angeles Rams: Malik Harrison, LB, Ohio State
The Rams' linebacker corps is an absolute mess. Harrison would likely contribute straight away after the departure of Cory Littleton.
58. Minnesota Vikings: Josh Uche, EDGE, Michigan
The Vikings, through this point, would have addressed their 3 biggest necessities in the Draft. Minnesota could opt to draft Notre Dame's Julian Okwara here instead, but it's difficult to envisage the Vikings not adding an edge rusher before the start of Round 3, as this is their last pick before a 31-selection hiatus.
59. Seattle Seahawks: Kyle Dugger, S, Lenoir-Rhyne
Dugger will likely become only the 7th player all time to be drafted from the Division II Hickory, North Carolina school. After cutting Tedric Thompson in a move that was confusing to some, Seattle should definitely look to add more safety depth.
60. Baltimore Ravens: Chase Claypool, WR, Notre Dame
Claypool doesn't seem to be as scalding of a name as some of his wideout counterparts, but the Ravens should look to give reigning MVP Lamar Jackson some more devastating toys to work with.
61. Tennessee Titans: Neville Gallimore, DL, Oklahoma
I initially had the Titans pegging Gallimore at Pick 29 in my second mock, but he very well could be available 32 picks later.
62. Green Bay Packers: Cole Kmet, TE, Notre Dame
Kmet may not be the first tight end taken this year, and the Bears may nab the St. Viator High School alumnus earlier in the Draft. If he is available at Pick 62, though, general manager Brian Gutekunst should make it his priority to take the Notre Dame product.
63. Kansas City Chiefs: Clyde Edwards-Helaire, RB, LSU
Kansas City may opt to draft a running back at Pick 32, but the tenacious Tiger would be an amazing pick nonetheless.
64. Seattle Seahawks: Donovan Peoples-Jones, WR, Michigan
As I referenced in my second mock, Peoples-Jones would give more depth to an already-stacked receiver room. The Seahawks could instead choose a tackle like Boise State's Ezra Cleveland or Auburn's Prince Tega Wanogho, though, as veteran LT Duane Brown is entering his 14th year in the league.
Written by Bradley Locker
Follow Bradley on Twitter and TSJ: NFL on Twitter!
Photo credit to Alabama Football, Penn State Football and USC Football via Twitter
Follow TSJ on YouTube and Twitter