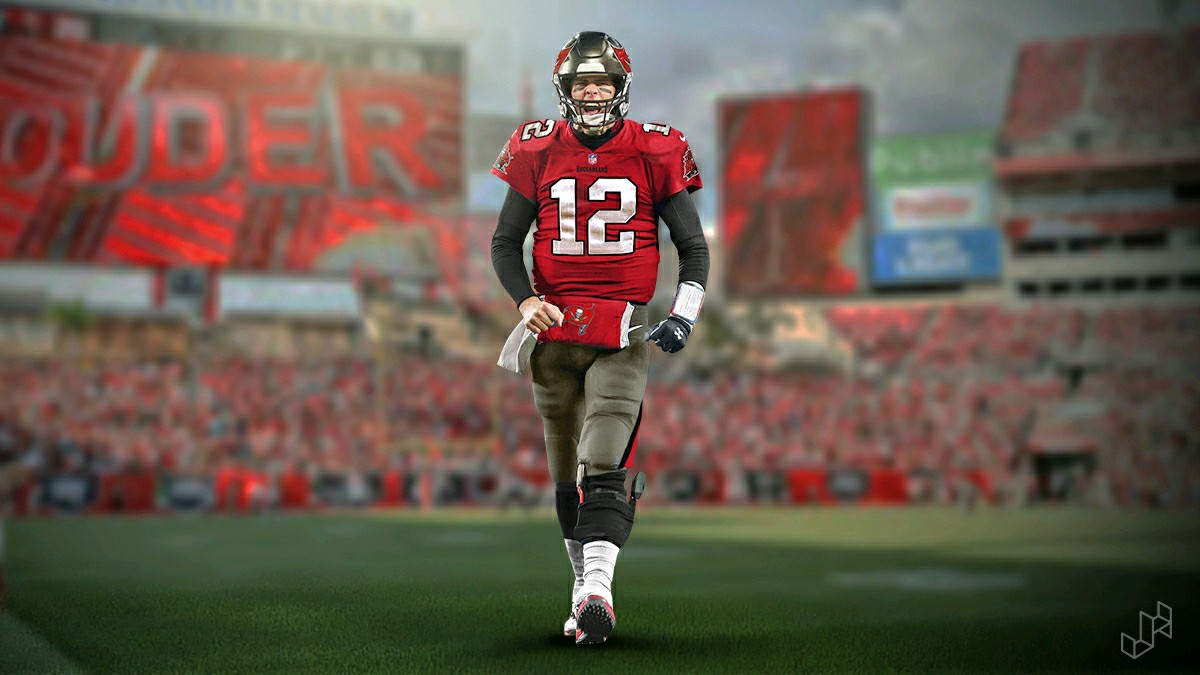 Does Tom Brady Make the Buccaneers Contenders?
The 2020 NFL offseason has proven eventful, with names like DeAndre Hopkins, Stefon Diggs, Dak Prescott, Drew Brees and more all being involved in a flurry of moves. Also among those who entered the headlines in mid-March? Former New England Patriots franchise quarterback Tom Brady, who was a free agent for the first time in his storied career.
On Friday, ESPN's Adam Schefter broke the news that Brady inked a 2 year, $50 million deal with the Tampa Bay Buccaneers. Suddenly, Brady will be suiting up for a franchise many thought was never on his radar as the 2019 season came to a close.
The departure of the six-time Super Bowl champion will undoubtedly create ripples throughout the NFL, particularly in his former home, Gillette Stadium—where revered coach Bill Belichick now incurs uncertainty at the QB spot mixed with a clandestinely aging core of players—and his new abode, Raymond James Stadium.
Today, I'll be taking a specific look at the latter.
After acquiring who most believe to be the GOAT, do the Buccaneers suddenly become the favorites to play in Super Bowl LV—which, of all places, is in Tampa?
Pump the brakes—Tampa is not an imminent contender for the Lombardi Trophy despite acquiring Brady.
Was Tampa Bay Brady's Best Option?
A ludicrous number of offensive weapons. A famed quarterback guru at head coach. A chance to escape the young guns of Patrick Mahomes and Lamar Jackson in the AFC. Oh, and sunny weather.
I get why Brady chose Tampa Bay.
But to me, the Los Angeles Chargers were the superior destination. Here's why.
To start, Brady would have had nearly an equivalently potent offensive core. The Chargers boast superstar wide receiver Keenan Allen as well as burgeoning wideout Mike Williams. Throw in recently-signed RB Austin Ekeler and TE Hunter Henry, and that is one formidable group.
Likewise, what I really think distinguishes the Chargers' roster from the Buccaneers' is defensive talent.
Simply put, the Chargers have skill—and lots of it—in every level of their defense.
Their defensive line is spearheaded by stud defensive end Joey Bosa; second-year defensive tackle Jerry Tillery also has a bright future ahead of him. In terms of their linebacking corps, Los Angeles boasts star Melvin Gordon, emerging OLB Uchenna Nwosu and a very solid ILB in Denzel Perryman.
On top of that, their secondary is truly stacked after signing former Broncos cornerback Chris Harris Jr. Harris will pair with marvel safety Derwin James, standout corner Casey Hayward and second-year safety Nasir Adderley.
By comparison, Tampa has a dearth of defensive talent. Yes, it has a stellar linebacking group in Lavonte David, Devin White and recent franchise tag recipient Shaquil Barrett. But outside of those 3, Tampa's defense doesn't jump off the page the way that Los Angeles' does.
What very likely played a key factor in Brady's decision was competition in the AFC, which, admittedly, is steep. The aforementioned Mahomes and Jackson are just the tip of the iceberg in terms of young, electric AFC quarterbacks; throw in Houston's Deshaun Watson and Tennessee's Ryan Tannehill, and that is certainly a dangerous group.
In the end, Brady chose Tampa Bay, a fit that does make sense. But I'm still not sure it was the best provision out there.
A Buzzing Buccaneer Receiving Corps
I prefaced Tampa Bay's offense earlier, and boy, will it haunt opposing defenses.
Brady will be paired with the best receiver duo in the league: Mike Evans and Chris Godwin, who combined for an incredulous 2, 490 yards and 17 touchdowns with Jameis Winston under center. Factor in promising tight ends O.J. Howard and Cameron Brate, and it's very logical why Brady chose Tampa: its offensive prowess far exceeds what New England provided.
In the past few seasons, it was exceedingly apparent that Brady was frustrated with the personnel that Belichick, GM Robert Kraft and offensive coordinator McDaniels placed around him. Brady's sole trustworthy target was crafty veteran Julian Edelman; he had little-to-no faith in 2019 rookie N'Keal Harry as well as the tandem of Mohamed Sanu Sr. and Phillip Dorsett. Moreover, Brady's tight ends were Benjamin Watson and Matt LaCosse, neither of whom flourished.
Other Offensive Issues
Outside of receiving weaponry, however, Tampa's roster is far from ideal.
Let's start with its offensive line, which definitely needs some retooling. The Bucs just signed former Colts OT Joe Haeg, who didn't start a single game in 2019; many posit that Tampa will select an OT with the #14 overall pick in April's NFL Draft (I have them taking Andrew Thomas of Georgia).
But acquiring Haeg and even Thomas might not solve all of their O-line qualms.
The Bucs relinquished a whopping 47 sacks in 2019. As far back as 2009 (the earliest NFL.com has data on sacks allowed), the highest number of times Brady has hit the deck for a loss in one season is 40, which happened in 2013. Get this: in the last 4 seasons, Brady has only been sacked an average of 27 times per 16 games.
Brady hasn't missed a start since his infamous Deflategate suspension in 2016, a phenomenal feat for someone who is 42. But Brady's sustainability could be in jeopardy if Tampa doesn't prevent opposing defenses from preying upon him like pirates attacking a treasure chest full of gold.
Additionally, Tampa Bay's running back scenario is far from ideal. Projected 2020 starter Ronald Jones II compiled just 724 yards and 6 touchdowns in 9 starts last year. In his stead, Peyton Barber trotted for a mere 470 yards in 7 games.
What GM Jason Licht should do is sign Devonta Freeman, who is still on the open market. After officially nabbing Brady, the Buccaneers still have around $24 million in cap space available, which would be more than sufficient to ink the former Falcons back.
A Defense That Would Put Excessive Pressure on Brady
I already discussed the morass of Tampa's defense in terms of talent, and their 2019 defensive unit—led by coordinator Todd Bowles, who once attempted to inhibit Brady as the coach of the Jets—performed how most expected: not very well.
The Buccaneers allowed 28.1 points per contest a year ago, good for 4th-worst in the league. Further, they surrendered 270.1 passing yards per game in 2019, which ranked 29th.
Surprisingly, though, the Bucs' defense was incredibly stout versus the run. Bowles' contingent permitted an average of under 74 yards on the ground per game. Their run defense ended the season ranked best in the NFL, per Football Outsiders.
Yes, I understand that Tampa's defense played better down the stretch; they slotted in at 3rd in Football Outsiders' Weighted Defensive DVOA metric last season. But this team needs more big bodies along its defensive line—as well as, most importantly, upgrades in the secondary—before it can start to contend for NFL supremacy.
Fierce NFC South Competition
For the first time in his 20-year career, Brady will be suiting up for an NFC franchise.
As referenced earlier, this move makes sense. Teams that are far from prosaic like Kansas City, Baltimore, Buffalo, Tennessee, Pittsburgh, Houston and maybe even Cleveland and Denver will be AFC powerhouses for a long time.
The NFC, though, is no cakewalk.
In 2020 alone, Brady will face off against Drew Brees (twice), Aaron Rodgers and Mahomes. The Buccaneers will also play in some tough road games in Denver, Chicago, Detroit and Las Vegas. Ironically, the Bears and Raiders were both in play to sign the 14-time Pro Bowler—they'll be looking to exact revenge.
In terms of the smaller-scale NFC South, the Buccaneers are far from guarantees to win their own division.
After Drew Brees re-signed with the Saints to the tune of a 2 year, $50 million deal, New Orleans—with Brees, Alvin Kamara, Michael Thomas, Emmanuel Sanders, Jared Cook, Marshon Lattimore and newly-signed Malcolm Jenkins—should still be the odds-on favorite to win the South for the 4th consecutive season.
Additionally, the Falcons and Panthers should be fairly competitive, though they aren't on par with New Orleans or Tampa. The former boasts former MVP Matt Ryan, once-Rams All-Pro RB Todd Gurley and superstar receiver Julio Jones; the latter recently signed former Saints backup QB Teddy Bridgewater and features do-it-all tailback Christian McCaffrey.
Fellow NFC Juggernauts
Upon taking a broader look around the NFC, things don't get any easier for Brady & Co.
The defending conference champion-San Francisco 49ers retain nearly their same superb roster from a year ago that led them to Super Bowl LIV in Miami. The Packers should also vie for NFC supremacy via a depth chart that includes Rodgers, Aaron Jones, Davante Adams, Za'Darius Smith, Preston Smith, Jaire Alexander, and more. And don't count out the Seahawks, Cowboys, Eagles, Cardinals, Bears and even the Vikings, either.
Under the NFL's newly-ratified CBA, 7 teams will now qualify for postseason play in each conference. The Buccaneers have a solid shot to be among the premier 7 in their own conference. At the same time, I wouldn't rule out them narrowly missing the playoffs.
Can Brady lead the Buccaneers to their first playoff berth since 2007? Absolutely.
But becoming the first team to play in their home stadium in the Big Game—and thus winning the NFC? I just can't envisage it happening this season.
Written by Bradley Locker
Follow Bradley on Twitter and TSJ: NFL on Twitter!
Photo credit to Joe Haas via Twitter