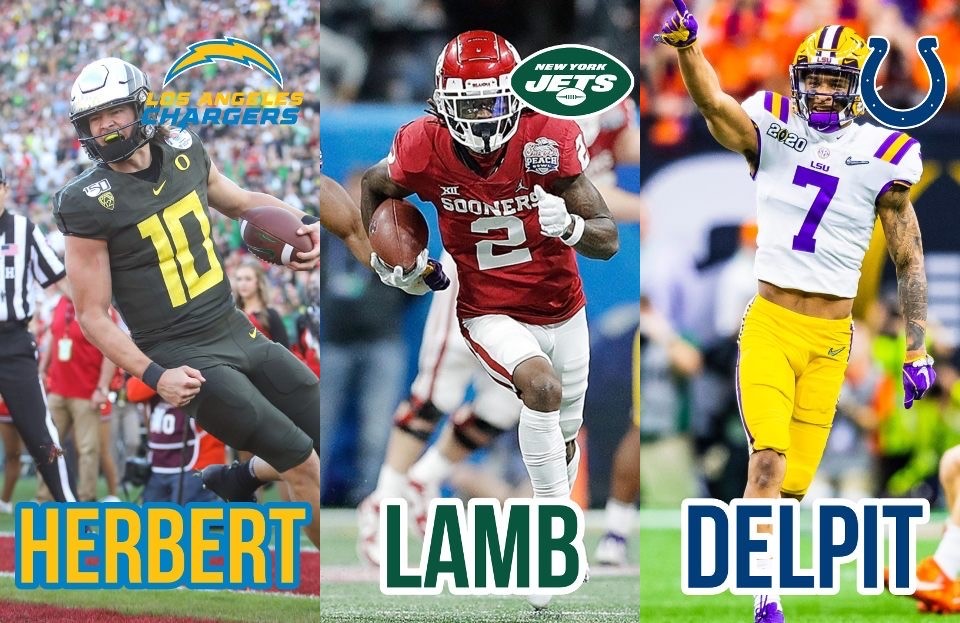 Locker 2020 NFL Mock Draft 2.0: 2 Trade-Filled Rounds
Rejoice, NFL (and sports) fans! On March 26th, NFL commissioner Roger Goodell announced that the 2020 NFL Draft would still transpire April 23-25th despite general managers' desires to postpone the event.
We still don't know how, exactly, the 2020 NFL Draft will take place or if any analysts will be allowed to commentate in-person. Likewise, the prospects who have waited their whole lives to hear their names called by Goodell will no longer be able to shake his hand (or even bump his elbow), but at least they can obtain solace knowing that they will not have to change the dates of their draft parties.
As an always-entertaining free agency period has nearly concluded—a few stragglers, like Jadeveon Clowney, Logan Ryan and Jameis Winston, remain—and with the 2020 NFL Draft in less than a month, here is how I think the first two rounds of the 2020 NFL Draft will shake out.
1. Cincinnati Bengals: Joe Burrow, QB, LSU
The Bengals enjoyed a phenomenal free agency period, inking DT D.J. Reader, LB Josh Bynes, CBs Mackensie Alexander and Trae Waynes, G Xavier Su'a-Filo and S Vonn Bell.
Andy Dalton definitely has some talent left in his NFL tenure, but I think the Bengals are very likely to either trade or release him. Even if they keep Dalton as a mentor to Joe Burrow—a concept that has been floated within league circles—their future would be more luminous with Burrow under center.
2. Washington Redskins: Chase Young, EDGE, Ohio State
Much to my chagrin, many mock drafts peg Washington to select Alabama QB Tua Tagovailoa—I am always taken aback by such idea.
As I explained in my first mock for the 2020 NFL Draft, the idea of the Redskins taking Tagovailoa is simply blasphemous; what is far from ludicrous is taking the best player available at #2, Chase Young.
3. Detroit Lions: Jeff Okudah, CB, Ohio State
After what seemed like years of acrimony, the Lions finally traded CB Darius Slay (albeit for a lot less than what I expected). They have solid contributors in Desmond Trufant and Justin Coleman at corner, but Okudah would be a shrewd pick nonetheless. After all, Trufant is 29.
Some experts feel that a team like the Dolphins or Chargers could trade up to this slot to take Tagovailoa. That scenario is definitely possible, but I only see that happening if either Chargers GM Tom Telesco or Dolphins GM Chris Grier grows paranoid that their counterpart is also trying to move up.
TRADE:
Jaguars get: #4 overall pick (1st round)
Giants get: #9 overall pick (1st round), #116 overall pick (4th round)
4. Jacksonville Jaguars: Isaiah Simmons, LB/S, Clemson
I alluded to a swap just moments ago, and the Jags execute one to perfection.
The Giants are certainly in need of a tackle, and GM Dave Gettleman would almost definitely like to have a full smorgasbord of tackles at his 2020 NFL Draft disposition. But if he were to trade down to #9, there would likely have been only one of the "core 4" of OTs off the board—a reasonable consolation prize.
I adulate the Jags' signing of Joe Schobert; he pairs wonderfully with Myles Jack in the middle of Jacksonville's defense. But the Jags still have holes at basically every other defensive position, and it certainly wouldn't hurt drafting Simmons—regardless if he starts alongside Jack and Schobert or if Doug Marrone experiments by putting him in the secondary.
5. Miami Dolphins: Tua Tagovailoa, QB, Alabama
Like Cincinnati, Miami had an excellent splurge in the free agent market, signing RB Jordan Howard, OT Ereck Flowers, DE Shaq Lawson, OLB Kyle Van Noy and CB Byron Jones.
The Dolphins' future is looking brighter each time pen touches paper in GM Grier's office, and adding Tagovailoa would only further that narrative.
6. Los Angeles Chargers: Justin Herbert, QB, Oregon
The Chargers are in somewhat of a quarterback quagmire, as they have only Tyrod Taylor and Easton Stick under contract.
Taylor was seen working out with newly-released Cam Newton several days ago, and it is incredibly logical for the Bolts to sign him. However, Newton has had durability issues over the past few years, and Taylor would not be throwing and running on fresh legs; to put it bluntly, they need a QB of the future, and the athletic Herbert is that guy.
7. Carolina Panthers: Derrick Brown, DL, Auburn
Carolina's defense is in shambles after losing DTs Gerald McCoy and Dontari Poe to the Cowboys as well as CB James Bradberry to the Giants. They have a multitude of areas of need—essentially all of which defensive—but with Simmons off the board, taking a linebacker or corner would likely be a reach at 7 in this 2020 NFL Draft class.
In the first iteration of my mock for the 2020 NFL Draft, I had the Panthers taking Javon Kinlaw of South Carolina. I still think Kinlaw would fit, but Brown seems to be higher among draft boards around the league, so I think he'll end up being selected slightly higher than Kinlaw—but don't be surprised if the Auburn product slips.
8. Arizona Cardinals: Tristan Wirfs, OT, Iowa
The Cardinals certainly won't be taking a WR at #8 after acquiring superstar DeAndre Hopkins from the Houston Texans (boy, what a deal that was).
Even after re-signing veteran Marcus Gilbert, Arizona could get younger (and more athletic) at tackle. Wirfs has ascended 2020 NFL Draft boards to become the #1 offensive tackle in the class, and he would become a quick acquaintance of Kyler Murray.
9. New York Giants: Mekhi Becton, OT, Louisville
As I mentioned earlier, the Giants would still be in prime position to draft an elite OT at #9.
Nate Solder currently occupies New York's left tackle role; former Cowboy Cameron Fleming is currently slated to be its right tackle. However, Fleming started just 3 games last season; the 6'7" truck-pushing Becton would certainly provide Daniel Jones additional serenity.
10. Cleveland Browns: Andrew Thomas, OT, Georgia
3 tackles in a row? You bet.
I loved the Jack Conklin signing, but Cleveland still needs offensive line help. With Thomas, nascent tight end Austin Hooper, Nick Chubb, Odell Beckham Jr. and Jarvis Landry, Baker Mayfield would have essentially no reason to flounder in 2020.
11. New York Jets: CeeDee Lamb, WR, Alabama
The Jets could certainly take a tackle here (notice a motif?), but with arguably the best three OTs having already been selected, GM Joe Douglas should be inclined to go the receiver route (no pun intended).
New York lost Sam Darnold's #1 target in Robby Anderson to free agency, so it is in dire need of a wideout. Lamb would truly provide Darnold the opportune chance to hit his stride in Year 3.
12. Las Vegas Raiders: Jerry Jeudy, WR, Alabama
The Raiders, too, were incredibly active in free agency, as they added QB Marcus Mariota, WR Nelson Agholor, TE Jason Witten, DT Maliek Collins, LBs Cory Littleton and Nick Kwiatkowski, CB Eli Apple as well as S Jeff Heath. However, they still have a gorge at WR, no matter if Derek Carr or Mariota is their 2020 starting QB.
The Jets could opt to draft Jeudy instead of Lamb—or even Henry Ruggs III, who some think could be the fist receiver taken. Regardless, Las Vegas is in prime position to select a receiver that will be an instant upgrade and playmaker.
13. San Francisco 49ers: Henry Ruggs III, WR, Alabama
I originally thought the Texans might try to trade for this pick after losing Hopkins, but they are in far better shape at receiver than the 49ers are.
Indeed, after the departure of veteran Emmanuel Sanders, the Niners need a target for Jimmy Garoppolo outside of Deebo Samuel and George Kittle.
Ruggs would be arguably the best receiver to directly replace Sanders. Here's a look at how the two shape up in terms of Combine measurables:
Sanders: 5'11", 186 lbs, 4.41-second 40-yard dash, 39.5" vertical jump, 126" broad jump
Ruggs: 5'11", 188 lbs, 4.27-second 40-yard dash, 42" vertical jump, 131" broad jump
If anything, Ruggs is slightly more athletic than Sanders. Ruggs and Sanders can both play in the slot as well as on the perimeter; with Ruggs' speed, though, he just simply needs to be on the field to make an immediate impact.
14. Tampa Bay Buccaneers: Javon Kinlaw, DL, South Carolina
Tampa Bay could definitely opt to take an offensive tackle—especially to better protect new franchise signal-caller Tom Brady—or even go secondary.
But with Wirfs, Becton and Thomas all off the board, Kinlaw would be the best selection despite re-signing veteran Ndakamukong Suh, as Suh is likely nearing the end of his tenacious playing days.
15. Denver Broncos: Laviska Shenault Jr., WR, Colorado
The Broncos, like the 49ers, are ravenous for a second wideout. They will likely have a good problem, per se: having the ability to take either Shenault or LSU's Justin Jefferson.
I would not be surprised if they opted for the latter. At the same time, both are very similar prospects—each is 6'1"—but for now, I have John Elway taking the wideout who played collegiate football some 36 miles away.
16. Atlanta Falcons: C.J. Henderson, CB, Florida
The Falcons did a nice job offsetting the loss of edge rusher Vic Beasley by adding former Rams defensive end/outside linebacker Dante Fowler Jr.
After releasing former Pro Bowl corner Desmond Trufant, though, Atlanta's most pressing need is at corner, and Henderson would likely be an instant starter.
17. Dallas Cowboys: K'Lavon Chaisson, EDGE, LSU
The Cowboys certainly need help in the secondary subsequent to the departure of Byron Jones; they could definitely add a corner or even safety like Xavier McKinney or Grant Delpit at Pick 17.
But they also must incur the loss of their 2019 sack leader Robert Quinn, as he is now a part of the Chicago Bears. As such, Chaisson would be a very prudent add along a revamped defensive line that now includes Demarcus Lawrence, McCoy and Poe.
18. Miami Dolphins: Xavier McKinney, S, Alabama
The Dolphins need to undergird their offensive line despite adding Flowers, and they could definitely do so with their second first-round selection.
Nonetheless, Miami still does not have a bonafide replacement for Reshad Jones; currently, free agent acquisition Adrian Colbert and former CB Eric Rowe are slated to be its starting safeties. Throwing McKinney into that mix would be a great move, as Rowe could play his "natural" position behind Byron Jones and Xavien Howard.
19. Las Vegas Raiders: Kenneth Murray, LB, Oklahoma
Las Vegas doesn't necessarily have a true need at linebacker after adding Littleton and Kwiatkowski. At the same time, Will Compton and Vontaze Burfict remain free agents, and adding Murray—my #2 linebacker—would only aid a defense that ranked 31st in 2019 defensive DVOA, per Football Outsiders.
20. Jacksonville Jaguars: Justin Jefferson, WR, LSU
Jacksonville could take a corner here (or any position besides inside linebacker), but Gardner Minshew needs more reliable, explosive targets beyond D.J. Chark.
In this case, Chark would be paired with his 2017 LSU teammate and 2019-20 College Football Playoff star Jefferson.
21. Philadelphia Eagles: Denzel Mims, WR, Baylor
The Eagles would be smart to select a wide receiver, as Alshon Jeffery and DeSean Jackson played in a combined 13 games a season ago. Moreover, both are over 30 years old.
Second-year wideout J.J. Arcega-Whiteside has a bright future, as does Greg Ward. However, the Eagles should proceed as if a year with none of their oft-injured starting receivers playing could happen again. Mims would certainly see playing time under such circumstance and would likely even be a factor before the injury bug were to bite.
22. Minnesota Vikings: Kristian Fulton, CB, LSU
Arguably, the Vikings did the right thing in trading away star yet potent personality-laden wide receiver Stefon Diggs. However, they now face a morass at both wideout and corner; good thing they have the 2020 NFL Draft capital to address both.
I think there's a higher chance of a corner being taken before Minnesota's next pick—#25 overall—than there is receiver, so general manager Rick Spielman should likely nab the former. The 6'0" Fulton would pair well with the smaller Mike Hughes to help Minnesota catalyze its secondary rebuild.
23. New England Patriots: Patrick Queen, LB, LSU
I initially had the Patriots selecting guard/center Cesar Ruiz with this pick, but they shocked the world and retained (for now) guard Joe Thuney by placing the franchise tag on him.
Consequently, New England has less of a need at offensive line than at linebacker. Revered coach Bill Belichick lost both Van Noy as well as Jamie Collins this offseason, so the Patriots are relatively desperate for a 'backer to play alongside Dont'a Hightower; in my opinion, Queen could play either inside or outside.
24. New Orleans Saints: A.J. Terrell, CB, Clemson
I absolutely loved the Saints' re-acquiring of Malcolm Jenkins, but Sean Payton's cornerback room could get younger. Janoris Jenkins is 31, and Patrick Robinson is 32.
To best maximize Drew Brees' chances of hoisting another Lombardi Trophy, New Orleans should draft a corner to pair alongside Marshon Lattimore. In this case, Terrell would call the home of the 2020 College Football Playoff National Championship his new abode.
25. Minnesota Vikings: Tee Higgins, WR, Clemson
After adding Fulton just 3 picks prior, the Vikings address their enormous need at WR.
Higgins, like Mims, is an excellent possession receiver who also has surreptitious speed. He would fit wonderfully with 2018 Pro Bowler Adam Thielen.
26. Miami Dolphins: Jonathan Taylor, RB, Wisconsin
Like my top 5 picks, this selection is unchanged relative to my first mock.
The Dolphins added RB Howard in free agency, though he has struggled to proliferate the success he found as a rookie with the Bears in 2016.
A tailback like Taylor would form a solid duo with Howard; I would not be surprised if Taylor ultimately usurped Howard, much as Miles Sanders did with Howard sidelined in 2019.
27. Seattle Seahawks: Yetur Gross-Matos, EDGE, Penn State
Make it consecutive picks that are identical to my 2020 NFL Mock Draft 1.0.
The Seahawks likely do not have the cap room to re-sign star edge rusher Jadeveon Clowney, as Clowney is allegedly seeking around $20 million per year; Seattle has a little over $11 million remaining.
Even if Clowney were to take a hometown discount, he may not sign until training camp (whenever that will be). Seattle must move forward under the impression that the South Carolina alum will not return to CenturyLink Field as a member of the Seahawks; Gross-Matos would help to mitigate his presumed loss.
28. Baltimore Ravens: Ross Blacklock, DL, TCU
It seemed as if Baltimore had arguably the best defensive line in football after trading for stellar DE Calais Campbell as well as inking DT Michael Brockers.
However, much to Raven faithful's surprise, the deal with Brockers fell through; he instead returned to the Rams.
The Ravens did just sign defensive end Derek Wolfe to bolster their D-line, but they could use more help on the interior. It's somewhat of a toss-up between Blacklock and Gallimore, but I chose the former due to being an inch taller (6'3" vs. 6'2").
29. Tennessee Titans: Neville Gallimore, DL, Oklahoma
Jurrell Casey might be 30, but it is still asinine that the Titans traded him to Denver for just a 7th round pick.
As a result, the Titans now have a hole along their defensive line. Signing the former Falcon Beasley was smart, but Tennessee needs to find a replacement for Casey, who was a Pro Bowler the last 5 seasons.
The Titans could also take an offensive tackle like Jedrick Wills here, as Conklin departed via free agency. But after re-signing Dennis Kelly, it seems that Kelly will slot in at RT.
Additionally, Logan Ryan's future in Tennessee may be in jeopardy, as he is still a free agent. OT and corner are two areas of need for the Titans, but I think defensive line supersedes both.
30. Green Bay Packers: Jalen Reagor, WR, TCU
I wasn't a fan of the Packers signing Devin Funchess, who hasn't eclipsed more than 800 yards in a season since 2017 with Carolina.
Even if he does stay healthy in 2020, he will likely have to compete with third-year wideout Allen Lazard for the role of #2 receiver for Green Bay, as Lazard came on late and started both playoff games for the Pack.
Nonetheless, quarterback Aaron Rodgers needs more consistency at wide receiver. Reagor is a speed demon and would help give the Packers a nice corps alongside Davante Adams, Lazard and Funchess.
31. San Francisco 49ers: Noah Igbinoghene, CB, Auburn
After re-signing safety Jimmie Ward, the 49ers no longer need a safety; I initially had them drafting Minnesota's Antoine Winfield Jr.
The one area of concern for Kyle Shanahan's team (outside of wide receiver, which, hypothetically, was already addressed) is cornerback, as Robert Saleh has only Richard Sherman and Emmanuel Moseley to work with. Akhello Witherspoon struggled mightily down the stretch and was even benched in San Francisco's Divisional matchup against the Vikings.
Adding a corner like Igbinoghene would help give Saleh more depth, though the 49ers could take any of Auburn's Igbinoghene, TCU's Jeff Gladney, Ohio State's Damon Arnette or even Alabama's Trevon Diggs.
If draft tendencies tell the story, then Igbinoghene may be the pick. GM John Lynch has taken 6 SEC prospects vs. just 2 Big 12 players since 2017. Also, all cornerbacks above 5'10" or taller that he has drafted have weighed at least 198 lbs and have had at least 127" broad jumps. Igbinoghene meets such (somewhat random) criteria, while Gladney does not.
32. Kansas City Chiefs: Jeff Gladney, CB, TCU
After witnessing corner Kendall Fuller return to Washington via a 4-year, $40 million contract, the Chiefs need a corner opposite Charvarius Ward. I suspect that whichever corner the 49ers do not take will call Kansas City home; in this scenario, it's Gladney, who has superb ball skills.
33. Cincinnati Bengals: Jedrick Wills, OT, Alabama
Bobby Hart has been decent at RT, but adding Wills to give Cincy more O-line depth would be prudent.
34. Indianapolis Colts: Grant Delpit, S, LSU
Delpit may slide—not because of a lack of skill, but because few teams in the bottom half of the first round need a safety. Indy also needs more receivers, but the Colts snatch Delpit to pair him with Malik Hooker and end his skid.
35. Detroit Lions: Josh Jones, OT, Houston
Jones would help offset the loss of tackle Ricky Wagner in free agency.
36. New York Giants: Zack Baun, EDGE, Wisconsin
The Giants have a young defensive line in Leonard Williams and Dexter Lawrence, but they could use more depth at pass rusher.
37. Los Angeles Chargers: Lucas Niang, OT, TCU
I liked the addition of veteran Bryan Bulaga, but the Chargers should add another tackle to compete with Sam Tevi.
38. Carolina Panthers: Ezra Cleveland, OT, Boise State
The Panthers could definitely take a cornerback or linebacker here, but I have them bolstering their offensive line—which recently added veteran Russell Okung—by taking Cleveland. The Boise State product seemingly boosted his stock by running a 4.93-second 40 in Indy.
39. Miami Dolphins: A.J. Epenesa, EDGE, Iowa
I'm not a big fan of Epenesa; he has great size but often seems to lumber to get around tackles. Regardless, the Dolphins would likely be ecstatic to see him "fall" this far; Miami could have him play defensive end or even OLB.
40. Houston Texans: Michael Pittman Jr., WR, USC
Pittman seems to be rapidly climbing 2020 NFL Draft boards, and for good reason. He has great size (6'4") and ran an excellent 4.52 40. The Texans need to replace Hopkins somehow, and Pittman is probably the third-best guy in this class to do so.
41. Cleveland Browns: Antoine Winfield Jr., S, Minnesota
The Browns found stopgaps at safety by adding veteran Andrew Sendejo as well as Karl Joseph, but they still need to get younger at such position. Sendejo is 32 and started just 3 games for the Vikings and Eagles a year ago.
42. Jacksonville Jaguars: Trevon Diggs, CB, Alabama
Front office personnel like Diggs because of his tall 6'1" frame, but I think he lacks elite balls skills. Nonetheless, the Jags are desperate for corner help—especially after their deal for Darqueze Dennard fell through—so Diggs would likely be an instant starter. In this case, Diggs could oppose his brother, Stefon, as early as 2021.
TRADE:
Los Angeles Rams get: #43 overall pick (2nd round), #200 overall pick (6th round)
Chicago Bears get: #52 overall pick (2nd round), WR Brandin Cooks
43. Los Angeles Rams: Jeremy Chinn, S/LB, Southern Illinois
To me, this move makes sense in multiple facets.
The Rams are desperate for help at linebacker after losing Littleton and Fowler as well as cutting veteran Clay Matthews. On the other hand, the Bears need a solid WR2 to complement Allen Robinson, no matter who is slinging the ball in Chicago. Cooks seems very likely to get traded, especially after recent a recent tweet saying "Free me."
Chinn can suit up at both inside linebacker and safety, much as former Ram Mark Barron did from 2016-18. Chinn would also be able to mitigate the retirement of veteran safety Eric Weddle.
44. Indianapolis Colts: Jordan Love, QB, Utah State
Love definitely has promise, as he has good touch and is accurate on intermediate and deep passes. His numbers were horrific in 2019, especially against Power 5 defenses, but the Colts should still draft him to gear up for the future.
45. Tampa Bay Buccaneers: D'Andre Swift, RB, Georgia
Swift is a very elusive back, but I personally prefer Ohio State's J.K. Dobbins as well as LSU's Clyde Edwards-Helaire. Either way, Brady should be ecstatic to have some additional ammunition at running back, as Peyton Barber is now a member of the Redskins.
46. Denver Broncos: Bryce Hall, CB, Virginia
Hall is a solid tackler and a four-year starter, though he suited up in just 6 games in 2019 due to a left ankle injury. He would likely be an instant starter alongside new Bronco A.J. Bouye.
47. Atlanta Falcons: Justin Madubuike, DL, Texas A&M
The Falcons need another formidable presence along the interior of their defensive line to pair with Grady Jarrett, and Madubuike would do just that.
48. New York Jets: Austin Jackson, OT, USC
To me, Gang Green needs a wideout more than an offensive tackle, as Joe Douglas signed George Fant, Connor McGovern and Greg Van Roten. The Jets get another tackle here in Jackson.
49. Pittsburgh Steelers: J.K. Dobbins, RB, Ohio State
James Conner still has the propensity to be a great running back, but he has a lot of doubters to silence in 2020 after missing 6 games and compiling just over 400 yards a year ago. Dobbins, a Second-Team All-American, would be a great complement to Conner and could add depth to a position that was relatively thin production-wise for Pittsburgh last year.
50. Chicago Bears: Cesar Ruiz, OL, Michigan
The Bears lost Kyle Long to retirement, so they need to find his long-term replacement at right guard. Ruiz is arguably the best interior offensive lineman in a relatively lackluster IOL class.
51. Dallas Cowboys: Damon Arnette, CB, Ohio State
The Cowboys find their Byron Jones replacement via the 4-year Buckeye starter.
52. Chicago Bears: Ashtyn Davis, S, Cal
GM Ryan Pace witnessed the departure of Ha Ha Clinton-Dix in free agency, so the Bears need another safety to pair with newly-extended Eddie Jackson.
53. Philadelphia Eagles: Malik Harrison, LB, Ohio State
Philly could go as far as taking a linebacker in the first round, but they find answers at LB via Harrison in the second.
54. Buffalo Bills: Terrell Lewis, EDGE, Alabama
The Bills don't necessarily need to bolster arguably the best defense in the NFL with this pick, but solid edge rusher Jerry Hughes is almost 32. Lewis would provide both more depth alongside new pass rusher Mario Addison as well as, most importantly, additional youth.
55. Baltimore Ravens: Willie Gay Jr., LB, Mississippi State
Baltimore needs to draft replacements for both Patrick Onwuasor and Josh Bynes, as each left via free agency. Gay boosted his stock via the Combine, where he ran a marvelous 4.46 40 as well as posted a prolific 39.5" vertical jump.
56. Miami Dolphins: Prince Tega Wanogho, OT, Auburn
The Dolphins help reinforce their tackle position by nabbing the 6'5" Auburn prospect.
57. Houston Texans: Raekwon Davis, DL, Alabama
Houston lost D.J. Reader to free agency, so Davis would help to fill in his shoes.
TRADE:
Jacksonville Jaguars get: #58 overall pick (2nd round), #105 overall pick (3rd round)
Vikings get: Yannick Ngakoue, DE
58. Jacksonville Jaguars: Josh Uche, EDGE, Michigan
Ngakoue has expressed that he does not wish to remain in Jacksonville in the long term, and the Vikings are the perfect suitor.
Ngakoue posted pictures of Reggie White in an Eagles jersey and an eagle emoji on his Instagram story, but Minnesota seems like a more logical fit considering that star DE Everson Griffen will no longer be donning purple and gold.
After losing Ngakoue, the Jags draft Uche to pair him with burgeoning edge rusher Josh Allen.
TRADE:
Dolphins get: #59 overall pick (2nd round)
Seahawks get: #70 overall pick (3rd round), #153 overall pick (5th round)
59. Miami Dolphins: Lloyd Cushenberry III, OL, LSU
After consecutive trades, the Dolphins use their immense 2020 NFL Draft capital to move up and take Cushenberry, who was part of the #1 offensive line in the country last year—a group that won the Joe Moore Award.
60. Baltimore Ravens: Chase Claypool, WR, Notre Dame
This pick feels almost too good to happen: Lamar Jackson throwing to deep threat Marquise Brown as well as freak athlete Chase Claypool. Also, Claypool would be paired with his former Irish teammate Miles Boykin.
61. Tennessee Titans: Isaiah Wilson, OT, Georgia
The Titans help stabilize their right tackle position by pairing Kelly with the 6'7" Wilson.
62. Green Bay Packers: Cole Kmet, TE, Notre Dame
This tight end class isn't incredibly potent, but Kmet seems to be the best of the crop. The Packers need youth and agility at TE after the departure of Jimmy Graham as well as with veteran Marcedes Lewis re-signing.
63. Kansas City Chiefs: Clyde Edwards-Helaire, RB, LSU
Ideally, the Chiefs would pair Super Bowl standout Damien Williams with a bigger, more powerful and downhill back. But if Edwards-Helaire is still available at Pick 63, Kansas City will likely snatch him up. He would also be an excellent asset to Patrick Mahomes because of his pass-catching acumen.
64. Seattle Seahawks: Donovan Peoples-Jones, WR, Michigan
The Seahawks could take Penn State's K.J. Hamler with the final pick of the second round, but they have a similar player in speedster Tyler Lockett. Peoples-Jones (6'2") provides size that is bigger than Lockett (5'10") and smaller than D.K. Metcalf (6'4") while also flashing 4.48 40 speed.
Written by Bradley Locker
Follow Bradley on Twitter and TSJ: NFL on Twitter!