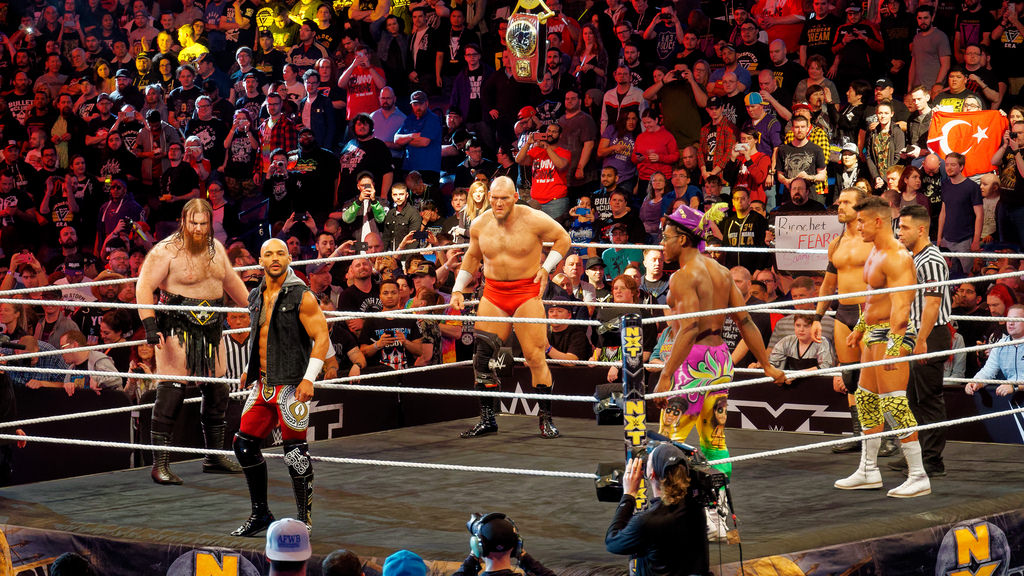 NXT
NXT call-ups are now in place and are ready to go to RAW and SmackDown Live, respectively.
Who are they?
EC3, Lars Sullivan, Heavy Machinery, Nikki Cross, and Lacey Evans. That total of six are now being summoned to show their talents in the main roster. But the fans still don't know who's going to which brand. We all can assume that Nikki Cross will be on SmackDown Live because that's the home of her NXT stable, Sanity. Sanity is led by Eric Young, but so far the team hasn't seen any true success.
So how are the WWE creative writers going to use these new talents? I wonder, since the previous call-ups didn't end up being Champions at all. Rather, most ended up floating around the mid-card or as a jobber!
Examples:
No Way Jose – not much to say here, but losing to Jinder Mahal says it all. (Yes! Jinder was a former WWE Heavyweight Champion and somehow even beat AJ Styles).
Sanity – though they beat the New Day at the Extreme Rules PPV, they lost to the same team in the first round of the Tag Team Championship tournament. Sanity held the NXT Tag Team Championship gold, and was easily the most feared stable on NXT. They were the Champions in 2017, but they are more of a joke on SmackDown Live.
IIconics – only got one major win, which was in their home country. Sadly, they then got beaten by Charlotte Flair single-handedly.
Ember Moon – one of the most talented female wrestlers in NXT alongside Asuka and Nikki Cross. Ember didn't get a notable feud after heading to the main roster. This last year, she was just busy being squashed by Nia Jax and Tamina.
Lastly
Andrade 'Cien' Almas – former NXT Champion and had the 'best NXT match of all time' with Johnny Gargano, labeled by Dave Meltzer. But sadly, he's gotten nowhere on SmackDown Live. Which brings me to a whole new point…
NXT star Andrade is rumored to be unhappy with the position he's in, and is rumored to be leaving the company once his contract expires.
Same goes for Shinsuke Nakamura, who could be leaving the company very soon and might be heading to IWGP or ROH. Even Samoa Joe hasn't accomplished much during his time on RAW, and the same could really be said for his time on SmackDown Live.
So here's the big question for these new call-ups: Who is going to which brand? And what's more, who is going to get the push they deserve?
I firmly believe that Lars needs to be on SmackDown Live, because we already have The Monster Among Men, the Beast Incarnate, and the Scottish Psychopath on RAW. But on SmackDown, we only have Samoa Joe. Unfortunately, he's been having a bad booking since losing to AJ Styles in almost all the matches they had. But the question is, will Lars Sullivan have the same type of push that Braun Strowman had? Or will the Ogre get the half-arsed Gene Snitsky's push?
EC3, on the other hand, needs to be on RAW and should be similar to the heel version of The Rock. If he were to join up with the McMahon family, they could create magic. He should be the one who beats Braun Strowman for the Universal Championship…with a little help from Vince McMahon, of course.
I'm sorry to say this for Heavy Machinery, but no matter which brand they go, WWE won't take them seriously because they are already fading away. In fact, they are becoming a jobbing team on NXT. I don't see a huge push for them on the main roster.
Don't believe me?
Former NXT Tag Teams who Ended Up Jobbing on the Main Roster
Sanity (Former NXT Tag Team Champions and aforementioned feared stable), The Ascension (the longest reigning NXT Tag Team Champions), The Vaudevillains, The Revival (2-time NXT Tag Team Champions). So no, I don't see Heavy Machinery successful on the main roster; the Forbes even referred them as "Bushwhackers mixed with The Steiner Brothers, and throw in some Too Cool". Harsh words!
The Women's Division
For Nikki Cross and Lacey Evans…
To me, it is clear that Lacey Evans will be heading to RAW because of Nikki Cross likely appearing on SmackDown. But WWE is just stacking up the Women's Division with so few titles to go for. But luckily last Monday night on RAW, Vince Mcmahon announced that Women's Division is getting Tag Team Championship belts.
So how will the company bring it forward? Will it be, one set of tag belts for both brands to fight over? Will the Champions represent the brand monthly, and then defend it at every PPV?
I still think they should add a mid-card title for the Women's Division. If she won it right away, Nikki Cross would do well with her start on the main roster. The mid-card title name I had in mind for the women is – the Television Championship Title. They didn't use it properly back in the WCW. Maybe it's time they should try it again, and write it better this time?
Social Media
So what do you think? Leave a comment. If you like it, please share!
You can follow us on Twitter:
@T101Sports and @T101SportsWWE
And follow the writer:
Photo Credits to Miguel Discart via Flickr.com