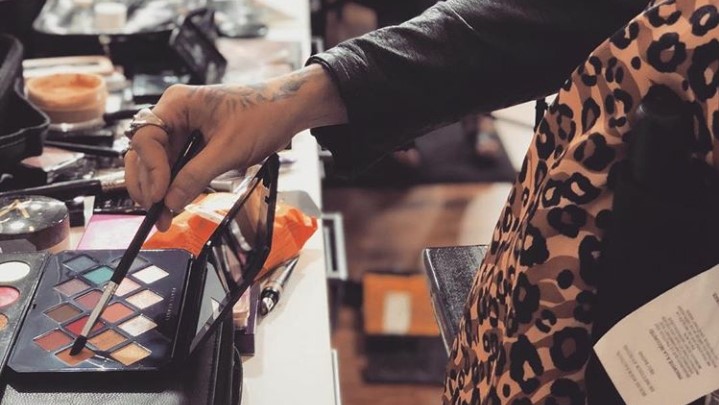 Looking Back at WWE Glam Squad's Best Looks of 2018
I swear, some of the best ideas come when I'm putting on my makeup for a night out. And that's exactly what I was doing when I came up with this one! As a self-proclaimed wrestling dork who also has a soft spot for highlighting and contouring, this is simply meant to be. The WWE Glam Squad has been my go-to inspiration for fun new looks for a while now, so I wanted to pay them tribute in a little article as well. After all, these folks behind the scenes are busy crafting masterpieces every single night.
Originally, I had about…oh, 40 saved photos on my phone of different WWE ladies (and Sheamus' mohawk) that I absolutely loved. But I had to trim it down a bit. The WWE Glam Squad does such a great job, it was hard to pick. They pay tribute to Sarah Logan's Viking couture. The WWE Glam Squad don't hide Kayla Braxton's adorable freckles. They make sure Zelina Vega's eyes are even more sharp and cat-like than they already are with just a flick of magic.
So, I opted to choose my top 10 favorite looks by the WWE Glam Squad from 2018.
10. Alicia Fox
This could be pretty much any of Foxy's looks. But this natural look? I can't stop staring at her pretty blue eyes. The gold highlights the icy look perfectly. And man, her skin is flawless.
View this post on Instagram
9. Ruby Riott
Keeping true to her personal style, can anyone pull off black lips better than Ru-Ru?
View this post on Instagram
8. Charly Caruso
Closing 2018 with some absolutely stunning champagne sparkle, I couldn't leave her off this list.
View this post on Instagram
7. Peyton Royce
I think it's the sugary sweet mix of pink and the striking black eyeliner that sold me. Wow! Gorgeous as always, Peyton.
View this post on Instagram
6. Paige
With Paige, it's always go big or go home. She's always had the dark eyes, dark lips, dark soul. And we love her like that! Maybe that's why seeing her in a lightened look is not only shocking, but absolutely beautiful.
View this post on Instagram
5. Billie Kay
There's something that gets me every time about the red lips/smokey eye combination. This is just such a classic look, and the WWE Glam Squad made it look flawless.
View this post on Instagram
4. Zelina Vega
Her eyes literally pierce my soul.
View this post on Instagram
3. Natalya
Nattie is known for selfies, and let's face it: They're all flawless. But I picked this specific look because she looks like she stepped out of Vogue. She's got cheekbones for days, and her hair is on point. This look is a 10/10.
View this post on Instagram
2. Liv Morgan
When it comes to Liv, I had to flip back and forth between four different pictures. The WWE Glam Squad continues to slay with each new photo of her, so this was a challenge. But when your canvas is as cute as she is, they don't need to worry much! Her skin is radiant and her eyes pop no matter what color they sweep on her lids. I chose this one specifically because of her lip color and the way it complements her skin tone.
View this post on Instagram
Honorable mentions….
This was incredibly difficult for me to write because there are so many killer looks. The WWE Glam Squad is fantastic, and I'd gladly hand over my own makeup collection just to have them make me pretty before work every day. But I want to make sure that everyone knows this list is subjective, obviously based off from my own opinions. Here's a few honorable mentions from 2018 that are worth being noted:
The Bellas: …because their look is iconic. Although they don't generally stray from the long lashes, bronzed skin and red lips, that's fine for us fans. The WWE Glam Squad kept to the Bella Twins' roots by utilizing the trademark look upon their 2018 comeback.
Tamina: The purple and maroon smokey eye she wore during a show in Texas was stunning!
Ember Moon: There are so many great looks for Ember, and she keeps right up with it. Her war paint from the 2018 Royal Rumble, however, is still my favorite of all-time.
Naomi: Every single look she has is bright, vibrant, and fun. The only reason I didn't put her in the actual list is because as badly as I want to, I don't think I can go to work in neon green eyeshadow.
Becky Lynch: The man herself continues to grow as a Superstar, and her different makeup styles have truly grown, too. My favorite looks from Becky are undeniably the ones that are themed around "straight fire" because they always highlight the reds, golds, and oranges. I hope we see more of these looks in 2019.
1. Alexa Bliss
I chose this look specifically because of the dark/bright contrast. I loved her Alice in Wonderland cosplay, so that was my close second. Something about how well-done and put together this look is really stuns you. Again, the way her eyes and lips offset one another made this one a clear winner for me.
View this post on Instagram
So what do you think about my picks? What are some of your favorite looks from 2018? And, what fun do you hope to see the WWE Glam Squad bring in 2019? Share your thoughts in the comments below!
Social Media
Don't forget to follow us on Twitter!
@T101Sports and @T101SportsWWE
You can also talk WWE and makeup with the writer:
Follow the WWE Glam Squad as well:
All photo credit to the Official WWE Glam Squad Instagram
Cover photo credit to the Official WWE Glam Squad