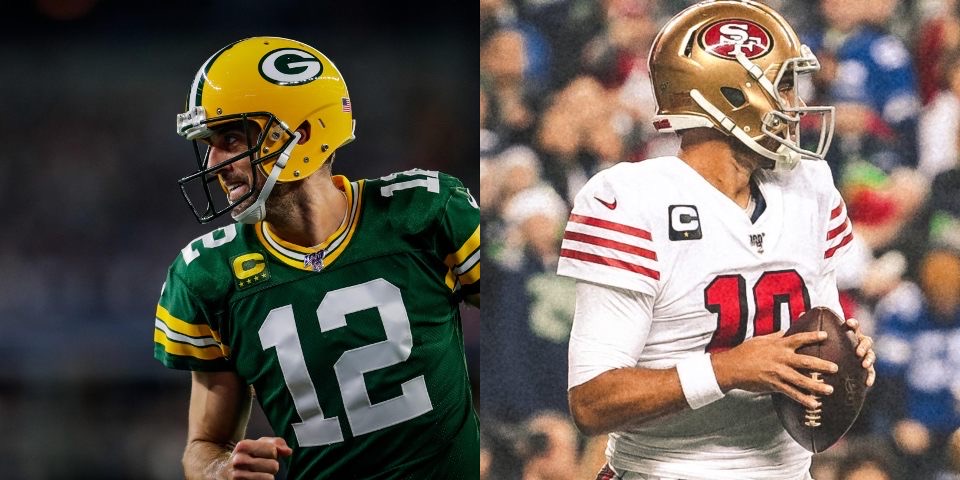 2019 NFL Championship Game Predictions
As we reach Conference Championship Weekend, new age of football is upon us.
For the first time in 4 years, Tom Brady and the New England Patriots will not be suiting up on Super Bowl Sunday. In fact, when either Ryan Tannehill or Patrick Mahomes laces up on February 2nd, they will be the first AFC quarterback to play in the Big Game not named Brady, Roethlisberger or Manning in 17 years.
On the NFC side, Aaron Rodgers has a chance to appear in his 2nd Super Bowl. Moreover, the 49ers can match the Steelers and aforementioned Patriots by earning their 6th ring in Hard Rock Stadium.
This NFL postseason has been nothing short of wild, thanks to one of the greatest Wild Card Weekends in history, the Titans becoming white-hot and knocking off the 3-seed Patriots and 2-seed Ravens and a slew of one-possession games.
For Tennessee, Kansas City, Green Bay and San Francisco, it all comes down to this. One Conference Championship game to etch their names in the history books. One game to leave it all out on the line.
Will the Titans continue their quest to win their first ever Super Bowl? Can the Chiefs get one step closer to ending their 50-year title drought? Read below to find out.
AFC Championship Game: #6 Tennessee Titans at #2 Kansas City Chiefs
This is not the Conference Championship game that we all expected was sure transpire—the Chiefs taking on the Ravens. But that does not detract from how enticing this matchup will be.
Last weekend, the Titans shocked the world once more in a tenacious 28-12 victory at M&T Bank Stadium over Baltimore, knocking presumed MVP Lamar Jackson & Co. out of the postseason in a dominating win.
The formula for success for Tennessee? Power running and elite defense.
The success of former Heisman winner Derrick Henry has long been chronicled throughout this postseason, and deservedly so. The Pro Bowler has almost single-handedly carried the Titans with a gaudy 377 yards versus defenses that ranked 1st and 4th, respectively, in defensive DVOA, per Football Outsiders.
Get this: since Henry's 99-yard gallop against the Jacksonville Jaguars in 2018, Henry has accumulated 2,309 rushing yards (playoffs included) in 21 games.
Regarding Tennessee's defense, this unit was 8th-worst in passing yards allowed during the regular season. Additionally, they ranked a middling 16th in FO's DVOA.
But against the future Hall-of-Famer Brady and Jackson, Mike Vrabel's unit allowed only 25 points combined.
However, the Titans face a challenge as great as any on Conference Championship Sunday. They will incur reigning MVP Patrick Mahomes and a red-hot offense with a plethora of weapons.
Thanks to Mahomes' 5 touchdown passes last Sunday, Kansas City crawled its way out of a 24-0 hole against Deshaun Watson and the Texans. In fact, the Chiefs scored so much that famed Arrowhead Stadium could no longer deploy any fireworks (!).
I have no doubt that these Chiefs are confident, gritty and as determined as ever. They were one offside penalty away from making the Super Bowl in Atlanta last year.
The problem is that they may actually be too confident.
On Wednesday, Chiefs wide receiver Tyreek Hill said that "nobody can guard [them]." In fact, star defensive end Frank Clark elevated Kansas City's hubris by explaining that Henry isn't "one of the best guys at breaking tackles" and should be "running harder at his weight and size."
Remember the last time that someone said Henry was hard to stop?
I just don't think the Chiefs have the defensive personnel to stop Henry, especially considering that defensive lineman Chris Jones is questionable.
Tennessee, I've doubted you since July and before Week 1. But that ends this Conference Championship Sunday.
I suspect that Ryan Tannehill's redemption tour will make its way to his former stomping grounds in Miami. This time, however, for Super Bowl LIV.
Predicted Score: Titans 34, Chiefs 31
NFC Championship Game: #2 Green Bay Packers at #1 San Francisco 49ers
This Conference Championship matchup, on the other hand, will feature two leviathans from the start of the season onward. Yet each has overcome adversity to get here.
The Niners cruised through the regular season despite injuries to stars like Jerrick McKinnon, Dee Ford, Kwon Alexander and more, the latter two returning in the last few weeks.
Another hump that had to be cleared? This roster's lack of playoff experience.
Kyle Shanahan's squad looked absolutely dominant against Kirk Cousins and the Vikings last Saturday, surrendering just 147 yards—41 of which came on a touchdown catch by Stefon Diggs. The Niners also sacked Cousins a ludicrous 6 times.
Likewise, the Packers have succeeded despite what many believe to be a down year for veteran QB Aaron Rodgers. They also flourished despite initial reports that new head coach Matt LaFleur's personality clashed with Rodgers'.
A week ago, the Packers eked out a victory against the Seahawks thanks to Davante Adams' Packers postseason record 160 receiving yards and a first down spot that many thought was controversial.
In the Divisional Round, the Packers faced a team with essentially zero rushing attack—Marshawn Lynch and Travis Homer combined for just 39 yards on 15 carries—and a poor pass defense.
That changes this week.
Russell Wilson almost single-handedly salvaged Seattle, compiling 341 total yards and making Houdini-like plays one after the other. But this upcoming Sunday, the Packers will be facing a far more complete team. In fact, Garoppolo rarely has to carry the load.
The Niners allowed the fewest passing yards all season. More importantly, they absolutely stifled both Rodgers and workhorse Aaron Jones in their Week 12 tilt against Green Bay. Additionally, this unit tied for 5th with 48 sacks and forced a league-best 22 fumbles.
All 3 Packers losses came when Jones was held under 100 scrimmage yards, a threshold that is far from guaranteed.
A lot will be made of Rodgers facing off against Pro Bowlers Nick Bosa and Richard Sherman, but don't overlook San Francisco's offensive potential.
The Packers slot in at 23rd-best in yards allowed on the ground, a potential recipe for disaster against the three-headed running back monster of Tevin Coleman, Matt Breida and Raheem Mostert.
I know that Rodgers is far more experienced than Garoppolo—the former posting a career 11-7 postseason record—but I can't envisage Green Bay having much success offensively. Good luck trying to outplay Robert Saleh's defense.
I predict the Packers—who have been outscored a whopping 63-19 in Rodgers' native California in 2019—to fall once more in the Golden State, sending San Francisco to its first Super Bowl since 2013.
Predicted Score: 49ers 30, Packers 20
Written by Bradley Locker
Follow Bradley on Twitter and TSJ: NFL on Twitter!
Photo credit to the Packers and 49ers via Twitter
Follow TSJ on YouTube and Twitter