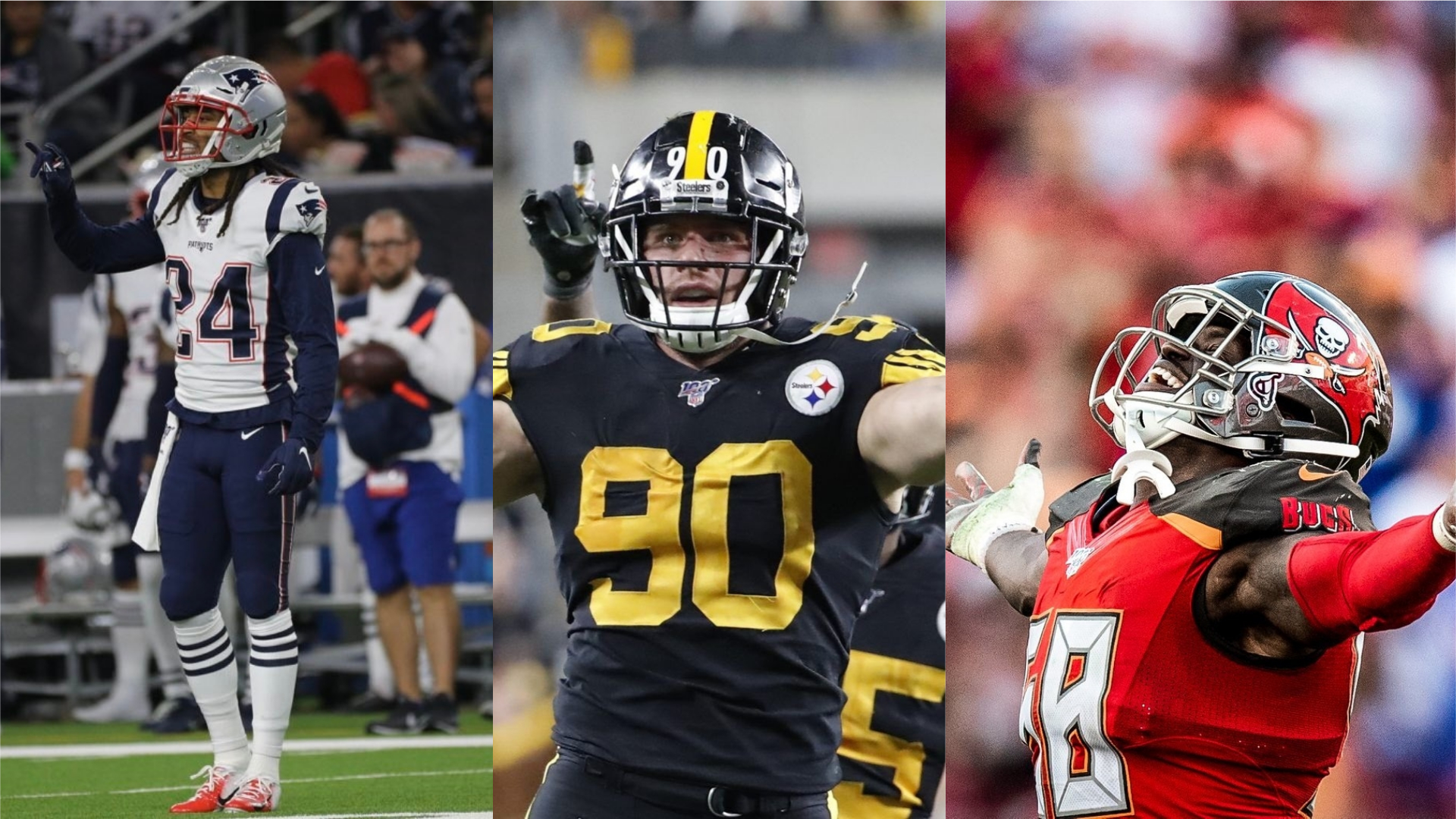 The 4 NFL Award Races That Are Still Undecided
The tenacity of inter-divisional football; two foes battling it out with everything at stake. A muddle of teams contending for the last seed in their conference with nobody confirmed until the final whistle. 20 go home; 12 remain in pursuit of the most glorious NFL award: the Lombardi Trophy.
Week 17 is unlike any other in the NFL. Playoff matchups are finalized, legends enjoy their ultimate snaps and, of course, NFL award races are hastily closed.
Each season, superstars collide in their search for hardware awarded at the NFL Honors celebration on the eve of the Super Bowl. This year in particular, it seems as if many prestigious prizes are yet to be fully cemented.
In this piece, I'll examine which NFL award races have yet to see a player (largely) cross the finish line. Feel free to chime in about my current selections for such honors below, and stay tuned for my final—and complete—ballot next week.
Offensive Player of the Year
This will be a showdown between stalwarts until likely each's final play of 2019. The players contending for Offensive Player of the Year are, of course, New Orleans' Michael Thomas and Carolina's Christian McCaffrey.
Thomas has had one of the greatest seasons ever for a wide receiver. He shattered Marvin Harrison's single-season receptions record, eclipsing it with his 145th snag against the Titans in Week 16. Moreover, Thomas leads the NFL in receiving by more than 350 yards and could break 1800 on the season.
Thomas is more than just a cog in NOLA's electric offense—one of the best in the league with all gears turning. He is truly a linchpin and, in my mind, unquestionably the premier wideout in the NFL.
Why the Numbers Favor McCaffrey
But at the same time, McCaffrey has also been dominant—without the aid of future Hall-of-Famer Drew Brees and star Alvin Kamara.
McCaffrey has totaled 1,361 rushing yards thus far, a number that places him second among all rushers. But get this: the Panthers Pro Bowler has more than 100 receptions and almost 1000 receiving yards. In total, McCaffrey has a whopping 18 touchdowns, far more than anyone else.
Thomas' proponents might argue that the numbers and records prove that he easily should win OPOY. Yet I think the metrics slightly lean towards McCaffrey.
Per Football Outsiders, New Orleans ranks 4th in overall offensive DVOA via the 4th best passing and the 9th best rushing offense.
Despite a passing offense that ranks 31st, McCaffrey has galvanized Carolina's offense with the 5th best rushing mark. In addition, the Saints' offensive line is the best in FO's Adjusted Line Yards for Run Blocking. Carolina is 15th yet is first in Open Field Yards, something that demonstrates McCaffrey's true prowess.
Thomas could still win this award with a monster performance versus, ironically, Carolina in Week 17. But for now, this is McCaffrey's prize to lose.
Current Pick: Christian McCaffrey, RB, Carolina Panthers
Defensive Player of the Year
Unlike the OPOY race, the Defensive Player of the Year battle doesn't really narrow down to 2 phenomenal players. In fact, some 5 could really have a shot at claiming this title.
New England's Stephon Gilmore has emerged as the best cornerback in football, and his statistics bolster that. The no-doubt Pro Bowler is tied for the league lead in interceptions and has the 8th fewest targets from opposing cornerbacks, per Pro Football Focus.
Likewise, Pittsburgh's T.J. Watt has almost single-handedly saved its season. Watt has totaled 14 sacks thus far—5th league-wide—2 interceptions, and 7 forced fumbles. In fact, the third-year linebacker became the only player in 11 years to have 14 sacks, 14 tackles for loss, 33 QB hits, 7 FF and 4 fumble recoveries.
Much like Watt, Tampa Bay's Shaquil Barrett has broken out in strides in 2019. After signing a one-year deal with the Buccaneers in the offseason, Barrett has more than earned his way to a monster deal in 2020 with 16.5 sacks, 6 forced fumbles, 16 TFL and 32 quarterback hits.
Add Arizona's Chandler Jones and Buffalo's Tre'Davious White into the mix. Jones is one of the most underrated players in the league and only needs 4 sacks (obviously not easy) against the Rams to break Michael Strahan's single-season record. White also has 6 picks and is arguably the primary reason why the Bills have the second best passing defense in the league, according to Pro Football Reference.
How the Contenders Shape Up
White has been great, but Gilmore has been better. Numerous pundits have pegged Gilmore to win, but the last defensive back to win DPOY was Troy Polamalu in 2010.
Gilmore shapes up nicely in terms of statistics relative to Polamalu's 2010 season, but his campaign is dampened in comparison to Charles Woodson's 2009 DPOY-winning year. In fact, Marcus Peters did not win the NFL award as a rookie with a gaudy 8 picks and 26 pass deflections in 2015.
This race really could come down to who has the better Week 17.
It's not always that team record comes into play in deciding NFL prize races, but it will probably be considered here. In such case, Jones and Barrett may be ousted despite their phenomenal seasons.
Yes, there are umpteen metrics that reveal the impact of defensive players. At the end of the day, though, what makes a bigger difference: a strip sack setting up a game-winning touchdown or a quarterback not targeting a cornerback who is on his own island?
This really feels like splitting hairs. For now, though, I'll follow his brother J.J.'s advice and go with Watt, who has catalyzed my Steelers and almost literally kept them alive (for now).
Current Pick: T.J. Watt, OLB, Pittsburgh Steelers
Comeback Player of the Year
I don't think that this finish is as wide open as the former, but there are plenty of faces in contention for Comeback Player of the Year honors.
Oakland's Darren Waller has produced a phenomenal season. In fact, he is the second Raiders tight end with 1000+ yards in a season in Raider history. Waller's struggles with drugs and substances were well-documented on HBO's "Hard Knocks," and Waller's comeback efforts have been more than fruitful: he has emerged as arguably Derek Carr's #1 option in an offense largely devoid of talent.
Moreover, the Rams' Cooper Kupp has been superb. After tearing his ACL in 2018, the third-year wideout has almost doubled his receiving yardage from a season ago. Kupp has cemented himself as Los Angeles' #1 receiver among a prolific trio alongside Robert Woods and Brandin Cooks.
Some 383 miles from Kupp, San Francisco quarterback Jimmy Garoppolo has propelled the 49ers to an NFC-best 12-3 mark. Garoppolo, too, tore his ACL last year but has more than 3500 yards and 27 touchdowns in his first bonafide year as starter in San Francisco.
Others have discussed Minnesota's Everson Griffin and Tennessee's Ryan Tannehill for this award. However, Griffin has been solid this year yet his numbers are not outstanding relative to the other candidates. Regarding Tannehill, his turnaround has been nothing short of remarkable but he wasn't injured for a substantial amount of time in 2018 compared to the aforementioned players.
Kupp's candidacy will likely be hurt by the fact that he has not reached 70 receiving yards in a game since Week 8. Additionally, Garoppolo has been good, but I don't think his play was truly stellar throughout the entirety of the season.
The Raiders granted Waller a 3-year contract extension, and for good reason. To me, his abounding adversity—and subsequent success—has warranted him this NFL award.
Current Pick: Darren Waller, TE, Oakland Raiders
Coach of the Year
The race for Coach of the Year is almost as exciting as the DPOY conversation.
Kyle Shanahan has completely revamped the 49ers and could literally invert their record in just one year. John Harbaugh has created a truly unstoppable force in Lamar Jackson and has led Baltimore to the best record in 2019. Under Sean Payton, the Saints kept winning despite the loss of Brees as well as dazzling playcalling. The Steelers are in the thick of the playoff hunt despite inconsistent quarterback play all season and a rash of injuries thanks to Mike Tomlin's apex predator-like mentality.
Other names to consider are Bill Belichick—who has guided New England amidst a dearth of offensive production—and Green Bay's Matt LaFleur, the first Packers coach to win 10 games as a neophyte.
This finish, too, could be decided in the final slate of games. If Tomlin's Steelers beat Harbaugh's Ravens and sneak into the postseason (with some help from the Texans), his case becomes even more compelling.
Jackson didn't incur a "sophomore slump" like many predominant quarterbacks or make an incremental improvement in his second season. Rather, he became a true star and the MVP frontrunner. On top of that, the Ravens really don't have any outstanding receivers other than Marquise "Hollywood" Brown, who is just a rookie.
Additionally, the Ravens suffered key defensive departures in the losses of Terrell Suggs, C.J. Mosley, Za'Darius Smith and Eric Weddle but have the third best team defense according to Pro Football Reference.
Shanahan, Payton, Tomlin and others have all done a remarkable job in 2019. But for now, Harbaugh has emerged as my choice for COY.
Current Pick: John Harbaugh, Baltimore Ravens
Written by Bradley Locker
Follow Bradley on Twitter and TSJ: NFL on Twitter!
Photo credit to Stephon Gilmore, T.J. Watt and the Buccaneers via Twitter
Follow TSJ on YouTube and Twitter