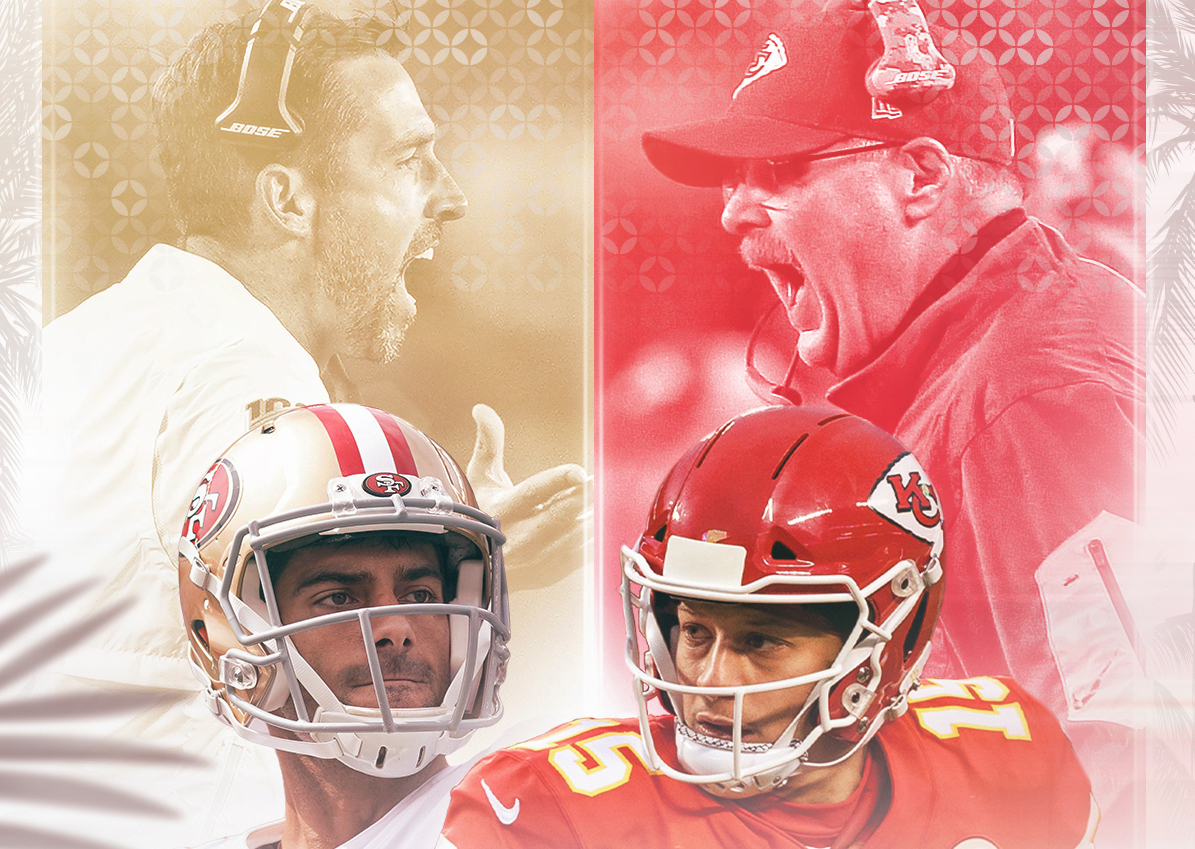 Super Bowl LIV Preview and Prediction
As the first few days of February reach each year, a certain finality always resonates with me.
For starters, this will be the final NFL game of any sort before a 6-month hiatus that feels longer than Joe Thomas' famed 10,636 consecutive snaps.
Moreover, it may be the last time we see certain players—like Luke Keuchly, who already announced his retirement—take the field, or others—Tom Brady, Cam Newton, Jadeveon Clowney and more—suit up for their respective squads.
And, fundamentally, there is a certain visceral sense to the Super Bowl. Despite all the challenges of the regular season and the augmented obstacles of the postseason, two units have a date with destiny in one venue, one game at one time. What often strikes me is that the AFC and NFC winners may not have been the best teams in their conference throughout the course of the season, but that they simply found a way to win and can now etch their names in history.
For the San Francisco 49ers and Kansas City Chiefs, however, the latter statement may certainly not be true. These two dynamos have waited plenty of time for their chance at international glory. For the former, it has been 26 years since their last Lombardi Trophy. For the latter, that mark is nearly doubled.
With Super Bowl LIV slated to start in Miami's Hard Rock Stadium in less than 24 hours, we'll be taking a look at how each team got to this vaunted stage; player v.s. player battles to watch in the Big Game; unique tidbits; and, of course, a prediction.
How the Chiefs Got to Super Bowl LIV
After losing a gut-wrenching AFC Championship Game in overtime a year ago, the Kansas City Chiefs were more than ready for redemption in 2019.
2018 MVP winner and superstar quarterback Patrick Mahomes continued his tear this season. But the EA Sports Madden NFL 20 cover face didn't entirely avoid the stereotypical "Madden Curse."
Mahomes and the Chiefs steamrolled through their first 4 games, averaging a whopping 33.75 points per contest. The Chiefs won their first 4 games, including winning a wild shootout in Detroit's Ford Field.
However, the Chiefs endured their lowest point of the season over the course of the next few weeks. After dropping two straight games at Arrowhead Field—where the Chiefs went an astounding 7-1 in 2018—Mahomes dislocated his kneecap on Thursday Night Football in Denver, an injury that would sideline him for the next two games. In his stead (which lasted roughly 11 quarters), Matt Moore posted 659 yards, 4 touchdowns, 0 interceptions and a 2-1 record.
Mahomes' Week 10 return in Nashville against the Tennessee Titans—a playoff precursor—featured more of his same magic but less of his prolonged success. The Chiefs were defeated after Harrison Butker's last-second field goal attempt was blocked by backup safety Joshua Kalu, but controversy abounded about whether or not Kalu had jumped offside. Regardless, the Chiefs sat at 6-4 and had fans concerned about their playoff potential.
Such doubt was quickly put to sleep, as Andy Reid's team would ride a 6-game win streak to conclude the regular season. Highlights included a close victory over Philip Rivers and the Chargers in a Week 11 Mexico City tilt; vindictively defeating Tom Brady and the Patriots in Gillette Stadium in Week 13; and earning the AFC's #2 overall seed and a first-round bye in Week 17.
The 2019 postseason was a zany one for Kansas City.
Deshaun Watson and Houston was set to enter Arrowhead Stadium for the second time, a venue in which they had already defeated Mahomes. Watson seemed eager to oust his fellow 2017 first round draft pick as he and the Texans established a 24-0 lead, but Mahomes mounted a furious comeback to win 51-31.
The Chiefs seemed to have an easier road to Super Bowl LIV after the Titans knocked off 2019 MVP Lamar Jackson and the Baltimore Ravens in the Divisional Round, but pundits (including me) worried about defensive coordinator Steve Spagnuolo's ability to contain workhorse Derrick Henry and his 6'3" frame.
Spagnuolo answered the call, limiting Henry to just 69 yards on the ground as the Chiefs eked out a victory against Ryan Tannehill and Tennessee 35-24, thanks in part to one of the greatest postseason runs of all time by a QB via this Mahomes scamper. The Chiefs had won their first AFC title in 50 years. More importantly, their half-century Super Bowl appearance drought had also ended.
How the 49ers Got to Super Bowl LIV
2018 was a season of great adversity for Kyle Shanahan and the 49ers. The same certainly cannot be relayed in 2019.
The Niners, who went 4-12 after quarterback Jimmy Garoppolo tore his ACL in a Week 3 date with, ironically, the Chiefs, selected defensive end Nick Bosa with the 2nd overall pick in last April's NFL Draft. The pick proved portentous, as Bosa compiled 9 sacks, won the NFL's Defensive Rookie of the Year award and catalyzed a revamped 49er defense.
Speaking of defense,defensive coordinator Robert Saleh's unit was the impetus for San Francisco's enormous turnaround in just one year. Thanks to the addition of stars such as inside linebacker Kwon Alexander and defensive end Dee Ford, the 49ers started 8-0 and permitted a ludicrous average of under 13 points per game in the season's initial half.
Shanahan's team saw a much harder schedule in its second half, a slate that led to losses against the Seattle Seahawks—in a Monday Night Football classic—the Baltimore Ravens, and a puzzling defeat to the Atlanta Falcons in Levi's Stadium.
More importantly, however, Garoppolo and the Niners emerged victorious against other leviathans such as the Green Bay Packers and the New Orleans Saints. Consequently, they enjoyed a "win and in" scenario in the season's final game.
In Week 17 at Seattle's CenturyLink Field, San Francisco jumped out to an early 13-0 lead. Yet Russell Wilson and the Seahawks mounted a ferocious comeback.
A Raheem Mostert touchdown run seemed to put the Niners up for good, leading by 12 with under 6:00 left. But Wilson connected with standout receiver D.K. Metcalf for a 14-yard score to reduce the lead to just 5 points.
After stifling San Francisco's offense on the ensuing possession, Seattle got the ball back and marched down the field. In fact, Wilson got to the San Francisco 1-yard line, but a last-second tackle by linebacker Dre Greenlaw prevented tight end Jacob Hollister from breaking the plane. The Niners had escaped with the #1 seed in their possession.
San Francisco's dominance proliferated in the postseason. The Niners demolished the Vikings in the Divisional Round, permitting just 147 total yards and amassing 6 sacks.
Such success continued against the Green Bay Packers in an NFC Championship Game date. Mostert's gaudy 220 rushing yards and 4 scores were too much for Mike Pettine's defense to contain.
Thanks to a roster overhaul by General Manager John Lynch—transformations that included trading for receiver Emmanuel Sanders, drafting WR Deebo Samuel, signing running back Tevin Coleman and the aforementioned defensive moves—the 13-3 Niners flipped the script and made their first trip to the Big Game in 7 years.
Matchups to Watch
WR Tyreek Hill v.s. CB Richard Sherman
This is almost certain to be the matchup that defines Super Bowl LIV.
Hill, who is in his 4th year in the NFL, has blossomed into a star. The speedster receiver has made the Pro Bowl for the 4th consecutive year and is, arguably, Mahomes' favorite weapon.
Opposing Hill will be the Niners' best defender in the secondary: Richard Sherman. Sherman, a veteran in his 9th season, was part of the historic Legion of Boom defense with Seattle.
After tearing his Achilles in 2017, the Seahawks released Sherman, only for him to sign his own 3-year contract. Sherman enjoyed a renaissance season in 2019, accumulating 3 interceptions and making the Pro Bowl and All-Pro Second Team.
Josh Hersmeyer of FiveThirtyEight wrote an incredibly insightful article about this very battle, detailing that Hill is most targeted from the right side (quarterback's point of view), the very region in which Sherman most lines up.
It should be quite enjoyable to watch Sherman try to keep up with the track star Hill. The winner could very easily single-handedly win their team the Lombardi Trophy.
OLB Dee Ford v.s. LT Eric Fisher
Ford infamously jumped offside in the 2018 AFC Championship Game against Tom Brady and the New England Patriots. On that very play, Brady was intercepted, but the pick was instead negated, allowing the Patriots new life—an opportunity that ultimately led Brady to win his 6th ring.
On March 12, 2019, Ford was shipped to the 49ers for a second round pick. The star later signed a 5-year, $87.5 million contract with his new squad.
Ford now has the opportunity to exact revenge on the very team that traded him away.
Lining up across from Ford will be tackle Eric Fisher, Ford's teammate for 5 years.
After having core muscle surgery in September, Fisher returned to action Week 11 and didn't miss a game since. In fact, he played 100% of Kansas City's offensive snaps in the playoffs.
A matchup that happened umpteen times in practice will now come to fruition in Super Bowl LIV. Can Ford wreak havoc on his former QB, or will Fisher get the better of his once-teammate?
TE George Kittle v.s. TE Travis Kelce
This matchup doesn't feature two players directly opposing one another like the prior two. But boy, will it be fun to keep tabs on this one.
Kittle and Kelce have been in the premier tight end echelon for the last two seasons.
Despite having quarterbacks such as Nick Mullens and C.J. Beathard, Kittle broke out in 2018 and posted a whopping 1,377 receiving yards and a Pro Bowl selection. The star continued his success with another 1,000+ yard season and was a Pro Bowler and 1st Team All-Pro.
Kelce has been a premier tight end since 2014. In fact, he has not had under 850 yards receiving in 6 years, and he has posted at least 1,000 yards in the last 4. Kelce has made the Pro Bowl for the last 5 years and was a 2019 2nd Team All-Pro.
Neither tight end will be at 100%—Kittle has a torn labrum in his right shoulder, and Kelce has incurred a knee injury and the flu—but this game should determine tight end bragging rights for next season onward.
Interesting Facts and Tidbits
This is the first Super Bowl ever to feature two teams whose primary color is red. The last meeting between teams who both shared red as a color was Super Bowl LI between the New England Patriots and Atlanta Falcons (Dan Quinn likely saw a lot of red in that one, too).
Garoppolo already has 2 Super Bowl rings, having served as Brady's backup in New England for 3 years. Now, he will become the first Eastern Illinois alumnus to start a Super Bowl since punter Ted Petersen in 1980. (EIU alum Kamu Grugier-Hill was with the Philadelphia Eagles in Super Bowl LII and played 80% of the team's special teams snaps, but he doesn't qualify as a starter, per se.)
When the Chiefs last played in the Super Bowl, Richard Nixon was president; the Orioles won their 2nd of 3 World Series titles; and The Beatles disbanded.
The state of Florida will host consecutive Super Bowls (Miami's Hard Rock Stadium and Tampa Bay's Raymond James Stadium) before the Big Game makes its way to SoFi Stadium in Inglewood, California for Super Bowl LVI.
For the second straight year, a 2017 head coaching hire will face off against a coach with at least 21 years of head coaching experience. In Super Bowl LIII, Sean McVay of the Rams battled Bill Belichick of the Patriots. In Super Bowl LIV, Shanahan's 49ers will match up against Reid's Chiefs.
Prediction
Admittedly, this game is tough to call.
The 49ers are the better team on paper, largely due to the disparity defensive talent relative to Kansas City. But ask the Carolina Panthers how well it turned out for them to be theoretically superior in Super Bowl 50.
Simply put, I'm not sure the Niners have seen a quarterback as talented as Mahomes all season. Wilson comes close, though. In 2 games versus San Francisco, he compiled a 66.2 completion percentage, 465 passing yards, 82 rushing yards, 3 touchdowns and 1 interception.
If there is one defense that can matchup with Mahomes, however, it's likely San Francisco's.
Saleh's unit permitted just 211 passing yards per game and 41.5 rushing yards per contest. On the other side of things, Mahomes averaged nearly 288 air yards, and the Chiefs only ran the ball an average of 19.4 times per game with their running backs or Anthony Sherman, their fullback. Expect plenty more passes to come from Mahomes' rocket of a right arm on Sunday.
In order for the 49ers to win the game, they must force turnovers from Mahomes and limit scoring drives. Good luck hindering the success of a guy who's never thrown an interception in 4 career postseason games.
If this game turns into a shootout, I struggle to see the Niners succeeding. Sanders and Samuel have become a nice duo, and the Chiefs' secondary is far from elite—starting cornerback Charvaris Ward allowed 40 receptions, which tied for 47th, per Pro Football Focus—but Garoppolo is a game manager, not a gunslinger.
In terms of players who could sway the momentum for each team, I see Samuel having a big game. He seems to make big plays when the Niners need them most and leads San Francisco in playoff receiving. The South Carolina draft selection has broken out big time and has often found success on pitches or sweeps.
For Kansas City, I postulate fellow rookie wide receiver Mecole Hardman to excel in terms of returns.
Hardman flourished at kick returner, as he averaged 26.1 yards per return—good for 5th in the league—and was selected as the AP All-Pro Second Team KR. In fact, Hardman galvanized Kansas City's postseason prosperity by providing a 58-yard kick return against Houston as well as a 35-yard dash against Tennessee. San Francisco's special teams rank 12th in Football Outsiders' DVOA, but that might not stop returners Hill and Hardman.
If Kansas City does win, safety Tyrann Mathieu may be a big reason why. Mathieu collected 4 interceptions and made first-team All-Pro at defensive back and second-team All-Pro at safety. We'll see if Spagnuolo has Mathieu guard Kittle. Regardless, Mathieu's Twitter feed would indicate that he's been long awaiting this moment.
Some may claim that the 49ers' rushing attack will be too overwhelming for the Chiefs. Shanahan's offense averaged an unreal 235.5 rushing yards per game, and Reid's defense permitted 89.5 yards on the ground in each matchup.
We can assume that Mostert will almost definitely start for the 49ers in Miami. Per the 49ers' website in 2018, Mostert ran a 4.34 40-yard dash. The only running backs that the Chiefs saw with comparable 40 times are Phillip Lindsay of the Broncos (4.39 unofficial), Nyheim Hines of the Colts (4.38 unofficial), Justice Hill of the Ravens (4.40 unofficial) and Tarik Cohen of the Bears (4.42). Those 4 backs combined for just 76 yards on 23 carries when facing KC.
Mahomes is a wunderkind for a reason: he can beat any team with his arm, legs and football acumen. I see Mahomes adding only more fodder to a record-setting contract extension this offseason by bringing the Lombardi Trophy back to Kansas City for the first time since 1970.
Predicted Score: Chiefs 33, 49ers 27
Predicted Super Bowl MVP: Patrick Mahomes, QB, Chiefs
Written by Bradley Locker
Follow Bradley on Twitter and TSJ: NFL on Twitter!
Photo credit to the NFL via Twitter