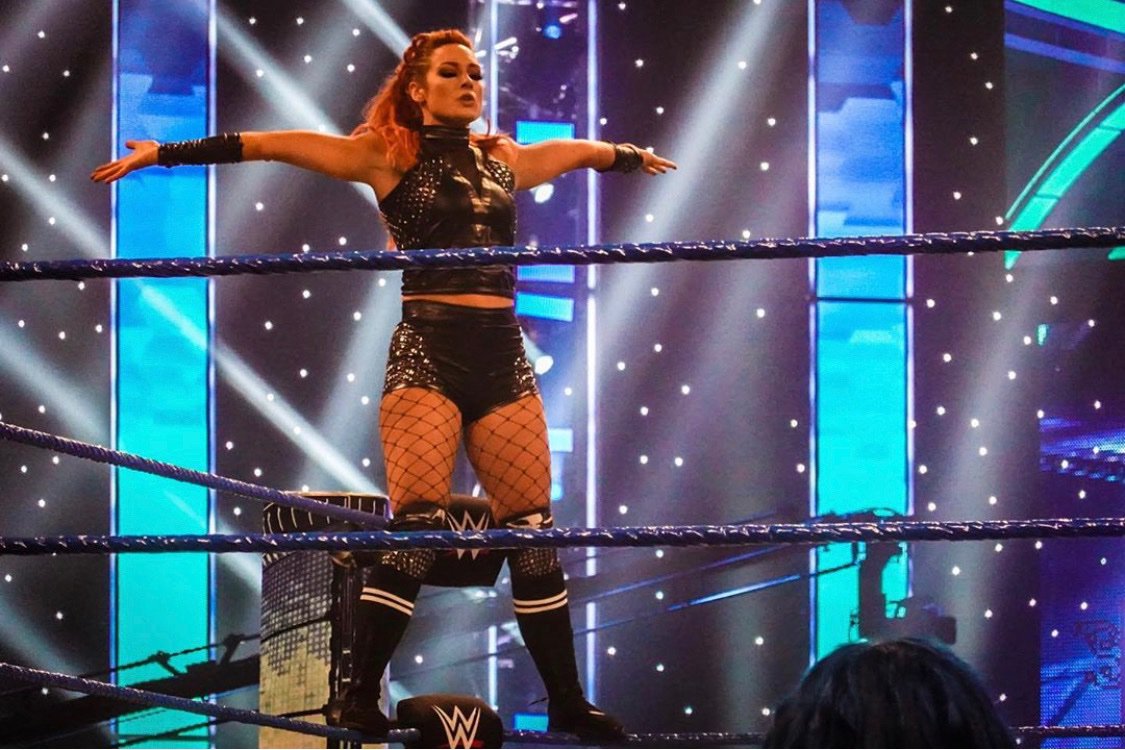 WWE Superstar Yearly Rankings 2019
Hello readers, once again, we have a guest writer contributing with another WWE list; this time Thom Cunningham writes up his list of the 2019 WWE Superstar Yearly Rankings. Now, these rankings were determined by a number of things; from "Match of the Night" potential, championship match appearances, memorable moments to honorable mentions.
And Thom, who has done lists like this one in the past, did not skimp on the details. So, let's read on, 121 WWE Superstars ranked, 121 Superstars, counted.
121 – Hornswoggle
Hornswoggle made his one and only appearance in the first month of 2019 by popping out from under the ring during the Women's Royal Rumble. It was one of the more pleasantly surprising moments of 2019 and a great call back to an often-forgotten character.
120 – No Way Jose
Much like Hornswoggle, No Way Jose's only appearance was in January with his conga line feeling the wrath of Drew McIntyre.
119 – Xia Li
Like the first two, Li's only appearance was in January during the Royal Rumble, also her WWE in-ring debut.
118 – Drake Maverick
If RAW, Smackdown or even pre-shows counted for these rankings then Mr. Maverick would be much higher on the list. Unfortunately, Drake only saw one or two short appearances during a WWE pay-per-view event.
117 – Kassius Ohno
Only one match for Mr. Ohno this year, coming in the beginning of 2019 against Matt Riddle.
116 – Tony Nese
A short stint as Cruiserweight champion, Nese saw just one championship match all year.
115 – Ariya Daivari
Daivari only made one appearance all year, facing off against Tony Nese for the WWE Cruiserweight Championship. He gets the slight nod over Nese solely based on his entrance during Money in the Bank.
114 – Lucha House Party
The LuchaHouse Party saw some exposure mid-season, in a feud with Lars Sullivan – mainly getting destroyed by the Colorado psychopath.
113 – Jessamyn Duke & Marina Shafir
Lackies to Shayna Baszler, the duo made their presence in a couple of important matches within the NXT women's division despite not competing in a match during 2019.
112 – Humberto Carillo
A future star in the making, Humberto Carillo began to see his usage pick up near the end of 2019. Despite the low ranking, he only had one championship match all year and expects to make a giant leap in 2020.
111 – Goldberg
Only one memorable moment in two total matches during 2019, which saw him repeatedly spear DolphZiggler – who may deserve more credit for the moment then Goldberg himself. A poor performance at Super ShowDown is the reason for a low ranking, along with an uneventful match against Ziggler in the summer.
110 – Cain Velasquez
The former UFC fighter did about as much as you can with the short amount of time he was given against Brock Lesnarduring his appearance at Crown Jewel. He took a beating at the hands of Lesnar and a chair, along with competing in a championship match, to just make it inside the Top 110.
109 – Tyson Fury
Much like Velasquez, Fury made his only appearance during Crown Jewel. He gets the slight nod over Velasquez for his entrance and match duration, as they both took a bump after their matches to create a memorable moment.
108 – Zelina Vega
Vega gets a pretty solid ranking despite not competing in many matches this year. Most of her memorable moments came as Andrade's manager, but perhaps her highlight of the year was being chased out from under the ring by Hornswoggle during the Royal Rumble in January.
107 – Lio Rush
It should be noted these rankings do NOT take into consideration Rush's success at 205 Live, where he is the current WWE Cruiserweight champion. Rush's 2019 highlights came from being the hype man for Bobby Lashley, along with competing in a WWE Intercontinental Championship match – despite being the one to cost Lashley the belt.
106 – Kacy Catanzaro
Despite only being used in one match during the 2019 season, Catanzaro made the most of her spotlight. Her only appearance came during the Royal Rumble in which she avoided elimination by climbing the outside part of the ring post. By far the most impressive female competitor with the fewest amount of opportunities in 2019 goes to Catanzaro.
105 – Mia Yim
Yimwas only able to compete in one pay-per-view match during 2019, albeit a championship match. Perhaps Yim's ranking would be higher if there were many memorable moments in her NXT Women's Championship match against Shayna Baszler or if she got the opportunity to compete in War Games before being injured.
104 – Jordan Devlin
Devlin only appeared during one pay-per-view this year, but it was a solid appearance. First, he assaulted his opponent Travis Banks before their match, but then was forced to fight Finn Balor to a huge surprise. The match itself was decent, but the big moment came from the reveal of Balor as his opponent.
103 – Travis Banks
Speaking of Mr. Banks, he gets the slight edge over Devlin due to his greatly underappreciated match against Noam Dar in Cardiff, Wales. Perhaps the most underrated match of 2019, Banks performed well in his only match of the year.
102 – Noam Dar
Banks' opponent at NXT UK TakeOver: Cardiff, Noam Dar reminded everyone why the company was so high on him back when he entered 205 Live. Performing in the best match of 2019 that nobody talks about, his ranking will increase if his usage during pay-per-views does as well.
101 – Tyler Breeze
The Prince of Pretty almost reaches the Top 100, which is surprising. He recorded one championship match for the year with plenty of memorable moments in it, both wrestling moves and selfies taken with the Velveteen Dream.
100 – Lars Sullivan
After showing promising potential in 2018, Sullivan took a massive step back in 2019. This is mainly due to an injury that kept him sidelined most of the year. He spent his 2019 destroying the LuchaHouse Party and creating few memorably chaotic moments at their expense.
99 – Sami Zayn
It's a shame to see such a talented superstar this low on the ranking list, but it's widely known this is due to his ongoing shoulder injury. More of a mouthpiece and less a wrestler in 2019, Zayn's opportunities were short and few in pay-per-views. A healthy Zayn in 2020 should see him back into the top 40 if his shoulders can get better.
98 – Eddie Dennis
Eddie Dennis only had one match in 2019, but during the match he showed the entire WWE Universe just how strong he truly is. He pulled off one of the best counterattacks in the entire year when he caught a Dave Mastiff cross body splash and planted him on steel steps.
97 – John Cena
Probably the lowest ranking Cena has ever had, but it's understandable as he is now a full-fledged Hollywood star. The fact he cracked the Top 100 with only one appearance in all of 2019 reminds us why he is considered a WWE G.O.A.T. During Wrestlemania35, he interrupted Elias as his 'heel' persona and gave everyone a genuinely organic Wrestlemania
96 – Dana Brooke
Dana Brooke had a quiet, yet successful 2019. Despite the lack of coverage her character gets on TV, she saw herself in a few important matches which includes the Women's Money in the Bank Match – a match that earned an honorable mention for 'Match of the Night'.
95 – Kurt Angle
A send off to one of the WWE's greatest, Kurt Angle's 2019 was the final chapter of an illustrious career. His big moment came in defeat, giving a farewell speech on the grandest stage at Wrestlemaniaafter losing his farewell match. He also saw himself as the fourth entrant in the Royal Rumble.
94 – Tegan Nox
This is probably the highest ranking (along with the next one) for any superstar who didn't compete in a WWE pay-per-view match during 2019. The reason Nox(and Kai) make the Top 100 is for two reasons – first being that they were listed competitors in the Women's War Games Match, which won 'Match of the Night'. The other reason is because her memorable moment with Dakota Kai was an enormous moment not just in the War Games match itself, but the entire NXT Universe.
93 – Dakota Kai
To follow up the above ranking, Dakota Kai turning on Tegan Noximpacted the match directly and therefore merits a Top 100 ranking despite neither Nox nor Kai actually stepping foot into the War Games match. Kai gets the nod over Nox for being the last one standing between the two and being the character to pull the trigger on an epic moment.
92 – Jeff Hardy
Only one match for Jeff Hardy, but it was a big match. He saw himself in the Men's Elimination Chamber match, which earned an honorable mention for 'Match of the Night' – which also happened to be a championship match. He also hit a Swanton Bomb from the top of a pod onto A.J. Styles. This savvy vet may be nearing the end of his career, but he still finds a way to produce even if his usage is winding down.
91 – Ilja Dragunov
This is a very high ranking for an unknown superstar who fights across the pond and only saw one pay-per-view match that wasn't for a championship. Fighting Cesaro also helps, but Dragunov performed in one of the more underrated matches in 2019 along with exerting tons of charisma. A move from NXT UK to the States might see this superstar climb the rankings in 2020.
90 – Toni Storm
Quite frankly, this ranking could be lower. Storm's usage in WWE throughout 2019 was disappointing to say the least – only competing in three total matches. Two championship bouts see her inside the Top 90 but neither match created any memorable moments (unless you count her winning the NXT UK Women's Championship). Storm can lean on lack of usage as her excuse for the low ranking, but I expect more from her and her booking in 2020.
89 – Luke Harper
The fact Luke Harper made it into the Top 90 is crazy, but the man had a surging rush in the final months of the year. He first appeared as a huge surprise in helping Erick Rowan knock off Roman Reigns before performing in a tag team match that earned an honorable mention. Harper's biggest downfall is his booking, which falls on other people's shoulder rather than his own.
88 – The Undertaker
Seeing a legend this low is odd, but Undertaker only competed in two matches this year with no memorable moment outside of a match. No gongs, no lights going out, no surprise attacks – just simply two matches all year. The first was against Goldberg, which might actually hurt his case for a high-ranking. The other was a tag team match with Roman Reigns in which the Deadman took a few solid bumps from Shane McMahon. Other than that, a quiet year for one of the greatest ever.
87 – Beth Phoenix
The Glamazon making the Top 90 is not something I expected, which is a great surprise. Phoenix took a huge bump from Nia Jax and Tamina before competing in a championship match at Wrestlemania 35. She eventually found herself to the NXT commentary table where she is currently.
86 – Buddy Murphy
Buddy Murphy has the highest ranking for any full-time, main roster superstar that only competed in one pay-per-view match this year. Why is he so high? Because his only match was my 'Match of the Night' winner at TLC. It's quite surprising that WWE didn't utilize this man more, other than a Roman Reigns and Erick Rowan punching bag – because his 2018 screamed superstar potential, but his 2019 booking didn't reflect that.
85 – Sheamus
Sheamus started 2019 strong, back when he was still one half of the tag team champions known as The Bar. Sheamus took time off following The Bar's separation however, which ultimately cost him in the rankings. He is teasing a return soon and perhaps a singles run will do him well, like it has done for Cesaro this year.
84 – Oney Lorcan & Danny Burch
Despite the lack of usage this year, Loracn & Burch's only championship match was performed well enough to give them a ranking inside the Top 90.
83 – Dominik Dijakovic
Another star on the rise, Mr. Dijakovic is relatively unknown – that was until his War Games match, competing with Team Ciampa. A few good spots in one of the better matches of the evening gets Dijakovic into the Top 85.
82 – Shinsuke Nakamura
This drop off is both surprising and disappointing to say the least. Perhaps most disappointing is that Nakamura has been the Intercontinental champion for a while, but only has a total of two championship pay-per-view matches the entire year. His usage has been unbelievably low for a superstar who was Top 10 in my 2018 rankings, as his 2019 has been abysmal despite wearing gold.
81 – Robert Roode
Another low ranking for a superstar with ample talent, but Robert Roode's 2019 was actually okay. He saw a huge championship victory at Clash of Champions and his production is beginning to ramp up with the year turning over. All signs point to a ranking climb for Roode in 2020, but time will tell.
80 – Dean Ambrose
Despite jumping ship for AEW, Dean Ambrose was part of the 2019 season for WWE and an important character to say the least. His biggest moment was undoubtedly with The Shield in their 'final' match at Fastlane, which won 'Match of the Night' due to the magnitude of the moment and the fact that not many other matches competed against it that night.
79 – Mark Andrews & Morgan Webster
Only one match for this championship team, but one was enough to put them inside the Top 80. These two stole the show at NXT UK TakeOver: Cardiff in route to winning the tag team gold. Nothing much to say about this team other than they can deliver, much like many of the NXT UK talent who just haven't had enough opportunities to rank higher.
78 –  Rusev
It's unfortunate to see Rusevranked this low, but his usage was spotty at best throughout the calendar season. He saw a nice push near the end of the year, albeit at the expense of a divorce with his ex-wife – but Rusev's best of 2019 came early when he competed in a tag team title match with Nakamura along with a 'Match of the Night' in the Men's Money in the Bank match.
77 – Heavy Machinery
This fun-loving duo probably has the potential to be much higher, which would require some serious conviction from WWE's booking. The team can more than hold their own though, performing in an honorable mention for 'Match of the Night'; during their WWE Smackdown Tag Team Championship match against Daniel Bryan and Erick Rowan.
76 – Mansoor
This ranking can be viewed as really high or really low, depending on how you look at it. He only competed in two WWE pay-per-view events all year, but in competing in those matches Mansoor pulled off some incredible feats. Mansoor performed in an honorable mention for 'Match of the Night' against Cesaro, while also defeating him. He also won the largest Battle Royal in company history. It was a year that makes you wonder what this kid can do given a main roster push.
75 – Elias
Elias would be ranked higher if he didn't break his ankle. He started the year strong and performed in a great promo at Wrestlemania 35 with John Cena. Elias even got his memorable licks in this year, which include guitar smashes to Roman Reigns, Jeff Jarrett and even The Undertaker.
74 – R-Truth
His known antics with the 24/7 Championship are definitely afactor in his high rating, but R-Truth's season has also been sprinkled with many other moments. He was attacked during his entry in the Royal Rumble by Nia Jax, along with competing in a United States Championship match. Perhaps his most enjoyable moment came when both he and Carmella dressed up as international broadcast announcers.
73 – The Usos
After a strong start to 2019, The Usos just kind of disappeared. They were the WWE Smackdown Tag Team champions to begin the season but were quickly forgotten about and never seen on TV again. Four championship matches to start the year for Jimmy and Jey, but none of them were spectacular – which is quite surprising coming from the talent these two possess. Follow that up with literally no matches the rest of the season equates to the low ranking these two aren't used to seeing.
72 – Gallows & Anderson
Gallows and Anderson saw their 2019 slowly trend upwards, beginning with the re-alliance of The O.C. Shortly after, the duo won the Tag Team World Cup and a championship match in December gave this team a slight push to end the new year strong. Expect big things from this unit in 2020.
71 – Killian Dain
A pretty productive year for Killian Dain, considered how little he was used. He got a good spot in a brawl with Matt Riddle during one of the TakeOver events, then performed in an honorable mention for 'Match of the Night' against Pete Dunne and Damian Priest. We know Triple H is high on this talent, so just be patient, his time will come.
70 – Damian Priest
Damian Priest was perhaps shoved in the spotlight faster than any NXT talent I can remember. Getting a late start to 2019 due to his arrival, Priest made an immediate impact in his NXT TakeOver: War Games III match against Pete Dunne and Killian Dain. He was then put in the Survivor Series match for Team NXT, which ended up getting an honorable mention for 'Match of the Night'.
69 – The Riott Squad
This stable, which seems to be gone for now, made a solid impact to begin the 2019 season. Two of the three competed in the first ever Women's Tag Team Elimination Chamber match which was for the first ever WWE Women's Tag Team Championship. They also made an impactful presence during the Royal Rumble match upon Ruby Riott's entry.
68 – Ember Moon
Ember Moon saw little to almost no usage in 2019, but the two opportunities she got she made the most of. First, Ember was put in the Women's Money in the Bank match – which she has yet to disappoint in, hitting an Eclipse from the top of the ladder. Second, she performed well in her championship match at SummerSlam against Bayley – taking a massive Bayley-to-Belly off the top turnbuckle. Moon is a top talent but just not used enough plain and simple.
67 – Alexa Bliss
It's surprising Little Miss Bliss isn't higher, but injuries held her back most the season. She eventually overcame injuries to see herself in a few championship matches, but nothing memorable stood out in those matches. She also hosted Wrestlemania 35 which gives her the slight edge over the last two women ranked.
66 – Chad Gable AKA: Shorty G
Gable's character has gone through a weird evolution this year, but weird in a good way. He found himself in a few important matches this season thanks to the change his character has taken, which is embracing the underdog. Shorty G has a 'Daniel Bryan-like' underdog grace about him, which makes his future much more intriguing if WWE has big plans for the little guy.
65 – The Forgotten Sons
Definitely notforgotten, this stable performed well in the few matches they competed in this year – most notably in the NXT Tag Team Championship ladder match. This unit has potential in NXT but they will need to be given more opportunities then they got in 2019 to climb the ranks.
64 – Tamina
Tamina started the year off to a rapid start, with tag team partner Nia Jax. Tamina found herself in the middle of many memorable moments and big-time matches. Her beatdown on Beth Phoenix may have been her best work of the season, but she only went as far as Nia Jax went – as Jax's injury is ultimately what limited Tamina.
63 – Keith Lee
It's crazy to think Lee's high ranking is off of just two matches this year. The first came at War Games, which surprisingly is not what catapulted Lee inside the Top 65. What ultimately put Lee in this ranking is his War Games match along with his role in the Survivor Series match. Lee was arguably the MVP of the match, even in defeat. Lee performed so well that even Roman Reigns showed him respect by shaking his hand after the match.
62 – The IIconics
What an amazing year it was for the beautifully untrustworthy duo of Australia's favorite export in Billie Kay and Peyton Royce. Despite not honing the athletic ability other women have, these two create unforgettable moments each match they're in – which includes their elimination during the Women's Tag Team Elimination Chamber. Their high ranking is much attested to their championship crowning at Wrestlemania – in a fun match to watch.
61 – Samoa Joe
Injuries once again set Samoa Joe back, so much that he is now on the commentary team. Hopefully Joe is back soon, but even when he was healthy Joe wasn't making much of his moments. He saw three championship matches with virtually no memorable moment, outside of attacking Rey Mysterio.
60 – Batista
Batista saw one match in his return to the ring in 2019, competing in what was one of the most brutal matches of the year. Batista went up against Triple H, in a match that was as fun as it was hard to watch – riddled with memorable moments from a nose ring being ripped out to Ric Flair helping Triple H win. From Batista's entrance to his performance in a fantastically written match, his return was met with a huge impact.
59 – Naomi
If Naomi saw TV time throughout the entire calendar year, she would probably be vying for a Top 25 ranking. Her 2019 was a strong start but forgettable finish. She performed very well in the Royal Rumble match along with the Women's Money in the Bank match – not to mention competing very well in the first-ever Women's Tag Team Elimination Chamber match. Naomi saw a ton of great spots in a handful of important and solid matches, but they all came at the beginning of the year.
58 – Nikki Cross
Another superstar who would be vying for a Top 25 if used consistently, Nikki Cross was an absolute delight in 2019. Cross was part of many memorable moments (most of which included Alexa Bliss), while also competing in a few championship matches along the way. Her participation in the Survivor Series match gives her a slight bump into the Top 60, a cherry on top of what has been a fantastic season for Miss Cross.
57 – Dolph Ziggler
Quite the drop off from his 2018 ranking, but then again Dolph missed most of early 2019. His return came in a huge way, challenging Kofi Kingston which saw him in a few championship matches. Dolph picked up some more points with his SummerSlam suicide wish with Goldberg and added more championship matches with Robert Roode. Dolph didn't really start or end 2019 well, but his mid-season was very strong.
56 – James Drake & Zack Gibson
What a gem these two are. Competing in only two matches throughout the calendar year (both honorable mentions for 'Match of the Night'), these two stole the show in both of their matches. Their championship matches were filled with memorable moments at every turn, and with a little bit of exposure I can safely say would be one of the best tag teams in the world today.
55 – Kay Lee Ray
Much like the above ranking, Kay Lee Ray only competed in two matches but sees a solid ranking regardless. Her match against Toni Storm was a bit of a letdown, but she won the NXT Women's Championship, creating a memorable moment for herself while also collecting a litany of memorable moments in the Women's War Games match. Kay Lee Ray was an unsung MVP in the War Games match but just happened to be on the losing team.
54 – Nia Jax
What a start to 2019 this woman had, so much to the point she made Dean Ambrose want to quit. Nia was a monster with Tamina, but her season was really set apart from her partner when she entered herself into the Men's Royal Rumble match. Jax made memorable moments by not only eliminating Ali, but also taking a 619 and RKO – which are both great bumps to take in a high stakes match. She also eliminated herself in the Elimination Chamber by crashing through the pod door in a spectacular fashion.
53 – The Miz
His low ranking is very disappointing, but it could be worse. The Miz's ranking is disappointing mainly because his rivalry with Shane McMahon was about the extent of Miz's 2019. He was able to get a cheap championship match in December before the season closed out, which moved him into the Top 55. Outside of his story with Shane McMahon, there wasn't much with The Miz this season – but his story with Shane saw enough championship matches and memorable moments to see him rank where he currently is.
52 – Carmella
Much like R-Truth, her ranking can be attributed to her involvement with the 24/7 Championship antics. However, Carmella did something R-Truth did not do this year and that is compete in multiple high stakes matches. Carmella saw some good spots during the Women's Money in the Bank Ladder match, the Women's Elimination Chamber match, the Women's Royal Rumble and the Women's Survivor Series match.
51 – Viking Raiders
It's surprising to see this name outside the Top 50, considering they are the Raw Tag Team Champions. Two reasons I think they ended up outside the Top 50 with the first being that most of their memorable moments and great matches came at NXT to begin 2019. Secondly, the team has just recently become champions, so given some time to marinate I expect Viking Raiders to move up the rankings when they're not shuffling between shows and a mid-season draft.
50 – Andrade
What went wrong for Andrade in 2019? Well, just like 2018 its lack of consistency in his booking. For the talent Andrade is, he should be in more than just two or three championship matches in a season – anything less is a joke. His strong start to the year which included a final four appearance during the Royal Rumble sees him make the Top 50, but the fact he is having to fight for a Top 50 spot should show you just how inconsistent the WWE is with utilizing this great talent.
49 – Dave Mastiff
Dave Mastiff is a war machine, competing in only two matches this year but possibly two of the most brutal matches you'll see. His wars with both Eddie Dennis and Joe Coffey were as entertaining as they were memorable. It is quite possible Dave Mastiff took and gave more bumps in his two matches then any superstar did the rest of the season.
48 – Moustache Mountain
Besides an unbelievable tag team match to begin 2019, Tyler Bate is highly responsible for this team's high ranking – performing in an epically heroic fashion at NXT UK TakeOver: Cardiff for the WWE United Kingdom Championship. It is quite possible Tyler Bate becomes the greatest wrestler in NXT UK history, and his two performances showed why. If Bate can separate from Trent Seven and perform consistently in the States, he has Top 10 potential – easy.
47 – Street Profits
A late start to the season is why this team isn't ranked higher, as they've only competed in a few matches. More matches will see this team easily climb the ladder in 2020, entertaining as any team in WWE today – both inside the ring and out.
46 – Ronda Rousey
Ronda Rousey is almost an afterthought following her epic 2018 season. She began 2019 in grand fashion, winning a few championship matches (one of which was an honorable mention for 'Match of the Night' at the Royal Rumble) before playing victim in probably the best memorable moment of 2019 when Becky Lynch pinned her. Pending Rousey's return, her 2020 ranking can go in either direction.
45 – Triple H
Triple H surprisingly filled up the scorecard this year, performing in two very good matches – one of which was insanely brutal against Batista. His match against Randy Orton was a classic match that many may forget about, but much of his high ranking is attributed to his two matches against his former students.
44 – Erick Rowan
This was unexpected, but refreshingly satisfying following the crumble of the Bludgeon Brothers. Rowan saw a few championshipmatches with partner Daniel Bryan before doing what nobody thought he could do, evolve. Rowan put himself in memorable moments during his matches against Roman Reigns to end the year, including an honorable mention for 'Match of the Night' with partner Luke Harper.
43 – Ali
Many forget Ali actually competed in a WWE Championship match at Fastlane. His 2019 was riddled with moments like this, impressive but under the radar. He was involved in a variety of high stakes matches, while creating memorable moments in those matches. To think where he would be ranked had he not gotten injured with Kofi Kingston replacing him.
42 – Tommaso Ciampa
It's not too surprising to see Ciampa ranked so low considering he missed most the year with an injury. He performed well when healthy though, but there isn't much to say other then he seems healthy and ready to compete to begin 2020.
41 – Rey Mysterio
2019 was spotty for Rey Mysterio, but when he was called upon, he delivered in big ways. He saw a few championship matches thanks to his rivalries with both Samoa Joe and Brock Lesnar; but it was his story with Lesnar that catapulted Rey into the Top 50. Rey created many memorable moments with the Beast and it came to a perfect ending in his match at Survivor Series; which all-in-all was filled with multiple reasons to move him up to his current ranking.
40 – Kevin Owens
You would think for his story usage in 2019 Kevin Owens would be ranked higher. The fact is that his story usage held him back from a performance standpoint, as he saw virtually no championship matches in 2019 (besides Fastlane) and no solid wrestling matches outside his surprise at War Games (too busy toying with Shane McMahon antics). The conviction in Owens' booking was there, but there was too much story focus on his character and not enough performance focus. Fear not Owens' fans, as this all seems to be a big setup for a solid babyface run in 2020.
39 – Fire & Desire
Mandy Rose and Sonya Deville quietly impressed this season, competing in a lot of big matches with a ton of memorable moments they created. They not only competed in the first ever Women's Elimination Chamber match, but their final showdown with Bayley & Banks was as good as it gets. Add that with Rose's championship match against Asuka and the duos antics during the Women's Money in the Bank match – they've done enough to crack the Top 40, which is scary considering WWE hasn't gone 'all-in' with them yet.
38 – Rhea Ripley
Rhea Ripley would be much higher if she competed in more WWE pay-per-view matches, which is almost as sure of a lock as any entering 2020. She won and competed very well in the first ever Women's War Games match and added a championship match to her 2019 resume.
37 – Drew McIntyre
A solid ranking, but a bit disappointing considering the expectations I had for Drew. His start and finish to 2019 was strong, but he was somewhat forgotten about mid-season. Regardless, Drew continues to destroy and entertain every time he appears and in laymen's terms is a straight workhorse. It's quite a shame that he has had zero championship matches in 2019 – a sick joke really. The fact he is ranked so high without competing in a championship match this year should speak volumes to the talent he is.
36 – Cesaro
Cesaro's 2019 was excellent to say the least, beginning the year as a champion with Sheamus, then steadily competing in 'Match of the Night' or honorable mentions throughout the rest of the year. Cesaro's usage in 2019 was mainly to help his opponents get over (Dragunov & Mansoor), but in doing so he performed as well as any superstar in the entire company.
35 – Candice LeRae
What a year Mrs. Gargano had in 2019, competing in only a handful of matches – two of which deemed classics. Perhaps her most underappreciated work in 2019 was her one-on-one match with Io Shirai, one of the best matches in the women's division this year. Add that with her performances during War Games and Survivor Series, her high ranking is warranted.
34 – Kairi Sane
If these rankings were only the winter of 2019 then Sane would be Top 10 easy. Unfortunately, Sane was not used the whole year the way she is now. Her recent success is why she is in the Top 35, but before her championship run with Asuka she was only used in the Royal Rumble and during a Fatal-4-Way match for the NXT Women's Championship. Her late-season run is the main reason she is ranked so high.
33 – Matt Riddle
Riddle ranked outside the Top 30 should indicate just how competitive 2019 was for superstars across the board. Matt Riddle performed at a very high standard in every single match he performed in, seeing four honorable mentions for a 'Match of the Night'. Those four matches are the most honorable mention matches for any superstar outside of a stable in 2019.
32 – Walter
Another superstar whose ranking seems a bit low, but Walter's excuse is usage – only competing in three WWE pay-per-view matches all season. How'd he do? Well, two of the three were championship matches while all three matches were either honorable mentions for 'Match of the Night' or was a 'Match of the Night'. He also competed in two of the top five matches I have ranked for 2019.
31 – The Revival
Their match at TLC in December probably moved The Revival from a ranking somewhere in the 50's to a low 30. Easily their best match of the year, TLC saved The Revival from what may have been a somewhat lack luster 2019. The Revival did see four championship matches, but only one was an honorable mention for 'Match of the Night'.
30 – Bobby Lashley  
Despite the inconsistency in Lashley's character, his usage has been pretty good – being a company workhorse throughout 2019. Lashley produced constantly, feuding with The Shield, Finn Balor, Braun Strowman and Rusev. From Last Man Standing matches, to Table matches and memorable moments with destruction and romance – Bobby Lashley has had a very productive and proud 2019.
29 – Randy Orton
Despite his usage going down compared to past years, Randy Orton is still one of the best – proven in his handful of great matches in 2019. From fighting Triple H in Saudi to a fast-paced Survivor Series match – the Viper made his impact every time he stepped in the ring, which was usually a top match of the night. The surprising stat for Orton is that he only competed in two championship matches all year.
28 – Gallus
The most productive season for a team you've never heard of, Gallus deserves all the love they don't get. Probably the most brutal faction in WWE today, this NXT UK stable performed in high quality, high stakes matches with memorable move sets and spots that kept you on the edge of your seat the entire duration of the match they were in. With two championship matches, a Last Man Standing match and multiple highlights in all three, Gallus is the stable you need to educate yourself with before the bandwagon takes off for good.
27 – Braun Strowman
Braun's usage in 2019 took a hit compared to his 2018 run, but he still produced regardless. He was only in one championship match, but also competed in a brutal Last Man Standing match with Bobby Lashley, earning 'Match of the Night' merits at Extreme Rules.
26 – Lacey Evans
Lacey Evans saw three championship matches in her rookie season in the WWE, which is pretty damn She produced many memorable moments as Baron Corbin's special guest referee at Stomping Grounds and had an overall entertaining feud with Becky Lynch. She gets bonus points for being one of the first women to compete in a wrestling match in Saudi Arabia, perhaps her greatest feat of 2019.
25 – Natalya
Natalya gets inside the Top 25 with a fantastic season. Like Evans, she competed in Saudi Arabia and had a classic Submission match with Becky Lynch at SummerSlamwhich also earned 'Match of the Night' accolades. She saw a total of two championship matches this season, but like Evans, her biggest accomplishment was by far her match at Saudi Arabia.
24 – Shane McMahon  
What a year it was for Shane McMahon. After an eight-year absence, there was a point where WWE fans would do anything to see Shane McMahon again. That couldn't be further from the truth in 2019, easily one of the company's best villains. Shane competed in a ton of matches that saw insane spots, most notably at Wrestlemania 35 against The Miz. From Miz, to Roman Reigns to Kevin Owens – Shane was a compelling villain and memory making machine. He would be ranked much higher if he closed out 2019 the way he performed throughout the year.
23 – Asuka
A strong start and a stronger finish to 2019 sees Asukain the Top 25, but her lack of usage in between is why she's not ranked higher. She started off 2019 with a 'Match of the Night' winner at the Royal Rumble against Becky Lynch but wasn't really used again until her championship run with Kairi Sane. Add that with every time Asuka spit green mist into someone's eyes, her high ranking isn't very surprising and quite reflective of her season.
22 – Aleister Black
Aleister Black would be ranked higher if his mid-season usage wasn't so inconsistent. His tag team championship matches with Ricochet, along with his match against Buddy Murphy to close the year easily see him inside the Top 25, not to mention his match against Tommaso Ciampa at NXT TakeOver early in the year. It's scary to think how far this man can climb given a full year of commitment from booking.
21 – Bianca Belair
Sam Roberts couldn't be more wrong about this talent. Since her first match with Shayna Baszler to begin the season and all the way to her match at War Games, Belair has gotten better and better in each match she competes in. She performed in multiple honorable mentions for 'Match of the Night' including two championship bouts, which is a handful considering the limited NXT pay-per-view schedule.
20 – Velveteen Dream
The dream started 2019 with a bang, but as the season went on the more the Dream began to fade away. His matches with Matt Riddle and triple threat encounter with Roderick Strong and Pete Dunne are enough to get him into the Top 25, with his memorable moments against Tyler Breeze giving him the final push into the Top 20. If he closed the 2019 season the way he started it, you'd probably be looking at a Top 10 superstar.
19 – Finn Balor
Despite missing time, Finn Balor's 2019 was very productive. Beginning with an impact against Brock Lesnar at the Royal Rumble, his mid-season was met with Intercontinental Championship matches before ending the year with classic bouts like the one against Matt Riddle.
18 – Daniel Bryan
Another company workhorse, Daniel Bryan rarely disappointed. He saw an ample amount of championship matches (7), with a couple of honorable mentions for 'Match of the Night' – such as facing Kofi Kingston at Wrestlemania 35 and a few tag teammatches as well. We'll always wonder if Bryan would've been ranked higher had he been the one to attack Roman Reigns, but overall a productive and busy year for Daniel Bryan.
17 – Charlotte Flair
Charlotte, as usual, saw a ton of championship matches in 2019. She main-evented Wrestlemania 35, won her 10th women's championship and was part of a few memorable moments such as Asuka spraying her with green mist at Survivor Series. Six championship matches, two of which were honorable mentions for 'Match of the Night' sees the Queen near the top of the rankings.
16 – Roman Reigns
It's quite amazing the Big Dog can reach the 16th spot with… wait for it… zero championship matches in 2019. Someone may need to check on Vince, as Roman Reigns made it the entire calendar year without a single championship opportunity. What's impressive is that Roman found himself in four matches; that were either an honorable mention for 'Match of the Night' or a 'Match of the Night'. Quite frankly, just a couple of championship matches would probably see Roman in the Top 10.
15 – Io Shirai
The change Shirai has gone through in 2019 couldn't be better. Shirai found herself in multiple big-time matches and delivered in them. From her Fatal-4-Way match for the NXT Women's Championship to her one-on-one match with Candice LeRae, Io Shirai was a highlight reel at every moment and competed in the some of the highest caliber matches in 2019.
14 – Shayna Baszler
The Queen of Aces gets into the Top 15, barely, which is surprising. Breaking down Baszler's 2019, it could've been much better. She started strong against Belair followed by the Fatal-4-Way match. After, Baszler's matches weren't too great, as she was also almost absent in the War Games match. However, she was part of three great matches including four total championship bouts and should be no doubt considered one of the company's top stars.
13 – A.J. Styles
A quiet six championship matches are what A.J. Styles saw in 2019. He performed decently inside the Elimination Chamber, but his best performance may have been his Universal Championship match against Seth Rollins in May. His re-alliance with Gallows and Anderson has opened the door in terms of creating more memorable moments, most notably attacking opponents after a match.
12 – Bray Wyatt
It's very clear Bray would be much higher if the trigger was pulled on him before August. His 'Fiend' didn't debut until the eighth month of the year, which didn't give Wyatt enough time to generate a Top 5 ranking. However, in the short time he was given; Wyatt hit a grand slam, a touchdown and a slam dunk all at once. Wyatt quickly found himself in a total of four championship matches to end the year, creating some of the best memorable moments in 2019. Enough can't be said about his performance this season and hopefully; he will truck right past 2020 and into 2021.
11 – Brock Lesnar
What's surprising about Brock Lesnaris the number of high-quality matches he was actually a part of. Most of his matches were high in entertainment quality, such as Finn Balor and Rey Mysterio – while he helped create memorable moments, most notably for Seth Rollins and Rey's son Dominic. Add all this with six championship matches, it's a surprise that the Beast isn't ranked higher.
10 – Baron Corbin
It was a career year for Baron Corbin who saw three championship matches, four high-quality matches and a long list of accolades. He beat Kurt Angle at Wrestlemania 35 in his farewell match; won King of the Ring and even has a marquee win over Roman Reigns to close out the year. Corbin's character seems settled finally; as 2020 could be even bigger for WWE's current top villain.
9 – Bayley
It was a busy year for Bayley, who tallied up a whopping nine championship matches throughout the season. Her character was also intriguing to watch develop over the course of a year; going from the fun-loving ponytail hugger to the short-haired, cold-hearted villain. From winning the first ever WWE Women's Tag Team Championship; to cashing in Money in the Bank the same night she won it – this has easily been a career year for Bayley.
8 – Pete Dunne
The bruiserweight has finally broken through. A Top 10 ranking couldn't make me more proud for the young Pete Dunne; who is still at the beginning of his career. Every match Pete Dunne competed in this season was top caliber. From his classic against Walter to his brutal showdown with Joe Coffey; Pete Dunne delivered highlight after highlight in classic after classic. The sky is the limit for this kid, who is a Top 10 superstar with only three championship matches on the year.
7 – The New Day
It's a shock The New Day aren't higher, considering when you add their tag team title run in 2019; with the run Kofi Kingston had as WWE champion. The New Day competed in 10 championship matches when you combine the efforts of all three men; a handful of those matches receiving high praise. This really was the year for Kofi Kingston within The New Day however, as he is more responsible for their high ranking then the team is together; which is almost unheard of for a team like The New Day.
6 – Ricochet
What's scary about Ricochet's current ranking is that he actually slowed down to end the 2019 season. WWE likely saw the enormous pace he was on in 2019, deciding to pump the brakes on his usage. However, from day 1 in January to the Survivor Series match in November; Ricochet has been nothing short of a superstar. His NXT matches were all classics to begin the year; eventually claiming the United States Championship while competing in a total of six championship matches. He may have very well seen a Top 3 ranking if WWE didn't slow him down following his lost championship match to A.J. Styles.
5 – Johnny Gargano
My top superstar of 2018, Johnny Gargano sees himself in the Top 5; despite missing the final NXT event of the year in War Games. Of the four championship matches Johnny Gargano saw himself in this year, all four won 'Match of the Night' honors. Showing why he is arguably one of the best today; Johnny Gargano hits it out of the ballpark for a second straight year.
4 – Sasha Banks
It may seem surprising to see Sasha Banks so high on this list; considering she 'left' the company for a short time. However, when you tally up the scorecard, Sasha Banks easily blows most of the other superstars out of the water. It's easy to forget she was the first ever Women's Tag Team champion; so her accolades and championship count total were already high to start the season. Then, she competed in two championship matches against Becky Lynch; both earning 'Match of the Night' accolades. Her Hell in a Cell match earning a Top 6 Match of the Year ranking. The numbers, and film, don't lie – Sasha Banks was a straight boss this season.
3 – Seth Rollins
A case could be made for a Top 2 ranking instead, but either way Seth Rollins was perfect in 2019. He couldn't have followed up a just as productive 2018 any better. Rollins was busy from the start, winning the Royal Rumble match; defeating Brock Lesnar at Wrestlemania 35 and competing in championship matches the rest of the way. He even competed in two title matches in one night. Even in Seth's downfall (to 'The Fiend') he continues to reinvent himself, now a full-fledged villain; adding to the delight of watching his character continually develop. 10 championship matches to close out an overly productive 2019; sees Seth Rollins receive a well-deserved 'podium result' as a Top 3 superstar.
2 – The Undisputed Era
The combined star power is too much for Seth Rollins to outshine; as four of the most entertaining performers in WWE today all align in this fantastically villainous group. The Undisputed Era actually end 2019 with three championship belts, competing in high-caliber, championship matches on an almost regular basis. The Undisputed Era members were part of 11 different honorable mentions for 'Match of the Night' or 'Match of the Night'; which is an insane number regardless of how many people you have in a stable. Adam Cole's war with Johnny Gargano is a big factor into the 11 matches. However, each member deserves all the credit for this hard-earned ranking.
1 – Becky Lynch
A no brainer here, as Becky Lynch has done everything in 2019. She still holds the WWE Raw Women's Championship, winning it back in April, which is just the beginning. She saw epic moments with various women such as Ronda Rousey, Lacey Evans, Sasha Banks and The Kabuki Warriors. Becky was also part of instant classics, such as her Hell in a Cell match against Banks; her Royal Rumble match against Asuka and her Submission match against Natalya. A proven star, The Man is without a doubt this year's top superstar in WWE.
But, WWE fans, what do you think?
Do you think Thom's rankings of WWE Superstars is spot on? Or do you think that there are some who deserve or don't deserve to be listed here? Leave us a comment down below, and if you're into any kind of betting, be it horse racing, football, or anything else. Check out the site Thom is a part of, Gambling.com.
Heck, you might even be able to get on some WWE betting odds. Find us on social media at the links below. Enjoy your day, folks.
Written by Thom Cunningham
Follow Thom and our Wrestling News Twitter
Photo credit to BeckyLynchWWE via Twitter
Follow us on YouTube and our main Twitter