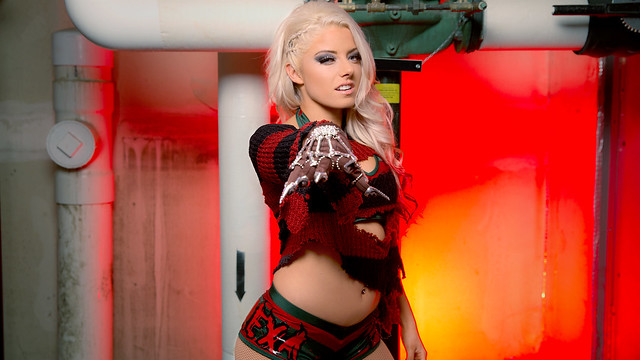 Alexa Bliss: A Character Make-Over Might Benefit Her Once She Returns
Alexa Bliss, 28, has a great future ahead of her but her in-ring competition has been in question due to her injuries.
She is the first woman superstar to hold both Raw and Smackdown Women's Champion; 5-time Women's Champion and the first to win the first-ever women's elimination chamber match. She's won the women's tag team titles with Nikki Cross; making her the second woman to be named Triple Crown Champion.
And her longest title reign was holding the Raw's Woman Championship for 223 days.
The Goddess and her injuries:
Her injury dates back in her NXT run around 2014-15, and again in 2018 during a match with Nia Jax at Backlash.
In August of 2018, was when she got a serious injury, which many thought she wouldn't be returning to the ring; a concussion she received during her title match with former UFC fighter Ronda Rousey.
After a five-month hiatus, the goddess returned to action at the start of 2019, participating in the Women's Royal Rumble. Then she was not medically cleared to compete until in June 2019.
And now she was written off of TV due to an undisclosed injury, first reported by WWE Backstage, after losing the tag team titles to Kabuki Warriors at Hell in the Cell. But good news to The Goddess followers, because she will be returning to action soon.
A character make-over
From a cheerleader to a manager to a "five feet furry" Goddess to her last talk show host/coffee sipper, but she is still in the same character beneath; and with her concussion, she should be going more of a grappler or something a bit more of a supernatural type.
If not, she will follow her fellow superstar Paige who thought she could wrestle again.
Alexa Bliss: should she turn heel again?
There is no secret that she did not fit well as a face, but was much better as a heel. But don't just turn her into a heel like before; make her heel with something else and then changing her character completely in the process.
But How?
TSJ Writer Andrew Aung's Opinion:
Bray Wyatt is the answer! Wyatt is the master of the manipulator, brainwashing people's minds like The Undertaker once did. And The Goddess once dressed up as both Freddy Krueger and Chucky (killer doll), so I think she'll fit in perfectly; not so much as a killer but more like a demonic doll-like character. And there is no better way than Bray Wyatt, who has a "kid" show with puppets, to change her.
The story goes with returning the Goddess making her in-ring return; after defeating her opponent, the lights go out and the Fiend appears and holds her head to brainwash her.
This should take place every single week until she has lost her mind completely; showing up on Bray Wyatt's puppet show and eventually transforming her completely into a new character. She should also wear a plastic doll face or something WWE can come up with, something that will also protect her head and neck.
And I can bet, she can do it because she is super talented and even AEW's Chief Brand Officer Brandi Rhodes showed interest in signing the Goddess. This is what Brandi Rhodes said during Starrcast IV:
"Will take Alexa Bliss in a heartbeat. I love Bliss, I love her. I feel like she's got something […] she's multi-dimensional talented."
What do you think? Do she need a fresh start or are you still happy with the way she is? Leave a comment…
Written by Andrew Aung
Follow Andrew and TSJ: WWE on Twitter
Photo credit to Ahmed P1 via Flickr.com
Follow TSJ on YouTube and Twitter