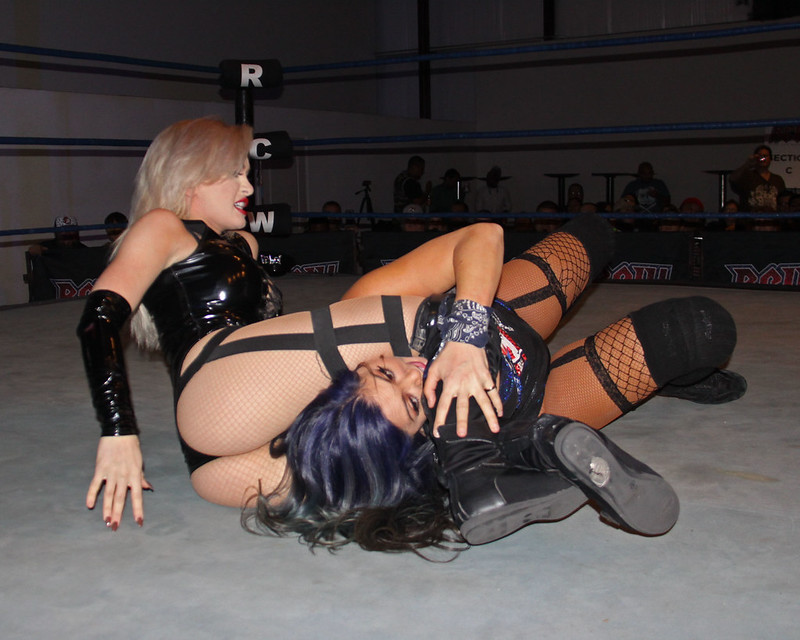 Former Impact Star Heading to NXT
If anyone has been disappointed that "The Smokeshow" moved on from Impact, fear no more. Scarlett Bordeaux is headed to NXT.
View this post on Instagram
It's definitely a good look for her.
This is particularly good news for the WWE as their developmental brand continue to go head-to-head each week with AEW.
Some sources say Scarlett had a successful tryout with the WWE last month. She's been at the WWE Performance Center since then. Squared Circle Sirens reports that she is set to make her television debut within the next month.
The thought is that she will continue to be a manager, being paired with a male wrestler upon her arrival. She is also expected to work some of her own matches as well. However, it is unknown if she will continue her seductive gimmick or if it will be changed. During her time with Impact, she portrayed "The Smokeshow," which was a heel character who was vain, although a "10". However, some critics fear that the spicy blonde is taking a step back as far as women's wrestling goes. Earlier this year, she told WrestlingInc.com  that the negativity that comes along with being "sexy" isn't fair to those divas who wrestled in years prior.
"There were so many amazing matches over the last 30 years. If I want to wrestle, I should be able to wrestle. If I want to be sexy, I should be allowed to be sexy. [If] I want to come out wearing a potato sack, I should be able to do that, too."
Scarlett in WWE
This isn't Bordeaux's first run in the WWE, however. She was a Rose Bud with Adam Rose's group a few years back. Additionally, she took on Nia Jax in what was essentially a squash match in 2016.
Former Champion Sasha Banks is the woman who Scarlett claims inspired her to get into the ring.
This should be especially interesting to see who Scarlett gets paired with upon her NXT debut, if anyone. It also raises the idea that real-life boyfriend, Impact's Killer Kross, will have an eventual bridge into NXT as well.
Ashley Sweetly Writes
I've really enjoyed watching Scarlett grow as a performer. Although I was hopeful she'd get picked up by WWE down the line, the unfortunate truth is that the WWE doesn't generally handle "sexy" as well as they could. Take Lana or Mandy Rose for example.
Putting her into NXT first, on the other hand, might really make a world of difference. Getting her more often into the ring will help build credibility that sexy and strong can go hand-in-hand. Plus, she's already got a pretty large fanbase. Fine-tune the skills that she's already got, and we could see another mega-star within the next few years.
Let us know what your thoughts are! Is this a great acquisition for WWE? Or, would Scarlett be a better fit for AEW?
Written by Ashley Sweetly
Follow Ashley and TSJ: WWE on Twitter
Photo credit to Brandon Oliver via Flickr
Follow TSJ on YouTube and our main Twitter