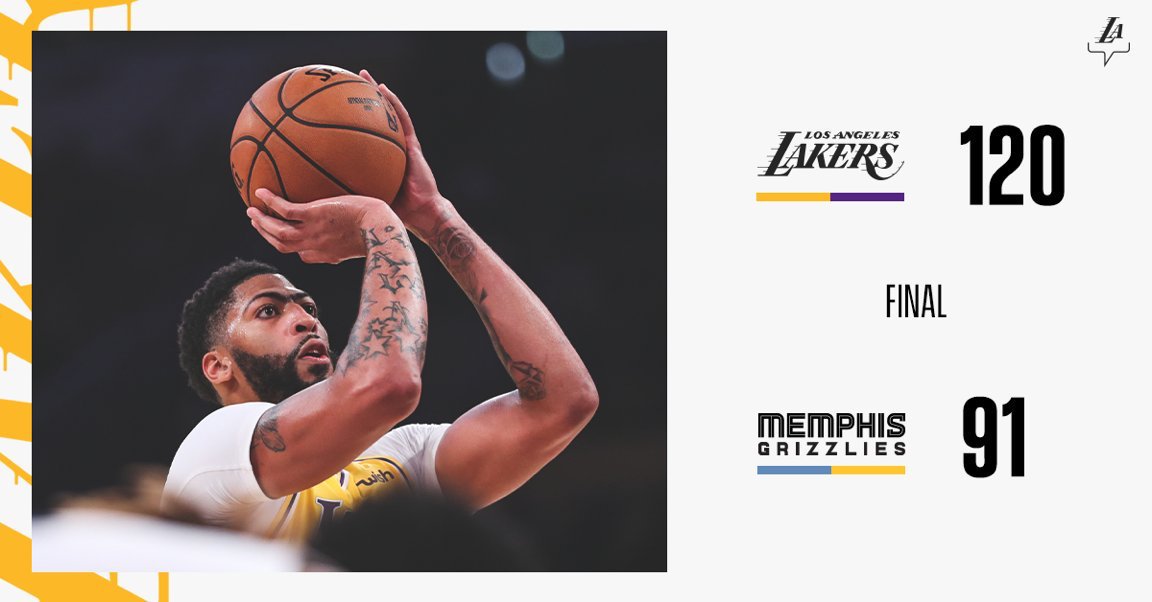 4 Takeaways From Los Angeles Lakers 120-91 Win Over Memphis Grizzlies
After taking care of business against the Charlotte Hornets, the Los Angeles Lakers have extended their win-streak to three games with their win against Memphis. It not only was a dominating win for the Lakers, but it was a coming-out game for star big man, Anthony Davis. It was pretty sloppy at first, but the Lakers were able to stay collected, and as a result, they demolished Memphis by 29.
1. Anthony Davis' coming-out game 
When Davis was acquired via trade during the off-season, all of us knew what the Lakers were getting. When healthy, Davis is one of the best players in the world. He is what you want in a big man in today's NBA. There is no flaw when it comes to Davis' skill set, and it displayed in tonight's game, as he had 40 points, 20 rebounds, and 2 blocks. This is exactly what all Laker fans were looking forward to. After watching his dominant highlights as a Pelican, it was nice to see for him to have this kind of performance in a Laker uniform. I don't know why many forget how good Davis is. Just a few years back after sweeping Portland, he was regarded as the 2nd best player in the world, behind LeBron James. Don't be surprised if Davis is able to win MVP this year.
2. Los Angeles Lakers are title contenders
I know it's just four games into the regular season, however, the Lakers look like legitimate title contenders. They are easily one of the best teams in the league, and people will just want to doubt them because of their opening night loss to the Clippers. People need to grow up and get past that game. The Lakers took care of business by sweeping their three-game home-stand, and now it's time for them to go on a three-game road trip. I might be getting a little too ahead of myself, but from what I've seen in these past four games, there's no doubt that something is special with this team. This team has the ingredients for a championship run, and this team isn't even at their peak yet. Just wait till Kyle Kuzma and Rajon Rondo return. They'll be a totally different beast a few months from now.
3. LeBron James' load management
After suffering a groin injury last year, many were under the assumption that James would no longer be healthy consistently. I expect James to take his usual few games off during the regular season, however, he should remain healthy throughout the year. With a teammate like Davis, who is just dominant on both ends of the floor, it takes pressure off James moving forward. I know it's just four games, but we can definitely say that Davis is the best teammate that James has ever had. James' workload will lessen, and as a result, he'll be able to perform at 100% during the post-season. The Lakers don't need LeBron to have a 30-point triple-double every game. James will total less minutes this year, and it'll result in dominance come playoff time.
4. Defensive consistency
In their three wins, they allowed 86, 101, and 91 points. That's unheard of in today's NBA. With the pace of games being faster than ever, it's extremely tough holding your opponents below 100 points. Regardless of their opponents, the Lakers played fantastic defense in their three-game sweep at home. In this game against Memphis, they allowed just 44 points in the second half. There are those who will say that it's just the Grizzlies, but last time I checked, every game is tough. After all, didn't the Clippers just lose to the Suns? You can't count any team out on any given night. In the first half, the Lakers were sloppy on offense, as they shot poorly from the field, however, their defense set the tone of the game. This is exactly what Coach Frank Vogel had in mind. Hustle, defensive intensity, energy, and sacrifice. This team does that.
Written by Shreyas Kar
Follow Shreyas and TSJ: NBA on Twitter!
Photo credit to Lakers via Twitter
Follow TSJ on YouTube and Twitter