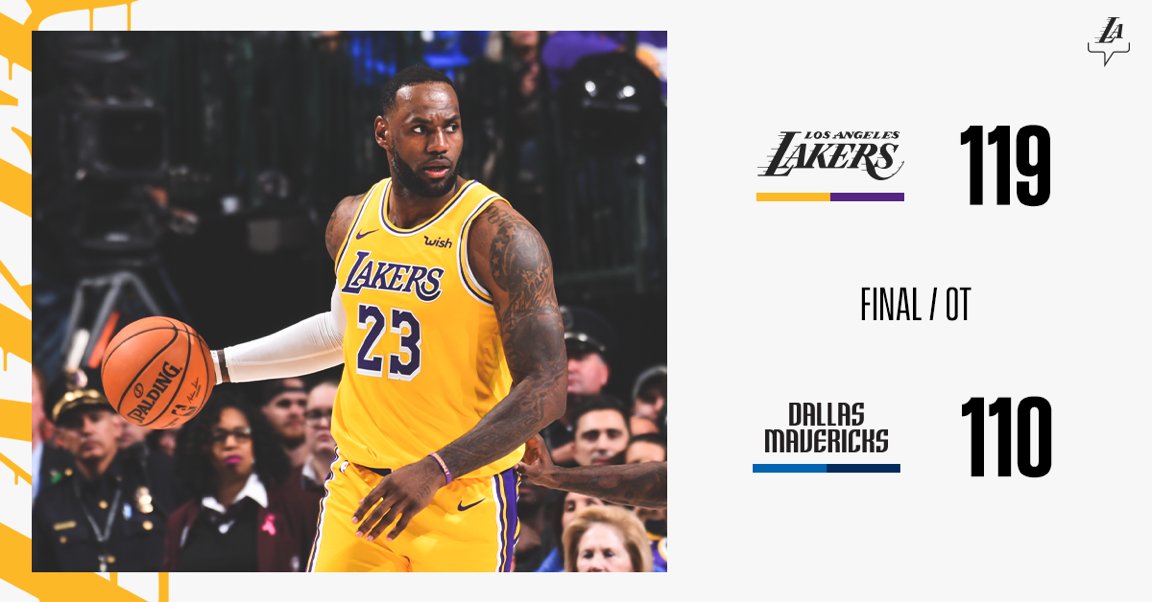 4 Takeaways From Lakers 119-110 Win Over Mavericks
After winning their last three games at home, the Lakers were tested with a road match-up against a good team in the Mavericks. Down by 10, Los Angeles was able to overcome adversity as they fought through overtime to get the statement win over Dallas, 119-110. This game had many ups and downs for the Lakers, however, tonight showed us the true potential for this team moving forward.
1. LeBron James is still the best player in the world
Ever since the season had begun, many were beginning to believe that James was no longer the best in the world. With the emergence of players like Giannis Antetokounmpo and Kawhi Leonard, you could see why that was the case. People begin living in the moment, and they tend to forget how good James is. Against the Mavericks, he had 39 points, 12 rebounds, 16 assists, 4 steals, and 1 block. This was easily his best game not only this year, but as a Laker in general. Coach Frank Vogel has had such a positive impact on James as he's bringing the best out of him defensively. With James having this type of performance, I think it's safe to call him the best in the world once again.
2. Statement win
Prior to this game, the Lakers were 3-1, with wins against the Jazz, Hornets, and Grizzlies. Everybody loves to hate on the best franchise in the NBA, so of course, people will not give credit for those wins. Dallas is an up-and-coming team as they're now labeled a "playoff team". That's no easy task in the Western Conference. For the Lakers to face constant adversity throughout and still manage to win at this point of the season is beyond impressive. They were down 10 throughout the whole game, but Danny Green was able to make a game-tying 3-point shot to send it in overtime. In overtime, the Lakers dominated the Mavericks as we saw their true potential as a team. You don't have to give this team credit. They don't need your credit. We all know how good they are, and it's better if you don't deny that.
3. The LeBron/AD Duo
After acquiring Anthony Davis during the off-season, many of us realized that the LeBron/AD duo would be nearly unstoppable. In these first few games, they've been good, but they've yet to make their statement. This game, they completed dominated on both ends of the ball as they combined for 70 points, 20 rebounds, 18 assists, 6 steals, and 3 blocks. In overtime, LeBron and AD scored 15 of their 16 overtime points. The scary part about this is that they aren't even 100% yet. Of course, there will be those haters, but you can't deny how good this duo has been so far. Just think about this. It's only been five games, and there's 77 left. Just wait and see how good this duo becomes come playoff time. It's going to be something special, period.
4. Coach Frank Vogel deserves credit
Once again, Vogel has done a phenomenal job coaching this team. I know it's only five games, but from what I've seen so far, Vogel is making the Lakers better fast. With all the injuries and line-up changes, Vogel has done a great job executing through all of that. Despite the adversity, he has found a way to bring the best from all of his players. Even LeBron James has benefited. Because of Vogel, James has become a better defensive player, and that's all the Lakers wanted this whole time. Last year, James' effort on defensive end was absolutely pathetic, but it's nice to see that he's actually putting in effort on defense now. There's a new energy going around the Lakers, and it's only fun times ahead for this team. Give Vogel credit. He simply deserves it at this point.
Written by Shreyas Kar
Follow Shreyas and TSJ: NBA on Twitter!
Photo credit to Lakers via Twitter
Follow TSJ on YouTube and Twitter