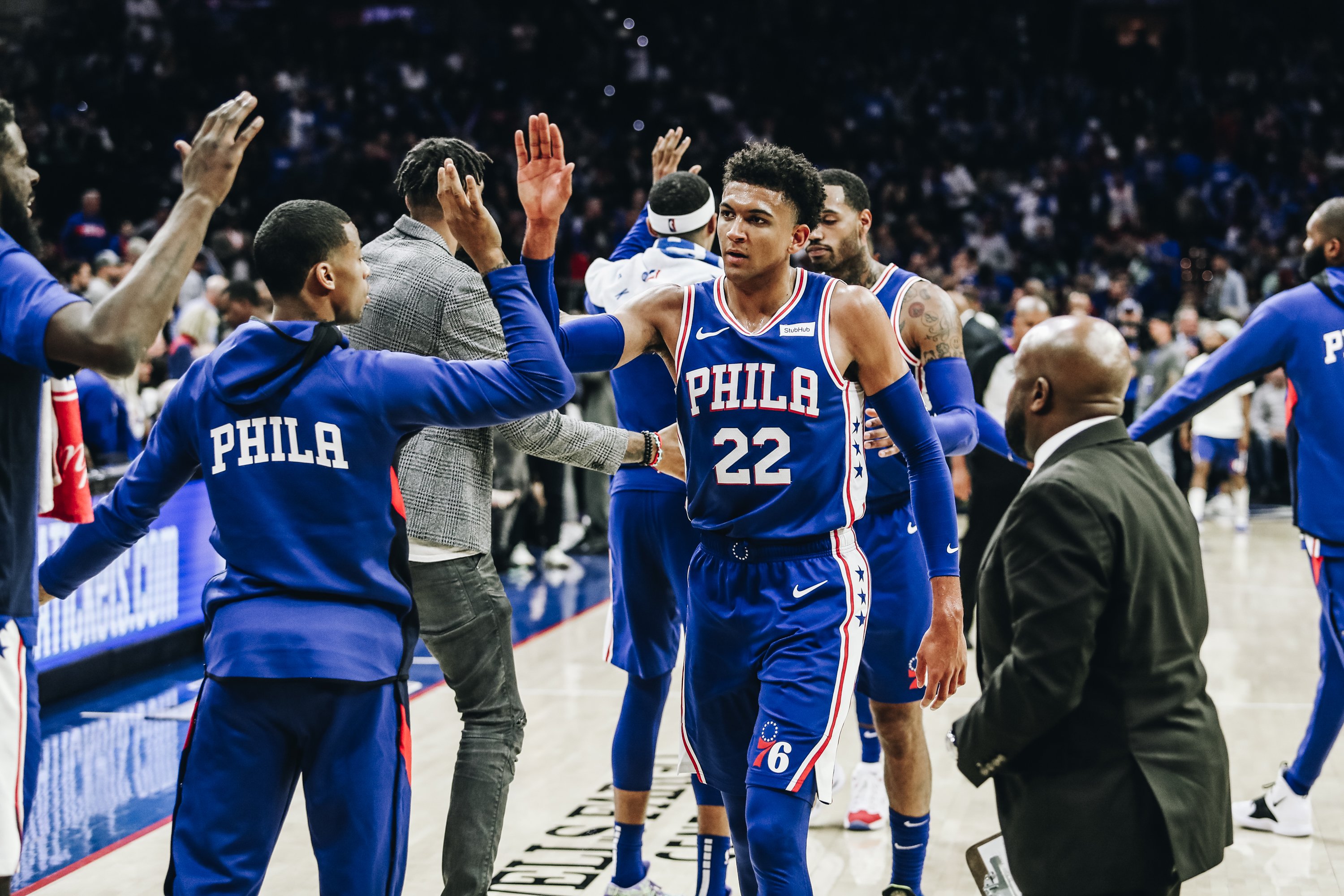 Shreyas Kar's NBA Power Rankings 2019-20: Week 2
As the first week of the NBA's regular season concludes, it provides opportunity for specific teams to make things right in order to head in the right direction. Are the Golden State Warriors this bad? Are the Phoenix Suns this good? To say the least, the first week of the regular season featured many upsets and interesting headlines.
1. Philadelphia 76ers
Record: 2-0
During the offseason, we all knew how good Philadelphia was going to be. Along with the Milwaukee Bucks, the 76ers are the favorites to win the conference. In their first two games against the Boston Celtics and Detroit Pistons, they played tremendous defense. Against Boston, they allowed them just 37 points on 51 possessions. Despite the fact that Ben Simmons has yet to make a shot outside of eight feet, he still managed to score 24 points against Boston. Against Detroit, Tobias Harris broke out for 29 points on 10/15 shooting. This team still has room to grow. That's the scary part.
2. Denver Nuggets
Record: 2-0
Just like the 76ers, the Denver Nuggets are exactly who we thought they were. The Nuggets are easily one of the better teams in the league, and it's time that we start giving them credit. They're not as popular as some other teams, but that doesn't change the fact that this team is a contender. A huge flaw for this team was their lack of competitiveness on the road. The Nuggets were the first team in 19 years to beat the Portland Trail Blazers in their home opener. On top of that, Nikola Jokic was able to record a triple-double in a close win against an improved Phoenix squad. They're well-deserving of the second spot this week.
3. Los Angeles Clippers
Record: 2-1
The opening-night win over the Los Angeles Lakers was a huge statement game for the Clippers. After wins against the Lakers and the Golden State Warriors, they looked nearly unstoppable. A loss in Phoenix was unexpected to say the least. As embarrassing as this loss was for the Clippers, perhaps they could use it to only become better from this point on. They also have more to wait on since Paul George is still recovering from an injury. Next week will be a huge indicator as to how the Clippers will do this season as they'll be taking on the No. 1 defense two times.
4. Los Angeles Lakers
Record: 2-1
The Los Angeles Lakers have been one of the more interesting teams to watch as they have both LeBron James and Anthony Davis on the same team. After suffering a loss on opening-night to the Clippers, they took care of business against the Utah Jazz and Charlotte Hornets in a convincing fashion. This team is more than just Davis and James. In their first game against the Clippers, Danny Green went off for 28 points. Against the Jazz, it was Troy Daniels coming off the bench, who produced 15 points. Against the Hornets, it was Dwight Howard, who produced 16 points, 10 rebounds, and 4 blocks while shooting 8/8 from the field. This team is very deep, period.
5. Milwaukee Bucks
Record: 1-1
The Bucks had the best record in the league last season, as well as having the best scoring margin. Milwaukee made a few moves throughout the off-season, but they remained as the favorites to win the Eastern Conference. They started their season off with a tough win on the road against Houston, however, blew a lead just a few nights later at home to the Miami Heat. Giannis Antetokounmpo was able to produce monster numbers in both games, but fouled out in each game. Many are under the assumption that the Bucks are overrated and that they are no longer the favorites to win the conference. Don't get it twisted. Once Giannis and the Bucks can find rhythm, they'll remind the league once again why they're the favorites to win the East.
6.  Utah Jazz
Record: 2-1
After ranking last in defensive efficiency in the preseason, the Jazz are back at No. 1 on defense for the games that count. Despite the fact that Mike Conley has had an absolutely atrocious first two games, the Jazz sit with a 2-1 record. Conley however did get more comfortable with the Jazz as time passed by, and that showed by them blowing the Sacramento Kings. Donovan Mitchell has been the center-piece of the offense, and the Jazz had hopes that he would play more efficient with the signing of Conley. Even though it's a small sample size, the results are still positive. Mitchell has averaged 23.7 points on 68.1% true shooting percentage in the first week.
7. Houston Rockets
Record: 1-1
Before the season had begun, many were speculating as to whether or not the pairing of James Harden and Russell Westbrook would work. After the first week, there are some mixed feelings about it. Can the Rockets make the playoffs? Probably. Can they play defense and perform well during the playoffs? We're not sure. In their match-up against the Bucks, Houston blew a 16-point lead. The Rockets were already off to a poor start as they had a lot to fix. Their game against New Orleans was somewhat better. With Westbrook being more efficient than ever, it gave the Rockets an opportunity to control the tempo of the game. There's still much to clean up, but it's only week one.
8. Portland Trail Blazers
Record: 2-1
The Blazers started their season off with a loss against the Nuggets, as Denver was able to make plays and hit shots down the stretch. A convincing win over the Kings and a clutch road win over the Dallas Mavericks puts the Blazers at the No. 8 spot. Hassan Whiteside is still trying to be integrated into this Blazers offense as we should expect there to be a growing pain for this team moving forward. Unfortunately for Portland, Zach Collins is missing extended time due to a dislocated left shoulder. Despite that, Portland always finds a way to win games in clutch situations. That's why they keep making the playoffs, and it's also why they keep winning around 50 games.
9. San Antonio Spurs
Record: 2-0
The four-year, $64 million extension signed by Dejounte Murray may turn out to be a team-friendly deal after all. Murray has already proven himself as one of the premier defensive guards in the league. In 23.4 minutes per game, Murray has averaged 18.5 points and 5.0 assists while shooting 60% from the field. This is exactly why I had the Spurs making the playoffs. I know it's just two games that the Spurs played, but they mostly have returning players, and with Murray leading the way, expect this team to keep it up from this point on.
10. Boston Celtics
Record: 2-1
After an embarrassing opening-night loss to the 76ers, the Celtics went on to defeat the New York Knicks and the Toronto Raptors. Kemba Walker struggled big time in the first game, as he shot 4/18 from the field. Since the loss, Walker has shot 19/39 from the field, 9/20 from behind the arc and has averaged 27 points in back-to-back wins. Unfortunately for Boston, players like Enes Kanter and Daniel Theis have both suffered injuries. With no good rim protection moving forward, next week will be a telling story as a visit from the Bucks will present a huge challenge for Boston.
11. Toronto Raptors
Record: 2-1
The defending champs have started their season off by winning two of their first three games. Despite the losses of Kawhi Leonard and Danny Green, this team still remains as one of the better teams in the East. Before the season had begun, I picked Pascal Siakam to have a break-out year. So far, he is looking really good and has not disappointed many since that extension. Though it's only three games, he's been averaging just under 29 points and 11 rebounds. This team isn't as good last year, however, there are a lot of returning players and this team is extremely deep. Depending on how good Siakam is, that will tell us how much of a leap the Raptors will make this year.
12. Miami Heat
Record: 2-1
The Miami Heat made a few changes to their roster over the off-season which included adding Jimmy Butler, while getting rid of Hassan Whiteside. Beating Memphis on opening night with a dominant fourth quarter wasn't really talked about around the league. Beating Milwaukee on the road from a fourth-quarter comeback was definitely talked about around the league. These first three games have been without Butler since he's been away for the birth of his daughter. I get it, there are more "popular" picks to win the East other than the Heat, however, we shouldn't count this team out. The Heat don't get much chatter, but it could very well change throughout the season.
13. Dallas Mavericks
Record: 2-1
It's the season of big two's and the Mavericks are the team with two star players, both of which have a usage rate of at least 30%. Luka Doncic and Kristaps Porzingis have not given us any reason to believe that this duo is not going to work out. They are the only pair of teammates at the moment to both rank in the NBA's top 10 scorers. With Doncic averaging 29.3 points and Porzingis putting up 26.3, the future of this team is looking bright. There is no doubt in my mind that this team will be able to contend for the eight seed in the West, however, my concern with this team is whether or not the bench can produce. With that being said, they had a pretty good first week.
14. Minnesota Timberwolves
Record: 3-0
I could've put the Timberwolves up higher, but since this team didn't have many expectations to begin with, they're going to have to climb their way up. The undefeated Timberwolves had a great week, as they got a balanced effort from their team. Karl-Anthony Towns has been putting up monster numbers this season as he has been averaging 32.0 points, 13.3 rebounds, 5.0 assists, 2.0 blocks, and 3.0 steals per game. Perhaps I was a little too rough on Minnesota. My position remains the same on this team. If Andrew Wiggins can have a break-out year this season, then perhaps we can start talking about them as a legit threat in the Western Conference. But that's a big if.
15. Atlanta Hawks
Record: 2-0
Trae Young has not only been living up to the hype, but has also been exceeding expectations. Despite it being only two games, Young has averaged 38.5 points in 36.5 minutes per game, while shooting 70.7% from the field and 55% from behind the arc. The Hawks took a step up this year, and with them defeating two quality playoff teams in the Magic and Pistons, it just proves that the Hawks have the ability to contend for the eight seed in the East this year. John Collins and Jabari Parker have both been playing well too. A big test comes early next week as the Hawks host the 76ers. This team is very capable and they're headed in the right direction.
16. Brooklyn Nets 
Record: 1-2
The Brooklyn Nets have been one of the more fun teams to watch with both Kyrie Irving and De'Andre Jordan on that team. Brooklyn was able to finish the week with a 1-2 record, but it could very well be 0-3, 2-1, or even 3-0. That's how close each game was. They beat New York by four, lost to Minnesota by one, and lost to Memphis by one. If there's any concern for this team moving forward, it's the assist to turnover ratio. Brooklyn has averaged 20 assists to 21 turnovers for the past few games, which includes committing 26 turnovers to the Knicks. Unfortunately for the Nets, they blew fourth-quarter leads in all three games. This trend won't continue because the more time Irving has to adjust with the team, the better Brooklyn becomes. It's just growing pains.
17. Orlando Magic
Record: 1-1
After surprising many last year by making the playoffs, the Orlando Magic need to take the next step if they want a chance at the post-season this time around. The point guard position has been a position of need for Orlando for years, and Markelle Fultz has given them some hope for the position moving forward. Fultz off the bench has produced 12 points in each game, even adding his two three-point shots against Atlanta. Al-Farouq Aminu, Terrence Ross, and Mo Bamba have all been good for the bench as well. Next week, the Magic will be tested as they'll be facing tougher opponents like the Bucks, Nuggets, and Raptors. Keep an eye out for this team.
18. Phoenix Suns 
Record: 2-1
No one, including myself, thought that the Phoenix Suns would start the season off 2-1. More importantly, no one believed that the Suns without Ricky Rubio and De'Andre Ayton, would be able to defeat the Clippers. They also defeated the Kings in their home-opener, as well as going on the road and taking the Nuggets into overtime. Devin Booker is averaging 23.3 points and 8.3 assists per game, but let's give some credit to Coach Monty Williams. Williams has been able to spark a new energy and identity with this team, and there's definitely an excitement for the city of Phoenix. Despite Ayton's suspension, it appears that for once, Phoenix is headed in the right direction.
19. Oklahoma City Thunder
Record: 1-2
It's no surprise that the Thunder are somewhat struggling without Russell Westbrook and Paul George. Despite the fact that they're sort of in a rebuild, this team is not that bad. Offensively, the Thunder are struggling to find any momentum as they rank 27th in offensive rating. On the defensive end, it's a totally different story. Through the first week, Oklahoma City is ranked 3rd in defensive rating as that's what's keeping them in games. Their notable game was their blow-out win against Golden State. Over the past four seasons, the Thunder were last in the league when it came to most passes per game. Now they rank 17th with about 36.5 more passes per game.
20. Golden State Warriors
Record: 0-2
This one is pretty simple. Take out Kevin Durant, Jordan Bell, Quinn Cook, Andre Iguodala, and Klay Thompson (injury), and you can expect this team to be 0-2. On the defensive end, this team has been absolutely atrocious as they rank dead last in defensive rating. Like I said, their depth is an issue, and you need depth in this league in order to be successful. There is no doubt that the duo of Stephen Curry and D'Angelo Russell can produce points, but they can't defend to save their lives. When Draymond Green is calling out his own team, saying that "they fu***ng suck", that's when you know there's an issue with this team. They have a lot to work on moving forward.
21. Detroit Pistons 
Record: 1-2
The Pistons have had an interesting week to say the least. They won their opener in Indiana but have since lost to the Hawks and the 76ers without Joel Embiid. Defensively, they have struggled as they have allowed at least 117 points in each game on 49% combined shooting. There are some bright spots for this team, and one of them is Derrick Rose. Rose has had a great first week as he received "MVP" chants by averaging 25.3 points per game. It's sloppy right now, but when Blake Griffin comes back, that's when we'll see this team at its peak. Until then, they just have to try getting as many wins as they can get. Plain and simple.
22. New Orleans Pelicans 
Record: 0-3
Despite the fact that the Pelicans are 0-3, that doesn't mean that they're horrible. It's definitely a bummer that Zion Williamson is going to be out for 6-8 weeks due to a knee surgery, however, there have been plenty of bright spots. Specific players like Brandon Ingram, Lonzo Ball, and Josh Hart have all been balling out for the past three games. Ingram has been averaging 27.3 points, 9.3 rebounds, and 4.3 assists per game, while both Ball and Hart have both seem to have found their groove with the Pelicans. When you're 0-3, it's because of what's happening on the other end. The Pelicans rank 6th offensively, however, their problem lies on the defensive end, as they're ranked 28th.
23. Indiana Pacers
Record: 0-2
This was expected from the Indiana Pacers as they have to go without Victor Oladipo for awhile. Despite that, they lost to the Cavaliers and to the Pistons without Blake Griffin. That is just flat-out embarrassing. It just seems like they haven't done anything right during the first week. So far, they're ranked 20th in offensive rating and 25th in defensive rating. The duo of Domantas Sabonis and Myles Turner is combining for 39.5 points and 19 rebounds, but they're going to need more than that. They were able to win games last year without Oladipo, so we can expect them to do so the same this time around.
24. Chicago Bulls
Record: 1-2
Despite last seasons results, the Bulls were able to have their moments last year. Lauri Markkanen opened up the season averaging a double-double with 17.7 points and 11.7 rebounds per game. This is even't Markkanen at his best. Throughout his first two years, Markkanen has shot about 35% from behind the arc. Throughout these first few games, he's missed 18 of his first 21 attempts from downtown. Defensively, the Bulls have made improvements, however, they need to find some consistency on the offensive end. Despite the struggles they're having, it's better to have them now than later. At least they're headed in the right direction.
25. Washington Wizards
Record: 1-2
If you look at the Wizards' roster on paper, you might say to yourself "Who in the hell are these people?". Well, even if you don't know them, just know that they play hard and they play together. Rookie Rui Hachimura is better than expected and players like Isaiah Thomas and Davis Bertans are both performing pretty well. The Wizards as a team, have been better than we all expected. Thomas had a nice debut as he put up 16 points and 5 assists in less than 20 minutes against San Antonio. We all expected the Wizards to have one of the darkest futures in the league, but based off of this first week, it could end up being brighter for all we know.
26. Memphis Grizzlies
Record: 1-2
You might have a point when it comes to having the Grizzlies a few spots up higher. Especially with their comeback win against the Nets, it's definitely worth the argument. Ja Morant had a coming-out party with his performance against Brooklyn as he had 30 points and 9 assists in that game. He scored 17 of his 30 points in the fourth quarter, blocked Kyrie's potential game winning shot, and assisted the game-winning three to Jae Crowder. This team doesn't have many expectations, but with that win against Brooklyn, perhaps it's something they could build on.
27. Cleveland Cavaliers
Record: 1-1
We all expected the Cavaliers to be straight-up garbage this year. They have a few nice young players like Darius Garland and Colin Sexton, but they're looking to completely wipe their team as they have six players on expiring contracts. Cleveland got a good-quality win against Indiana by having the veteran combo of Kevin Love and Tristian Thompson combine for 46 points and 26 rebounds. The Cavaliers are in a weird situation right now because Coach John Beilein needs to continue finding the right mix of minutes for a roster that might not stay intact. Now that this week is over, it's safe to say that they had a successful week to say the least.
28. Charlotte Hornets
Record: 1-2
I'll admit, the Charlotte Hornets are not as garbage as I'd think they'd be. Who knows? It was just one week. Despite the 1-2 start, there's something to like about the Hornets after this first week. After losing Kemba Walker, you'd expect the Hornets to be absolute garbage, but the young guys are playing better than we had thought. Coach James Borrego has emphasized focusing on the young players and helping them develop game-by-game. Primarily players like PJ Washington, Miles Bridges, Dwyane Bacon, and Devonte Graham. All of them had over 20 minutes in the first two games. I'd say it was a pretty good week for the Hornets.
29. New York Knicks 
Record: 0-3
Despite their 0-3 start, the Knicks were competitive in those games. A big bright spot for this team is R.J. Barrett. Barrett has exceeded expectations, as he averaged 21.0 points while shooting 53.8% from behind the arc. Don't get me wrong, New York is still pretty bad, but at least they're headed in the right direction somewhat. Players like Julius Randle, Marcus Morris Sr., Elfrid Payton, and Bobby Portis all need to get involved more for a higher chance of winning. Even though they're 0-3, it's always a good sign when a rookie like Barrett is playing at a high level.The Knicks can only move forward.
30. Sacramento Kings
Record: 0-3
The Sacramento Kings were an absolute embarrassment in their first three games. I predicted for them to win 39 games this season, and I'm already having regrets of giving them that many wins. Despite it only being week one, they just looked awful. The Kings lost their first two road games by an average of 30.5 points, and it was so bad that Coach Luke Walton had to pull out his starters with 8:39 left in the third quarter at Utah after they fell behind by 32 points. Sacramento ranks dead last in offensive rating as they've shot below 40% from the field in two of their three games. I said it once and I'll say it again, Luke Walton is going to hold this team back. It happened to the Lakers, and it's now happening with the Kings.
Written by Shreyas Kar
Follow Shreyas and TSJ: NBA on Twitter!
Photo credit to Sixers via Twitter
Follow TSJ on YouTube and Twitter