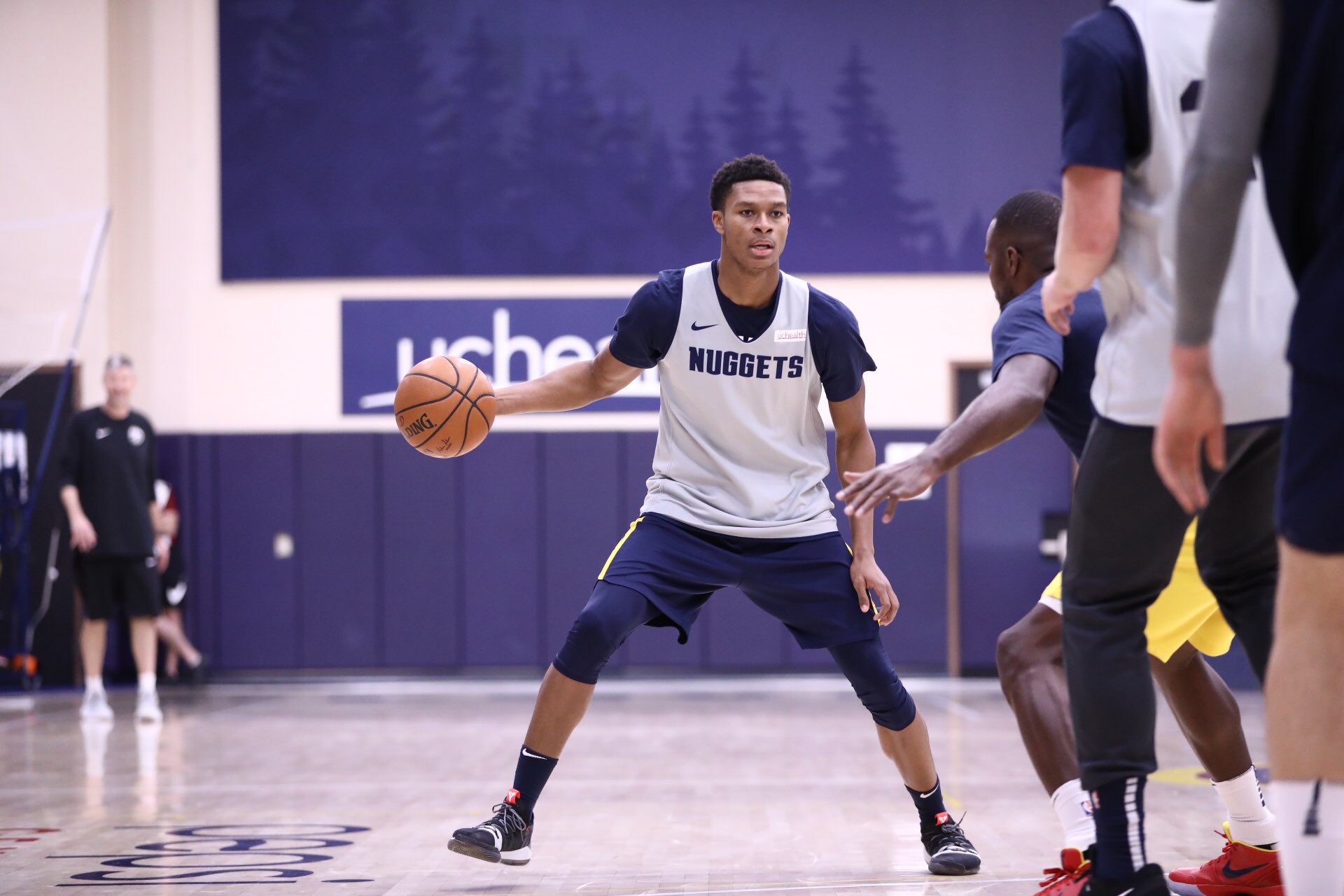 2019-2020 NBA's Western Conference Standings Predictions
The 2019-2020 NBA season has finally arrived, and for the first time in many years, there is no team in this league that is a lock to make the finals this year. In the Western Conference, we could easily label any of the playoff teams as "title contenders". All in all, this conference is stacked, and there is no easy way out for any of these teams. Welcome to the Western Conference.
1. Denver Nuggets (59-23)
The Denver Nuggets were definitely one of more quiet teams during the off-season. With that being said, they may end up with the best record in the conference. They're returning with mostly the same team, but with added experience. During the off-season, the Nuggets picked up Paul Millsap's option, extended Jamal Murray, and added Jerami Grant. They wouldn't have many chemistry issues throughout the season as their players have experience playing with each other. Their biggest acquisition could easily be Michael Porter Jr. With the potential that he has, as well as the Nuggets becoming more experienced, expect this team to be the top seed in the conference.
2. Los Angeles Clippers (57-25)
The Clippers shocked the NBA when they were able to land Kawhi Leonard via free agency and Paul George via trade. They gave up Shai Gilgeous-Alexander, Danilo Gallinari, five first-round picks, and the right to two more first-round pick swaps for George. The Clippers have the potential to win it all this year, and more. They have the capabilities to be one of the dominant teams for years to come. That all depends on the health of Leonard and George. Both Leonard and George have had histories with injuries as it is important for them to stay healthy to maximize the potential of this team. Expect this team to be the second-seed in the conference.
3. Houston Rockets (54-28)
Houston has been a great team for the past few years, however, they've been falling short to the Warriors year-after-year. With the Warriors not being the same dominant figure in the league, the Rockets did whatever they could to make the finals this year. Internal drama dominated the early-summer Rockets headlines, but with trading Chris Paul in exchange for Russell Westbrook, things look better in Houston. The Rockets kept the rest of their core together, as well as adding high-character vets in Tyson Chandler and Thabo Sefolosha. This team will need some time to gel throughout the season, so expect this team to be the third-seed in this conference.
4. Los Angeles Lakers (53-29)
Las Vegas has the Lakers as the title favorites for a reason. It's not crazy to say that LeBron James will have a bounce-back year. With the addition of Anthony Davis, it gives James less of a work-load throughout the season. Last season, the Lakers were ranked as one of the worst three-point shooting teams in the league. Throughout free agency, they addressed that issue by signing players like Danny Green, Avery Bradley, Quinn Cook, Jared Dudley, and Troy Daniels. The pick-and-roll between James and Davis will be nearly unstoppable, and with a good supporting cast, expect this team to make noise throughout the playoffs. It will take some time for this team to gel, so expect to them to be around the fourth seed in the conference.
5. Utah Jazz (53-29)
There are several West teams that are more appealing than the Utah Jazz, however, we shouldn't overlook this squad. The Jazz were able to modernize their roster by adding shooters to the team. By acquiring Mike Conley and Bojan Bogdanovic, it gives this Jazz team much more spacing than it did last year. The question with this team isn't on the defensive end, it's on the offensive end. Can they put up points consistently? If they have the ability to do so, then watch out. In the last two seasons, Utah has started off slow. If they want a chance at achieving a higher seed, they'll need to start the season off well.
6. Portland Trail Blazers (51-31)
The Portland Trail Blazers were able to surprise many last year as they made it all the way to the Conference Finals last season. Portland had a busy off-season in which they underwent a huge roster change. With Enes Kanter, Seth Curry, and Al-Farouq Aminu signing elsewhere, Portland had to fill the gaps in order to remain in contention. They sent Evan Turner to Atlanta in exchange for superior shooter Kent Bazemore. They also dealt for Hassan Whiteside. Once again, the Blazers are being overlooked by many, however, we shouldn't doubt this team. With the star-power and leadership from both Damian Lillard and C.J. McCollum, expect other players like Whiteside to be rejuvenated. Expect this team to make noise in the playoffs once again.
7. Golden State Warriors (49-33)
Aside from losing Kevin Durant, the Warriors lost bench-depth, which featured players like Shaun Livingston, Jordan Bell, Quinn Cook, and Andre Iguodala. The key for the Warriors this season will be whether or not they can integrate D'Angelo Russell into their offense. Russell should be able to provide offensive bursts for the time-being that Klay Thompson is recovering from his ACL injury. Many believe that folks are overlooking this team. Once Thompson comes back, there is a legitimate belief that the Warriors could return back to the NBA Finals. Unfortunately for them, they don't have the depth and size. With that being said, this team will still be much better than what many anticipate.
8. San Antonio Spurs (49-33)
If you think that the San Antonio Spurs will fail to make the post-season, then you're not thinking right. Please stop and remind yourself that the Spurs are still the Spurs. With Gregg Popovich leading the way, there is no way that this team isn't making the playoffs. Most of their team is back from last season and this time around, they'll have Dejounte Murray at 100%. This team is solid and capable of making the playoffs, so why should we bet against them? Every year, the Spurs have many doubters from across the country and they're always proven wrong. Expect this team to make the post-season, period.
9. Dallas Mavericks (42-40)
With two young stars in Luka Doncic and Kristaps Porzingis, only time will tell how long it'll take for Dallas to make the post-season again. The Mavericks had the opportunity for a max-player this off-season, but decided to utilize it on quality bench-players. Dallas kept its young-core players like Porzingis, Dwight Powell, Maxi Kleber, and Dorian Finney-Smith. They also added in quality role-players like Delon Wright, Seth Curry, and Boban Marjanovic. The only issue with Dallas is that the roster excluding Doncic and Prozingis are just bench players. They'll need three other players to join Doncic and Porzingis for the starting line-up, and the Mavs are basically betting on both Powell and Wright to step up to the challenge consistently.
10. Sacramento Kings (39-43)
The Sacramento Kings had a surprisingly good season last year as they went 39-43. Unfortunately for them, I just don't see them taking the next step with Luke Walton as their head coach. Walton has been known to stunt young players' development and for the Kings, that's what their roster mainly consists of. During the offseason, the Kings gave Harrison Barnes an $85 million extension and added veteran players like Trevor Ariza and Corey Joseph. Many, including myself, don't trust Luke Walton to take this team to the next level. This team does have the capabilities of making the post-season, but unfortunately for them, they'll probably have to wait another year.
11. New Orleans Pelicans (38-44)
The New Orleans Pelicans are one of the most interesting teams next season to say the least. With all the hype of Zion Williamson, this team is must-watch TV. Unfortunately for the Pelicans, they have to be cautious with Williamson's knee as he's forced to sit out the first 6-8 weeks of the regular season. Overall, their team is pretty decent. It features young players like Lonzo Ball, Josh Hart, Brandon Ingram, and Jaxon Hayes. While having youth, the Pelicans added in leadership by acquiring J.J. Redick. Even in a best-case-scenario, the Pelicans are fighting for a spot at the back-end of the playoff field. This team has a bright future, but don't expect them to do much this year.
12. Minnesota Timberwolves (34-48)
The Minnesota Timberwolves were able to get over their post-season drought just a few years back with Jimmy Butler. Now that he's gone for good, they can be focused for this season. Other than adding a few players like Jarrett Culver, Jordan Bell, Jake Layman, and Noah Vonleh, this team didn't get much better on paper. Minnesota definitely has the potential to acquire a player like D'Angelo Russell if indeed his situation doesn't work out in Golden State. But our analysis is based on what Minnesota is right now, and it doesn't seem like they're going anywhere as of now. Perhaps Andrew Wiggins can have a break-out year? It's looking pretty stagnant to say the least.
13. Oklahoma City Thunder (32-50)
The Oklahoma City Thunder went through major changes during the off-season. They traded away both Russell Westbrook and Paul George in order for their franchise to be in a proper rebuilding mode. In return, they received multiple first-round picks, Shai Gilgeous-Alexander, Danilo Gallinari, and Chris Paul. Their team as of now isn't the worst on paper. They have some pretty good players on this team, but overall, this franchise is in an awkward situation. The Thunder don't know how good this team is yet, and once they do know, it could very well mean a total reconstruction for this franchise during the season. They'll most likely be building for the future so don't expect much this year.
14. Memphis Grizzlies (29-53)
The Grit 'n Grind era is officially over. The Grizzlies are now in rebuilding mode. Memphis has some good young talent on this team. If players like Ja Morant and Jaren Jackson Jr. can take a big step this season, we can expect this team to be pretty competitive consistently. Other than Morant and Jackson Jr., the Grizzlies have veterans like Jonas Valancinuas and Jae Crowder, who can both contribute a decent amount. This season is all about the potential strides the young players can make. Best-case-scenario for this team could range around the 33 to 35 win-mark, but since this team is headed towards a rebuild, don't expect that.
15. Phoenix Suns (27-55)
Once again, we can fully expect the Phoenix Suns to be the worst team in the Western Conference. They had a head-scratching summer to say the least. The Suns acquired Ricky Rubio via free agency as they expect him to be the leader of the team. They also added players like Dario Saric, Aron Baynes, Cheick Diallo, and Frank Kaminsky. Perhaps their best move during the off-season was re-signing Kelly Oubre Jr. to a two-year, $30 million deal. At this point, there is a bigger problem with the ownership as opposed to the actual roster itself. Every year I say the same thing. Just don't expect much from this team. They're not very good. Plain and simple.
Written by Shreyas Kar
Follow Shreyas and TSJ: NBA on Twitter!
Photo credit to Nuggets via Twitter
Follow TSJ on YouTube and Twitter