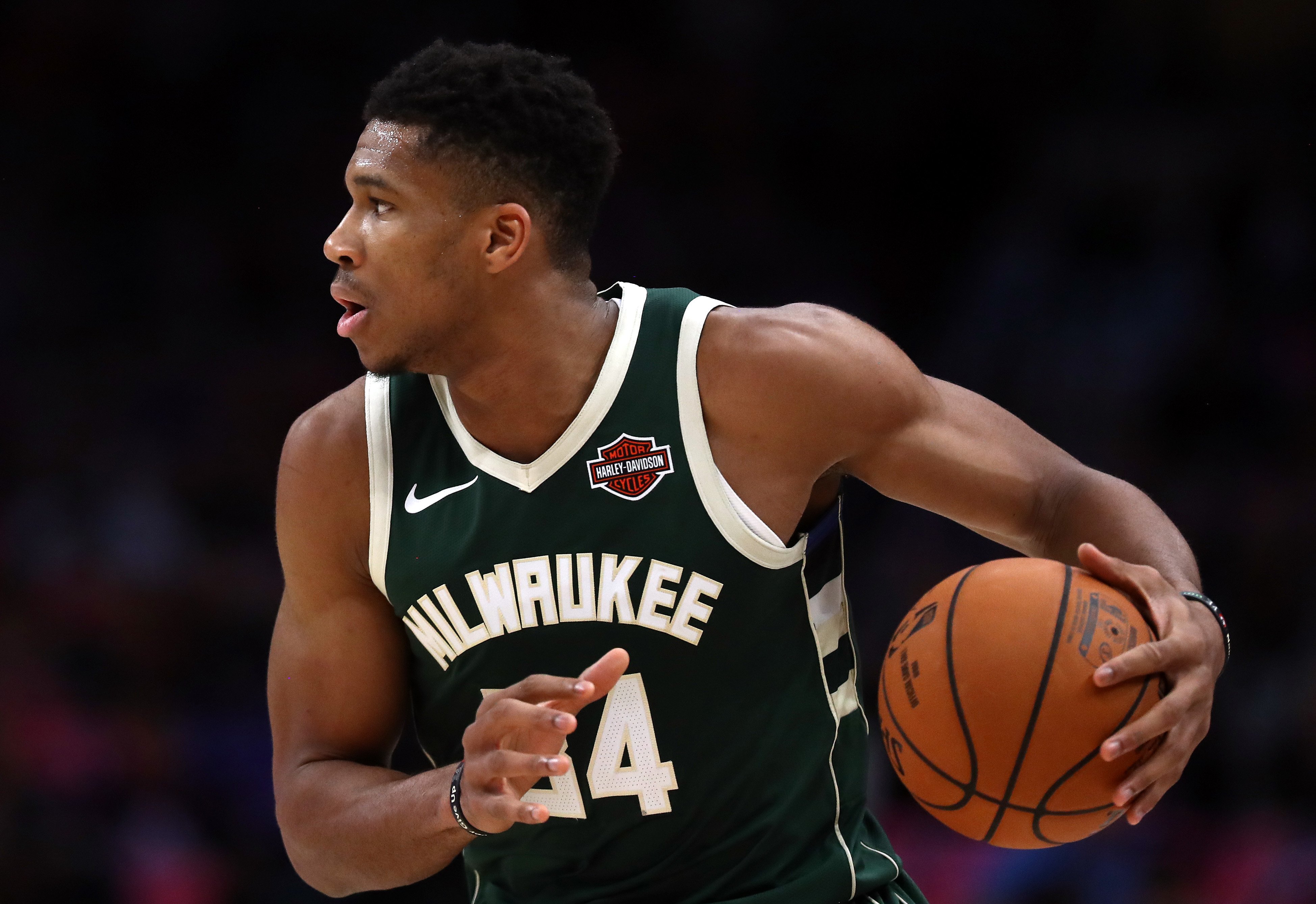 2019-2020 NBA's Eastern Conference Standings Predictions
The 2019-2020 NBA season has finally arrived, and for the first time in many years, there is no team in this league that is a lock to make the finals this year. In the Eastern Conference, every team that makes the post-season has a legit chance of making the NBA Finals this year. All in all, there is no guarantee as to who will make the finals. Anything can happen. Welcome to the Eastern Conference.
1. Milwaukee Bucks (61-21)
With Kawhi Leonard's departure from Toronto and the 76ers losing Jimmy Butler, this conference might be the Bucks' to lose. Milwaukee made it all the way to the conference finals last season, however, they fell short due to a lack of experience. Many believe that the Bucks won't be as good as last year due to the loss of Malcom Brogdon. Despite that loss, they were able to replace him with Wesley Matthews. They were also able to acquire Robin Lopez while re-signing George Hill. This time around, the Bucks don't need to win 60+ wins to prove something in the playoffs. Knowing Giannis Antetokounmpo's mindset, the Bucks will probably be the number one seed.
2. Philadelphia 76ers (56-26)
Along with the Bucks, the Philadelphia 76ers are one of the favorites to represent the East in the NBA Finals. This team underwent many changes during the off-season which featured multiple roster changes. They executed a sign-and-trade that would send Jimmy Butler to Miami in exchange for Josh Richardson. Philadelphia was also able to acquire Al Horford via free agency. After re-signing Tobias Harris, they finally established their starting line-up. Despite all this, can Ben Simmons develop a jump-shot? Can Joel Embiid stay healthy? Can their bench produce consistently? With all of that being said, expect them to be the number two seed this year.
3. Boston Celtics (50-32)
The Boston Celtics did not stay quiet throughout the off-season as they made multiple changes to their roster. After losing Kyrie Irving, they were able to acquire Kemba Walker in hopes to fill the role. Losing Al Horford was a big loss for this team, however, they were able to pick up Enes Kanter as they hope he can fill that role. After having an issue with not having many big-men on their team, they drafted Romeo Langford, Carsen Edwards, and Grant Williams. That definitely did not address that issue. This team is good, but not great. They're not on the same level as Philadelphia and Milwaukee. If they want a chance of being an elite team, they need Jayson Tatum to have a break-out year. This team will be good during the regular season, that's all.
4. Indiana Pacers (49-33)
I don't understand why many people have the Indiana Pacers not making the playoffs. The Pacers are one of those teams that many just overlook without a good reason. Victor Oladipo's health is definitely questionable entering this season, however, Indiana was still winning without him. Despite losing Bojan Bogdanovic to the Jazz, the Pacers were able to acquire Malcom Brogdon. They were also able to sign Jeremy Lamb, T.J. McConnell, Justin Holiday, and T.J. Warren via free agency. If the Pacers want to be successful, they'll need the frontcourt pairing of Myles Turner and Domantas Sabonis to be successful. Just don't be surprised if they end up as a top-4 seed or better this year.
5. Toronto Raptors (48-34)
Despite losing Kawhi Leonard and Danny Green through free agency, the Toronto Raptors remain as one of the better teams in the conference. They were able to keep players from their championship squad like Marc Gasol, Kyle Lowry, Pascal Siakam, and Patrick McCaw. Toronto also signed a couple of young, athletic wing players in Rondae Hollis-Jefferson and Stanley Johnson. The Raptors are definitely capable of winning 50 games this season with most of their team returning from last season. They won't be as good as last year obviously, but expect to see Siakam have a break-out year. Toronto will once again remain in the playoff picture in the East.
6. Brooklyn Nets (48-34)
This Nets season is all about integrating the newcomers. Despite Kevin Durant's injury that will keep him sidelined for at least most of the year, they still have a great team. Brooklyn was able to add Kyrie Irving and De'Andre Jordan via free agency. They were also able to acquire players like Garrett Temple and Taurean Prince. The main factor for this team will be health. With Caris LeVert returning, expect him contribute in a big way. Jarrett Allen definitely needs to take a step up in order for this team to be on the next level. It all starts with the leader. If Irving can be a positive locker room presence, expect this team to make the post-season once again.
7. Miami Heat (46-36)
For the past few years, the Miami Heat have remained as a good team, just not great. By adding Jimmy Butler through free agency, it puts the Heat back into the playoff picture. With shedding Hassan Whiteside in a deal, it opens up playing time for Bam Adebayo at the center spot. The Heat were also able to acquire a solid center in Meyers Leonard. Another good pickup was Tyler Herro as he averaged a team-best 14.2 points in the pre-season while shooting 51.9% from behind the arc. Now that Butler is settled in Miami, it's definitely possible that we can see the best year of his career this season. Justice Winslow will need to shine at the point guard spot and Adebayo will need to continue developing in order for this team to take it to the next level. All in all, expect this team to make the post-season.
8. Detroit Pistons (43-39)
After making the post-season last year, the Detroit Pistons are trying to build on that. Blake Griffin has established himself as a star in Detroit, but for him, it's a matter of whether or not he can stay healthy. Detroit was all banged up by the time they got to the post-season. Much of the roster from last season will be returning for this one. The Pistons were able to acquire good-quality players through free agency like Derrick Rose, Markieff Morris, and Tim Fraizer. Coach Dwane Casey was highly impressed with Rose's performance throughout training camp. The only thing that's holding this team back is potential injuries. If there aren't major injuries to Griffin, expect them to be in the playoffs.
9. Orlando Magic (40-42)
It's weird to believe that the Orlando Magic wouldn't make the post-season this year after making it last season. They're very capable of making the playoffs, but I just don't think that they'll do so this year. I could very well be wrong when it comes to the Magic. After re-signing Nikola Vucevic, Terrance Ross, and Michael Carter-Williams through free agency, they signed Al-Farouq Aminu. The Magic have to rely on their progress from their forwards in order to be successful. Orlando has to figure out how to get the best out of multiple players perhaps better suited as small-ball 4s. It's a tough one to say, but I think Orlando will barely miss the playoffs.
10. Atlanta Hawks (35-47)
After their first year of rebuilding last season, the Atlanta Hawks are looking forward to having progression from their young players. Last season, they finished strong with their young core that featured players like Trae Young, John Collins, and Kevin Huerter. During the off-season, they were able to draft young, promising talent like De'Andre Hunter, Cam Reddish, and Bruno Fernando. When a team has this much youth, it could go either way. The question with this team isn't on the offensive-end, but rather on the defensive-end. They ranked 11th last season in offensive efficiency, but we have yet to see the defensive commitment from Young and Collins. But after drafting Hunter, who knows what will happen. Atlanta is a dark-horse team that can make the playoffs. They're definitely headed in the right direction.
11. Chicago Bulls (33-49)
Despite their 22-win season from last year, the Chicago Bulls had their moments. With their established players like Zach LaVine, Otto Porter Jr., and Lauri Markkanen, they were able to make things interesting last season. After drafting Coby White and acquiring players like Thaddeus Young and Tomas Satoransky via free agency and trade, this team has the potential to make major improvements from last year. Chicago has been a trendy pick to surprise in the Eastern Conference, but going from 22 wins to the post-season is no easy task. Chicago is headed in the right direction, however, we should expect them to not be in the post-season this year.
12. Washington Wizards (28-54)
By losing John Wall for the entire season due to an Achilles injury, it's safe to say that the Washington Wizards don't have much of a chance for the playoffs. They were able to extend Bradley Beal for two years as they want to build around him for the future. Washington didn't do much in the summer except for extending Beal and signing veteran guards Ish Smith and Isaiah Thomas. This team is just not very good on paper. After losing Trevor Ariza, Jeff Green, Jabari Parker, and Bobby Portis through free agency, they didn't do much to replace them. The best-case-scenario for this team is if both Thomas Bryant and Troy Brown Jr. take major steps forward. Just don't expect anything from this team. Sorry Wizard fans, but this team is pretty awful.
13. New York Knicks (26-56)
The New York Knicks were extremely confident that they were going to acquire both Kevin Durant and Kyrie Irving via free agency. Unfortunately for them, they failed once again. As bad as that it, their off-season wasn't a complete failure. For right reasons, people make fun of them. But what people fail to realize is that they don't have a garbage team. They were able to acquire players like Julius Randle, Marcus Morris, Taj Gibson, Reggie Bullock, and Bobby Portis through free agency. The Knicks also obtained promising talent in RJ Barrett through the draft. If New York wants any success moving forward, they'll need major success from Barrett, Kevin Knox, and Mitchell Robinson. The Knicks are not bad as many people want to make it seem like. At least they're headed in the right direction.
14. Cleveland Cavaliers (23-59)
After losing LeBron James, the Cleveland Cavaliers have put their focus into acquiring young talent. They now have an extremely small backcourt which features Darius Garland and Colin Sexton. Draft night also brought two more rookies in Dylan Windler and Kevin Porter Jr. Out of their established players, they remain with just Kevin Love, Tristian Thompson, Jordan Clarkson, Larry Nance Jr., and Matthew Dellavedova. There's a strong belief that the Cavaliers will end up trading Love during the regular season. Whether that happens or not, it's going to be an extremely long season in Cleveland. Well, at least the Cavaliers are in rebuilding mode. That's good, right?
15. Charlotte Hornets (19-63)
This team is flat-out garbage. There is no other way to put it. Remember when they were named the Bobcats? They were hot garbage for the most part when they were named that. Perhaps they should go back to that name. After losing Kemba Walker and Jeremy Lamb, there isn't much left in Charlotte. Am I supposed to care if Terry Rozier is on the Hornets? Miles Bridges a nice young piece, but other than that, they're just complete trash. Despite the struggles from New York, Cleveland, and Washington, it's safe to say that Charlotte will be the worst of them all. Given that Charlotte is in a small-market, it's unrealistic to think that they'll be competitive in the future. Who knows what's going to happen with this franchise moving forward. Even God isn't enough to save this trash.
Written by Shreyas Kar
Follow Shreyas and TSJ: NBA on Twitter!
Photo credit to Bucks via Twitter
Follow TSJ on YouTube and Twitter