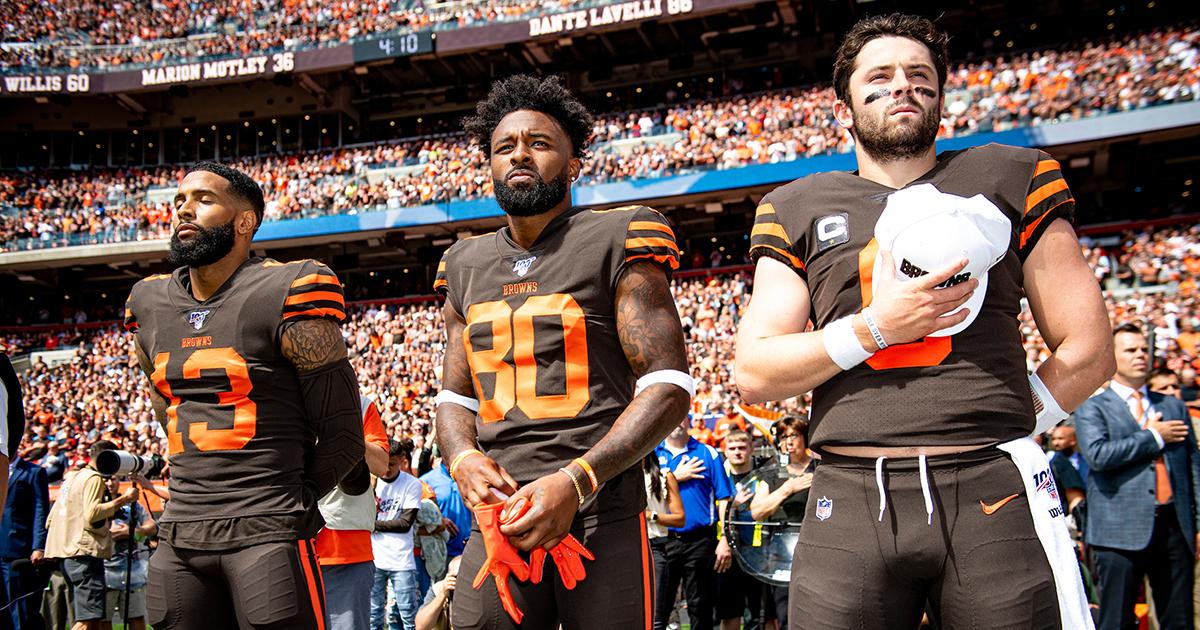 Why the Cleveland Browns May Already Be Doomed
A sea of brown jerseys triumphantly shouts as if glory is imminent. Their orange paraphernalia creates unity; their canine-themed signs serve as a warning to any foes entering the stadium.
Cleveland fans had been starved, emaciated for some 18 years. But after an offseason of change and euphoria, the Dawg Pound inside FirstEnergy Stadium had nothing to do but bark.
Yet the swoons and screams quickly dissipated on September 7th, the first game of a season in which some had deemed the Browns not just AFC North champions, but victors of Super Bowl LIV in Miami.
By the start of the third quarter on that day filled with such optimism, second-year quarterback Baker Mayfield already found himself facing a 9-point deficit to the Tennessee Titans—a team many felt would flounder in 2019.
15 minutes later, Tennessee had shocked the world and routed Cleveland 43-13.
The new-look Browns appeared nothing the part of a premier unit who could go toe-to-toe with the New England Patriots and the Kansas City Chiefs. It was still early, but concerns were mounting.
General Manager John Dorsey seemed to have catalyzed this Browns team to do an about-face. After going a porous 1-31 over 2016-17, this unit contained the firepower to tear the league apart.
In addition to Mayfield, new coach Freddie Kitchens had emerging running back Nick Chubb as well as receivers Odell Beckham, Jr., Jarvis Landry and Antonio Callaway at his disposal. Factor in defensive playmakers like Myles Garrett, Olivier Vernon, Joe Schobert and Denzel Ward and—on paper—this team seemed destined for greatness.
But entering Week 4, Cleveland is in the midst of a do-or-die stretch not just on the field but inside their own locker room.
Through the first three contests, the Browns rank 24th with just north of 330 yards per game, 21st with a -1 turnover differential and tie for last with an average 11.7 penalties in each contest.
Cleveland's Potent Personalities
Despite their sluggish start in all facets, Mayfield is certainly shouldering the underbelly of the blame.
Mayfield critics—who despised his audacious character entering the NFL Draft from Oklahoma—have had the last laugh in 2019.
The second place finisher in the 2018 Offensive Rookie of the Year voting has compiled 805 yards, 3 touchdowns and 5 interceptions in 3 games. Further, Mayfield posted a quarterback rating of 64 against the Titans and the Rams—two home games. Ultimately, the gunslinger has taken flak from analysts such as Rex Ryan for his poor play.
In an attempt to hush any doubters and obfuscate the outside noise, Mayfield posted a picture of him in college that referenced the criticism he received as the 2018 Heisman victor and encouraged his team to persevere.
However, tensions flared when Mayfield responded to a comment claiming that his latest post was analogous to the cryptic remarks of disgruntled free agent receiver Antonio Brown.
Mayfield responded by citing Brown's latest behavior: "you're right… let me call out my teammates and throw a fit about my helmet then go freeze my feet off."
The comment didn't sit well with Brown as a social media spat emerged. "AB" even declared that Mayfield should have "never been drafted" before Ravens quarterback Lamar Jackson—who will oppose Cleveland tomorrow.
It's not just Mayfield's culpability, however. Kitchens' play-calling prowess has been scrutinized after the Browns passed 4 times from inside the 5-yard line with a chance to knot the score against Sean McVay and the Rams on Sunday Night Football.
Moreover, the Browns have a litany of intense personalities, including star Beckham, Jr. The elite pass catcher infamously threw punches at a kicking net on the sideline with the Giants in 2016. Additionally, after the 2018 Giants were on their way to a 1-5 record, he threw a tantrum of sorts.
If struggles persist, heated conflicts between teammates are certainly not impossible.
But Cleveland's problems run deeper than characteristic clashes. In fact, their record is in peril of matching Beckham's former team's mark.
A Crushing Cleveland Browns Slate
The underlying danger is that Cleveland's season may already be over considering the difficulty of their remaining schedule.
As mentioned above, Mayfield and Jackson will square off in M&T Bank Stadium in Week 4. Per Las Vegas, the Browns are 6.5 point underdogs.
The subsequent week, Kitchens will haul his team 2,820 miles to Levi's Stadium in San Francisco, where the Browns will meet the scalding 49ers. San Francisco will enter such contest with a 3-0 record as well as will boast a rejuvenated roster post-bye week.
Then, Cleveland will trek back home and host the Seattle Seahawks—yet another dangerous team. If the Browns continue their subpar play, it is not outlandish that they could enter their Week 7 reprieve 1-6.
Yet the tough sledding will proliferate after such a furlough. Mayfield and company will face Tom Brady and the historic New England defense on an October 27th primetime clash. Then, the Browns travel west yet again to match up with Joe Flacco and the Denver Broncos.
Cleveland's ultimate 8 games are comparably easier than their first half, but the damage could already be done.
There is plenty of time for Mayfield and Kitchens to right the ship. The AFC North looks the weakest it has in considerable time as the rebuilding Bengals and the Ben Roethlisberger-less Steelers are both 0-3.
But if Cleveland cannot turn it around, their implosion may go so far as growling and clawing at playoff competition from the dog house.
Written by Bradley Locker
Follow Bradley on Twitter and TSJ: NFL on Twitter!
Photo credit to the Browns via Twitter
Follow TSJ on YouTube and Twitter