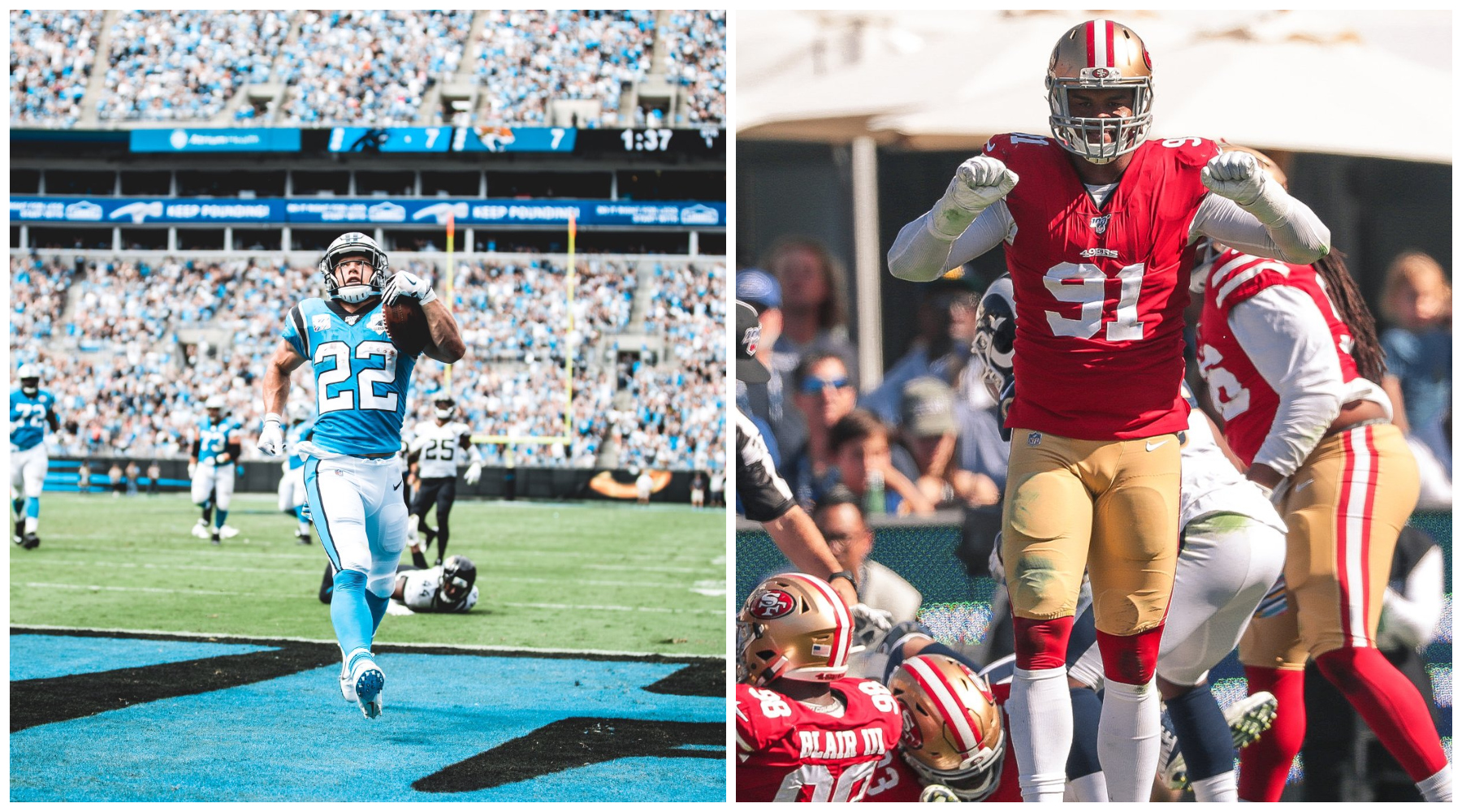 8 Burning Questions Entering the Week 8 Sunday Slate
It's hard to fathom that, by Week 8 Sunday, 18 of the NFL's 32 teams will have already played half of their 2019 contests.
How can the season for which fans wait some 6 months go by this quickly?
Nonetheless, surprises have been few and far between in the 2019 football landscape. The Patriots are still undefeated, the Chiefs lead the AFC West and the Dolphins are, unsurprisingly, winless.
At the same time, the 49ers have shocked the world; galvanized by a premier defense, they remain 6-0. The Buffalo Bills have the AFC's second-best mark at 5-1; the Chargers are soul searching after a dismal 2-5 start; and backup quarterbacks like Teddy Bridgewater, Gardner Minshew and Kyle Allen have all shown promise.
Each week, game, minute and snap brings a litany of questions from information-ravenous fans. As the majority of the league readies for a Week 8 battle, here are 8 questions—in no particular order–whose answers will likely be more clear by Monday.
Can Aaron Rodgers solidify himself as a true MVP candidate and lead the Packers to victory in Kansas City?
Before 2019, Rodgers was considered one of the best gunslingers in the league. After earning his second career MVP trophy in 2014, Rodgers continued his excellence, earning 3 Pro Bowl nods.
But his recent play may elevate that perception and put him in the echelon of bonafide Most Valuable Player hopefuls.
Through Green Bay's first 6 games, Rodgers averaged 265 passing yards, compiling 8 touchdowns and just one interception.
But last week against Oakland, Rodgers seemed to augment his status. He posted a perfect passer rating via 429 air yards and 6 total touchdowns in a 42-24 win.
Rodgers' Week 7 line had analysts buzzing, and for good reason. Yet earning another MVP trophy in a case full of hardware will certainly not be a cakewalk.
2018 MVP winner Patrick Mahomes has proliferated his own ridiculous sidearm hurls and no-look bombs. With a ludicrous 15:1 touchdown-to-interception ratio thus far, he has certainly been at the forefront of award voters' minds.
But in Kansas City's Week 7 showdown against the Denver Broncos, Mahomes dislocated his kneecap on a quarterback sneak. The phenom will be sidelined for at least this Sunday's primetime duel with Rodgers.
Even if the Madden 20 cover athlete is out for just one matchup, Rodgers has the ability to take the lead in a statistical race that very well may come down to minute differences in numbers.
Mahomes is often joined by other preeminent superstars like Seahawks quarterback Russell Wilson, Panthers running back Christian McCaffrey and Texans QB Deshaun Watson in the early 2019 MVP race. But for Rodgers, facing a Chiefs defense that ranks 14th with 1600 passing yards given up should be an excellent opportunity to establish himself as a legitimate candidate for MVP.
Can the 49er defense slow down Christian McCaffrey?
The Panthers-49ers clash features two of the season's biggest storylines: the dominance of McCaffrey and the 49ers' stifling defense.
The former Stanford standout will return to the Bay Area having accumulated 618 rushing yards—the most of any runner through 6 games thus far—305 receiving yards, 7 rushing touchdowns and 2 receiving scores in his third campaign. Those metrics put McCaffrey on pace for a whopping 1648 rushing yards, 19 rush scores, 813 receiving yards and 5 receiving TDs.
McCaffrey has established himself as arguably the best running back in the league on any given Sunday and has hardly missed a step so far. Surprisingly, though, the Buccaneers have contained the mighty McCaffrey to just 68 yards on 38 carries.
The good news for McCaffrey is that his tough sledding against coach Bruce Arians has ended in 2019. However, awaiting the stud is a unit potentially even more ferocious.
The San Francisco defense has given up the fewest yards in the league—1, 341—including the 4th fewest ground yards. Kyle Shanahan has himself a contingent that can play with anyone.
The 49ers have faced elite runners like Nick Chubb and Todd Gurley, yet their toughest test may be this Sunday. However, it wouldn't be surprising to see McCaffrey held under 100 rushing yards in Levi's Stadium.
Can Mitch Trubisky and the Bears flip the script offensively?
2018 Coach of the Year Matt Nagy and Chicago have been spamming the panic button in 2019.
The team has gone 3-3 thus far, and such record is well below their preseason Super Bowl aspirations. Such apparitions are now haunting the squad (and maybe Sam Darnold).
At the center of the Bears' woes has been their offense, which ranks 3rd worst in total yards and 7th worst with an average of 18.7 points per game.
There is little doubt that the Chicago defense is one of the best in the league. But when it stays on the field for extended periods of time, it understandably becomes fatigued.
The bright side for the Bears is that the team entering Chicago is slumping just as much as they are.
Losers of three straight, the Chargers are anything but at full battery. Things seemed to have reached their lowest point after the then-1-4 Steelers came into Dignity Health Sports Park—in what actually might have been a home game of sorts for Pittsburgh—and put on a defensive clinic, but Los Angeles found new levels of turmoil by losing at Tennessee a Sunday ago after Melvin Gordon—who held out earlier in the year—fumbled at the Titan one yard line with under a minute remaining.
Look for the Bears to (somewhat) right the ship against an injury-ravaged Chargers squad—who will be lacking stellar safety Derwin James and possibly not have DE Melvin Ingram or star WR Keenan Allen at their disposal at Soldier Field.
Are the Eagles really in trouble?
Entering the 2019 season, pundits felt that the Eagles were a contender not just to emerge victorious in the NFC East, but possibly to make their second trip to the Super Bowl in 3 years (I, for one, had them at 12-4).
But the Eagles have looked anything but a leviathan so far. Philly currently sits at 3-4 and may be in danger of missing the playoffs in a very competitive NFC.
Coach Doug Pederson's team hasn't seemed at its best all year, starting with a narrow win over the one-win Redskins in its first game. Other ugly performances have included a loss at Atlanta—which also has just one victory—defeat at home to the Lions and now back-to-back duds against Minnesota and Dallas.
A paramount reason for Philadelphia's woes has been its subpar secondary, whose best player is arguably an aging Malcolm Jenkins.
Optimism for the Eagles should come in the form of Buffalo's offense, which averages just over 225 passing yards per game. But in what should figure to be a low-scoring Sunday affair—especially considering Buffalo's fearsome defense—the Eagles may find themselves in an even bigger quagmire after Sunday.
Is this Rams defense for real?
After being shut down by the Patriots in Super Bowl 53, the Rams have faced a Super Bowl hangover, per se.
The defending NFC Champions sit at 4-3. Sean McVay & co. started the season 3-0. The team then dropped 3 straight, including two losses that truly inquired as to whether or not the Rams are contenders: permitting 55 points to Jameis Winston (more on him later) and the Buccaneers and falling to San Francisco 20-7, both while at Los Angeles Memorial Coliseum.
The Rams have reason to be content, however. After general manager Les Snead pried top-flight cornerback Jalen Ramsey from Jacksonville, the Rams dominated the Atlanta Falcons 37-10 and yielded just 224 total yards as well as 14 first downs.
Defensive coordinator Wade Phillips should be ecstatic when he faces former Rams assistant Zac Taylor and Cincinnati on Sunday. Per Football Outsiders, the Bengals rank dead last with a 13.5% Adjusted Sack Rate. With a defensive line that contains paragon Aaron Donald, the Rams should devour a smorgasbord of sacks.
Even if Los Angeles does post a dominant defensive ballgame, their recent performance should be taken with a grain of salt considering the level of competition they have faced. A real litmus test should occur when the Rams host the elusive Lamar Jackson and Baltimore in late November.
Will Sam Darnold's struggles continue against the Jaguars on Sunday?
After a solid rookie year from Sam Darnold in 2018, Jets fans could finally see a glimmer of hope with a rebuilt roster in 2019.
However, such euphoria was dissipated after the former #3 overall pick missed 3 games due to a bout with mononucleosis. The Jets hastily fell to 0-4.
In what may be the biggest upset of the season thus far, Darnold returned to knock off the Cowboys. The former USC gunslinger gashed Rod Marinelli's defense for 338 yards, including a 92-yard strike to receiver Robby Anderson.
And yet again, the cycle of faith turning into bleak melancholy returned for Gang Green faithful.
The Jets were outmatched in every facet against the Patriots in their Week 7 clash, losing 33-0. But the most concerning sign was Darnold: he mustered just 86 yards and turned the ball over 5 times, compiling a porous 3.6 quarterback rating.
The Jets face another tough test this week as they travel to TIAA Bank Field. There, the aforementioned Minshew and a stingy Jags defense will be looking to get back to .500.
The Jets could surprise everyone—especially me—and pull off the upset in northeast Florida. Rather, I suspect that Adam Gase's team will fall to 1-6 with additional questions surrounding their quarterback.
Are the Browns even close to being AFC contenders?
As you read this question, you may have thought: Why even ask this?
Well, great curiosity. The reason why this is interesting to consider is that Cleveland and embattled QB Baker Mayfield will be making a post-bye trek to Gillette Stadium in Foxborough, where Bill Belichick won't mince pregame words for Odell Beckham, Jr. and the New England defense will be looking to perpetuate its unbelievable start.
Before the Browns' 2019 campaign had begun, several had pegged this game as a potential AFC Championship Game preview. But nearly all has gone awry with Cleveland in 2019, as the team sits at 2-4.
Mayfield has spearheaded Cleveland's woes, posting a league-worst 11 interceptions thus far. On top of that, a tough schedule has not aided nascent coach Freddie Kitchens. The Browns' first 7 opponents are a combined 24-16 as the Dawg Pound incurred the Seahawks and 49ers.
The Browns still have time to turn things around—especially considering a much easier schedule in the second half—but I suspect the damage will be done by the time their opponents let up.
On Sunday, the Patriots' defense will likely wreak more havoc, coerce Mayfield into several turnovers and further dispel the notion that the Browns are not yet close to being among the AFC's elite.
Can Jameis Winston salvage his Tampa Bay tenure, or will he face a similar fate as Marcus Mariota?
The upcoming Buccaneers-Titans contest in Nashville would be a hint more interesting if Marcus Mariota had opposed fellow 2015 first round pick Jameis Winston. Both players have had underwhelming careers thus far—so much so that Mariota was benched in favor of former Dolphins starter Ryan Tannehill in Denver two weeks ago.
Nonetheless, it is now on Winston to continue the crusade to keep the Tampa Bay starting job—this Sunday and beyond. The Buccaneers have shown flashes of promise, beating the aforementioned Rams as well as the Panthers in Week 2. Tampa, furthermore, has real talent in receivers Chris Godwin and Mike Evans—arguably one of the best one-two punches at pass-catcher—rookie MLB Devin White and Defensive Player of the Year candidate and linebacker Shaquill Barrett.
This game might feel low-stakes, but a lot is on the line for Winston.
The former Florida State product will be a free agent in 2020. In April, GM Jason Licht could look to take a quarterback in a class ripe with transcendent talents. Names like Tua Tagovailoa, Joe Burrow, and more will be ready to hear their names called in Las Vegas.
I prognosticate that Winston does just enough to get the win in Nissan Stadium. More importantly, a victory would do just enough to mitigate concerns about Winston as a starter—for now.
Written by Bradley Locker
Follow Bradley on Twitter and TSJ: NFL on Twitter!
Photo credit to the Panthers and 49ers via Twitter
Follow TSJ on YouTube and Twitter