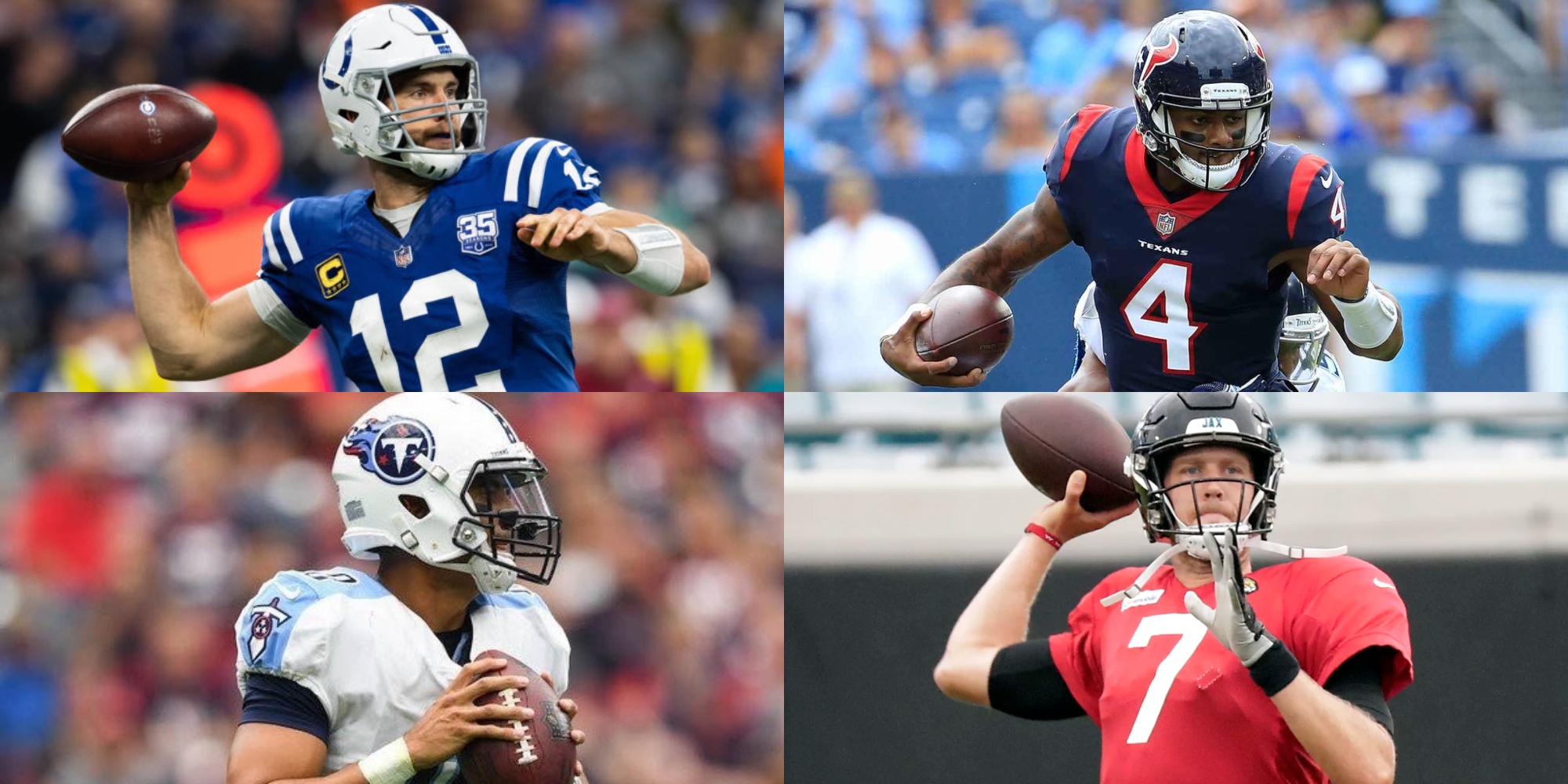 2019 AFC South Record Predictions
For the past few seasons, the AFC South Division has been viewed as one of the most competitive divisions in the entire league. Every team in the AFC South is a playoff contender. With that being said, it'll be tough to determine which team will take the crown as division champs.
1. Indianapolis Colts (11-5)
The Indianapolis Colts surprised many last year as they made the post-season despite their expectations were to just contend for a lottery pick. Quarterback Andrew Luck reminded us once again that he can be an elite player when healthy. The team's offensive line was easily one of the best last season. With the entire offensive line returning from last season, expect the Colts to be dangerous on the offensive end. Last year, Luck finished with 39 touchdowns and we can expect him to do only better this season. Look out for this team come playoff time.
2. Houston Texans (10-6)
This team does have the potential to become a consistent Super-Bowl contender. Quarterback Deshaun Watson has shown us that he has the ability to be an elite player when needed. The narrative with this team is whether or not they can remain healthy. What people tend to do in sports is to live in the moment. Sure, the Colts may be viewed as the "better" team, or even a "lock" to win this division, but it doesn't change the fact that this team is good. The worst thing we can do is to sleep on this team.
3. Tennessee Titans (8-8)
For the Tennessee Titans, they're opening up their season with three of their first four games on the road. After finishing with a record of 9-7 last season, expect this team to have the motivation to bounce back. They won't have it easy throughout the year as they're set to have the 9th toughest schedule in the league. With all that being said, finishing with four of their final six games against AFC South Opponents, it gives the Titans an opportunity to make a late-season push for the division title. Unfortunately for them, the NFL didn't do them a favor with the scheduling as it remains tough to get by. This team has the potential to be 10-6 or even 11-5, but with this schedule, expect 8-8.
4. Jacksonville Jaguars (8-8)
It didn't seem like long ago when the Jacksonville Jaguars were just in the AFC Championship Game. Just a few years back, they were able to have that kind of success under quarterback Blake Bortles. Now with a Super Bowl MVP-winner in Nick Foles leading the way, we could expect this team to title-contend. Foles was able to win a Super Bowl, even when nobody expected it. He was able to win a playoff game last year, also when nobody expected it. With an elite defense, we can fully expect this team to be a playoff contender. With the Jaguars having the third toughest schedule in the league, time will only tell how far this team will go.
Written by Shreyas Kar
Follow Shreyas and TSJ: NFL on Twitter!
Photo credit to Smashdown Sports News, David Cross, Highlight Store via Flickr, Jaguars via Twitter
Follow TSJ on YouTube and Twitter