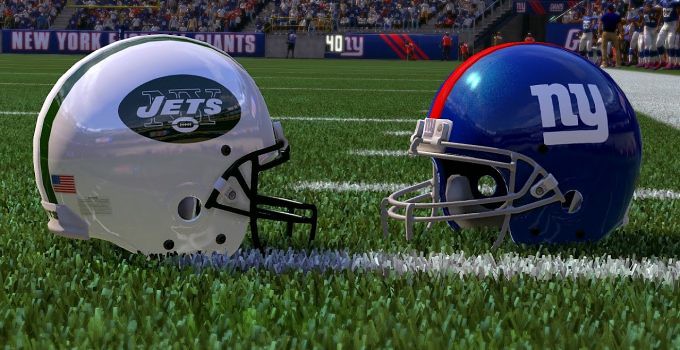 Preseason Week 1: The Battle of New York
Thursday was an exciting night for football fans because it kicked off the first week of preseason. A night where the New York Jets and the New York Giants squared off and gave a preview of their franchises.
In the end, the Giants got the victory, but the Jets had some shining moments. Here's where the Jets shined, the Giants capitalized, and other highlights from around the league.
 The New York Jets
Sam Darnold had a good outing that showed his evolvement as a quarterback. Darnold's only series ended with him completing 4 of 5 passes with 68 passing yards and connected with Jamison Crowder for a touchdown. Darnold almost threw a pick, but Jabrill Peppers couldn't quite reel it in. The Jets offensive line looked good during Darnold's only series. He had ample time to make a play and showed he could improvise to move down the field.
Chris Herndon looked sharp as he caught a pass for a 31-yard gain. Kicker Chandler Catanzaro wasn't that accurate in his preseason debut. He missed two extra-point attempts. Trevor Siemian started slow but finished strong with 77 passing yards and a touchdown.
The New York Giants
Daniel Jones put on an excellent performance against the Jets, which sparked conversation. He completed all 5 out of 5 attempts for 67 yards and connected with Bennie Fowler in a tough spot for a touchdown. If anyone is thinking, "Eli's job is threatened," think again.
Head Coach Pat Shurmur said, "I think, 'Slow your roll." He went on to say, "This is just his first go around. I think he did a good job, certainly, when you take the team down the field and score a touchdown, that's a good start. It's something good to build on". It was a good night for backup QBs Alex Tanney and Kyle Lauletta as well. Tanney finished with 190 passing yards, and a touchdown and Lauletta had 116 passing yards with a touchdown to his name.
On the receiving end, T.J. Jones, Reggie White Jr., and Russell Shepard standout. Jones had 72 receiving yards and a touchdown. White had four receptions for 60 yards and showed off his ability to get yards after the catch. Shepard caught a pass from Tanney on a well-executed slant route for a 51-yard touchdown. In the end, the New York Giants beat the Jets 31 to 22.
Around the league
Kyler Murray's preseason debut was stunning against the Los Angeles Chargers. He completed 6 out of 7 passes and finished with 44 passing yards. Murray looked comfortable and displayed great movement out of the pocket. He got his feet going to dodge defenders and make a play. The Cardinals beat the Chargers 17 to 13.
It wasn't a sunny preseason debut for the Philadelphia Eagles. The Eagles came up short against the Tennessee Titans and lost their second-string QB to injury. Nate Sudfeld broke his left wrist and has surgery scheduled for Friday. Before the injury, Sudfeld showed off his cannon and threw for 177 passing yards and threw a touchdown. The Eagles defense didn't hold up well and veteran QB Ryan Tannehill took advantage of it. His outing concluded with 130 passing yards and a pair of touchdowns. The Titans beat the Birds 27 to 10.
Baker Mayfield lit up the Washington Redskins defense and was visibly fired up. Mayfield was slinging it down the field and put together an 89-yard drive to start the game. He racked up 77 passing yards and threw a beautiful pass to Rashard Higgins for a 24-yard touchdown.
Who rose to the occasion, who didn't
Unfortunately, Dwayne Haskins did not have the best debut. The rookie QB threw a pair of interceptions, one being a pick-six. Haskins did, however, show some mobility and playmaking attributes. He finished with 117 passing yards, and the Browns beat the Redskins 30 to 10.
Lastly, there were a couple of highlights as the Buffalo Bills faced the Indianapolis Colts, and beat them 24 to 16. Ole Miss alum Chad Kelly showed off his arm and speed. Kelly completely fooled Buffalo's defense for a 33-yard rushing touchdown.
He ended the night with 121 passing yards, and then the Bills offense got going. With LeSean McCoy on the bench and Frank Gore limited, running back Christian Wade stepped up. Wade got the wheels going and burned the Colts defense for a 65-yard touchdown.
Thursday's matchups were tremendous and gave fans a sneak peek at some of the high graded prospects drafted and what's in store for the upcoming regular season.
Written By Samiya Green
Follow Samiya and TSJ: NFL on Twitter!
Photo Credit to NFLStreams Live via Flickr
Follow TSJ on YouTube and Twitter