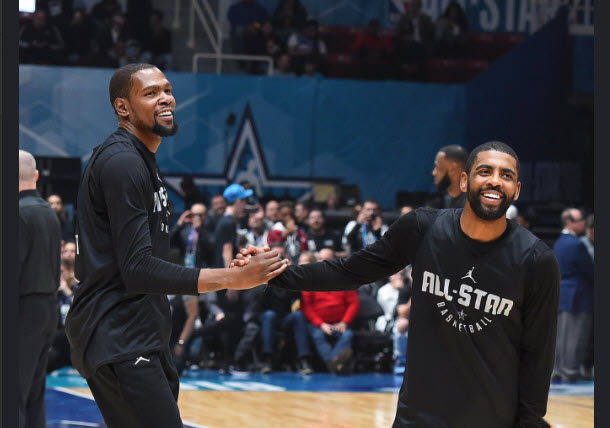 Brooklyn Nets Offseason Review: Brooklyn Hits It Big!
Brooklyn Nets Overview
2018-19 Record: 42-40 (6th Place in the Eastern Conference)
Result: Lost to Philadelphia 4-1 in the First Round
Coach: Kenny Atkinson
Draft: C Nicolas Claxton, PG Jaylen Hands
Additions: SF/PF Kevin Durant, PG Kyrie Irving, C DeAndre Jordan, PF Wilson Chandler, SG David Nwaba, SF Taurean Prince, SG Garrett Temple
Subtractions: PG D'Angelo Russell (Traded to GSW), PG Shabazz Napier (Traded to GSW), SF Rondae Hollis-Jefferson (Signed with TOR), SG Treveon Graham (Traded to GSW), SF Jared Dudley (Signed with LAL), PF Ed Davis (Signed with UTA)
Brooklyn Nets 2018-2019 Season Recap: The Come-Up
To say that the Brooklyn Nets success last season was unexpected would be a massive understatement. The Nets entered the season as a presumed bottom feeder in the East, as they had been for the previous three seasons. Their roster was filled with young guys that hadn't proven anything yet, such as D'Angelo Russell and Spencer Dinwiddie, and veterans that just wanted to prove they still belonged in the league, like Demarre Carroll and Jared Dudley. This mix of players proved to be extremely effective and the Nets made the playoffs for the first time in four years, sparking hope among the Nets fanbase for the first time in years. That excitement carried over into the offseason, where fans prayed for the Nets to make a splash.
Offseason Additions: Brooklyn Makes a Splash!
To begin the offseason, the Nets traded Allen Crabbe and two first round picks to the Atlanta Hawks for Taurean Prince and a second round pick. While the deal landed them a gifted young player with two years of team control left, it also opened up enough cap space for a second max contract. General Manager Sean Marks made it clear that the Nets would be just as active for big free agents as the New York Knicks, Los Angeles Lakers, and Los Angeles Clippers.
But to the surprise of many, Marks went out and backed up that talk with two of the biggest signings in franchise history by landing stars Kevin Durant and Kyrie Irving, completely altering the powers of the NBA and ascending to the top within twenty-four hours. This along with the signings of former All-Star DeAndre Jordan and role players Garrett Temple, Wilson Chandler, and David Nwaba makes the Nets one of the deepest teams in the league even during the time that Durant will be unable to play as he recovers from Achilles surgery. The Nets aggressiveness this offseason has earned them wide praise. The biggest reason? General Manager Sean Marks winning culture he has implemented so far.
Offseason Losses: What did it Cost?
While the Nets additions this offseason far outweigh their losses, they will have to head into the season without a few fan favorites that emerged this past season. D'Angelo Russell, who completely turned his career around during his two seasons in Brooklyn, headed to the Golden State Warriors in a sign-and-trade that sent Durant to Brooklyn. Role players Shabazz Napier and Treveon Graham also went to the Warriors in the move. While the Nets will be able to fill the void his departure leaves with Kyrie Irving, Russell was one of the biggest catalysts in Brooklyn's rise to contention and will be a sorely missed presence by the Brooklyn fanbase.
Another big departure was Ed Davis, who signed a two-year contract with the Utah Jazz. While Davis is not the big name that Russell is, he made a huge impact for the Nets this past season. His physicality and leadership during their playoff series against the Philadelphia 76ers caught a lot of attention from different teams. He will be a bench presence that will be sorely missed by the Nets and his leadership is extremely invaluable. Also on the move were Jared Dudley and Rondae Hollis-Jefferson. Dudley opted for a one-year deal with the Los Angeles Lakers while Hollis-Jefferson signed a one-year deal with the Toronto Raptors.
2019-2020 Season Preview
Looking ahead to next season, it will be an interesting one for the Nets. Although Durant's Nets debut is on hold, their lineup won't take much of a hit in his absence. Between Irving, LeVert, and Jordan, the Nets will still be a top five team in the Eastern Conference. The projected starting depth chart is:
Point Guards: Kyrie Irving, Spencer Dinwiddie, Theo Pinson, Jaylen Hands
Shooting Guards: Caris LeVert, Garrett Temple, Dzanan Musa
Small Forwards: Joe Harris
Power Forwards: Taurean Prince, Rodions Kurucs
Center: DeAndre Jordan, Jarrett Allen, Nicolas Claxton
Their small forward depth will be tested without Durant this season. It's likely that G-League standout Musa and Kurucs will both get some time at the position to back up Harris. LeVert is another candidate to get some minutes at small forward, but it's unlikely he'll start at the position. The Nets are very high on Musa, and Kurucs had a breakout year, so they will both get many opportunities.
At center, the Nets have a few talented bigs that will each get their share of playing time. Veteran DeAndre Jordan will hopefully help Jarrett Allen heading into his second season. Allen showed glimpses of being a very good player in his rookie year, but still leaves some to be desired on defense. Jordan, being one of the best shot blockers in the game, will help him immensely. Behind them is rookie Nicolas Claxton, who the Nets drafted in the second round. Claxton will be a project for Brooklyn, but with two talented centers in front of him they have the luxury of being patient with Claxton's development.
Finally the Nets deepest position: point guard. Coach Kenny Atkinson has done wonders with the point guards he's worked with so far, so it should be entertaining to see what he can do with Kyrie Irving. There is no doubt Irving will start, which leaves Spencer Dinwiddie as the sixth man.
Predictions:
Nets finish at around 50-32, good enough for the number four seed. Although doubtful, it will be interesting to see if Durant will make it back in time for the NBA Playoffs. Even without Durant the Nets should not have any issue making it to at least the Eastern Conference Semifinals. This season is about building up the team so that they can be immediate title contenders when Durant is back. A short playoff run for their young players to get some more playoff experience should do just that.
The Brooklyn Nets had to endure some tough seasons in recent memory. Brooklyn has had to endure a lot of tough times over the last five years. At times it seemed like their rebuild would march on for years to come with no end in sight. But it seems like all that patience in Brooklyn will pay-off very soon after their dream of an offseason. The Brooklyn Nets will be on top soon enough.
Written by Ryan Hess
Follow Ryan and TSJ: NBA on Twitter!
Photo credit to BrooklynNets via Twitter
Follow TSJ on YouTube and Twitter