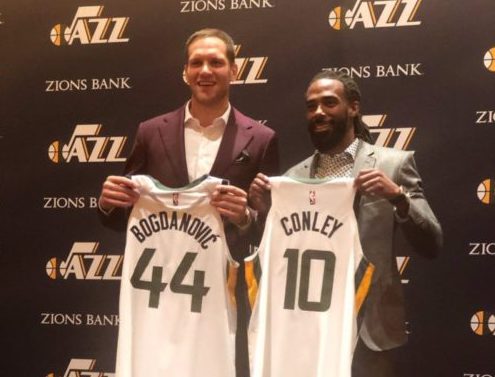 Utah Jazz Offseason Review: Quiet yet Effective
Utah has used this offseason to create their own star pairing as well as build depth.
The Utah Jazz were the first NBA team to make a move this offseason. Before the draft, they made a trade with the Memphis Grizzlies to acquire the services of point guard Mike Conley. The longtime Grizzly is coming off one of the best season's of his career, although it did not translate into a winning record. The Jazz now have a star backcourt with Conley and Donovan Mitchell. This move has taken them from a good, middle of the pack team out west, to a legit championship contender. That was one of many moves that Utah has made, giving them one of the best off-seasons in the NBA. Here is a breakdown of their moves as well as expectations for the upcoming season:
Key Additions
By acquiring Conley the Jazz have finally found a star that will take the pressure of Mitchell offensively. Rudy Gobert is one of the best defensive players in the league, but his offense needs improvement. Conley gives the Jazz another scoring and playmaking option that they have lacked over the past few seasons. He will bring his leadership and playoff experience to a team that was already on the verge of taking the next step.
They also signed Bojan Bogdanovic away from the Indiana Pacers at four-years $73 million. He is one of the leagues best shooters, and he will add some much needed offense to the Utah lineup. He will be paired with Joe Ingles to give the Jazz a set of deadly three-point sharpshooters. Another underrated signing was of big man Ed Davis (2 year,-$9.7 mil). He will provide depth behind Gobert, and give them toughness and rebounding off the bench.
The Jazz rounded out their rotation by adding Jeff Green and Emmanuel Mudiay. Green is a stretch four that will provide them with versatility and scoring.  Mudiay has never lived up to his lottery pick status, but is coming off his best scoring year of his career. He averaged almost 15 points per game for the Knicks last season and is still only 23 years old. The signed both Green and Mudiay to minimum contracts so these are low risk, high reward moves that could end up being steals.
Key Losses
The Jazz were a good team last season but they knew that they had to make changes in order to take the next step. They traded away Jae Crowder, Kyle Korver, former first-round pick Grayson Allen, and a future first-round pick to Memphis. Crowder and Korver were important parts of the rotation but they have been replaced through free agency.
Another starter was lost in Derrick Favors. The former third pick overall has spent most of his career in Utah, and was part of the Deron Williams trade back in 2011. He was a fan favorite and will be missed, but with Gobert establishing himself more and more on offense it was time to move on. The Jazz will receive two second-round picks from New Orleans, and this trade looks like a win-win for both parties.
Finally, with Conley in the fold, Ricky Rubio was the odd man out for the Jazz. He chose to sign with Phoenix for three years, $51 million. He will give the Suns a legit point guard that they have lacked for years. Rubio was coming off of two solid seasons with Utah, but his lack of outside shooting was exposed in the playoffs last season. Conley represents a significant upgrade over Rubio so his loss will not be a major factor.
2019-20 Season Prediction
The Jazz have positioned themselves as one of the better teams in the western conference. If the new additions find a way to fit into Quin Snyder's system they could be heading for a Northwest Division title. Expect another solid season from Mike Conley, and possibly a breakout season from Mudiay off the bench. He may be a potential sixth-man of the year candidate.
They won 50 games last year, which was good enough for fifth in west. This team should be much better and could potentially be a 60 win team, that should contend for the best team in the conference. They were already one of the best defensive teams last season, so they should be a bit more balanced this upcoming season.
Prediction: 58-24, Northwest Division winners, number two or three seed in west.
Written by Blair Young
Follow Blair and TSJ: NBA on Twitter!
Photo credit to Utah Jazz via Twitter
Follow TSJ on YouTube and Twitter