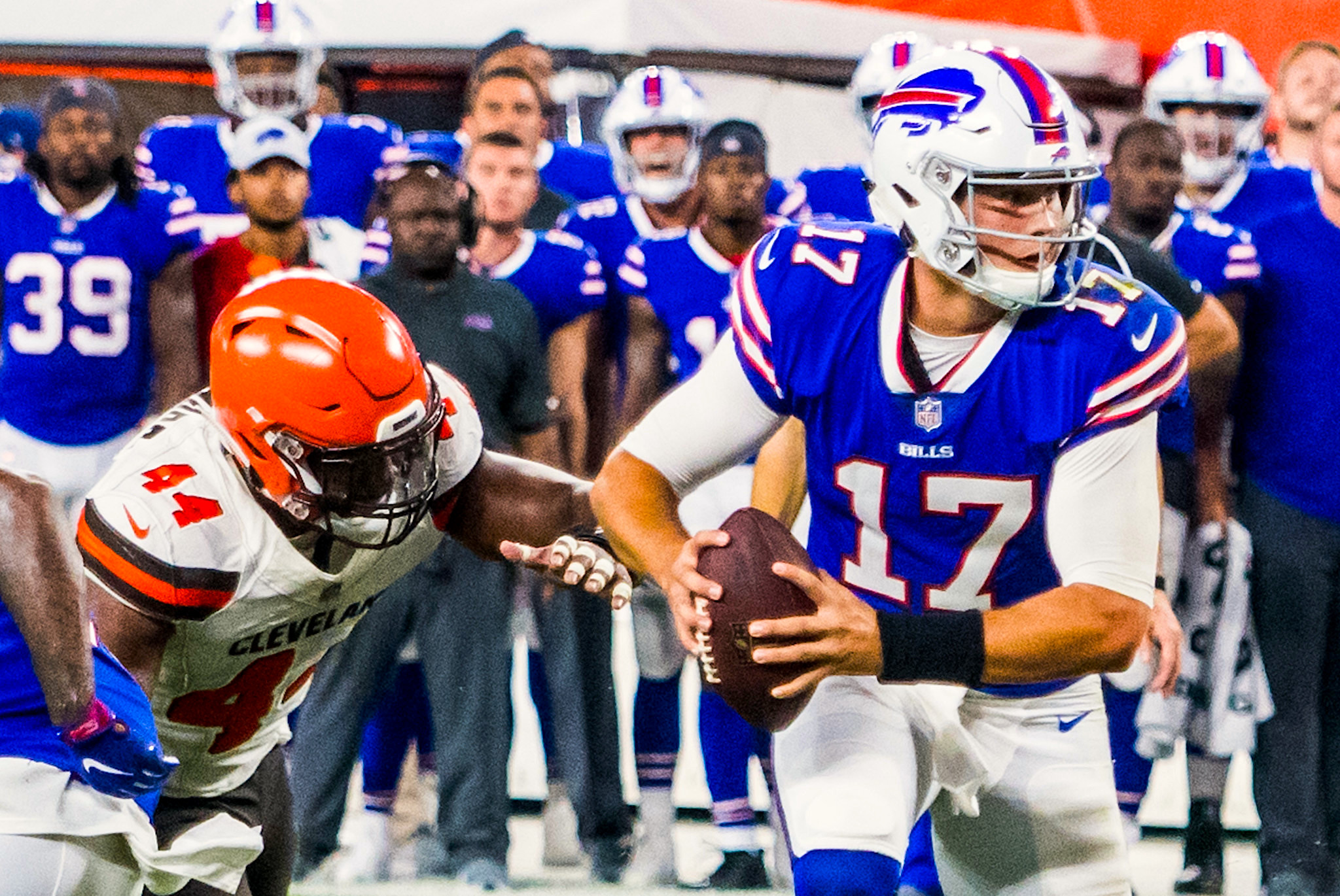 Can These Player Performances Work in Favor of the Buffalo Bills in 2019?
The Buffalo Bills are a very interesting team heading into the upcoming season. They have to compete in a division with the Super Bowl-winning New England Patriots, the newly-contending New York Jets, and the appealing Miami Dolphins. Second-year quarterback Josh Allen is heading into the season with new targets in Cole Beasley, John Brown, and T.J. Yeldon. The trio of new talent, as well as the rest of the Bills' promising roster, are hoping to put up a fight in the AFC East. With that being said, are those players enough for them to keep up with their rivals? Here's how Allen and his new targets' successes on the field can determine whether the Bills sink or swim.
Josh Allen
Josh Allen's rookie year in Buffalo was not ideal. The Bills finished 6-10 last season, partly due to Allen struggling with accuracy. He threw 12 interceptions and 10 touchdowns with 2,074 passing yards for his first year. Was it all bad for Allen? Well, he also set a new league record for QB rushing yards in a three-game span when he ran for 335 yards. On the whole, though, Allen's inconsistency throughout his rookie season overshadowed what made him a top ten first-round pick and his ability to be an elusive QB.
The Bills' last 2018 outing was actually Allen's best game of the year. Buffalo's offense outsmarted the Miami Dolphins, with Allen managing a three-touchdown game while getting to show off his speed. He rushed for 95 yards with two rushing touchdowns. The Dolphins also got the same treatment in Week 13, when Allen ran all over them for a Bills' franchise record-setting 135 QB rushing yards. At season's end, Allen effectively demonstrated his ability to scramble away from defenders and complete a pass.
2018's Struggles with Targets
Last season, Allen's targets weren't all that consistent either. Star running back LeSean McCoy had the most underwhelming season of his career, managing just 514 rushing yards and 3 rushing touchdowns. Young receiver Zay Jones has shown some potential to become a number one option, but he's still getting his feet wet in the league. How fair is it to criticize the first-year QB when he's not the only one coming up short on game day?
ESPN correspondent Louis Riddick is not convinced that Allen is Buffalo's savior and voiced his concerns about Allen's play:
Last year, I was skeptical about Allen because of what I saw on tape from him in college. In 2019 and going forward, it's the same … I'm not an Allen believer … he is wildly erratic as far as accuracy, is not dependable with his decision-making at this point and doesn't have a very impressive array of perimeter weapons.
Although that was the case, there have been two new signings that could change that.
Two Receivers Familiar to the Game
John Brown is the speedy veteran the Bills need. They agreed on a 3-year contract worth $27 million, adding a new piece to an increasingly dangerous receiving corps. He should without a doubt be dubbed to be Allen's number one target. His skill set can be utilized significantly on big plays, setting him up to have an epic season as the main target in Buffalo. Along with signing Brown, the Bills also acquired Cole Beasley. Beasley is a master of taking advantage of the medium parts of the field. These are two guys Allen could easily lean on to turn the Bills around.
Running Back Depth
In April, the Bills signed running back T.J. Yeldon. His signing adds depth to the running back position and his receiving ability makes him another useful target for Allen. The Alabama native had been a Jacksonville Jaguar his whole career before the move to Buffalo. As a Jaguar, Yeldon was very productive in the backfield as a starter and a backup. Over the last three years, he racked up two 50-catch seasons and pulled in a career-high 55 receptions last season.
Yeldon's running game is great as well, as he knows how to navigate space and find holes. He can make himself skinny to pass defenders into running lanes and come up with big gains. Last season, Yeldon had to take the place of Leonard Fournette due to his injuries and finished the season with 414 rushing yards. He only had one rushing touchdown to his name, but compensated with four receiving TDs and 487 receiving yards.
The running back competition in upstate New York should be an interesting one to watch. As mentioned, McCoy significantly fell short last season, Yeldon is very versatile on the field, and veteran Frank Gore is also looking to get touches this year. With McCoy still being the best back on the squad, and with the Bills' improved offensive line, he should stay their number one option while Gore and Yeldon duke it out for second. The more options for this team, the more Allen can utilize different aspects of his offense.
When the Stars Align in Buffalo
The problem with the Buffalo Bills has been their offense. The Bills' defense is probably the most consistent part of this franchise and, if their offense steps up, there could be a major improvement for them in the win column. With Allen entering his sophomore season, the experience gained as a rookie has presumably shaped him into a more mature player. He has new weapons in John Brown to provide efficiency on deep routes, Cole Beasley as an executioner in the slot, and additional talent in the backfield. The Buffalo Bills' offseason activity shows they're building to win more and stop being the punchline of the AFC East.
Written by Samiya Green
Follow Samiya and TSJ: NFL on Twitter!
Photo Credit to Erik Drost via Flickr
Follow TSJ on YouTube and Twitter