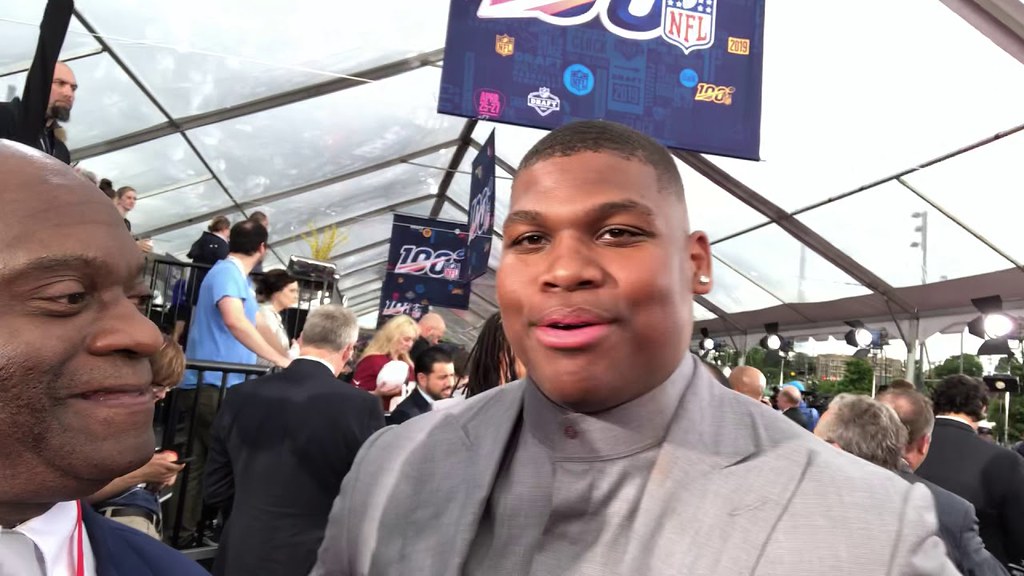 Storylines Following the New York Jets' First Practice
It's a great week for football fans! Training camp has started, and that means the NFL 2019 season is getting closer. When training camp starts, storylines follow, and there are some brewing in the Meadowlands. The New York Jets reported for practice Thursday morning, and they were missing a significant piece.
Third overall pick Quinnen Williams, missed his first NFL practice but not to fear Jets fans he'll be practicing shortly. Le'Veon Bell is back and looked fresher than ever during Thursday's practice. All eyes are on Jets sophomore quarterback Sam Darnold. Can he improve and win more games? He thinks he and his teammates can.
Quinnen Williams' Contract Agreement
Williams will not be missing any more practices, because he has agreed to a deal. His contract is a four-year contract worth $32.5 million, with around $21.7 million for a signing bonus. Williams didn't have to hold out long, and he wasn't protesting for more money. Reportedly, he just wanted to be paid his entire signing bonus before the year ended.
Both sides were able to come to terms with Williams getting 25% of his bonus deferred next year and the rest when he officially signs. Now the New York Jets can have their all-around defensive force in camp and get ready to show off his quickness and power in the preseason.
The Return of Le'Veon Begins
Le'Veon Bell arrived at practice as energized as ever and he knew it. The dual-threat running back caught a screen pass from Darnold and showed off his leg speed. When talking to reporters, Bell was confident and ready to get however many touches possible.
Bell laughed with reporters and said, "I'm up for 500 if it's going to take us to the Super Bowl." Bell went to say it doesn't matter how many touches he gets because he just wants to help the team win. "I'm just trying to win games. If I have 19 touches and we win the Super Bowl, you think I'd care? I just want to go out there and do what I can to help this team win games."
Bell also stated when it comes to his growth as a player, he always hopes to become better and how he believes in head coach Adam Gase. Bell described Gase as "a mastermind on offense." Morale for this upgraded Jets team seems to be high, which is something they need to build confidence.
Second Year's A Charm
Quarterback Sam Darnold has set high expectations for his team. Wednesday, Darnold said, he's expecting "A lot of wins" this year. He added that he believes they have enough talent to be playoff contenders and he's not wrong. With the addition of Bell, linebacker C.J. Mosley, and Williams the Jets are a fascinating team on paper. With being said, Darnold also knows it's essential to be present. He went on to say, "I think you definitely have expectations of making it to the playoffs, and we definitely have the talent to do it, but I think the way you get there is focusing one week, really one day at a time."
As a second-year QB, Darnold faces the pressure to reach the potential of his peers. Quarterbacks that significantly improved their sophomore season include reigning MVP and Madden 2020 cover star Patrick Mahomes. Darnold towards the end of last year found a little rhythm and did not throw a pick in the previous four games of his rookie year. Darnold told reporters, "The more reps you get in a game, the more comfortable you become. I think you saw that later in the year with my play the last few games, I felt so much more comfortable out there."
Darnold was 7 of 11 in Thursday's practice and did not turn the ball over, so his accuracy was yesterday's highlight. He also didn't have any touchdown passes and threw too ahead of a couple of receivers. With that being said, a couple of months have gone by since minicamp so it shouldn't be a worry.
A Good Group of Tight Ends
The tight-end competition on the Jets is one to watch. With Chris Herndon's regular-season suspension, the New York Jets added Temuchin Hodges to the depth chart. Former Texans tight-end, Ryan Griffin will also be sporting green and white. The other tight-ends include Eric Tomlinson, Dan Brown, and Trevon Wesco. It's no secret that out of all them, Griffin is a solid veteran with 1,491 receiving yards and seven touchdowns for his career.
Brown has been portrayed as a versatile tight-end that can play multiple positions on the field. Tight end coach John Dunn spoke on his potential in the spring. Dunn said, "He has great football IQ. He's kind of a jack of all trades…" Wesco is regarded as a high-quality blocker, so with the group being diverse in player type–who ends up where will be interesting.
Written By Samiya Green
Follow Samiya and TSJ: NFL on Twitter!
Photo Credit to Zennie Abraham via Flickr
Follow TSJ on YouTube and Twitter