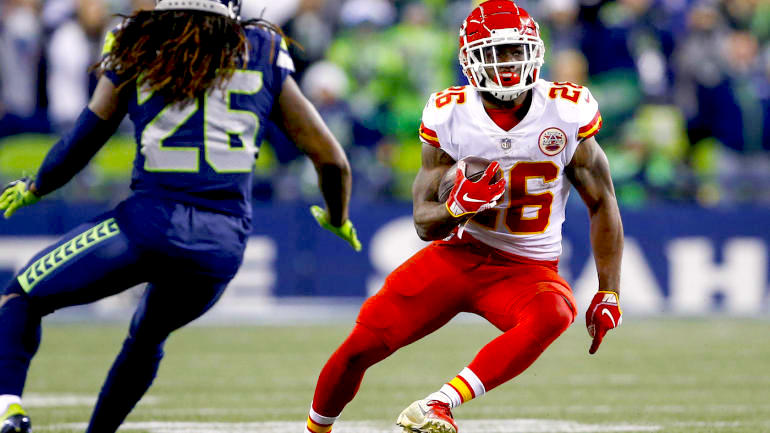 Damien Williams Looks to Break Out in 2019
Damien Williams' dominance in the Kansas City Chiefs' backfield was one of many interesting storylines in the 2018 NFL season. Williams, and many other lesser-known backs, performed at a level that seemingly proved that the era of the star running back is no longer. UDFA running back Phillip Lindsay went on a tear throughout his rookie year in Denver. The season even led to Lindsay becoming the first ever undrafted offensive rookie to earn Pro Bowl honors.
Steelers running back James Conner also found himself in Orlando after an electrifying year on the gridiron. The 2017 third-round draft pick had a breakout season in 2018 after sitting behind star running back Le'veon Bell as a rookie. Even running backs like Aaron Jones of the Green Bay Packers showcased their talent throughout last season. So, where does that leave Chiefs' running back Damien Williams approaching 2019?
The sixth-year running back was named the starter after a highly-publicized domestic violence incident led to elite running back Kareem Hunt being removed from the Kansas City Chiefs' roster. Williams was another UDFA that shined when given an opportunity in 2018. Williams piled on 416 yards from scrimmage and six touchdowns in his five games as a starter in 2018.  He also added 243 yards and four touchdowns in the 2018 NFL Playoffs (two games). However, like the stock market (and Eddie Lacy), the past isn't always the best indicator of the future for tailbacks. So what has us so sure that Williams will be explosive in 2019?
Defensive Coordinators Will Have No Choice
With star wide receiver Tyreek Hill freed from all criminal charges, there is a real possibility that the receiver could also avoid suspension and be back with the team for training camp. Assuming this is the case, the Chiefs offense looks dangerous as ever. The Chiefs' second-round rookie Mecole Hardman has turned heads throughout minicamp. Tight end Travis Kelce shattered franchise records last season, something that isn't easy to accomplish when the greatest tight end of all time played for your franchise.
Former first-round receiver Sammy Watkins has the potential to provide another layer of explosiveness to the offense as well. And the big cherry on top, of course, is quarterback and reigning MVP Patrick Mahomes. Simply put, the Chiefs' aerial assault will keep defensive coordinators up at night. They can't afford to worry about the Chiefs' running game.
The offense will operate similarly to last year's Steelers' offense, where Big Ben led the league in passing yards with 5,129 yards. Because of the overwhelming amount of passing attempts by the offense, the rushing lanes will be open all day. This is where Damien Williams will make his money. The Chiefs will pound, pound, and pound the football until the defense respects the run. Then, it's bombs away for Mahomes and his flurry of pass catchers. Andy Reid licks his chops.
Eric Bieniemy Will Mold Damien Williams
One of the biggest factors that Damien Williams has going for him is that his offensive coordinator knows a thing or two about elite rushing offenses. Offensive coordinator Eric Bieniemy has 15 years of prior experience as a running backs coach. Bienemy mentored the Kansas City Chiefs' all-time leading rusher Jamaal Charles for four seasons. He also coached a rookie Adrian Peterson that went on to win All-Pro honors in his first season as an NFL running back.
However, Bienemy's experience doesn't just come from coaching an elite talent like Adrian Peterson or Jamaal Charles. He also had immense success with former Minnesota Vikings' running back Chester Taylor. Taylor piled on 1,216 rushing yards in 2006 for the Minnesota Vikings. This becomes even more impressive noting that it was Bienemy's first season as the team's running back coach.
That success with the running back position has remained steadfast in his first year as an offensive coordinator in the National Football League. The Kansas City Chiefs' averaged an impressive 4.8 yards per carry in 2018, tied for fifth-best in the league. Simply put, it's not just the crop of talent he has coached. Bieniemy instantly makes any rushing offense better and we saw a glimpse of it in 2018. Expect that trend to continue in 2019.
Recap
Damien Williams is easily one of the biggest fantasy football questions of 2019. Were his performances last season all flukes? Is he ready to be a full-time starter? Is Williams durable? Could newly-acquired running back Carlos Hyde possibly steal some carries from Williams?
All of the questions above are well warranted. Nothing is a guarantee for Damien Williams and he could very well struggle in his role as a starter. However, Williams has a lot going his way that will make that a very difficult thing to happen. He has possibly the best running back situation in the NFL. We haven't even mentioned (up to this point) how elite the offensive line in front of him is. One thing's for sure: Damien Williams will attempt to outplay his new two-year deal with the ball club and secure a huge payday in 2021.
Written by Khadeem Dennis
Follow Khadeem and TSJ: NFL on Twitter!
Photo Credit to Smashdown Sports News via Flickr
Follow TSJ on YouTube and Twitter