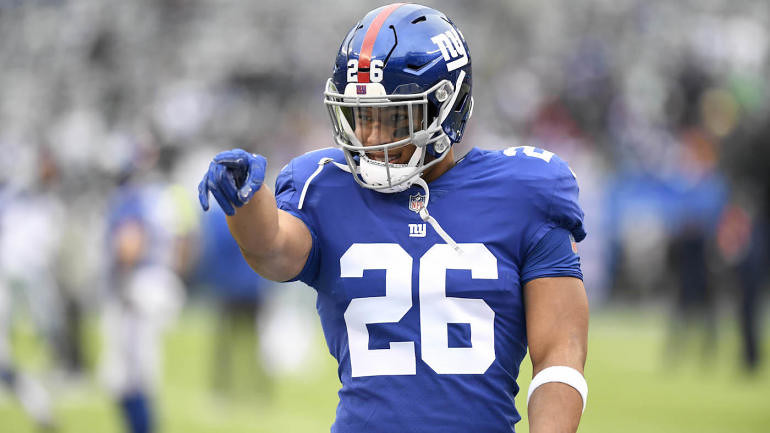 Barkley Adds ESPYs Breakout Player Of The Year Award To His Resume
It's been an incredible year for Saquon Barkley. The 22-year-old running back added another accolade to his resume last night. The ESPYs awarded Barkley with their Breakout Player of the Year award, and it's a well deserved award for him. After dominating the college game, the former Penn State player has had no problem succeeding in the NFL.
Barkley's season is one for the ages. He broke the rookie rushing and touchdown records, rushing for 1,307 yards and scored 11 rushing touchdowns. He also proved he could be utilized in the passing game by breaking the rookie running back record for receptions (91) and catching four touchdowns from quarterback Eli Manning.
If you want more numbers from Barkley's record-breaking rookie season, here's a graphic provided by PFF.
The New York Giants Have Accepted Barkley As Their Top Weapon On Offense Going Forward
New York will find it easier to move on from Odell Beckham Jr. with Barkley on the team. Barkley has already proven that he's more than capable of putting the team on its back. The Giants drafted Barkley number two overall in the 2018 NFL Draft even after some Giants fans pleaded for the team to draft a quarterback. This decision by the organization has put unfair pressure on him, but it looks like it hasn't fazed him at all.
His calm demeanor and down to earth personality has so far proven the Giants right. This young man is about hard work and letting his production on the field speak for itself. Barkley will be starting next season with the top running back in the NFL title in his mind because he has a great shot at it.
In the long run, Barkley might prove to be the best decision that the Giants have made in recent years. This is why the Giants need to avoid wasting their running back's best years by surrounding him with mediocre personnel. Barkley is the type of player that only comes once in a generation.
Written by Daniel Calvo
Follow Daniel and TSJ: NFL on Twitter!
Photo Credit to Smashdown Sports News via Flickr
Follow TSJ on YouTube and Twitter