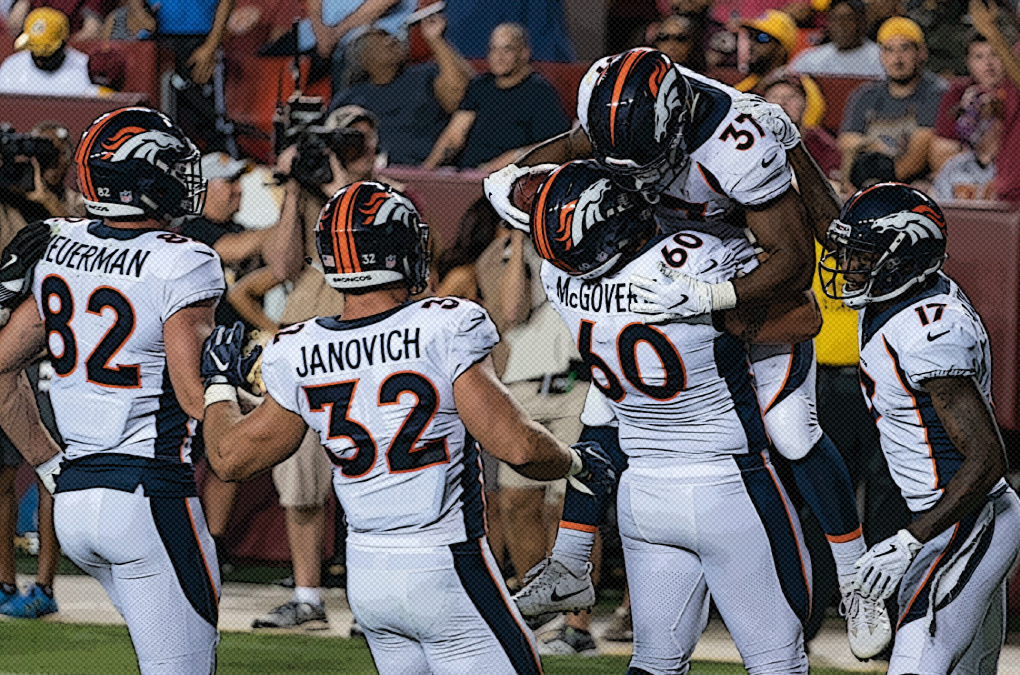 Why the Denver Broncos Will Exceed Everyone's Expectations
The Denver Broncos made some great moves this offseason. They managed to get not one, but two top prospects in the draft — one being Noah Fant, a tight end who moves like a racehorse. The Mile High franchise finished 6-10 last year in the AFC West; but with a veteran QB now leading the pack, the Broncos are looking to avoid the bottom and fight at the top. Here's what makes them a contender and why they'll surprise everyone in 2019.
Joe Flacco
Joe Flacco's 2018 season was one to forget. He completely shed his Super Bowl-winning skin and appeared inaccurate, slow, and unable to connect with receivers. He threw for 2,465 passing yards and 12 touchdowns last season, both career lows. As he declined, the Ravens did as well and lost three games straight. And Lamar Jackson would take Flacco's job.
Flacco is now in Denver, CO and will be headlining his redemption tour this upcoming season. This is a team that made Case Keenum look solid last year, so it's only a given that this is where Flacco will excel. With that being said, though, Keenum's last season numbers blow Flacco's out of the water. He racked up 3,890 passing yards and 18 touchdowns, and we know Flacco is capable of that and more. This might be the team to re-introduce 2016 Flacco to the world. That was the guy that totaled 4,317 passing yards and 20 touchdowns.
With young dynamic players like Philip Lindsay and Courtland Sutton, nobody should be ready to retire Flacco just yet. Lindsay finished with 1,037 rushing yards and 9 rushing touchdowns. His numbers ranked amongst the top ten running backs in 2018. Sutton totaled 704 receiving yards and 4 touchdowns and he's projected to have a huge season. Not to mention, Flacco will also get to utilize Emmanuel Sanders when he comes back from injury.
Noah Fant
Along with those mentioned above, the Broncos drafted Iowa tight end Noah Fant in the first round. Denver has not had an effective tight end since Julius Thomas and that's why having Fant will be so huge for them. With the Hawkeyes, Fant had 1,083 receiving yards and caught 19 touchdowns. What makes him a prime target for Flacco? Fant has outstanding speed, which gives him a big advantage on the field. Fant's 40-yard dash time in the Draft Combine was a 4.5. He ran the 40 faster than D.K. Metcalf and A.J. Brown, but when you're a tight end speed isn't everything.
Fant is not great at blocking and that caused some concerns about his game. The Broncos head coach Vic Fangio is looking to change that in the offseason. He spoke to The Athletic about Fant's strengths and weaknesses, saying:
Yeah, he can run. We all knew that…we have to teach him how to be a tight end in the NFL, and he's working great at it.
Fant and Flacco are focusing on building chemistry and have been connecting during minicamps. Flacco mentioned his speed to USA Today and how he believes he can be an important asset to the offense. He said, "The tight end in this offense, I think can be a big-time player if he can run and get a feel for how we run a couple of routes that we have in." Fant and Flacco are a perfect pair, as Fant can explode down the field and escape defenders to catch passes in the middle. That's the kind of player Flacco needs to change the narrative that he's a deflated veteran.
The AFC West Should Take Notice, Especially on Defense
Yes, the Broncos have an offense to look forward too, but the defense has been carrying this team for years. Von Miller is the star of the defense with some great impact players by his side. Guys like Chris Harris Jr. and Derek Wolfe will be pivotal in the success of this defense and Fangio is known for turning the Chicago Bears defense completely around. Wolfe has expressed his excitement about the new defensive scheme being run during OTAs, commenting:
It's just, alignment-wise it's like it's like it's old school defense where you line up and you beat the guy in front of you.
The Denver Broncos shouldn't be a joke heading into the 2019 season. With Antonio Brown on the Oakland Raiders, the Kansas City Chiefs looking to win it all, and the Los Angeles Chargers trying to be better, the Denver Broncos are the sleeper team — with Joe Flacco, vibrant receivers, Philip Lindsay, and still one of the scariest defenses in the league. The Denver Broncos will be ready to put up a vigorous fight for a playoff spot.
Written by Samiya Green
Follow Samiya and TSJ: NFL on Twitter!
Photo Credit to Keith Allison via Flickr
Follow TSJ on YouTube and Twitter