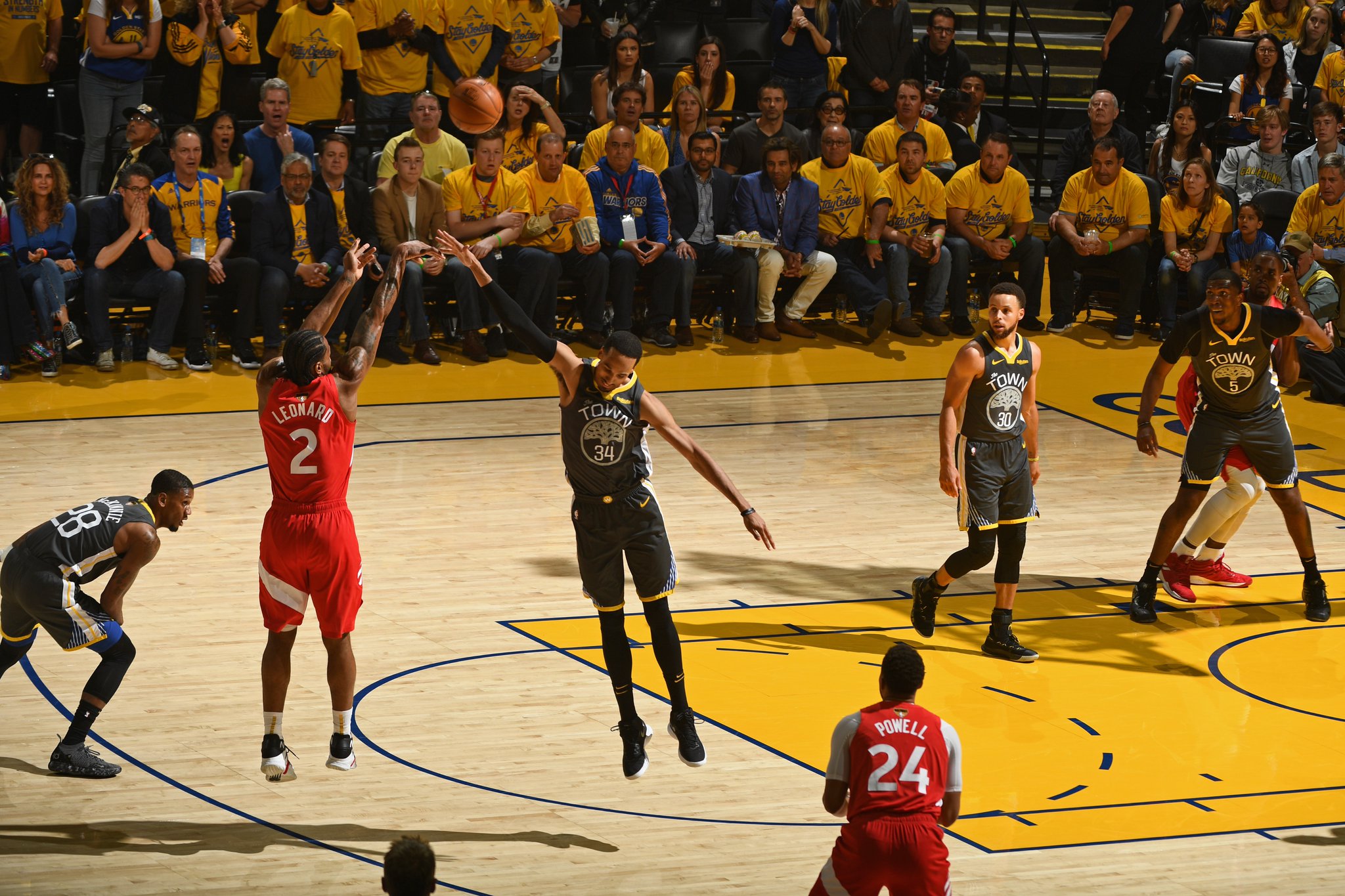 Raptors Take Warriors To The Brink Lead Series 3-1
Leonard led Toronto with 36 points as the Raptors look to close out championship at home
The Toronto Raptors have taken a 3-1 lead in the NBA finals over the defending champs the Golden State Warriors. Kawhi Leonard led the team with 36 points and 12 rebounds as the Raptors took the last two games in Oakland. His performance has placed the Warriors in a tough spot. Not many teams can overcome a 3-1 deficit in a championship series. In NBA history teams with that lead go onto win 78% of the time.
The Raptors used their trademark stingy defense to slow down the Warriors potent offensive attack. They held them to under 50% from the field including 29% from 3-point range. The Raptors did a great job of containing Stephen Curry who had tough game shooting. He only made two 3-pointers the entire game, a career playoff low. Toronto struggled shooting as well but relied on there veterans to help carry them to the win. Serge Ibaka and Leonard combined for 56 points including six threes.
Raptors can clinch at home
The Raptors came into this series with home court advantage over the Warriors. They lost that advantage after game two but, answered with two straight wins on the road. Now they are in position to bring a championship to Canada, and can win it on their home court. The Toronto fans have showed their team spirit the entire playoffs. Their outdoor area known as Jurassic Park has been filled to the brim, hours before every game.
This would be the Raptors first championship in franchise history, and Canada's first championship team since 1993 (Toronto Blue Jays & Montreal Canadiens). For many people this championship will show that Toronto is a extremely supportive city to its sports franchises. They have been through it all with this team. From the woes of an expansion franchise, the Vincanity years, and finally the playoff heartbreak of the past few years, the city has continued to support their Raptors.
Injuries too much to overcome
The Warriors have not only run into a team that has their number, but have been derailed by the injury bug. Ever since losing Kevin Durant to a calf injury this team has not been the same offensively and defensively in these finals. Other players such as Demarcus Cousins and Klay Thompson have also been affected by injuries. Cousins has not fully recovered from his torn quadriceps muscle, and Thompson missed game 3 with a hamstring injury. The Warriors lack of depth and reliance on their superstars have caught up to them finally.
Without Durant the Warriors have struggled to score outside of Curry and Thompson. Draymond Green has played well, but his lack of outside shooting has been exposed by the Raptors. Toronto has continued to use a box-and-one defense on Curry when Thompson is off the floor. If the Warriors have any hopes to continue this series they will need a team that is closer to full strength. Durant has not played in over three weeks, and it may be too little too late for the Warriors championship hopes.
Up Next
The Raptors hope to close out this series on Monday night at home. The game will be at 9:00 p.m. on ABC live from Toronto. If they finish off the Warriors, Leonard will be in line for his second NBA finals MVP award. He is averaging 30 points and 10 rebounds in this series, and has shown that Toronto's investment in him was well worth it. The big question for the Raptors is will it be enough to convince him to stay in Toronto. Leonard along with Thompson and Durant, will be free agents this summer, so these teams may be have totally different makeups next year.
Written by Blair Young
Follow Blair and TSJ: NBA on Twitter!
Photo credit to Raptors via Twitter

Follow TSJ on YouTube and Twitter