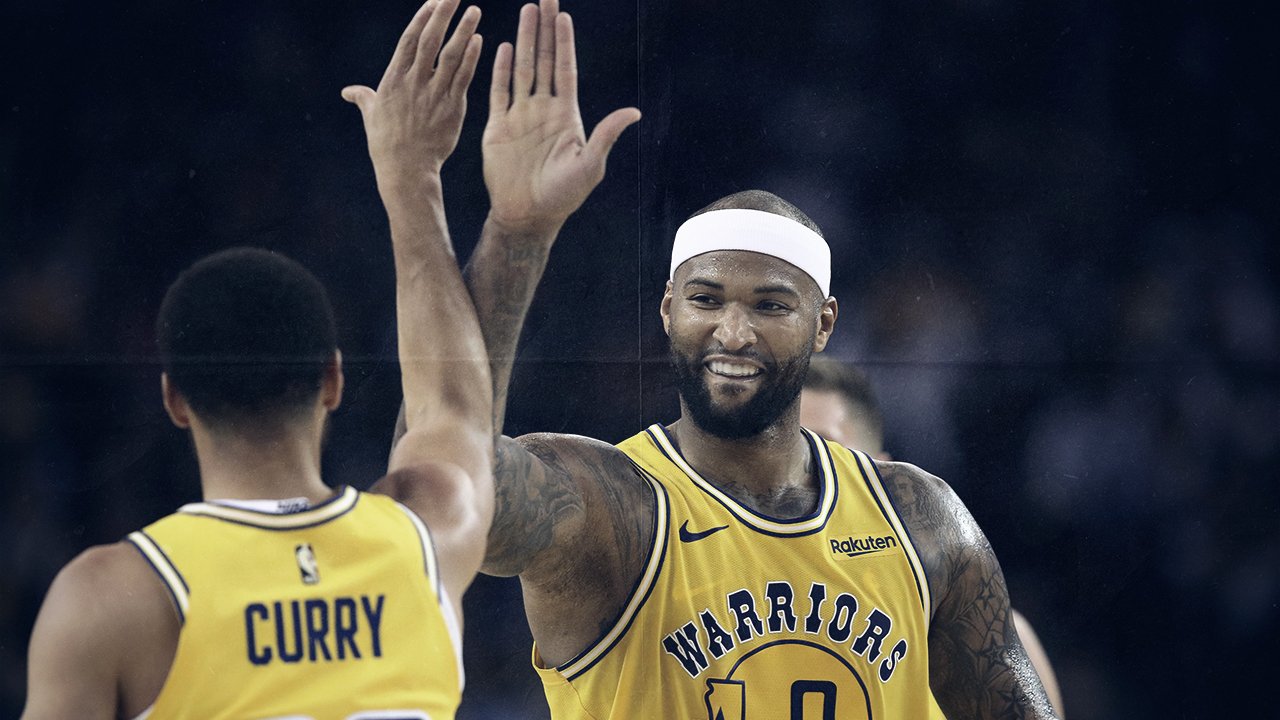 The Warriors Beat the Nuggets, Win Season Series 3-1
The last time the Warriors and Nuggets faced off was in Oracle Arena on March 8th. Klay Thompson was the driving force for that Warriors victory. The Warriors defeated Denver 122-105 and took sole possession of first place in the Western Conference. Although last night's matchup initially might have led you to believe things would be more competitive, the Warriors defense had other plans in mind.
These two teams battled back and forth during the first quarter. Denver even took a brief lead in the process. Denver's time out-front would not last long. The Warriors were determined to go into the half with a lead. This would prove to be crucial as the Warriors carried that momentum into the second half. Once they went up 16 points, there was no looking back. In what proved to be a reassertion of their authority, the Warriors defeated the Nuggets 116-102 to hold on to the top spot in the Western Conference.
DeMarcus Cousins Was a Force to Be Reckoned With
The Warriors top scorer last evening was DeMarcus "Boogie" Cousins. In the previous game versus the Hornets, Cousins received an ejection. He received a controversial flagrant-two call for inadvertently elbowing Willy Hernangomez. Cousins bounced back and had his most comprehensive performance as a Warrior (28 points, 15 rebounds, two blocks, and two steals). Nikola Jokic was stifled and limited to only 10 points. At one point, Cousins mocked his lack of productivity by surveying the court looking for his all-star rival.
Kevin Durant Received His 15th Technical Foul of the Season
During the third quarter, Durant argued with official Zach Zarba over a no call. Durant believed that Paul Millsap fouled him. After receiving the first technical, Cousins and Coach Steve Kerr attempted to calm Durant down. Durant persisted by using vulgar language. As a result, he received his 15th technical foul of the season and an ejection. Durant faces a suspension if he picks up one more technical foul.
The Warriors Enter Their Home Stretch
Golden State will head to the Staples Center Thursday to face the Los Angeles Lakers. At the moment, the Lakers roster is depleted and missing virtually all of its key players. Without Lebron James, Brandon Ingram, Kyle Kuzma, and Lonzo Ball, the Lakers will face a formidable challenge. Russell Westbrook had a historic 20/20/20 game versus them last night. Also, their most talked about highlight from the past week featured an assist which Kuzma gave James with fastening his necklace on social media. Will The Lakers be able to overcome the odds and earn their second victory of the season versus the Dubs? Or will the Warriors put themselves closer to securing home court? Tune in to find out!
Follow us on Twitter: @T101Sports @T101SportsNBA
Follow us on YouTube
Photo Credit
@warriors via Twitter