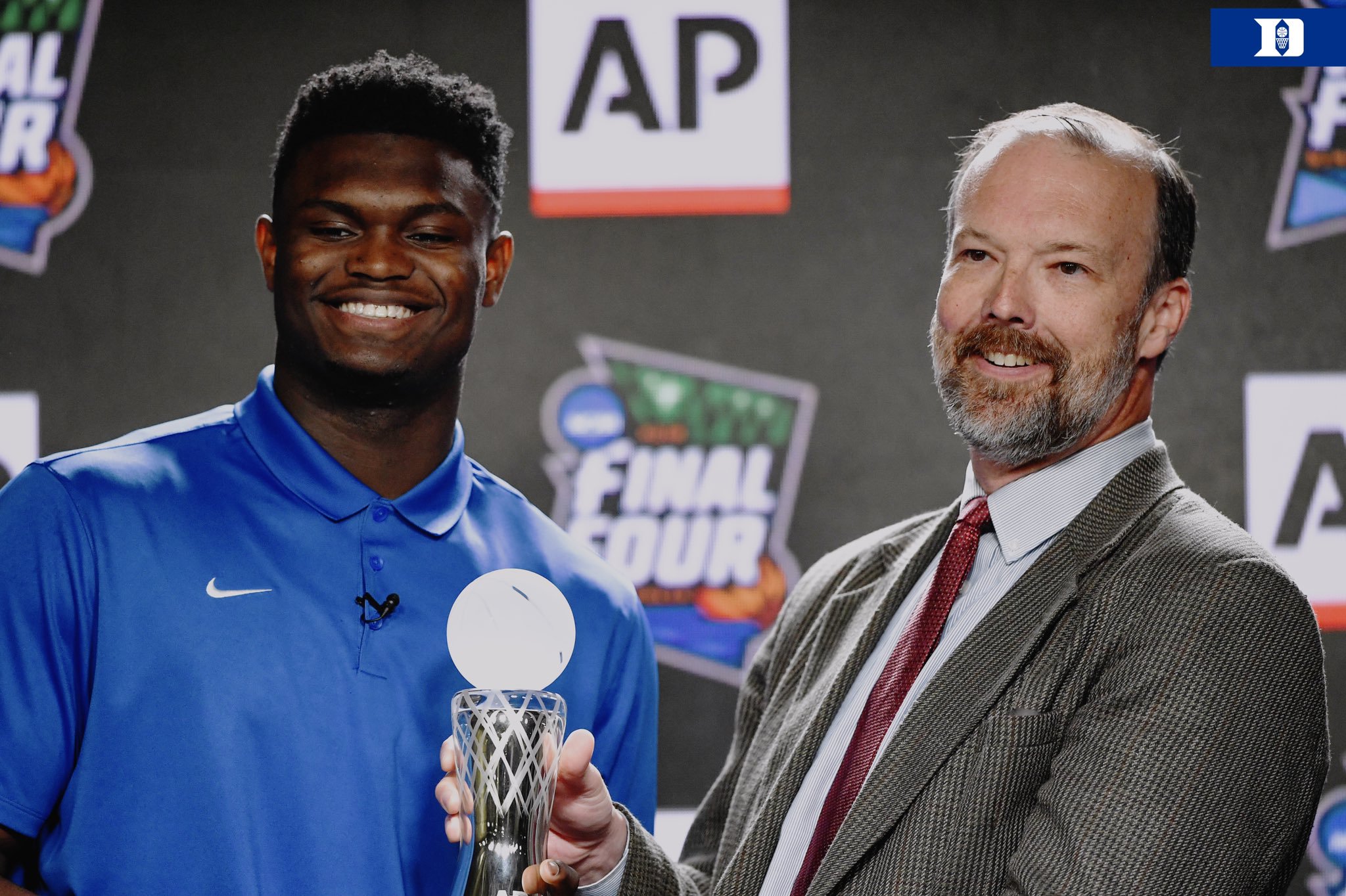 Zion Williamson and Ja Morant fight for the number one position in the draft
As the NBA season winds down, teams unable to make the playoffs shift their focus to the upcoming draft. Throughout most of the college basketball season, the consensus number one pick has been Zion Williamson, which is not surprising. Who wouldn't want a 6'6″, 280-pound freight train, with crazy athleticism, who can defend and dunk on anyone who stands in his way in the paint? Lately, there has been an NBA prospect whose name has been rising in the number one pick talk. That player is, obviously, Ja Morant.
Early in the college season, Morant was always projected to be a top-3 pick. Williamson's teammate RJ Barrett was rated higher but as the season went on, Barrett's stock began to drop — his inability to use his right hand overshadowed the strengths in his game. Morant, however, is ambidextrous and defenders would have fits trying to defend him. This skill, along with other attributes, propelled Morant into a definite top-2 pick in the upcoming NBA draft.
The New York Knicks need all the help they can get
One of the teams who will be in contention of landing the first pick in the draft is the New York Knicks. Anyone who is, at least, mildly knowledgable about the NBA knows of the Knicks' atrocious play all season. At the moment, the Knicks sit dead last with a 15-64 record, and perhaps, the only positive to come out of this season is the play of Mitchell Robinson. Besides Robinson's stellar play, the Knicks have been an absolute horror show to watch. New York needs all the help it can get to rise back into the talk of the NBA's elite — a topic of discussion the Knicks haven't been a part of since the 90s.
Therefore, if the Knicks land the number one pick in this year's draft, should the front office choose the human freight train, Zion Williamson? Or should they go with Ja Morant, who has the potential to be a Hall of Fame point guard? Here are the cases for both.
Why the Knicks should be on the road to Zion Williamson
Williamson, by many, is considered the number one pick. Many analysts even believe if a team's front office picks anyone outside of Williamson for the number one pick, that staff needs to pack their things and exit stage right the next day. While there are many attributes to love about Zion's game, there are also some concerns. The main concern is his height. Standing at 6'6″, many scouts would consider that height to be good for a guard, but not a forward. Currently, Zion's skillset isn't versatile enough to be a guard. As a forward, he may struggle to score against taller forwards such as Paul George (6'8″), Kevin Durant (6'11"), and Giannis Antetokounmpo (6'11") to name a few.
What Zion lacks in height, he makes up for it in athleticism ten times over. His combination of size and speed will make it near impossible to stop him if he's attacking the basket with full steam ahead. If Williamson develops more skill, which is likely with the right training, the sky is the limit for him offensively. He'll transform into an immovable force with handle and a jump shot. Defensively, there's little to no concern due to his athleticism. He'll continue to send shots back to Timbuktu and be very active with his high motor.
At the moment, the Knicks don't have anyone on their roster who is comparable to Williamson. Then again, who does? Also, Williamson doesn't have a set position, which is great in today's game of positionless basketball. Whoever the Knicks sign in free agency shouldn't matter, Williamson should be able to slide into the Knicks starting lineup with ease.
Current Knicks point guards fail to impress
While Zion seems like the sure number one pick for the Knicks, a case can be made for Morant as well. The strongest argument in Morant's favor would be the lack of franchise point guards throughout the Knicks history. Currently, on the roster, New York has three point guards that any team would be reluctant to give the keys to the franchise to.
Dennis Smith Jr. has shown flashes of being a good player. Unsurprisingly, consistency is still an issue for the North Carolina native. Emmanuel Mudiay is an enigma. Like Smith, he has shown flashes, especially in December — averaging over 20 points per game, scoring a career-high 34 points, and scoring 30+ points three times. The main issue with Mudiay is his inability to defend opposing point guards. Also, his tendency to not get his teammates involved shines a dim light on his game. As for Frank Ntilikina, well, there are reasons as to why his name has been brought up in draft day trade rumors. At the moment, Morant's ceiling is higher than all of the Knicks current point guards combined.
Knicks have struggled to find a franchise point guard
Besides the ineptitude of the current point guards on the Knicks roster, the point guard position, as a whole, has been a struggle for the Knicks to fill throughout the years. When was the last time the Knicks have had a franchise point guard at the helm? Jason Kidd made a brief stop during the 2012-13 season and led New York to its last winning record, 54-28, but Kidd was way past his prime. Stephon Marbury graced the Garden floor from 2004-08, and he had the talent to be a franchise point guard. Unfortunately, the Knicks failed to have one winning season with Marbury running the point.
Mark Jackson, a prototypical point guard who is fourth all-time in assists, was drafted by the Knicks in 1987. He had five solid seasons in New York, and then he was traded in a blockbuster three-team deal that sent him to the Clippers for the services of Charles Smith. New York also received Doc Rivers in that deal, but by then, Rivers was past his prime. In all seriousness, the only franchise point guard the Knicks have had for an extended period of time is Hall of Famer Walt Frazier. Frazier played ten seasons in New York, from 1968-77, and played a vital role in the only two championships (1970, 1973) in franchise history. Since 1977, New York has been unable to find a successor to Frazier's throne.
Ja Morant is the point guard the Knicks truly need
Morant can be the successor. At Murray State, he averaged 24.5 points, 10.0 assists, 5.7 rebounds, and 1.8 steals per game. He shot 49.9% from the field, 36.3% from three, and 81% from the stripe. Not to mention, his athleticism is reminiscent of Russell Westbrook and a young Derrick Rose. Morant has all the tools to be a dominant point guard at the next level. Although his skill set is impressive, there are some concerns.
Unlike Williamson, who played tough competition in the ACC, Morant faced weaker opposition in the Ohio Valley Conference. Therefore, to some, Morant's stats are inflated — even though he put that argument to rest with fantastic performances against Marquette and Florida State in the NCAA Tournament.
Another concern is Morant's activity on defense. Since he shoulders the majority of his team's offensive weight, he may use his time on defense to rest. Unfortunately, that still does not excuse him from his lack of defensive effort. If the Knicks end up drafting Morant, he may drive coach David Fizdale crazy on defense. Despite that, the Knicks could use a franchise point guard, and Morant fits that bill.
If Kyrie or Kemba comes, Morant doesn't have a spot on the Knicks roster
As for fit on the roster, Morant might be a tough fit depending on who the Knicks will sign in free agency. According to various rumors, it seems highly likely a point guard will be on New York's radar. If the Knicks do sign Kyrie Irving or Kemba Walker, there will be no use for Morant. As a result, the Knicks may use him in a deal to acquire another good veteran to help the team win now. If that doesn't happen, Morant will have a definite spot on the roster.
Zion Williamson has to be the pick
Overall, the logical choice for the Knicks brass is to draft Zion with the number one pick. On the other hand, having Morant run the point for the next ten years is an exciting prospect as well.
Follow us on Twitter: @T101Sports @T101SportsNBA
Follow us on YouTube
Photo Credit
@DukeMBB via Twitter
Written by Ryan Gayle