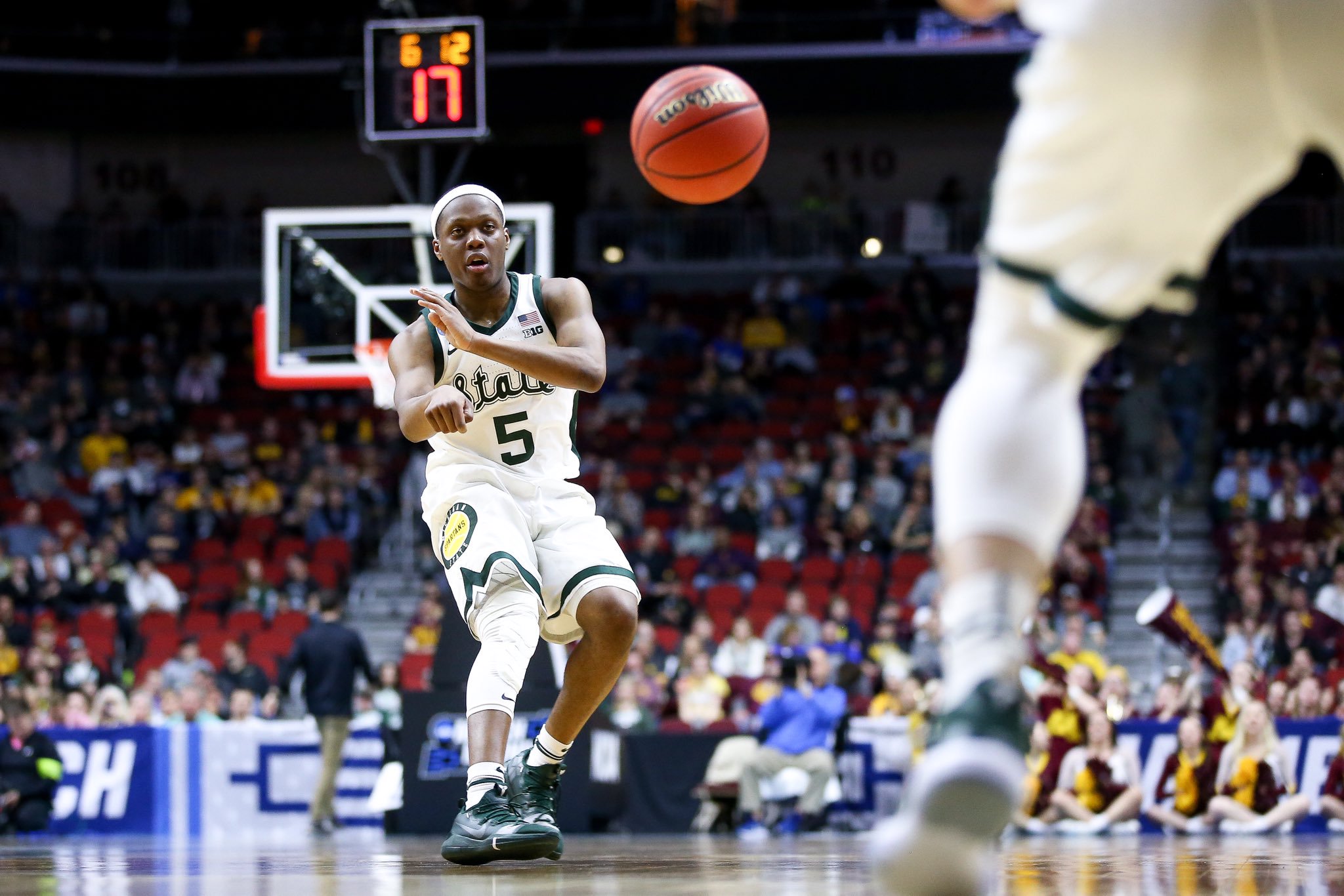 Cassius Winston
Cassius Winston entered this season with lofty goals. The 6'1″ floor general made it clear to his parents that becoming a full-time starter for the Spartans and earning an All-Big Ten Third Team selection was not enough. The former 2016 Max Prep First-Team All-American wanted to claim the Big Ten Player of the Year award. Winston went on to average a career-best 19 points to go along with 7.6 assists per game. Not to mention, Cassius averaged these numbers while shooting over 40% from deep! He was the only player in college basketball who produced at that level of efficiency. For this reason, Winston can be looked at as the Most Valuable Player in college basketball.
Brains and Brawn
Wendi Winston believes that middle school is the foundation for what type of high school student you are to become. For that reason, her son Cassius was enrolled at U-D Jesuit. Yes, U-D Jesuit of the Detroit Catholic League. The same school who won a grand total of three basketball championships in 85 years. Forget a dominant basketball program, head coach Pat Donnelly had a hard enough time getting kids to participate in an "open gym." None of this mattered to the Winston family. Cassius was to attend U-D for his first two years of education. Only then could Winston have a say as to which high school he would attend. Thankfully for Coach Donnelly, Cassius decided to stay put at U-D. Thus, single handily changing the landscape of Detroit high school basketball.
Establishing a Culture
From the moment Winston stepped on the court, coach Donnelly noticed a difference. Cassius was never the tallest or most athletic, but there was no question he was the best. Thanks to hours spent perfecting his craft, he was able to score and facilitate at will. Teammates took notice. Before long, Winston wasn't the only member of the basketball team putting in the extra work. The Cubs took home the school's first regional championship in Winston's sophomore season. That was just the tip of the iceberg. The Cubs would go onto win four Catholic League titles. Cassius capped off his impressive high school resume by averaging 22 points, 7.5 assists, five rebounds, and two steals en route to the state title. He came into a struggling program and left U-D as a Detroit powerhouse!
Home Sweet Home
Tom Izzo, head coach of Michigan State, got his first glimpse of Winston in the 9th grade. Izzo was immediately captivated with the cerebral mentality Cassius brought to the game. So much so that he approached Wendi after the game to share his thoughts. Wendi laughed it off, however, Tom's interest never wavered. When it came time to choose a school, Cassius wanted a tough love head coach with a family like atmosphere. He committed to the Spartans to complete a star-studded freshman class! With recruits such as five-star Miles Bridges, Joshua Langford, and four-star Nick Ward, Michigan State was loaded.
What the Future Holds
Through a season marred by injuries to star players, Winston has been the constant. Nick Ward and Joshua Langford both went down putting the Spartans season into question. It was at that moment Tom Izzo looked at Winston and named him team captain. He felt like it was his time to step up. Fast forward to the end of the season and that's exactly what Cassius has done. Winston has carried his Spartans right to the Sweet 16. Fans tuning into the March 29th matchup against LSU are in for a treat. There you'll see Winston, with his customary headband, probing and prodding the LSU defense. Whether it's a clutch shot or pinpoint pass for the bucket, chances are Cassius Winston will be the player delivering the blow.
Written by Joseph Osuna
Follow us on YouTube and Twitter
Photo Credit
@MSU_Basketball via Twitter