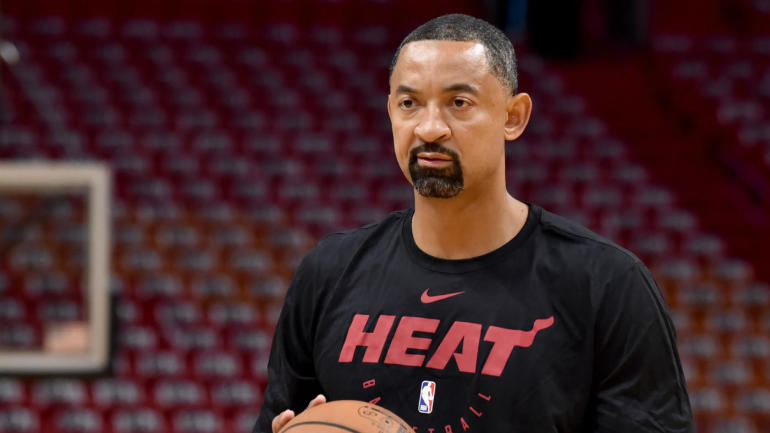 Michigan To Hire Juwan Howard As Wolverines Coach
It appears that Miami Heat assistant Juwan Howard will be Michigan's next head basketball coach.
According to to Stadium's Jeff Goodman, the Wolverines have given Howard a five-year deal.
The 46-year-old would be replacing John Beilein who left the Wolverines for the NBA.
Beilein took a job with the Cleveland Cavaliers this Monday after 12 years with the program.
The former Fab five had been a member of the Miami Heat's coaching staff under Erick Spoelstra since 2013.
However, he has never been an NBA or college head coach.
Howard played for nearly 20 years in the NBA but was most recognized for his Fab Five era with the institution.
In his last year as a Wolverine, Howard average 20.8 points and nine rebounds per game.
Additionally, he played in 100 games during his three year career.
NBA World
Laker's LeBron James and Heat's Dwayne Wade came out to support their former teammate and coach:
First, Wade came out saying Howard deserved the opportunity while James called the it the "right choice" and that it should be done immediately.
Man WHAT!!!!?? Absolutely the right choice and i hope it becomes a done deal ASAP!! One of my favorite people I've ever met at the age of 16 and been around since then. 🙏🏾 https://t.co/hdmF60odnm

— LeBron James (@KingJames) May 22, 2019
Additionally, former Fab Five teammates also came out to support the hire. First Chris Webber gave an impassioned pitch for Howard during his interview with Rich Eisen during his show.
Jalen Rose was also pitching him for the Laker's job to replace Luke Walton.
Follow us on YouTube and Twitter
Written by Edgar Gomez

Follow me on Twitter
Photo credit to Smashdown Sports News via Flickr