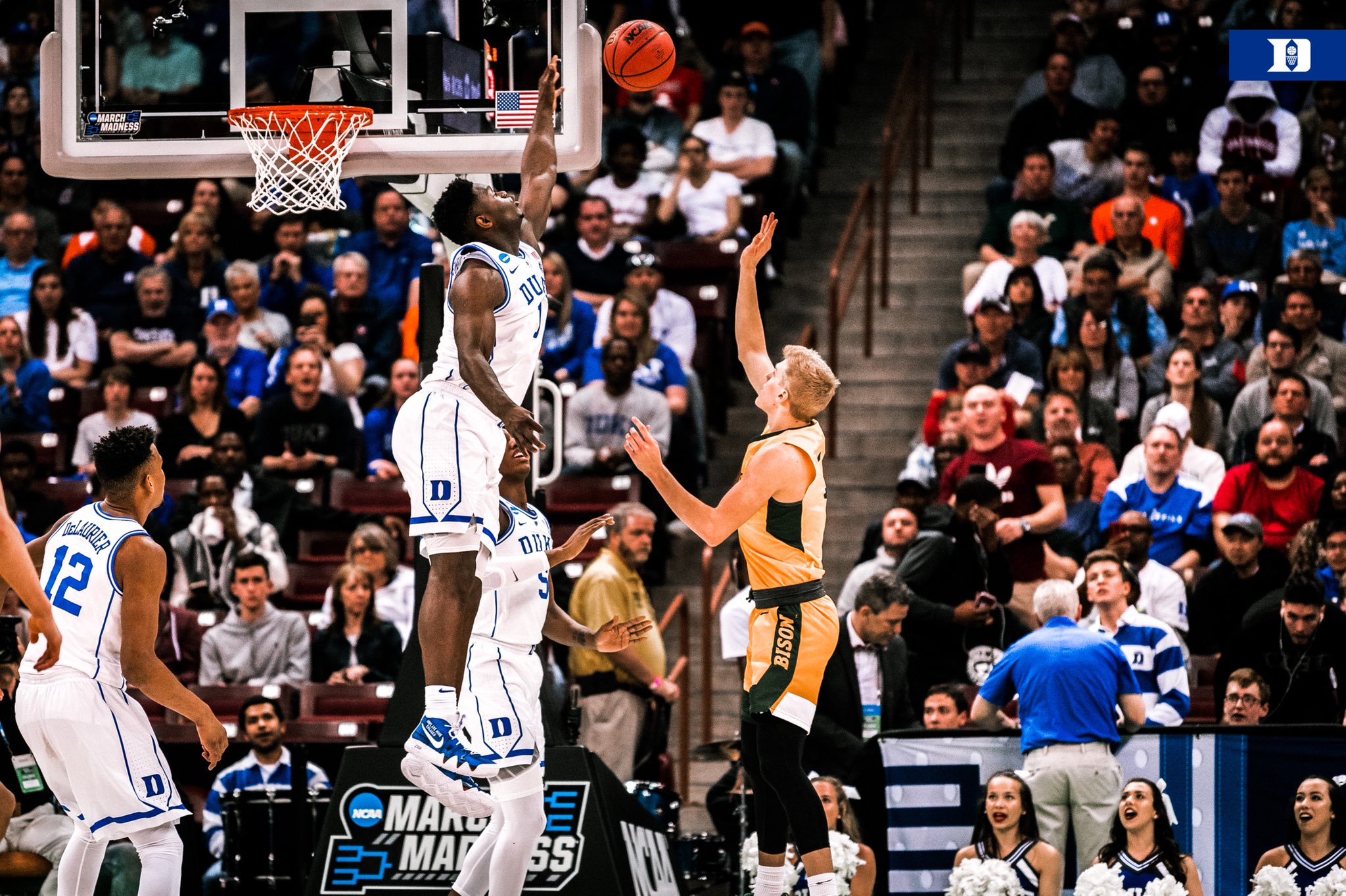 Still Dancing!
#1 Duke woke up after a lackadaisical first half against #16 North Dakota State to cruise to an 85-62 beat down of the Bison. Zion Williamson (25 PTS) and RJ Barrett (26 PTS and 14 REB) led the Blue Devils with a highlight-filled second half.
#9 UCF took down #8 VCU in the first round by a score of 73-58. It was the first NCAA Tournament win in program history for UCF. Tacko Fall (13 PTS, 18 REB, 5 BLK) was outstanding for the Knights on both ends.
Opponent Overview
Starting Lineup
G B.J. Taylor
G Aubrey Dawkins
G Terrell Allen
F Collin Smith
C Tacko Fall
The most talked about player of the UCF Knights squad is starting center Tacko Fall. The senior is a soaring 7'6″ and 310 pounds. Not only is Fall the tallest player in college basketball, but he would be the tallest player in the NBA! It should be no surprise that Fall leads his team in blocks, as he notches 2.6 blocked shots per game. Even when he doesn't get a block, he almost always alters shots in the paint. In addition to his defensive shot blocking ability, Fall has added 11.0 points per game this season. Surprisingly, teams have struggled to force Fall into foul trouble, as he averages just under 3 fouls per game.
Though he may not get talked about as much as Fall, guard B.J. Taylor has been lights out for the Knights all season. Taylor leads the team in scoring at 16.0 points per game while ranking second on the team in assists with 3.3 per game. The senior is a true combo guard as he has proven to be a threat from deep all year, shooting 37.3%. The percentage may be misleading, as he has hit at least two three-pointers in 18 games this season. Just twice this season has Taylor failed to make a single three.
The third and final member of UCF's double-digit scoring club is Aubrey Dawkins. The son of former Duke star and current UCF head coach Johnny Dawkins, Aubrey has burst on to the scene at UCF this season as the Knights second-leading scorer — averaging 15.1 points per contest. Dawkins took 174 three-pointers over the course of the season and nailed 68 of them, so he can knock them down from beyond the arc.
Prediction
With Tacko Fall down low, people will question whether or not Duke will be able to score inside with as much ease as they usually do. Fall is a terrific shot blocker, but he is extremely slow. The odds of him keeping up with Zion Williamson, Marques Bolden, or Javin DeLaurier are slim. In the ACC Title game, the Blue Devils scored 42 points in the paint against 7'4″ Christ Koumadje and Florida State. People are too concerned about Duke's ability to score points in the paint due to the Knights having a 7'6″ defender.
More than likely, UCF will likely play a zone and force Duke to shoot, but it won't matter. Duke is far more athletic than the Knights, and Zion Williamson will get a ton of looks down low despite Fall. RJ Barrett and Williamson will both score 20+ points, Cam Reddish will hit multiple threes, and the defensive lockdown tandem of Jordan Goldwire and Tre Jones will suffocate the UCF backcourt. UCF just doesn't have the offensive firepower necessary to keep up with Duke.
Duke: 85
UCF: 71
Follow us on YouTube and Twitter
Photo Credit
@DukeMBB via Twitter