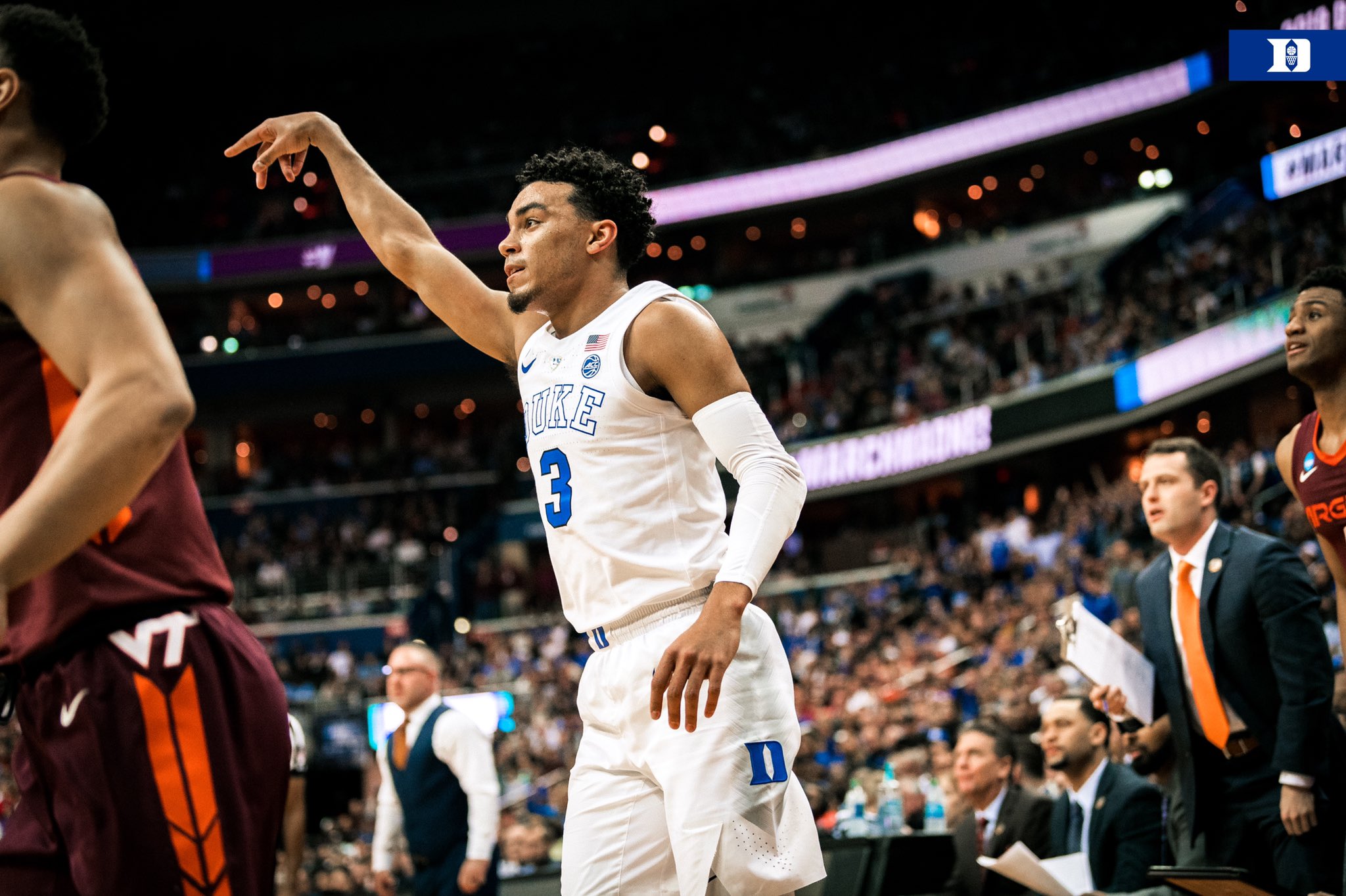 NCAA Tournament Preview: #1 Duke vs. #2 Michigan State
#1 Duke finds themselves in a matchup with #2 Michigan State in the East Regional Finals. The winner will be headed to Minneapolis where they will battle for a National Championship.
In their Sweet 16 game, the Duke Blue Devils went back and forth with #4 Virginia Tech, winning the game by a score of 75-73. At the buzzer, Ahmed Hill missed what should have been an easy two points to force overtime. Instead, Duke escapes yet again and advances to the Elite 8. Michigan State's Sweet 16 game was a different story, as they obliterated LSU by a score of 80-63.
The Coaching Matchup
We have two Hall of Fame coaches squaring off in this one with Duke's Mike Krzyzewski and Michigan State's Tom Izzo. Krzyzewski is 11-1 all-time versus Izzo, with their most recent Tournament matchup coming in 2015 where Duke won by 20 in the Final Four. They then beat Wisconsin to win their fifth National Title.
Spartan Starters
Point Guard – #5 Cassius Winston
Shooting Guard – #20 Matt McQuaid
Small Forward – #11 Aaron Henry
Forward – #25 Kenny Goins
Forward – #44 Nick Ward
The Opponent
Duke has their work cut out for them in this one. Michigan State can shoot the three, as they attempted 32 against LSU and nailed 13 of them. The Spartans will also be a problem on the glass, where they rank fifth in the country in total rebounds. For reference, Duke ranks second, only behind now eliminated North Carolina.
Key Player
Cassius Winston is the Spartans' best and most important player. He is among the best point guards in the country and leads the team in points (18.8) and assists (7.5). Winston is a drive first type player, but if a defender plays him to defend the drive, he can step back and nail a three-pointer, as he shoots them at 40.2%. Regardless, Winston hasn't seen an on-ball defender like Tre Jones this season. The Jones vs. Winston matchup should be the most intriguing one on one matchup in the game, and it may ultimately be the key for a trip to the Final Four.
Spartans Key for Winning
If the Spartans can take care of the ball and keep the Blue Devils from running wild in transition, they'll have a really good chance of winning this game. Duke is average at best in their half-court offense, so it'll be key for Winston and Michigan State to take good care of the ball.
Blue Devils key for Winning
The Blue Devils have to control the glass, or at least keep it even, against the Spartans. On several occasions, LSU let Michigan State control an offensive rebound and then give up a bucket. It seemed that every time LSU got a stop, the Spartans grabbed an offensive rebound and then scored on the second chance opportunity. If Duke can fight on the glass and keep the margin to a minimum, the Blue Devils will win.
Prediction
This is going to be a close game to the finish. Look for RJ Barrett and Zion Williamson to do their thing on offense, as they'll continue to dominate games. It will come down to a third scorer for Duke, whether it be Tre Jones, Cam Reddish if he plays, or someone else in the lineup for Duke. If Duke has to rely on just Barrett and Williamson, their odds of winning aren't good.
Overall, Duke should do a good enough job on the glass to keep Michigan State from getting many second-chance points. The most important factor for Duke? Defend the three-point line. Michigan State will shoot upwards of 25 threes, and if Duke can keep them from getting many high percentage looks, Duke will cruise. Williamson, Barrett, and Jones will continue to roll on offense, but if Reddish plays, expect 12-15 points from him. In the end, Duke will be cutting down the nets in D.C.
Duke: 85
Michigan State: 79
Follow us on YouTube and Twitter
Photo Credit
@DukeMBB via Twitter