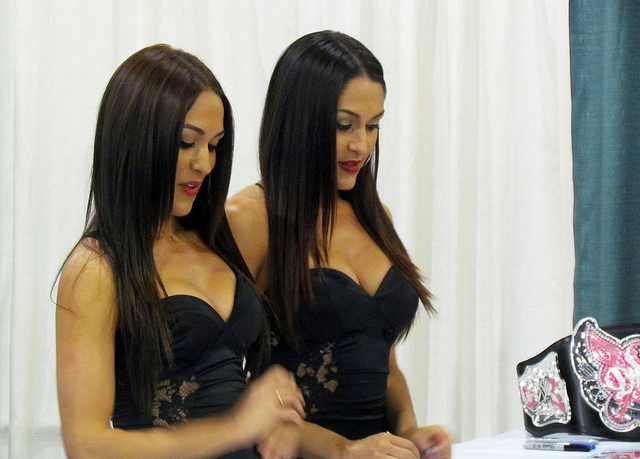 Brie Bella Announces Retirement from WWE
Brie Bella is hanging up the flannel for good.
2018 saw the Bella Twins join forces once again. It was great to see Brie back in the ring, knowing how hard she worked to get her abs back after the birth of her daughter. However, that return was met with a ton of criticism from the WWE Universe. She botched a few moves in a match with the Riott Squad, causing Liv Morgan a concussion.
Brie admits that between the internet and the actual injury, she found herself truly depressed. Following that, Brie would be seen only as a sidekick to Nikki at the Evolution PPV. There, she supported her twin take on Ronda Rousey for the RAW Women's Championship in what was overall a pretty decent match. Sadly, that would be the last true time we'd see Brie Bella, aside from on E!.
While Fastlane was in progress, so was Total Bellas. During the episode, Brie Bella made the official announcement. She has chosen to fully retire from in-ring competition in the WWE.
"I decided that after Evolution, I'm gonna be fully retired. Fully done. I love the WWE, but the one thing I learned is that I can't do everything. I just can't."
Brie also said she wanted to focus on having another baby with husband Daniel Bryan, and is ready to focus more on her family. She says she is ready to leave her in-ring days behind her.
It should also be noted that WWE has not yet acknowledged this, although they are expected to on RAW tonight. Additionally, this only applies to Brie. As far as everyone knows, Nikki Bella will return to the ring again.
Ashley Sweetly Writes
Say what you will about the Bella Twins. I'll be the first to admit, I absolutely adore Nikki. However, this still hurts my heart. It feels like an end of an era: Paige, AJ Lee, Bella Twins, Emma… all of them have moved forward. And as much as I love women's wrestling, I'm still finding it hard to feel the same connection with any of the newer women, like Bayley or Mandy Rose. AJ Lee and Paige were two that I was instantly drawn to because they were weird and different, and helped me fly my own freak flag.
It's hard to say goodbye to our favorites, but I am so happy for Brie and I know it's time for her to move on.
Social Media
Are you team Brie Mode? Or team Fearless?
Don't forget to follow us on Twitter: @T101Sports and @T101SportsWWE
Talk about anything except Kevin Owens with the writer as well: @ashleysweetlyx
Photo credit: feldmanhv via flickr