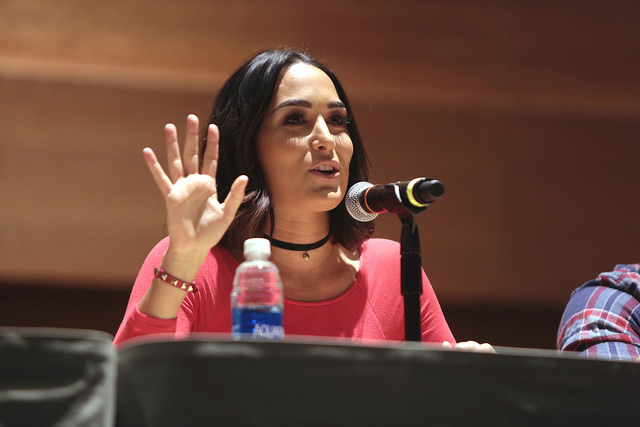 Brie Bella Receives Mass Criticism from Fans after Causing Injury
This past Monday Night RAW, Liv Morgan suffered a concussion after a pair of stiff head kicks from Brie Bella. Bella was performing Daniel Bryan's signature Yes! Kicks. Five of those kicks landed perfectly to Morgan's chest, but two struck her in the face.
Liv Morgan would be later diagnosed with a concussion as a result.
Brie Bella has expressed her sympathy on Twitter. She says that it is "never her intention to harm other Superstars". Bella says that her job as a wrestler on Monday Night RAW is to entertain the fans.
Fan Backlash
As would be expected, a grand margin of the WWE Universe has turned against the Bella Twins. Many have criticized Brie Bella for her recklessness and lack of training when it comes to in-ring skill.
Wwe need to take out bellas out of their system..they are reality tv stars not wrestlers never were..

— rkomania (@apurvpanchal9) September 25, 2018
Under Pressure
As is usually the case when a wrestler injures another competitor or messes up a certain move, fans will criticize them no matter what. Fans need to understand that human error is at play. The main goal for a professional wrestler is to entertain the crowd in as safe a manner as possible. That's why only trained professionals should be allowed inside the squared circle.
Often times Superstars, men and women both, are pressured into adding new moves to stay fresh. Brie Bella is married to fellow WWE Superstar, Daniel Bryan. Bryan's Yes! Kicks and Yes! Lock has been a part of Brie's move only very recently. Brie has also used the Suicide Dive on a few occasions. The dive is also one of Bryan's key attacks.
Leave it to the Experts
The difference between the Brie and Bryan is that Bryan has been using the moves far longer than Brie. Brie may not know how to do the moves as well as Bryan. This is what may have caused the injury in the first place. The point is, a wrestler shouldn't use a new offensive maneuver until they have it well practiced and can control it at any given time. Brie has proven she cannot do the kicks or the dive without possibly injuring herself or others. Liv Morgan is a key example of that.
Leave the Wrestling to the Experts
When it comes to Brie Bella and Liv Morgan, it was just an accident. Even the business' very best have seen worse days. Seth Rollins, who is possibly the best wrestler currently in WWE, has injured several people in the past. Most notably Sting, Finn Balor, and John Cena all within the same year.
Fans, until they try wrestling themselves, sometimes don't realize how much it takes to perform a match without seriously hurting someone. Brie Bella certainly shouldn't be doing the same moves as Daniel Bryan. Same as how the Big Show shouldn't do the same moves Rey Mysterio might do.
In cases like with Liv Morgan, it could've happened to anyone. If it were to happen again, then there should be some kind of repercussion. But let's leave that to the experts and WWE officials next time.
Social Media
Give us a follow. We're not like the other internet smarks.
Follow TSJ101Sports on Twitter: @T101Sports and @T101SportsWWE
Follow me, the writer, on Twitter: @JordanPiekarski
Subscribe to get the latest news from TSJ at the TSJ 101 Sports TV YouTube channel!
Photo Credit: Gage Skidmore via Flickr