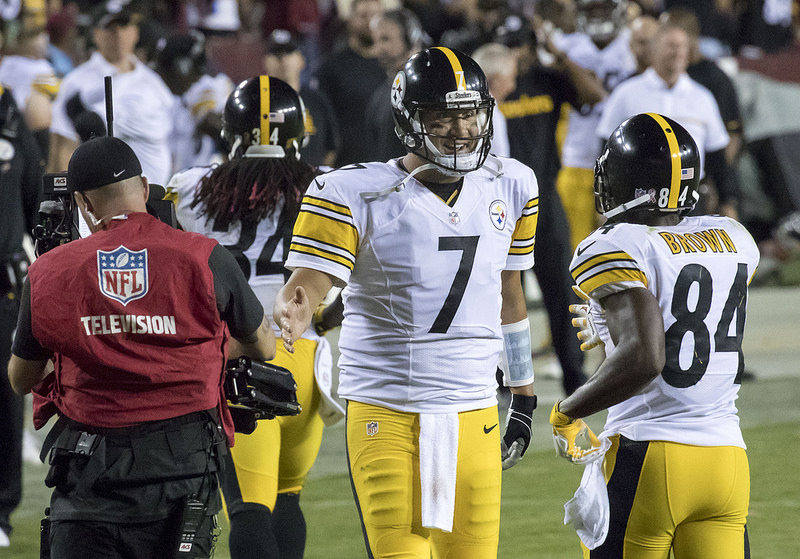 Six Landing Spots for the Future Hall of Fame Wide Receiver
On Tuesday afternoon, Antonio Brown posted a picture of himself and Pittsburgh Steelers' owner, Art Rooney II. Brown stated that he and Rooney had "cleared the air" on several issues and decided it was best to move forward.
After a very active month on social media for Brown, it was finally official. Pittsburgh and their once-favorite WR would be parting ways via a trade.
Had a great meeting with Mr.Rooney today we discussed a lot of things and we cleared the air on several issues! We both agreed that it is time to move on but I'll always have appreciation and gratitude towards the Rooney family and @steelers organization! #CallGod #Boomin pic.twitter.com/DEgURchvhW

— Antonio Brown (@AB84) February 19, 2019
Devil in the Details
While Brown may have forced Pittsburgh's hand in trading him, Rooney and the Steelers' front office control his fate. It's unclear to what degree Pittsburgh will involve Brown in the negotiations and where he ends up. The Steelers' interests narrow down to getting Brown out of the division and hopefully conference while also getting a significant return.
The trade window begins on March 13th at 4 pm EST when the 2018 season officially ends and the 2019 season begins. While the Steelers can discuss and negotiate a trade with teams before this date, any agreements will be made in principle. However, this isn't the only deadline Pittsburgh faces.
On March 17th, Brown is due a $2.5 million bonus. If Pittsburgh trades him on or after the 17th, they'll face a $21 million cap hit in dead money. This gives the Steelers just a few days to complete a trade and less than a month to negotiate one. While this hurts their leverage, they're in a sellers' market for sure with Brown.
Desirable – Top Spots
San Francisco 49ers
The 2019 season is looking bright for San Fran. Not only will Jimmy Garoppolo be returning, but so will running back, Jerick McKinnon. They'll also be building on a strong base. Despite their less than desirable 4-12 record, the 49ers ranked 16th in yards accumulated and 13th in yards allowed. Adding Antonio Brown could be the spark plug they need.
The offensive-minded head coach in Kyle Shanahan, strong-armed QB in Garoppolo, balanced backfield in McKinnon and Matt Breida, along with the California sun check all of Brown's boxes. So much so he's started giving them some Instagram love.
The 49ers have several 2020, and 2021 picks they could offer to the Steelers in return for Brown. They could also trade backup quarterback Nick Mullens who performed well in 2018. Depending on Pittsburgh's confidence in Ben Roethlisberger and Mason Rudolph, this could be a good return.
Oakland Raiders
Less than 50 miles away from the 49ers (for now) sit the Oakland Raiders. Oakland has built themselves a war chest they could easily open to snatch Brown up in a trade. In the 2019 NFL Draft alone, Jon Gruden has six of the first 100 picks.
While their QB depth chart is lacking at best, they have the assets to draft or sign an upgraded shot caller. Oakland and soon Las Vegas offer an exciting sports market for Brown, along with the team's legacy. The Raiders have a long road ahead of them to return to their previous greatness. However, they have the material for a quick rebuild so long as they draft well.
Brown wouldn't see immediate success in Oakland which is a concern since patience is not one of his attributes. However, being the face of a franchise may be an equivalent consolation prize.
Dallas Cowboys
The 2018 Week 9 trade of Amari Cooper from above mentioned, Oakland Raiders, to the Dallas Cowboys turned out to be a bragging point for Jerry Jones. Prior to the addition of Cooper, quarterback Dak Prescott was completing just 55.9% of his passes. From Week 9 on, Prescott completed 71.63% of his passes.
Dallas is likely losing WR Cole Beasley, due to strategic disagreements. Beasley will be an unrestricted free agent come March. With the loss of Beasley and newly balanced offensive playbook, Brown could be a great systematic fit for Dallas. Cooper would become the option two receiver but still require enough attention to help Brown fight off double-team coverage.
While Prescott struggled to get the ball to former wideout, Dez Bryant, he showed improvements with Cooper this year. Not to mention, Jones and Brown are cut from the same cloth. For a player drawn to glitz and glam, what franchise makes more sense than the Dallas Cowboys?
The Cowboys have a fair amount of cap space, 11th highest in the league, however, they have less picks to move than the California teams mentioned. Pittsburgh's defense could use one of Dallas' cornerstone defenders if they were willing to give them up. This trade is very possible but less likely.
Doable – Good Spots
Indianapolis Colts
The Colts have more cap space than any team in the league and there are few QBs who could get more out of Antonio Brown than Andrew Luck. The Indianapolis sports market is less than desirable and the Colts' locker room doesn't seem right for Brown.
However, if Pittsburgh decides to go for the biggest return and the Colts present the biggest offer, these question marks won't matter.
Seattle Seahawks
The Seahawks have money to spend, and investing in a wide receiver makes a lot of sense for them. Russell Wilson is at his best when his downfield options are strong. Wilson favors his high yards per reception receivers and Brown could be just what Seattle needs to end their drought of mediocrity.
Since making back to back Super Bowls in 2013 and 2014, Seattle hasn't been able to get past the Divisional round. An offense with Wilson and Brown could in part monopolize the NFC. The worry here is less about Seattle's ability to offer a sound trade and more so about Brown's effect on the team.
Seattle already has Tyler Lockett and Doug Baldwin and fits about targets could ensue from Brown. However, the strong veteran presence in their locker room along with Pete Carroll's no-nonsense yet diplomatic approach could make the situation work.
Denver Broncos
John Elway seems to be grasping at straws to get his offense back on track. His latest move was agreeing to a trade in principle, for Joe Flacco. Adding AB would give Denver some much-needed help on the outside. Emmanuel Sanders had a good but not great year finishing with 868 receiving yards. His only peer was Courtland Sutton who had 704 yards.
Adding Antonio Brown could give the Broncos' offense a much needed additional dimension, however, Brown probably wouldn't be too happy to be in the Mile High City. Sports market aside, the incongruency at QB would almost definitely lead to the locker room and sideline fireworks.
Dark Horses – Teams to Watch For
Miami Dolphins
Cleveland Browns
Chicago Bears
Photo Credit
Featured Image courtesy of Keith Allison
Subscribe to get the latest news from TSJ at the TSJ 101 Sports TV YouTube channel!
Play And Win Weekly at ThriveFantasy!