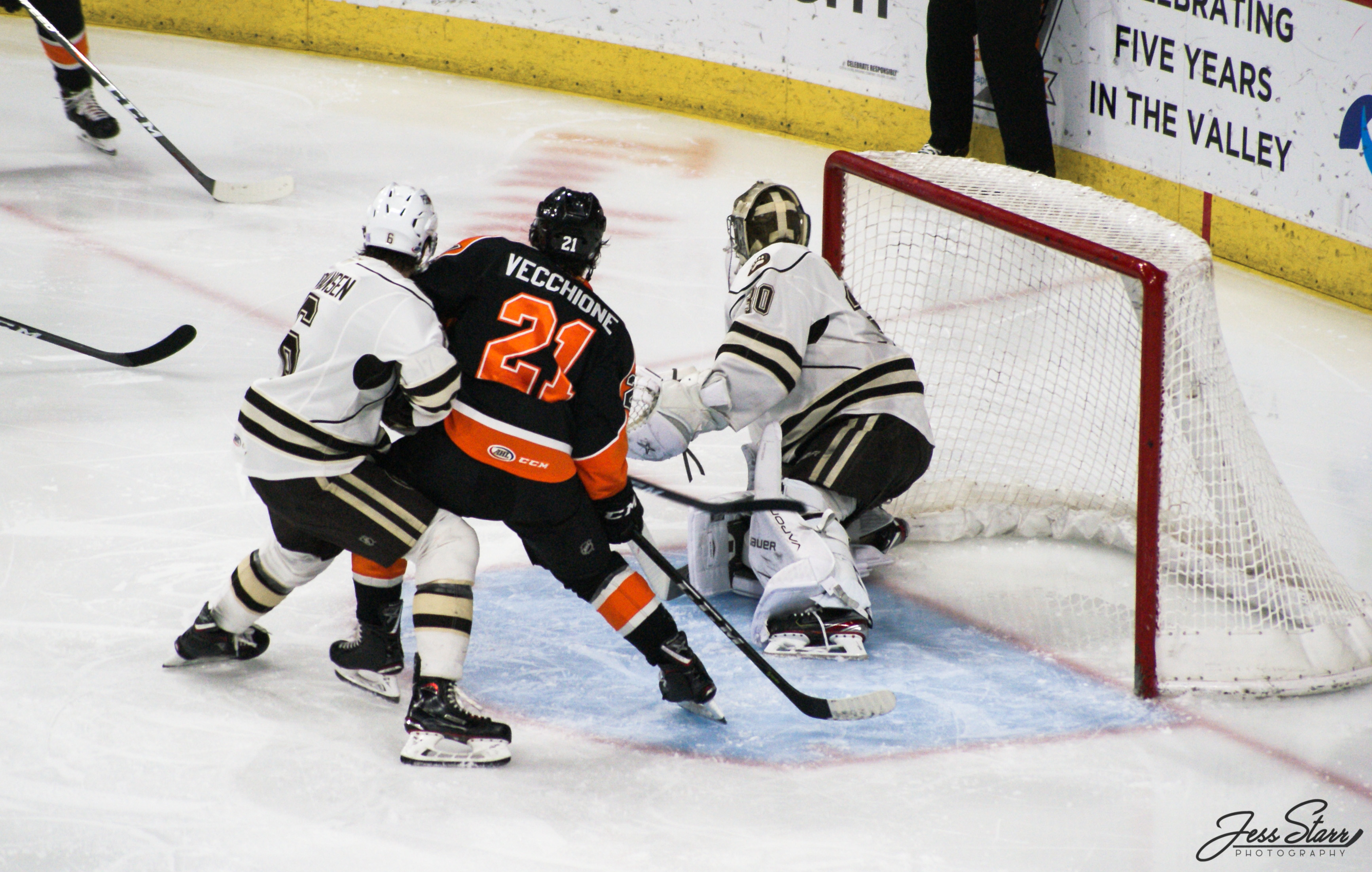 Phantoms Claw Back Against Bears, Unable to Win
Being down 4-1 in the second period didn't deter the Lehigh Valley Phantoms from fighting back. They were able to recover two more goals before eventually falling to the Hershey Bears, 4-3. "It's been hard for us lately, at home," Nicolas Aube-Kubel said regarding the loss. The team's tenacity showed as they struggled back from a three-goal deficit.
The Phantoms had the first goal of the game and the situation looked hopeful. Tyrell Goulbourne was able to get behind Bears goalie Vitek Vanecek to tuck the puck home when he was unable to make a sprawling save. Maybe the team would put an end to the Bears undefeated streak like they tried to the night before. However, Beck Malenstyn would then put two past Brian Elliott to give Hershey a 2-1 lead before the end of the first.
Aube-Kubel scored just over two minutes into the third period to start the Phantoms' resurgence. It was his first goal since returning from injury and his 11th of the season. With five minutes remaining in the period, Mikhail Vorobyev scored, bringing the team within one. Brian Elliott was pulled in the final minute, but the Phantoms weren't able to force the game to overtime.
Going Forward
It hasn't been an easy time for the Phantoms recently. There have been a lot of personnel changes in the team between trades, injuries, and players loaned from the Flyers. Christian Folin and Dale Weise of the Flyers were traded to the Montreal Canadiens in exchange for David Schlemko and Byron Froese. Both players joined the Phantoms.
Vorobyev and Jori Lehtera were also loaned to the Phantoms, giving the team more depth. Head coach Kerry Huffman said, "Now that we have the guys in from the trade and a couple guys back from Philly we should be able to get some work in and get some structure."
Heading into the last part of the season, the Phantoms are trying to make a push for playoffs like all other teams. Huffman knows that they have to be careful with how they go about it. "There's a lot of hockey left here with 25 games, so we've got to be real smart with how we manage it with injuries, freshness and everything else."
Photo Credit
Photo Courtesy of: Jess Starr via Flickr
Follow Us on Twitter
Site: @T101Sports
Department: @T101SportsNHL
Writer: @jmstarr_
Subscribe to get the latest news from TSJ and the TSJ 101 Sports TV Youtube Channel!
Play and Win Weekly at ThriveFantasy!