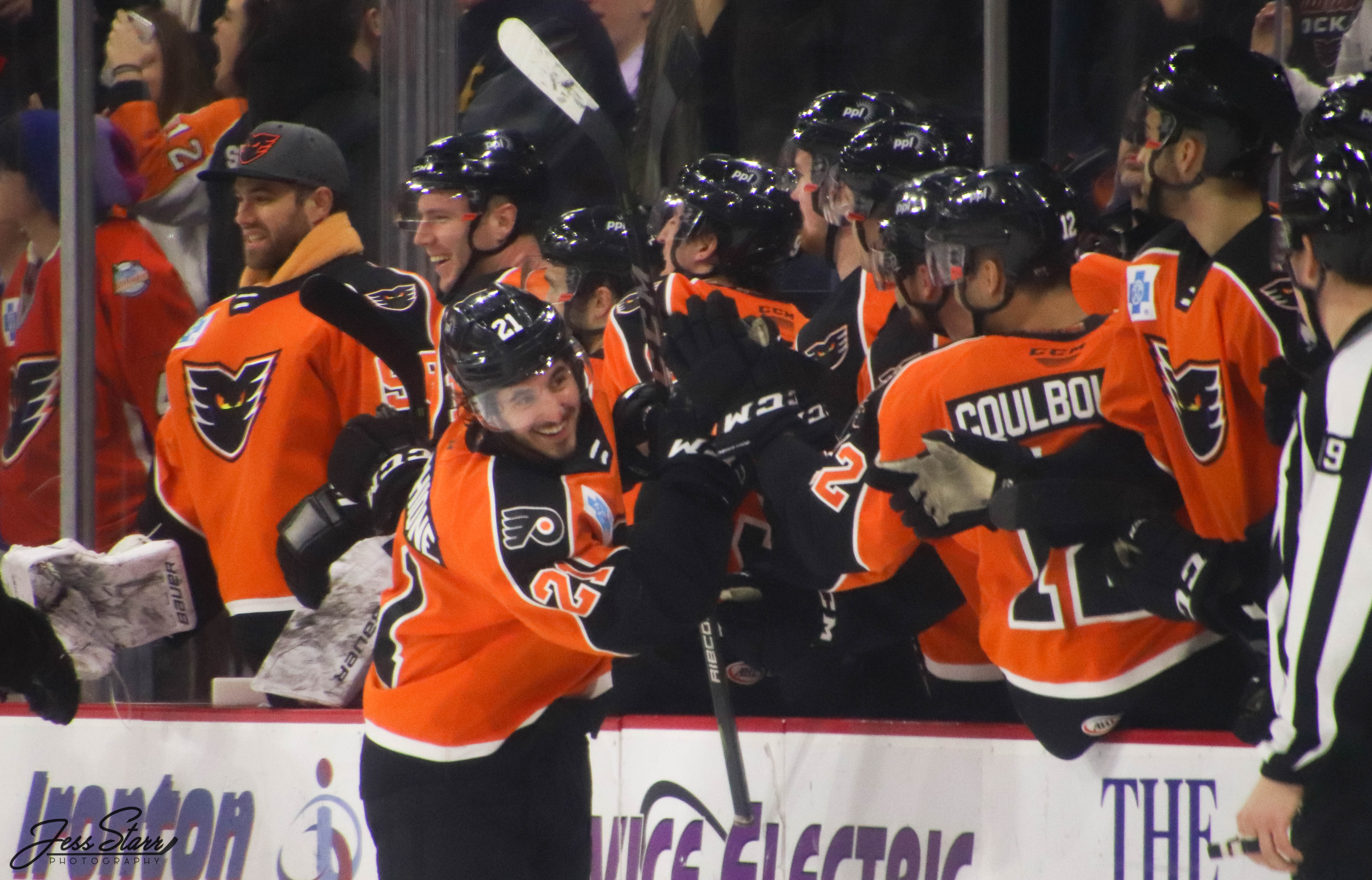 Lehigh Valley Phantoms Registered 3-2 Win Against Charlotte Checkers
Following a pair of losses to the Charlotte Checkers two weeks ago, the Lehigh Valley Phantoms registered a 3-2 win against the current division leader.
The Phantoms' disadvantage was clear during the first period, though the scoreboard remained blank. Shots were 13-3 in favor of Charlotte and a late penalty almost cost them. "We gave too much time and space… we kept chipping the puck into their zone without any speed," Mike Vecchione said regarding the lackluster first period.
After a sluggish first, the Phantoms came roaring into the second period. Colin McDonald opened scoring for the Phantoms followed by both Vecchione tallies. A three-goal lead wasn't safe against a Charlotte team that had been consistent despite a lack of scoring so far. Checkers center Aleksi Saarela responded with two goals in the third period, looking to push the game to overtime. The extra attacker wasn't enough, and the Phantoms held onto the lead.
Halting the Checkers four-game win streak was a priority for a team clawing their way into a playoff spot. "We're in a dogfight right now. The teams above us are obviously rolling. They're playing the best hockey," said Cole Bardreau following his return to action after a 35-game absence due to injury.
Well-Earned Stars
Vecchione was announced the rightful first star of the game with his two-goal contribution. Both a power-play and short-handed goal proved his ability to score in all situations, despite the occasional unluckiness.
When asked about his game, head coach Kerry Huffman said, "[Vecchione] has been good for us all year… he's been real, real consistent. I knew at some point he was going to score goals." Now with 15 goals, Vecchione is just two shy of matching his total of 17 from last season.
Goaltender Alex Lyon received third star of the game after making 32 saves and holding the Checkers at bay. A 5-on-3 goal snuck past Lyon midway through the third, but the net was locked down after that. "There's good players on both sides and he's one of the most valuable players on the ice," Huffman said.
Let's Go Again
The Phantoms and Checkers will be back at it on Sunday afternoon at PPL Center in Allentown, PA. With an early, daylight-savings-leap start time, the game begins at 1:05 p.m. The Phantoms will be looking to grow their just-blooming win streak to three and it won't be an easy win. Huffman said, "We can't have a first period like we did. I think the adjustments we did make helped, but we'll have to be even better than that on Sunday… We're going to have to score on our power play when we have opportunities."
Photo Credit
Photo Courtesy of: Jess Starr via Flickr
Follow Us on Twitter
Site: @T101Sports
Department: @T101SportsNHL
Writer: @jmstarr_
Subscribe to get the latest news from TSJ and the TSJ 101 Sports TV Youtube Channel!
Play and Win Weekly at ThriveFantasy!