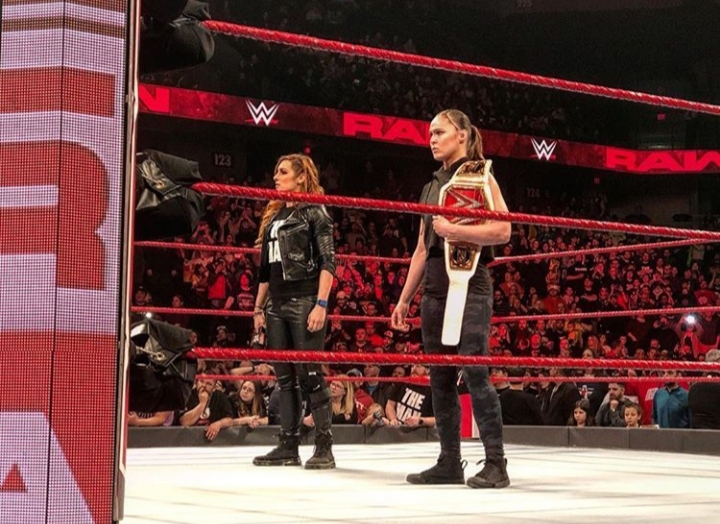 RAW Recap for the February 11, 2019 Episode of Monday Night RAW
Before RAW begins, two matches are announced for Elimination Chamber on YouTube, because there isn't a show that airs on Mondays or Tuesdays that could be used to propel the importance of these matches.
The First of Three Hours
RAW begins this week like it usually does these days with Triple H and Stephanie McMahon in the ring. After stumbling over her words a bit, Steph hypes up the Elimination Chamber pay-per-view.
Becky Lynch makes her way out to the ring. Triple H apologizes to Becky. He says that, since Becky is now clear to wrestle, she will wrestle at WrestleMania and is no longer under suspension.
Stephanie says Becky vs Ronda will be the best match in WrestleMania history, if she can apologize for her actions last week. Becky tells Triple H and Stephanie to shove her apology up her arse. Triple H assures her this is not the issue she wants to battle, so he gives her until the end of the night to decide if she's going to apologize or not.
Women's Triple Threat Tag Team with the Losers Starting the Women's Tag Team Elimination Chamber First: Tamina & Nia Jax vs The Riott Squad vs Bayley
Result: Nia pins Bayley
Sasha Banks leaves the match mid-way, guaranteeing less chances of injury to herself and/or others
Bayley hits a Double Rope Hung Stunner on Morgan and Logan
Nia Jax wins after hitting the Samoan Drop
Following commercial, Finn Balor gives Becky Lynch advice about not letting her pride get the better of her.
Elias is in the ring, ready to sing us a song. A Seth Rollins promo package plays instead.
Back to Elias trying to play, but the Lucha House Party interrupts before he can continue.
Elias says he is playing tonight, and he demands to know why Lucha House Party is out there. Kalisto says they want to walk with Elias.
After his song, Elias asks Lucha House Party what they think. Kalisto says he thinks the crowd think's Elias sucks. Gran Mettalic starts singing. Kalisto plays Elias's guitar. Elias hits Kalisto with a different guitar and runs to the back.
Sonya Deville, Mandy Rose, and the other SmackDown women involved in the Women's Tag Team Elimination Chamber talk about their part in the match.
The Second of Three Hours
One on One: Drew McIntyre vs Finn Balor
Result: Finn wins via disqualification
Before the match, Bobby Lashley comes down to the ring with Lio Rush
Bobby pushes Finn of the top rope, getting McIntyre disqualified
After the match, Lashley and McIntyre beat down Balor. Kurt Angle comes to the rescue. Baron Corbin runs to the ring to attack Angle. Braun Strowman comes out next and you'll never believe what this sets up.
6-Man Tag Team: Braun Strowman, Kurt Angle, and Finn Balor vs Drew McIntyre, Bobby Lashley, and Baron Corbin
Result: Balor pins Lashley
Balor hits the Coup De Grace for the win
Kevin Owens joins the cast of The Big Lebowski when he cuts a promo from a bowling alley. He explains what he's been up to since leaving WWE to have surgery.
Women's One on One: Ruby Riott vs Nikki Cross
Result: Riott pins Cross
Ruby hits the Riott Kick to win, showing us there's no chance she's winning at Elimination Chamber
Seth "Goshdarn" Rollins takes to the ring amongst "Burn it down" chants from the live audience. Seth incorrectly calls 2018 "this year" when he talks about his accomplishments last year. He says that despite taking six F-5's, he is still ready for Brock Lesnar.
Everyone's favorite walrus, Paul Heyman, walks out to have a nice chat with Seth. He teases the crowd with a Brock Lesnar appearance, but, SuRpRiSiNgLy, he's not there. Seth says Brock's lack of respect for wrestling is an insult. Paul E Dangerously says Brock beating Seth is not only a promise, it's a spoiler. Seth says he will beat Lesnar, and that's a spoiler.
Dean Ambrose comes down to the ring. He tells Seth he has only one thing to say to him: "Slay the Beast."
The Third of Three Hours
One on One: Dean Ambrose vs EC3
Result: Ambrose pins EC3
Michael Cole keeps talking about what great shape EC3 is in
Corey Graves disses Jonah Hill
Ambrose wins with a roll-up
RAW Tag Team Championships Tag Team: Roode & Gable vs The Revival
Result: The Revival win are the new RAW Tag Team Champions
Gable hits a Moonsault from the top rope to the outside on both Dawson and Wilder
Gable attempts a dive form the middle rope, but Dawson catches him and performs the Shatter Machine with Wilder
Wilder pins Gable for the win. The Revival are the new RAW Tag Team Champions
Becky Lynch takes to the ring after The Revival's match. Stephanie McMahon and Triple H join her in the match. Stephanie and Triple H assure Becky that they want her to face Ronda, but only if she apologizes.
Becky apologizes to them, but she says no one will stop her from beating Ronda Rousey.
Triple H and Stephanie leave, but Becky seems skeptical. They congratulate her and tell her good luck.
Ronda Rousey comes down to the ring. Just before she fights with Becky, Mr. McMahon comes out to the stage.
Mr. McMahon says he doesn't like Becky's bad attitude. He says Becky isn't the man; He is the man. Vince suspends Becky for sixty days, which runs past WrestleMania. He names Charlotte Flair Ronda's new opponent.
After this weekly kick in the d*ck goes off air, Becky and Ronda team up to fend off the Riott Squad when they rush to the ring.
Media that is Social
If I don't plug my Twitter, they will come for my family…
Follow TSJ101Sports on Twitter: @T101Sports and @T101SportsWWE
Follow me, the writer, on Twitter: @JordanPiekarski
Photo credit to WWE via Instagram