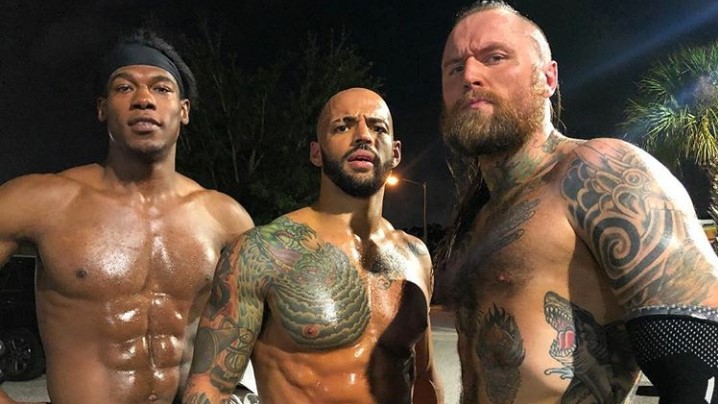 Halftime Heat 2019 Final Results and Grades
I know what you're probably thinking. You're thinking, "why are you going to grade Halftime Heat, a show with only one match on the card?" That's a very good question. My answer is simply this; "Because I can."
For the first time in twenty years, WWE is hosting a special event during the SuperBowl halftime show. If Maroon 5 isn't tickling your fancy, then allow a few stars of NXT to entertain you while you take a break from Tom Brady throwing bullets and Tony Romo predicting the future.
This special event takes place in the WWE Performance Center. As you surely know by now, this event only has one match on the card. Vic Joseph and Shawn Michaels are on commentary for the match.
Does Halftime Heat live up to the hype? Let's find out with the first and only grade I will be giving this show.
6-Man Tag Team: Velveteen Dream, Ricochet, and Aleister Black def. Johnny Gagano, Tomasso Ciampa, and Adam Cole BAY BAY
Final Grade: A
If you ever want to see what the physical representation of what a sugar rush for a five-year-old is, this match perfectly illustrates it.
Non-stop action from opening to closing bell. Super Kick Party in full swing. I think there was more flips than actual mat-based wrestling; The Revival are crying somewhere in the distance.
All three members of team Flippy Kicks (Dream, Ricochet, Black) hit all their finishers in quick succession. But one last Purple Rainmaker gave Velveteen Dream the deciding pinfall.
Overall Halftime Heat 2019 Final Grade: A
Did this year's edition of Halftime Heat outshine its 1999 older sibling? Of course not; Mankind pinned Rock to the floor with a forklift. But does that mean 2019's version was any less entertaining? Of course not. If you have the chance to push aside roughly half an hour to watch some exciting, wall-to-wall action based high offense wrestling, then be sure to hunt this match down and give it a watch.
Social Media
Halftime Heat was better than Maroon 5…
Follow TSJ101Sports on Twitter: @T101Sports and @T101SportsWWE
Follow me, the writer, on Twitter: @JordanPiekarski
Photo credit to WWE via Instagram