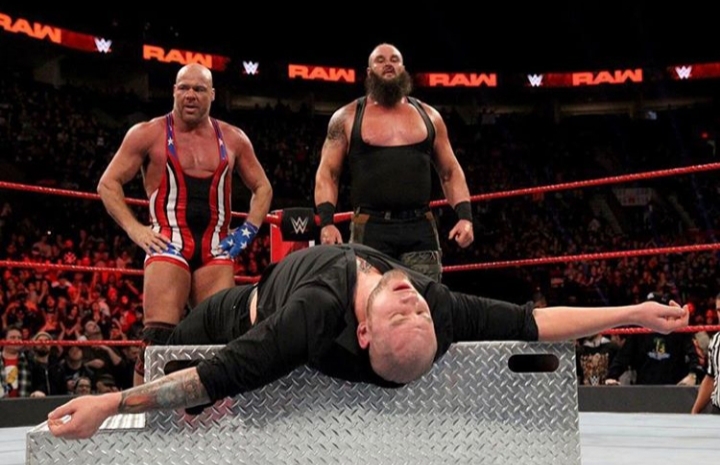 RAW Recap for the February 4, 2019 Episode of Monday Night RAW
Hour One
Show opens with the inventor of women's wrestling, Stephanie McMahon. Before she has the chance to speak, Becky Lynch interrupts her. Stephanie does that weird thing with her voice that makes it a few octaves lower and introduces Becky.
Stephanie praises Becky for being able to smile in Ronda's face while she insults her. Becky says she should be smiling because she's going to beat Ronda at WrestleMania. Steph points out Becky's knee brace and asks if she's ok. Becky insists she's fine. Steph says she wants Becky to face Ronda, but she can't allow her to compete if she doesn't get cleared by WWE doctors. Despite further warning from Stephanie, Becky refuses to get checked out by a doctor. Because of her lack of cooperation, Stephanie suspends Becky until she is cleared by a WWE doctor. Becky attacks Stephanie. Referees run down to the ring to separate the two and Becky is escorted to the back.
After commercial, Becky Lynch is being led out of the building by security. Ronda Rousey approaches her and tells her Becky tests her limits of being professional in the work place every time she sees her. Her robotic monotone criticizes Becky for getting herself suspended and jeopardizing the main event of WrestleMania.
Women's One on One: Ronda Rousey vs Liv Morgan
Result: Rousey submits Morgan
Ronda makes Liv submit with the Armbar
Ronda cuts the greatest promo ever and challenges someone else to fight her.
"What, who else here has a problem with me? All you guys here are… All you guys here are sitting in here in the safe of your seats and booing me. You guys here at me glaring at me… Someone do something, huh? Yeah. Come on, Sarah, you wanna live all tough? You wanna skin me like one of your rabbits? Come on!" -pure poetry, Ronda Rousey
Sarah Logan rushes the ring and accepts the invite.
Women's One on One: Sarah Logan vs Ronda Rousey
Result: Rousey submits Logan
Sarah rushes Ronda right away and tackles her into the corner
Sarah deadlifts Ronda out of an Armbar and slams her to the mat
Ronda submits Sarah with the Armbar
After the Riott Squad arrive backstage following Sarah's match, Jane Doe asks Ruby why she ran away from Ronda Rousey. Ruby says she didn't run away. She says she can beat Ronda for her Women's championship, but at a later time because she needs to tend to her friends because that's what a good friend does and Ronda has no friends.
Charly Caruso interviews Bayley and Sasha Banks backstage. She asks them if their loses to Ronda Rousey will prepare them for Nikki Cross and Alicia Fox. Bayley says she and Sasha are stronger as a team. Sasha says they will win the Tag Titles. Alicia Fox and Nikki Cross interrupt and say that Sasha and Bayley won't make it to Elimination Chamber because they will lose the qualifying match.
Fatal Four-Way Tag Team: Heavy Machinery vs The Revival vs Lucha House Party vs The B-Team
Result: Wilder pins Dallas
Otis hits the Caterpillar
Lucha House Party hit twin Tope Suicida's to the outside
The Revival win with the Shatter Machine
Backstage, Curt Hawkins says that he and Zack Ryder's hopes of winning as a team are hopeless. Ryder says he's sick of being a loser after being held down for thirteen years. Ryder says that he promises Hawkins they will break his losing streak soon.
Kurt Angle makes his way to the ring. He says he's lived by the "three I's" for twenty years. Angle says he's accomplished everything there is to accomplish in WWE. He says he beat everyone there is to beat, but knows there is one opponent he knows her can't beat: Father Time.
Baron Corbin cuts Kurt off. Corbin calls Kurt old, to which Angle responds with a threat to break his ankle.
Drew McIntyre comes out next. He says that people used to look at Kurt and see a warrior, but he saw fear in his eyes. McIntyre says Kurt will always keep showing up until someone does something about it.
Braun Strowman arrives and helps Kurt fend off Corbin and McIntyre. A tag match is set up for later in the night.
Second Hour
A promo airs to hype up Seth Rollins vs Brock Lesnar.
Women's Elimination Chamber Qualifying match: The Boss N' Hug Connection vs Crazy Like a Fox
Result: Bayley pins Fox
Alicia and Nikki attack Sasha and Bayley before the match, during their entrance
Sasha spends the entire match on the apron. Therefore, she doesn't seriously injure anyone or herself
Bayley gets a surprise pin on Alicia
Jeff Jarrett and Road Dogg arrive to the ring. No, it's not 1995, but they sing "Along With My Baby Tonight" and get the words right this time. Elias interrupts the nostalgia trip. He asks Road Dogg why he isn't draining SmackDown's viewer ratings like he usually does.
One on One: Jeff Jarrett vs Elias
Result: By the grace of God, Elias pins Jarrett
Jarrett, despite pushing fifty, does really well in this match
Elias hits Drift Away and pins Jarrett
After the match, Road Dogg tells Elias to "Suck It". Jarrett hits Elias with his guitar; The guitar doesn't shatter, unfortunately
Dana Brooke tries apologizing to Natalya about the way she was speaking last week. Natalya ignores her, which prompts Dana to challenge her to a match next week. Natalya flexes on the haters by showing off her Apple Air Pods, which were the reason she couldn't hear Dana.
Apollo does something with Akam and Drake Maverick.
Charly Caruso interviews Finn Balor backstage. Finn says that, despite people telling him to stop fighting, he will always bring the fight every week.
The One with the Third Hour
Bobby Lashley tells Finn Balor he needs to fight people his own size. He says if he can beat Lio Rush, he'll earn a title shot.
One on One: Lio Rush vs Finn Balor
Result: Balor pins Rush
Rush and Lashley attack Finn before the bell
Finn hits the Coup De Grace for the win
"A Moment of Bliss" makes a comeback with Alexa waiting on the stage. She introduces her guest for the show, EC3. Bliss takes a liking to the "Top One Percenter" right away, stating he's got everything.
"You've got everything going for you! You're young, you're good looking. And from what I hear you have a large… Bank account, which makes you a hot commodity!" -Alexa Bliss
Alexa asks EC3 which brand he is choosing to join and vows to help him in his journey to find his voice. But before EC3 can respond, Nia Jax and Tamina come out. Nia says no one cares about Alexa's talk show and they should be talking about her winning a bunch of stuff.
Dean Ambrose comes onto the stage because someone put Universe Mode on random. Ambrose says it's obvious Nia has a huge crush on him. He says that she needs to stay away from him. Ambrose points out EC3 and asks who that is. Alexa tells him it's EC3 in a weirdly defensive manner. EC3 begins a rebuttle, but Ambrose slaps the mic out of his hand.
Ambrose asks what happened to EC1 and 2, and if EC3 was a fan of Creed, which prompted EC3 to slap him and make a match.
One on One: EC3 vs Dean Ambrose
Result: EC3 pins Ambrose
Corey Graves hints at EC3 possibly going home with Alexa Bliss after his victory.
Charly Caruso completes the hat trick and interviews Kurt Angle backstage. Kurt says he and Braun Strowman will destroy McIntyre and Corbin.
Mojo Rawley's mental state slowly unravels backstage as he tells his reflection to stop being a team player.
Tag Team: Braun Strowman & Kurt Angle vs Baron Corbin and Drew McIntyre
Result: Corbin wins via disqualification
After the match, Braun Strowman Chokeslams both Corbin and McIntyre on steel steps
Social Media
Donate money to aid us in the search for EC1 and EC2…
Follow TSJ101Sports on Twitter: @T101Sports and @T101SportsWWE
Follow me, the writer, on Twitter: @JordanPiekarski
Photo credit to WWE via Instagram