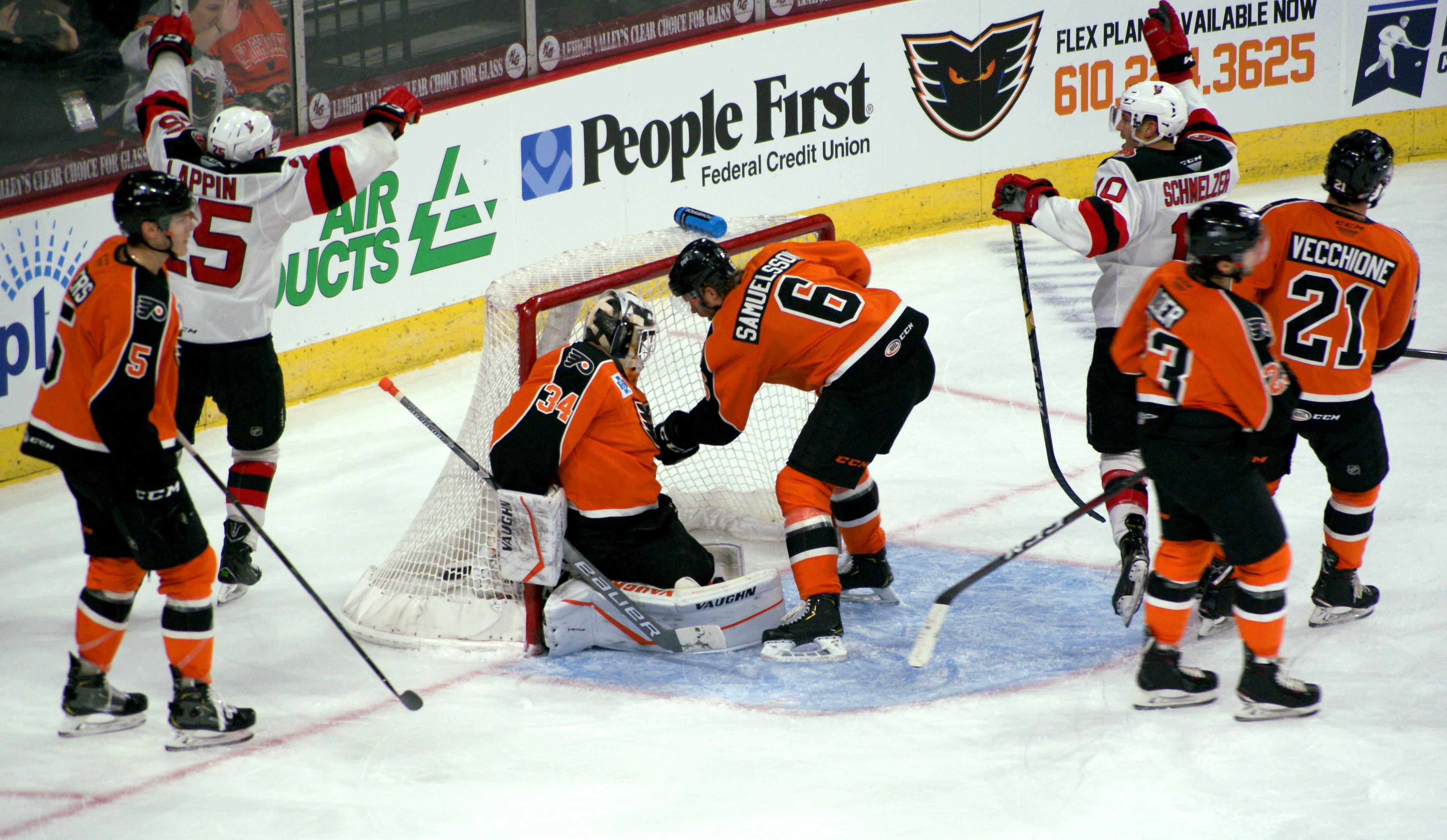 Lehigh Valley Phantoms Loss to Binghamton Devils, 2-1, Still Shows Strength
It seemed appropriate that LMFAO's "Shots" played during a shot-dominant Phantoms' loss to the Binghamton Devils, 2-1. It truly was not for lack of trying. The team outshot the Devils, 31-19, with a team-high four shots from defenseman Philippe Myers.
Both Devils goals came in the second period and the Phantoms hadn't answered yet. "Not scoring for two and a half periods does get frustrating," said Zach Palmquist. While the shots were high, the Phantoms weren't able to break through Devils' netminder Evan Cormier until late.
Palmquist brought them within range of the win, scoring with close to seven minutes remaining in the third period. "I didn't really have much room to make a play, so I thought I'd put it on net," he said regarding his goal.
With the ice tilted in the Phantoms' favor during the third, the tying tally was inevitable. Alex Lyon was waiting for the signal to leave the ice. However, the slashing penalty on Mikhail Vorobyev stunted the Phantoms' push in the final moments of the third, unable to pull the goaltender for the extra attacker.
Goaltending Showdown
It goes in the record books as a loss, but Lyon's strength in net kept it to just two goals for the Devils. There isn't much wasted movement in his goaltending style, making it difficult for the opposition to find space to score. Lyon has a 2.81 GAA through 16 games—the lowest GAA of the Phantoms' goalies this season. He has sole possession of the starting role with Carter Hart staying with the Philadelphia Flyers for the foreseeable future. Now that he's healthy and back to playing, Lyon said, "It is really nice to be in a rhythm and have a little bit of consistency."
Cormier's ability has shown with wins in the last three games, one of them a shutout. Palmquist commented on the team's play style against Cormier: "It's the same approach with any goalie. Obviously, a rookie goalie, you want to get as many shots as you can. He's not used to a situation like this… anytime you can get a large volume of shots on him is always good."
Social Media
Follow Jess on Twitter: @jmstarr_
Photo Credit
Photo Courtesy of: Jess Starr