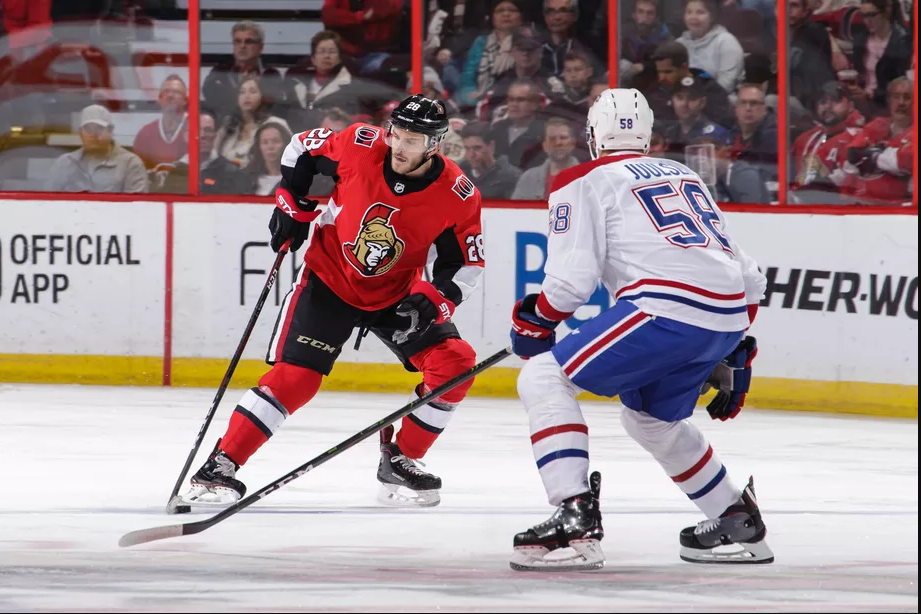 Bruins Exchange Cody Golubef to Acquire Paul Carey from Ottawa
Don Sweeny, the Boston Bruins General Manager, announced on January 11 that the Bruins have acquired Paul Carey from the Ottawa Senators. They acquired the forward in exchange for defenseman Cody Goloubef. Carey will be a part of the Providence Bruins, the Bruins' AHL afiliate team.
Paul Carey
Paul Carey has played in five games with the Senators this season. Additionally, he has played 29 games with their AHL affiliate Belleville. There, he has scored five goals, and 22 assists. All for a total of 27 points. Carey is a six-foot-one, 200 pound forward. During the 2017-18 season, he was with the New York Rangers, where he established personal NHL career highs. He had a total of seven goals and assists for a total of 14 points in 60 games.
Over the six years that Carey has been with the NHL, he has played with Ottawa, New York, Washington and Colorado. During said time he acquired eight goals, eight assists for 16 points in 97 appearances. At the AHL level with Belleville, Hershey, Providence and Lake Erie, the forward has posted 84 goals, 125 assists for a total of 209 points in 316 AHL games.
Before the NHL and AHL, Carey was a student at Boston College from 2008 to 2012. During said time he won the NCAA Championship in 2010 and 2012. In a total of 147 college games, he tallied 45 goals, 41 assists for 86 goals. Before then, he was with Thayer Academy in 2003-05. The Boston, Massachusetts Native was originally selected by the Colorado Avalanche in the fifth round (135th overall) in the 2007 NHL Entry Draft.
Cody Colubef
Colubef had appeared with the Providence Bruins this season, attaining three goals and nine assists. The previous season, Colubef was with the Calagary Flames AHL affiliate- Stockton Heat. There he recorded eight goals and 12 assists for a total of 20 points in 46 games. In 2016-17, he posted five assists in 33 NHL games with the Colorado Avalanche. In the same season, he added two goals and six assists in 18 AHL games with the San Antonio Rampage and Cleveland Monsters.
The Mississauga, Ontario native was originally selected by the Columbus Blue Jackets in the second round (37thoverall) of the 2008 NHL Entry Draft.
Social Media
Follow Anita on Twitter: @Arty_Anita or @Hockey_Writer
Photo Credit
Photo Courtesy of Photo by Jana Chytilova/Freestyle Photography/Getty Images