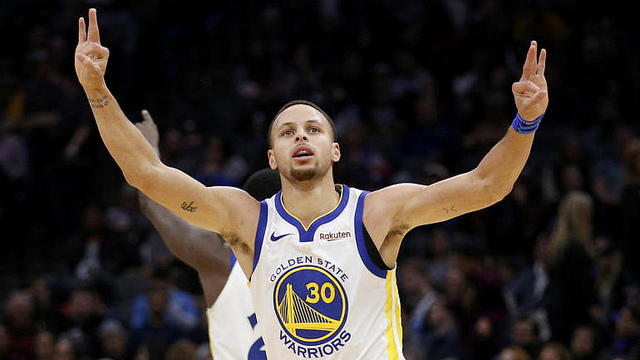 Warriors Outlast Kings 127-123 in Record Setting Three Point Duel
If you didn't know any better, you'd be led to believe that you were witnessing a 3-point shooting competition between the Golden State Warriors and Sacramento Kings last night. NBA All Star weekend doesn't take place until next month, so don't be fooled. As a result of the 3-point barrage from both teams, they combined for an NBA record of 41 three pointers. Eight starters from both teams also scored in double figures. However, the Warriors were able to capitalize by finishing the first and fourth quarters with the lead. They outlasted the Kings in Sacramento 127-123.
The Warriors Have Not Played Their Best Basketball Yet…
Stephen Curry led the Warriors in two categories. His 42 points, which he hit 10 three pointers, grabbed 5 rebounds and totaled 2 assists, served his team well. Not to mention, he also added suspense by saving his best effort for last, scoring 20 of those points in the fourth quarter.
However, the one stat that's omitted from the tally is the one that bothers his head coach Steve Kerr the most. Curry fueled the Kings offensive blitzkrieg by supplying them with opportunities by committing six turnovers. Every player in the Warriors starting lineup committed a turnover with the exception of Kevon Looney.
Ironically, he had the least impressive outing of the five, finishing with 5 points, 7 rebounds and 3 assists. Kevin Durant (29 points) and Klay Thompson (20 points) both drained three shots from long range a piece. Draymond Green also fell just shy of a triple double, finishing with 12 points, 7 rebounds, and 7 assists. The Warriors play their best basketball when he delivers solid performances like these consistently.
Long Live the Kings…
Do not overlook this effort from the Kings. Although they fell short in this clash with the defending NBA champs, it was not a bad one by any means. The Kings went toe to toe with the Warriors and controlled the lead at the conclusion of the 2nd and 3rd quarters. They also received good contributions from their young guys.
Buddy Hield displayed his hot hands by sinking eight three pointers (32 points) from downtown. Small forward Justin Jackson had a career high of 28 points and 5 rebounds. Willy Cauley Stein embraced his inner All Elite fandom by going Double or Nothing with (14 points, 13 rebounds and 6 assists).
Will The Knicks Play Spoiler?
Next on the docket for the Warriors will be a Knicks team that's been on quite the skid as of late. They are coming off a big win versus a Los Angeles Lakers team that's playing without LeBron James. Can they play spoiler at Oracle and extend their winning streak to two?
Will the Warriors carry the momentum from this win and take advantage of the two days of rest? They will need to be at their best to defend their home court in order to avoid a loss to a team that many feel are the front runners in the Zion Williamson sweep steaks. Will the Dubs be able to get it done? Tune in to find out!
Written by Todd Smith
Photo Credit James Anderson via Flickr