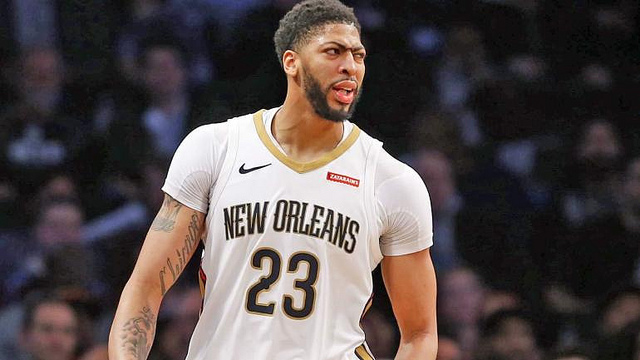 It's Time For The Lakers To Trade For Anthony Davis
For a good while, things were going right for the Los Angeles Lakers. With the acquisition of LeBron James, a solid young core, and another max contract slot for 2019, the Lakers looked poised to build a dynasty. Unfortunately, the tables have turned drastically.
The Play Without James Has Been Atrocious
The Lakers are currently 21-18 and are now the 8th seed in the Western Conference. Being three games above .500 is pretty underwhelming for this team. The Lakers are 1-4 without James so far, including a loss to the tanking New York Knicks. Not only are they without James, but Rajon Rondo will not be back for at least two more weeks. Also, Kyle Kuzma has a lower back contusion that kept him out of Friday night's game.  
There needs to be some sense of accountability within the team. It all starts with Luke Walton. The pressure from fans and within the organization has been growing heavier and heavier by the day. Magic Johnson and Rob Pelinka didn't hire Walton. If the Lakers brutal play continues, Walton might be unemployed before we know it. 
No Guarantee Of A Free Agent In 2019
Six months ago, many Laker fans including myself were convinced another superstar free agent would join the Lakers in 2019. Needless to say, I think that is no longer true. Kawhi Leonard is having a sensational year in Toronto. Kevin Durant went as far as to call the environment around LeBron James "toxic." Jimmy Butler seems to enjoy Philadelphia, but not coach Brett Brown. Klay Thompson also doesn't appear to be leaving the Bay Area anytime soon and has said on multiple occasions he would be willing to take a pay cut to keep their core together. 
Instead of overpaying for a player like Khris Middleton this offseason, the solution is simple. Call New Orleans and let them take whoever they want that isn't LeBron James. Ideally if the Lakers could hold on to Kyle Kuzma that would be great, but if trading Kuzma means Anthony Davis is going to be with the Lakers, I know I definitely wouldn't be opposed to the idea. 
What It Will Take For The Lakers To Land Anthony Davis?
This is where things start to get very tricky. Realistically, I don't think the Lakers can meet the Pelicans' demands. It's probably going to take a three or four team deal to get something done. Why not the Washington Wizards? Bradley Beal has been a name floated around in trade rumors for months now. If the Pelicans were to get a package of Bradley Beal, Brandon Ingram, Josh Hart and 2 first rounders, that might just be enough. They would have a solid defensive backcourt in Jrue Holiday and Beal. 
If the trade happens before the February 7th trade deadline or this offseason, the Lakers desperately need a second star. James is now 34 years old and the Lakers can't rely on him to be playing over 36 minutes a night on a regular basis. A duo of James and Davis also would give rival NBA coaches and executives nightmares. The next great Lakers dynasty is just a few phone calls away. The ball is in your court now Magic Johnson.
Photo Credit
James Anderson via Flickr