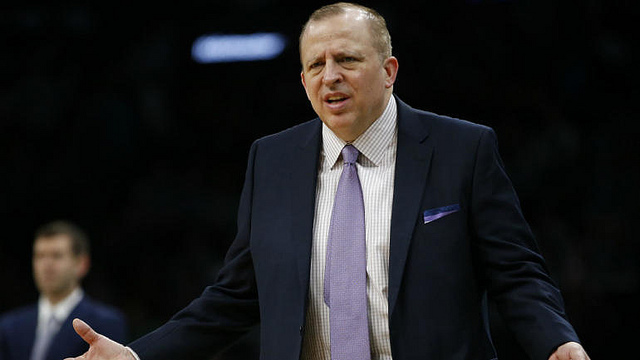 Timberwolves Fire Tom Thibodeau After Defeating Lakers 108-86
It's Sunday afternoon in Minneapolis. An abnormally warm January weather flows through the city. The Minnesota Timberwolves just pulled off a matinee blowout 108-86 win against a Lebron James-less Los Angeles Lakers squad. The win pushed the team from 14th to 11th in the Western Conference with the win. The Timberwolves are now only two games away from the 8th seed.
Head coach and President of Basketball Operations Tom Thibodeau sits down in his office after the game where he hears the news. After the game Sunday, the Timberwolves relieved Thibodeau from his duties in both roles. The long saga of will they or won't they has finally come to an end. Depending who you ask, this should have happened weeks ago right after the Jimmy Butler trade.
Thibodeau started on a warm seat at the beginning of the year. Yes, he helped the Timberwolves break their playoff drought the year before, but it wasn't pretty or completely effective. His deal to get Butler exploded in his face after one season and he also possibly waited too long to pull the trigger on the trade. Luckily the two main players Minnesota got in return, Robert Covington and Dario Saric, have worked out better than expected.
Despite that, he didn't use the team he put together in the right fashion. Bad rotations, reluctant to change to the modern NBA playing style, and heavy minute stretches for players. Even players were annoyed by his yelling antics. The veterans on the team like Jeff Teague, Derrick Rose, and Taj Gibson on numerous occasions this year have called out Thibodeau on one thing or another that he does inefficiently.
Why The Timberwolves Chose To Fire Thibodeau Now?
Some head scratching can be involved with this since it came right after a blowout win to the Timberwolves unofficial rival the Lakers. The team still has a fighting chance to get into the playoffs. So why does owner Glen Taylor fire him now and not the offseason? Here are some possible ideas.
Within the next few weeks, the Timberwolves have a very important time of renewing season tickets for the already season ticket holders. The season ticket holders are the primary reason Target Center still looks remotely full. A majority of the fan base is over Thibodeau and his demeanor he carries over the team. They have been wanting his head since the Butler trade. If Taylor didn't want the franchise to go too much farther south with the fanbase, he needed to swallow his wallet and fork over the remaining $30 million on Thibodeau's contract.
Thibodeau Had Player Problems During Timberwolves Tenure
Another idea is because Thibodeau didn't gel with the Timberwolves' two cornerstone pieces in Andrew Wiggins and Karl-Anthony Towns. Towns has taken a turn over the past month on both sides of the ball. However, that has more to do with Butler being gone then Thibodeau doing anything new to his coaching strategy. He is now the undisputed first option and it shows that now by the way he carries himself as an individual on the court.
Wiggins has been hot and cold the entire time Thibodeau was the Timberwolves coach. When the Timberwolves still had the late Flip Saunders and even interim coach Sam Mitchell, Wiggins flourished. Two supportive coaches that new Wiggins had a special kind of personality that needed to be cautious with and just to allow to play instead of barking in his ear.
Coaching Direction
They have already stated that long time assistant coach and son to Flip Saunders, Ryan Saunders, will be the interim coach for now. Taylor has stated he wants to ride with Saunders for the rest of the season and see if he can get into the playoffs still. Solid choice for a couple of reasons. First, he has been the choice of by the fanbase to takeover the squad. Taylor is finally appeasing to the fanbase, so that may bring in more people again.
Also, the players love him. Saunders is said to be exactly like his dad when it comes to handling his players and other coaching staff. The NBA is now a league where players have to have a personal connection with the coach as well as the professional connection. Saunders has been getting praise from current and former Timberwolves players alike.
One other thing is that he is a hometown hero. Minnesota doesn't pump out basketball talent to often, so when it doesn't and those talents decide to come back to Minnesota, the fanbase cherishes them even more. Back up point guard and former Apple Valley, MN star Tyus Jones is a prime example of that.
Other Coaching Options
Saunders is just interim though. He'll probably will remain that for the rest of the season. This offseason will be the real search. Some options have already hit the table though.
One of the first names that was thrown out before Saunders was declared interim was recently fire Chicago Bulls coach Fred Hoiberg. Hoiberg has a history with the franchise. He was a former assistant GM for the Timberwolves for a little bit when he retired from playing, and always remained close to Flip Saunders. He had stated before he passed that he'd prefer Hoiberg or current Sacramento Kings coach Dave Joerger to take over the duties for him. Joerger has had some surprise success this year with the Kings, so his name is pretty much off the table.
Another name that has been already leaked out is current assistant coach for the Philadelphia 76ers Monty Williams. Williams is a guy that has worked with or played under various great basketball minds like Gregg Popovich, Mike Krzyzewski, Billy Donovan, and Nate McMillan. He is another player's coach that young guys love to play for. Williams helped groom Anthony Davis in his five years as head coach in New Orleans.
A last name that has swirled around Stan Van Gundy. He is probably the best basketball coach free agent on the market now. Looking into that should also be a factor that Taylor should also look into. Granted that was the thought process before with Thibodeau.
Side Ramifications Of The Timberwolves Firing Thibodeau
Thibodeau to go along with the coaching job also lost his President of Operations spot as well. That also puts GM Scott Layden's future with a team in a haze. He didn't make the splash the franchise thought he would. Coming from the San Antonio Spurs as an assistant GM, he had high hopes of doing well. Instead, he let Thibodeau rule like a lame dictator.
Right now, there are murmurs that Layden could be gone and former NBA champion and all star Chauncey Billups could takeover. He was a former Timberwolves player that Glen Taylor still tries to keep in contact with. Billups though has been getting GM and president offers from numerous teams in the league, but he doesn't plan on leaving his studio job with ESPN.
Moving Forward
Once again the Timberwolves are in another front page fiasco, but hopefully this is the last time of the season. They got rid of one locker room cancer in Butler, and now they got rid of the enabler of it all in Thibodeau. If this benefits the team right away this season, we will all have to wait and see. As of now, Minnesota fans can finally rest their frustrations on this point of the franchise's history.
Photo Credit
James Anderson via Flickr