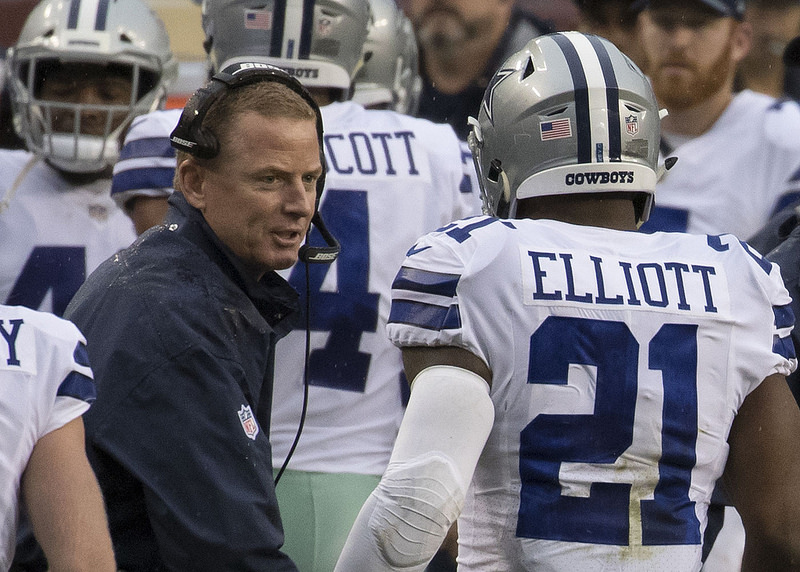 Cowboys Take On Seahawks At Jerry's World In The NFC's Wild Card Round
If there's a team starving for playoff success, it's the Dallas Cowboys. The Cowboys are one of the most successful franchises in the NFL. They've won five Super Bowls and have reached the final dance eight times. The Dallas faithful will be the first to tell you that the present is nothing like the past. The Wild Card round is a chance for the Dak Prescott era to officially take off or for Russell Wilson to guide his Seahawks to another deep postseason run.
Dallas has only won two playoff games since 1996 and will be looking to win their first since 2014. On the other side, we have the Seattle Seahawks. A franchise that's not as prestigious as the Cowboys but has been quite successful in the Russell Wilson era. Seattle has won a Super Bowl and owns an 8-3 record in the playoffs with Wilson at the helm. Wilson is clearly the more experienced quarterback, but that doesn't mean Prescott isn't ready for this moment.
Let's break down what each team needs to do win in this NFC Wild Card round.
What Dallas Needs To Do To Win The Game
Ezekiel Elliott Has To Be A Big Part Of The Offense
It's not a mystery that the Cowboys have to run the ball effectively to win this game. Ezekiel Elliott is the Cowboys' best weapon, so he has to be put to good use. The running back finished with 1,434 rushing yards, six rushing touchdowns on 304 rushing attempts. According to NFL GSIS, Elliott is the only running back this season to have eclipsed 300+ rushing attempts, so there's a chance that Jason Garrett has finally figured out how important the running game is to this offense.
Dak Prescott is obviously the leader of the offense, but Elliott is the engine. Elliott will help bring balance to the offense and open things up for Prescott. Seattle's rushing defense is ranked 13th in the league so it won't be easy to run against them. This is where Garrett has to learn to stick with it even if it's not working early in the game.
Dak Prescott Can't Afford To Turn The Ball Over
What can kill a team in the playoffs is turnovers. Dak Prescott has to avoid turning the ball over, and he can do that by not trying to do too much. It's normal for quarterbacks to try to do too much in a playoff game, but this is where Prescott has to be careful. Dallas possesses a stingy defense that can keep them in the game and that's something he needs to remember before trying to play hero ball.
Playing hero ball can mean running with the ball and fumbling it. It can also mean avoiding taking a sack and then throwing an interception. Losing the ball has significant consequences in the postseason which is important for Prescott to remember.
The Defense Has To Be Ready To Win The Game
We've heard all year about how impressive this stud Dallas defense has been all season. This is their time to show the world that they're an elite unit and can step up when it matters the most. There's a big chance that this game could come down to a crucial defensive stop. This defense has to be ready to win the game or risk losing. The offense will put up points, but a shootout isn't in Dallas' best interest.
The Cowboys' defense will have to step up big against Seattle's offense. Don't be surprised to see this game come down to the wire. Can this defensive unit get the big stop on fourth down or cause a turnover to win the game? They might have to, and I think they will.
What Seattle Needs To Win The Game
Russell Wilson Has To Get Everyone Involved
Chris Carson, Doug Baldwin, Tyler Lockett, Ed Dickson all have to get involved. The playoffs require everyone's best game. Seahawks' quarterback Russell Wilson has to utilize his weapons to the best of their abilities. When you're playing a tough defense like Dallas', it's going to require to make every single player on offense a threat.
Wide receivers Tyler Lockett and Doug Baldwin will have to go deep at least a few times in this game. Dallas' defense shut down New Orleans' offense and made them look like a high school football team. Seattle's head coach Pete Caroll will need to get creative but not "throw the ball on the one-yard line late in the fourth quarter" creative. Oops.
Make Life Miserable For Dak Prescott
Seattle has the players to harass Prescott. Frank Clark, Bobby Wagner, and Jarran Reed to name a few. If you want to stop the Cowboys' offense, it starts with pressure from the defensive line. Seattle has to bring the pressure and make things uncomfortable for Prescott.
Prescott can't have time to hand the ball off or pass the ball. Everything has to be hard for him, and that's when his flaws can be exposed. He will try to use the running game to take the pressure off his back, but Seattle will have to shut it down and force Prescott to throw the ball to get out of this Wild Card round.
Don't Take Unnecessary Risks
The Seahawks can't afford to leave points on the field. Winning on the road is tough, but in the postseason, it's much tougher. If Seattle has a chance to put points on the board, they have to take them. I say this because Dallas' defense isn't going to give up a lot of points. This game might come down to which defense can make the most stops so taking unnecessary risks could prove to be lethal.
With an offense that has Russell Wilson under center, risks are certain, but they have to be smart. Punt the ball away or take that field goal that you might not get later in the game. All it takes is one unnecessary risk to lose the game because football is indeed a game of inches.
TSJ's Saturday NFC Wild Card Round Prediction
NFL playoff games are always hard to predict. That's what makes football America's favorite game and Saturday will be no different. A matchup between two teams with something to prove but only one will come out victorious, and I have a strong feeling I know which one it will be.
The Dallas Cowboys will win the ball game. This is a team that's looking for revenge after their Week 3 loss against this same Seattle team. This is a different Dallas team and a much-improved one at that. I expect Dallas to come out fired up and feed off the energy from the home crowd.
I do expect Seattle to make it a good game but I see Dallas pulling out a Wild Card round 24-17 win thanks to a game-winning drive orchestrated by none other than Dak Prescott.
Photo Credit
Featured Image courtesy of Keith Allison
Subscribe to get the latest news from TSJ at the TSJ 101 Sports TV YouTube channel!
Play And Win Weekly at ThriveFantasy!