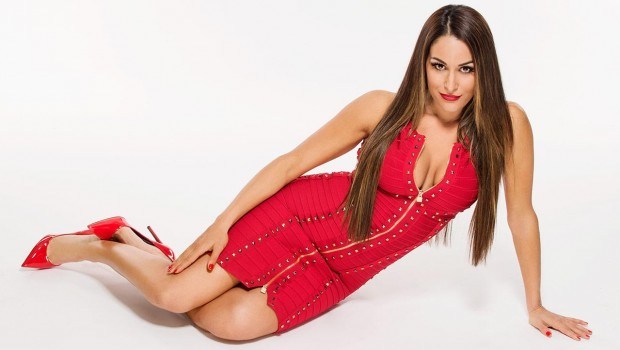 New Year, New Nikki Bella, New…Man?
Undoubtedly, some of the biggest news to rock 2018 was the break-up between WWE power couple, Nikki Bella and John Cena. This news made headlines everywhere, including mainstream media. And while Nikki Bella and John Cena claim to remain good friends, Nikki has really withdrawn as of late, hinting that she was busy working on her inner self. However, it has been noted that she's ready to move on from her relationship with John once and for all. So, could the new year bring Nikki a new man? Signs point to yes.
Dancing with the Stars
While healing up from injury, Nikki Bella joined the 25th season of Dancing With the Stars back in 2017. And although she did well, she was booted from the show in a double-elimination alongside Vanessa Lachey. That episode was during the Halloween edition of DWTS:
Despite being removed from the show, Nikki Bella remained great friends with her former partner, Artem Chigvintsev. Artem is a professional dancer, who specializes in Latin dance.
New Romance
Rumors online broke a few days ago that Nikki and Artem were spotted together over the Christmas holiday at a local farmer's market. And now, an insider says that Nikki and Artem have actually been seeing each other for "a while." Interestingly enough, their new romance will be seen budding over the new, upcoming season of Total Bellas. The trailer aired on January 3.
There had been suspicion that the dance partners were becoming very close during their time spent together on DWTS. A lot of online forums believe that something has actually been going on for a lot longer than anyone realizes. Others suggest it is only a ploy to grow viewership for Total Bellas.
Fans are wondering how Nikki Bella's former beau is going to take the news. Although he will stomach it presumably well, he became good friends with Artem during Nikki's time on DWTS as well. So, it wouldn't be far-fetched to think he might be a bit hurt. After all, John once believed that Artem would choreograph his first dance with Nikki. Instead, he's stolen the bride.
Social Media
You can look, but you can't touch.
Don't forget to follow us on Twitter:
@T101Sports and @T101SportsWWE
Follow the writer:
Photo credit to:
Anne Hathaway, via Flickr