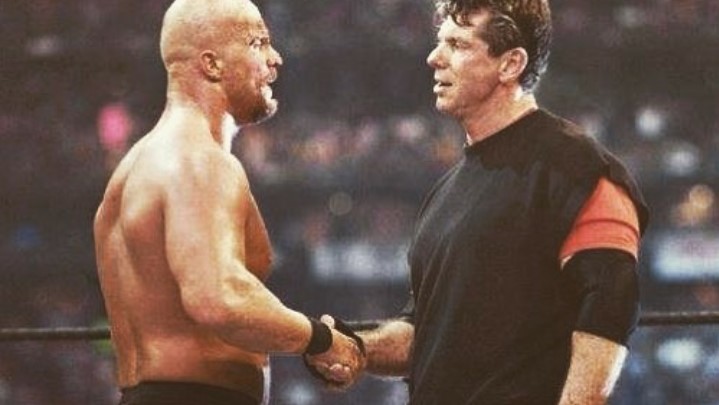 Classic Graded: WrestleMania X-Seven Final Results and Grades
Since Graded is one of the more popular series in the WWE department of TSJ101Sports, I am deciding to start a "classic" version. Basically, I will be going back and grading classic WWE pay-per-views.
Throughout the coming weeks leading to WrestleMania 35, I will be grading each of WWE's biggest annual events. Since WrestleMania X-Seven is considered the best 'Mania by WWE fans, I will be starting with the seventeenth installment of the "grandest stage of them all".
History Lesson:
WrestleMania X-Seven takes place in the NRG Stadium in Houston, Texas. The audience attendance set a record for that arena at 67,295 people.
During the weeks leading up to 'Mania X-Seven, Shane and Vince McMahon were feuding because Shane bought WCW from under Vince.
"Stone Cold" Steve Austin and The Rock are going into their second WWE title match against each other after "Stone Cold" won the Royal Rumble.
SPOILER: This is the WrestleMania where "Stone Cold" infamously turned heel and aligned himself with Vince McMahon.
Chris Jericho and William Regal had been feuding for the last few weeks.
Angle and Benoit were determined to see which one of the two was the better submission specialist.
Ivory broke Chyna's neck at the Royal Rumble and claimed she'd do it again if she was provoked.
WWF Intercontinental Championship: Chris Jericho def. William Regal to retain
Final Grade: B+
Seeing Jericho win with the Lionsault was surprising. Then I remembered he didn't start using the Codebreaker until 2007.
Regal tried to take Jericho's title as a form of punishment for Jericho's behavior. Technically sound all around thanks to Jericho and Regal being two of the best in-ring Superstars of all time.
6-Man Tag Team Match: The APA and Taz def. Right to Censor
Final Grade: B-
Quick match that was really entertaining. Bradshaw, in his home state, won with a decapitating Clothesline from Hell.
WWF Hardcore Championship: Kane def. Raven and The Big Show to win the title
Final Grade: A
Mass f'ing chaos from opening bell to final pinfall. Raven went through a window. Kane and Big Show tackled each other through a wall. Big Show and Raven fell off the stage, then Kane followed them down with a big leg drop. Kane won the title.
WWF European Championship: Eddie Guerrero def. Test to win the title
Final Grade: C+
Eddie, bless his heart, carried Test as best as he could through this match. Eddie won after a distraction from Dean Malenko bought him time to hit Test with the title.
Kurt Angle def. Chris Benoit
Final Grade: B
Both men showed that they were great in-ring wrestlers. Both tried to show how whose submission finish was the better. Reversals, ground wrestling, that terrifying headbutt Benoit does, Suplex City, b*tch, before that was a thing.
Angle won with a roll-up. Really good match, bell to bell.
WWF Women's Championship: Chyna def. Ivory to win the title
Final Grade: D-
Just a squash match. Chyna got the feel good win.
Street Fight with Mick Foley as the Special Referee: Shane McMahon def. Mr McMahon
Final Grade: A+
"…The name on the contract does say 'McMahon'. However that contract reads, Shane McMahon… I will kick your ass like WCW did for eighty-four weeks…"
Shane bought WCW from under Vince. Vince told Shane he would never forgive his mother for birthing him. Obviously that means they need to beat each other to death in a Street Fight.
Kendo sticks, Shane missing a table jump, trash cans. Trish slapped Vince across the face, bating a slap from Stephanie McMahon. Linda, who had been comatose for a few months, rose from her wheel chair and took Vinnie Mac to D*ck Kick City for having an affair with most of the female talent in front of her.
With help from special referee Mick Foley, Shane hit a Coast-to-Coast with a trash can for the win.
WWF Tag Team Championships Tables, Ladders, and Chairs 2: Edge & Christian def. The Hardy Boyz and The Dudley Boys to win the titles
TSJ101Sports Match of the Night Winner
Final Grade: A+
Talk about mass chaos. Christian fell from the top of a ladder and to the outside. No table to break his fall, no extra padding, not even Spike Dudley standing there waiting to catch him. Just twenty feet to the floor.
Everyone in the match went through a table. Lita, Spike Dudley, and Rhyno showed up to help their respective friends. Jeff hates having a healthy body so he jumps from a ladder onto Spike and Rhyno through a pair of tables. Bubba and Matt Hardy fall from the top of a ladder, out of the ring, and through two stacks of tables.
And who can talk about the best WrestleMania Ladder Match without the best of any Ladder Match ever?
Edge and Christian won the titles with a little assist from Rhyno. Fantastic match. Match of the night.
Gimmick Battle Royal: The Iron Sheik wins
Final Grade: D
For the nostalgia factor, this was a great match. Skill wise, it was not. It is great to see legends return on a stage like WrestleMania.
The Undertaker def. Triple H
Final Grade: C+
Mike Chioda must have a glass jaw, because he was down for the count for at least fifteen minutes.
Trips and 'Taker brawled through the crowd. A sledgehammer came into play to break up the Last Ride powerbomb. Undertaker extends his win-loss record to 9-0 after this.
No Disqualifications WWF Championship: "Stone Cold" Steve Austin def. The Rock to win the title
Final Grade: B
The sequel to the Rock-Austin WrestleMania trilogy. Not the best meeting, but certainly not the worst. Austin and Rock traded finishes. Rock locked in the Sharpshooter that mimicked Austin's WrestleMania 13 match with Bret Hart. Then the final count came when Mr. McMahon aided Austin in beating down Rock with a steel chair.
Overall WrestleMania X-Seven Final Grade: B
It's easy to see why this is seen as the best 'Mania by the fans. It's very good all 'round and still stands up even to today's standards.
Social Media
Spearing people off of things is not accepted in the work place… Apparently…
Follow TSJ101Sports on Twitter: @T101Sports and @T101SportsWWE
Follow me, the writer, on Twitter: @JordanPiekarski
Photo credit to ko__mania via Instagram